5 Reasons To Implement Conversational Messaging In Travel
On February 21, 2022
|
7 Minutes Read
Chatbots
Conversational Engagement
Travel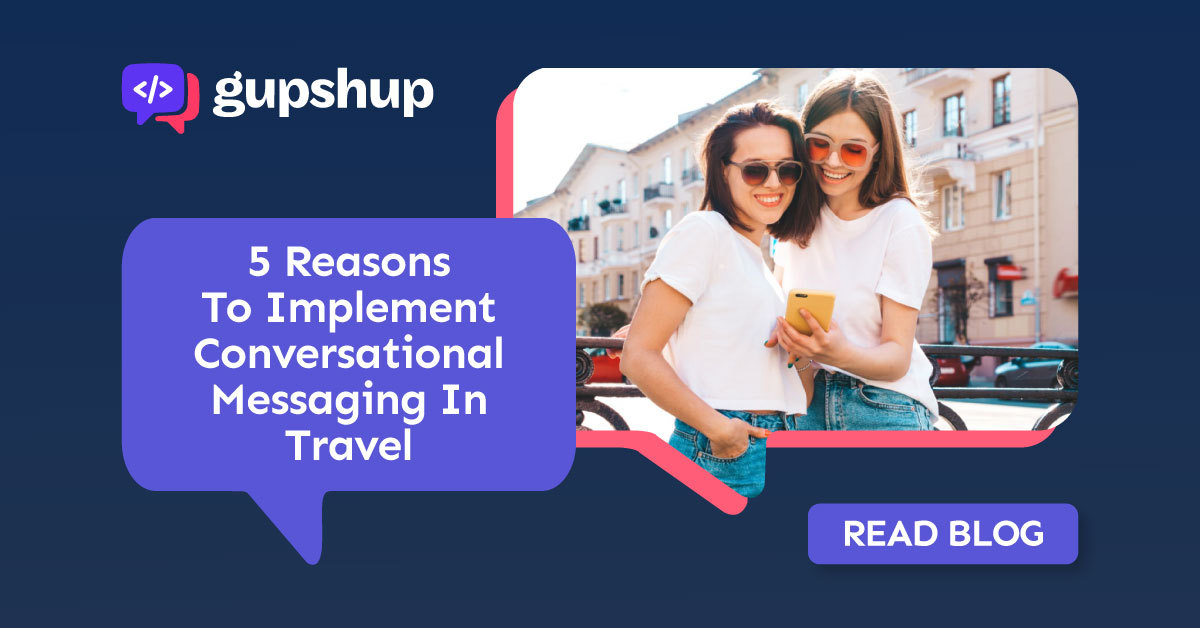 COVID has brought massive changes in the way people travel, regardless if its for leisure or for business. A majority of the frequent travelers, because of the pandemic, have been sort of forced to stay indoors. Travel arrangements, as well as the overall travel experience has become painful and frictional. Also, travellers today demand more information about travel arrangements, places they're travelling to (restrictions, policies, etc.), and have expectations (in terms of the place, hotel, etc.). All of these factors are driven by the fact that travellers prioritise safety alongside convenience. This drives the need for better communication in the travel segment.
Travel and related hospitality industries have borne the brunt of the pandemic majorly, and at the same time have rapidly adopted digital technologies to sustain better. The pace of digitization of the traveler experience – like something that might have been done in five years is now being crunched into maybe 12 or 18 months. We recently conducted a very interesting podcast episode where Thiagarajan "Thia" Rajagopalan, Founder and CEO of Tripeur, joined Gupshup VP of Marketing Srinivas Vijayaraghavan to discuss how conversational messaging can massively get rid of customer pain points while increasing a brands' efficiency. Listen to their conversation as they discuss how better communication equates better brand reputation.
So what are some of the reasons why travel brands are looking to implement conversational messaging into their processes? Lets understand the top 5 reasons.
1. The Travelers Are Back!
Travel has become an inherent part of people's lives. Post COVID, people want to travel, but they now have newer requirements, newer concerns, and newer needs. To categorise them specifically:
How do people make travel arrangements?
What factors do they look out for while making those arrangements?
How do they get the information they need before actually travelling? For example, when traveling from one state to another, what are the restrictions?
Communication from the service providers becomes a very important part for the traveler at this juncture. The need to have a simplistic way to interact becomes urgent.
2. The Increased Need for Communication
With  all the COVID restrictions, things change dynamically, like change in flights or flights getting canceled altogether. These things are happening more now than before, which means customers are looking for this kind of support, where somebody can serve them across service providers. What used to be just email communication or phone call earlier, is now becoming more and more chat-based. Many companies are now offering their own chat client on the website – or even better, they're doing it over WhatsApp.
Because people's priority is safety, communication has become more important than ever. As many travelling transactions continue to remain affected by the pandemic, there is also an enormous need to provide consumers with the information they need. Hence, it is important to provide contactless but reliable communication to consumers.
3. Brands Need To Build A Reputation
Communication is a big thing for the service providers. Earlier, a brands' reputation used to be completely based on their customers' offline and real-time experience. However, with the accessibility of technology, the market has become so much more competitive than it used to be. Consumers now assess brands in terms of their online services (e.g. mobile apps performance, etc.). Hence, today, brands should be making an effort to impress customers, not only while they are actively transacting with them, but also before and after transactions. Brands can do this by sending out personalised messages to customers, which may positively influence a brands' reputation.
Questions that matter to a service provider:
How do we give as much information to the customer as possible?
How do we keep them informed while they are making travel arrangements, as well as once they have booked the arrangements?
How do we keep them informed about what's happening in the location that they're traveling to?
4. Place For Conversations
There is an offline to online transition that is happening very fast. Earlier, many travelers were more comfortable talking to agents. Now, they are more comfortable going to an online travel agency, and booking the tickets online. So that is one trend that has definitely accelerated, thanks to COVID. Also, there are so many providers, like hundreds of hotels that one can book with, multiple airlines that one can book with, etc.
There is an increased need for these travel brands to have a two-way conversation with the traveler, because travel plans intermittently keep changing all the time. It could be in the form of urgent pre-checkin to a hotel or rescheduling of trips based on a travelers sudden health condition or due to basic safety concerns. A travel brand should be able to cater to and accommodate all of this in real-time by having two-way chats, scaling up of contact centers or simply by integrating a chatbot for travel.
With a WhatsApp-enabled chatbot, travel companies can offer not only the booking services, but also any kind of post booking service like changes and so on. Basic queries, like – what is the status of my flight, what is my seat number – can be answered by a bot. And it'll be much faster and more accurate too.
5. The Need For Contactless Engagement
Travelers don't want any kind of physical interaction when they are making travel arrangements. Some use cases to understand better:
Companies now try to eliminate what used to be called the implant in companies where the travel agents will be sitting in an office, a consumer would simply walk over to that person, give them the requirement, the agent will give some options, the customer would make a selection and then they proceed to the booking options. Now the entire process is digitized – right from selecting a location to flight options, hotels, and so on.
Another example is, earlier if a traveller is flying, they go to the airport, carry a printout, give the same to the security guard, they put a stamp on it, and then the customer passes through. All those things have been eliminated. Now, if you look at the innovation that has come about, there is a QR code on the boarding pass or the ticket. The security officials just have to scan it. So nobody touches anything, one can keep a distance, and carry on.
Same thing with hotel checkins too. Once a reservation is made at a hotel, a receptionist can allow a customer to straightaway walk to their room, as soon as they are ready to check-in – even from a mobile phone. And once the customer has checked in, the app will tell the room number and the mobile phone acts as the room key – the customer doesn't even need a physical key!
Another example is while eating out at a restaurant while travelling. One can order everything just by scanning a QR code, selecting the item from the menu and ordering. One doesn't even need to touch a menu card Even payments can be made seamlessly with cashless payment methods.
These are some of the minor things that the travel industry is innovating to and adapting to the new needs of the travelers. And this could just be the beginning. More innovation would come as users become more and more sophisticated in this area.
The Final Takeaway
With COVID, there is a huge wave of digital transformation that is sweeping the entire world. Brands want to digitize everything, but along with digital transformation, the benefits are expected by both the companies as well as the travelers. More importantly, consumers are now more aware, and expect much more personalized service from the service providers.
If you work for a travel brand, or an airline or are part of the hospitality industry, or even manage a site or a location that people come to – start thinking about how your traveler experience can be more personalized, where you can have two-way conversations at scale. We, at Gupshup, can help bring in the messaging chatbot technology with conversational messaging and make the traveler experience really smooth for your brand as well as your customers.
#LetsGupshup to know more.
Blogs you will want to share. Delivered to your inbox.
Business Email
×
Read: 9 Instagram Chatbots That CMOs Should Prioritize In 2022