Emergence of Conversational Support
On July 29, 2021
|
5 Minutes Read
Conversational Support
Generic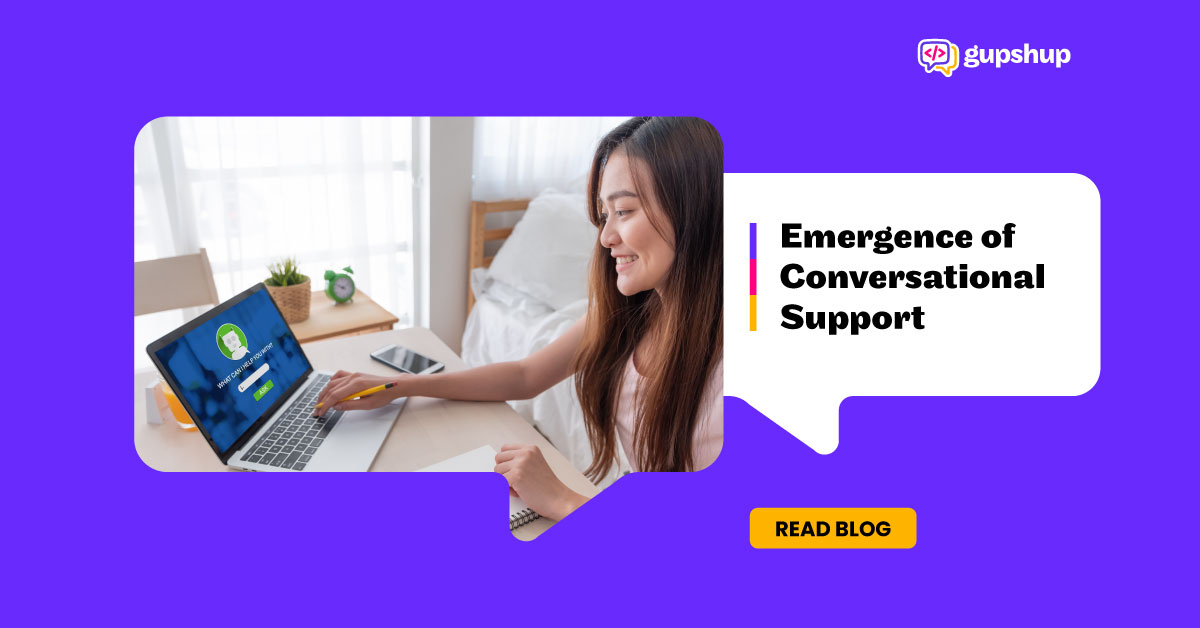 An ideal customer support platform engages customers from the word go and offers a conversational experience that is personal as well as efficient at the same time. Gone are the days where a customer would hold on to a phone call in a queue just to get a query answered. A business would likely lose a loyal customer or never get a new customer onboarded in the first place.
Most customers these days wish to communicate with the brand in a conversational way to discuss their issues. Customers want real-time acknowledgement and resolution of problems, which traditionally has been a problem area with emails and IVR-based support desks.
It is much harder for businesses to really just create marketing-based perception, because consumer communities talk to each other, and directly / indirectly influence each other. And therefore, the product experience, customer support experience, and the overall customer experience matters a lot more. It is very important to look at customer support as a core part of the company offering. Conversational support, thus, helps a business improve customer satisfaction and loyalty by making the customer support experience richer with a combination of automated conversations and timely live agent handovers.
Gupshup's Conversational Support Solution
Gupshup helps offer an unparalleled conversational messaging experience for your customers that's easy to integrate with and helps maintain higher ROI. Let us understand what are the different elements of the conversational support solution offered by Gupshup.
Support Entry Points
All the first-degree entry points for customer support are well covered.
Set up conversational support on any messaging channel or embed the support workflow into a website, app or any digital or physical surface. This can be activated by simply scanning the embedded QR code.
When a customer calls a toll-free number, integrate an IVR-hand-off process that can initiate a support chat on any messaging channel used by the customer.
Automate social query management with our social media bots. Convert every tagged customer complaint or comment into a conversation starter that can be followed up by an agent.
Support Chatbots
There are many chatbots in place for different industries that can be integrated into your primary support systems.
Handle simple, mundane queries as well as frequently asked queries (FAQs) in a relatively easier manner. Automation with structured chatbot options can be your first point of contact with the customer.
Gupshup's Conversational AI engine leverages language models to understand the customer query in terms of intent. It later translates intent into a set of actions or commands. A combination of structured and unstructured queries can be designed to handle complex customer requests.
The Conversational AI engine can manage dialog to maintain context and remain intelligent about the conversation even as the customer is jumping from one topic to another. Advanced queries with context changes can be well handled here.
WhatsApp-based Customer Support Tool
Our WhatsApp customer support tool is just the right fit for you if you are continuously struggling with customer support queries. Apart from the fact that it helps your customers reach you via their favorite channel, we have some exciting features to help you scale up your customer support.
Plug-in multiple agents on your single central number. You can have multiple agents addressing customer queries and requests 24×7 from one WhatsApp business account.
Get access to an intuitive chat screen which lets you access analytics, profile information etc. in an easy-to-use WhatsApp-like interface.
Handle and enable user on-boarding via web-widgets, QR code, etc. and manage these on-boarded users with features like labeling, archiving, etc.
You can set up predetermined auto-responses for customers with common queries. At any point, if there's a complex query, a live agent handover is possible.
Handover to single and multiple-agents
Gupshup can handle escalation/s to a single agent and even to a group of agents based on the routing logic decided by the business.
Get access to support dashboards; both single-agent dashboard as well as multi-agent dashboard, based on the preference chosen.
We help integrate with leading CRM, ORM, social media and marketing automation systems.
Other benefits
Avoid the false choice of making a trade-off between the 'value of support' and its 'cost'.
With Gupshup's Conversational Support solution, quality of customer support becomes cost-efficient as you learn to handle peak demand with little manpower. This helps you reduce staff cost and manage traffic in the long run.
Always ensure that the customer reality is positive by offering timely contextual support with the right combination of intelligent chatbots and live agents. You need to know when to plug-in a live support agent beyond automated chatbots.
Come, build reliable customer support experiences
If you are a CMO, or a CX leader of a consumer-focused company, you need to make a decision today to put into place a sound conversational support mechanism. Gupshup helps businesses deliver reliable customer support experiences across messaging channels and platforms. Our conversational AI-powered solutions make use of NLP to enable support across languages.
Discover the power of conversational messaging and its role in conversational support with Gupshup. Contact us for further information.
Blogs you will want to share. Delivered to your inbox.
Business Email
×
Read: How Chatbots Are Transforming the Healthcare Industry