Experience Gupshup at GITEX 2023
On October 6, 2023
|
3 Minutes Read
Conversational AI
Conversational Engagement
IT
Omni-channel Messaging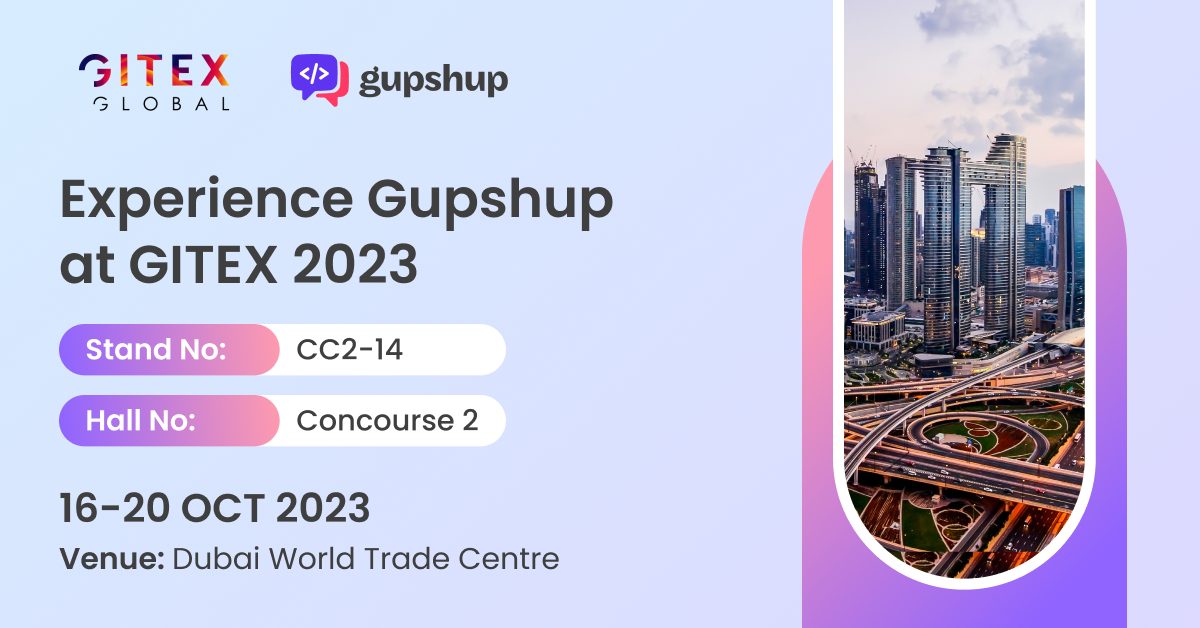 Experience Gupshup at GITEX 2023
In a world that is technology-driven and keeps on evolving, GITEX 2023 is the perfect opportunity to learn everything about growing technology, innovation, and digital transformation.  In its 43rd edition, the world's largest tech show is scaling even bigger this year as it will be across two mega venues, Dubai World Trade Centre & Dubai Harbour.

In these 5 days the world's largest tech show, be ready to experience a blend of the latest ground-breaking products and services from around the world that truly shine. This year's theme at GITEX is 'The Year To Imagine AI in Everything' underscoring the ongoing and fast-paced global competition for AI superiority. 
Gupshup is a Conversational Engagement Platform empowering businesses to engage meaningfully with customers across commerce, marketing and support. We are transforming the way brands connect with customers and we are excited to showcase our expertise at the GITEX 2023 event.

We attend the GITEX event every year, and we are not going to miss out on this year as well. We will be presenting our Conversational AI solutions made for marketing, commerce and support. We will also showcase our other proficient solutions such as the ACE (Autonomous Conversational Engagement) Suite of LLMs.

Discover five compelling reasons why you should absolutely must visit the Gupshup team at GITEX 2023

Advance your business communications
Your customers love brand connections, and brands look for innovative ways to engage customers throughout the buying journey. To turn conversations into sales you need to advance your business communications with Gupshup Conversational AI solutions. If you are looking at reducing costs and enhancing your customer experience, reach out to our team at the GITEX event.

Engage with the only 'Partner of the Year' winner by Meta
Gupshup has been awarded the 'Partner of the Year' at Meta Conversations 2023. This prestigious accolade reaffirms our commitment to excellence and innovation in the field of conversational AI and messaging solutions. This award also signifies Gupshup's dedication to providing top-notch solutions.

Decode Generative AI for CX
Generative AI has the ability to deliver a more end-to-end seamless personalized experience. Unleash the power of ACE LLM that enables all your functions to work smarter. Reduce the wait time and free up your agents for more complex situations that require a more personal touch. Take steps to work with a trusted partner like Gupshup.



Networking opportunities
Kick off the conversations with our experts, connect with like-minded people and create valuable contacts. Discuss the immense potential of Conversational AI and how it can benefit your business.
Experience our solutions LIVE
The Gupshup team will demonstrate the unique features of our Conversational AI solutions and inside tips for using them allowing attendees to experience our products firsthand. You can test our Bot Studio in real-time and experience the conversation with Chatbot and let us help you build similar chatbots that your customers will love.
GITEX 2023 is around the clock from 16th-20th October 2023 at the Dubai World Trade Centre. Meet the Gupshup team to discover how Conversational AI can help you streamline your business communication and deliver a seamless CX at Stand no. CC2-14, Concourse 2.
Let's Meet in Dubai- Book your consultation now.
Stay tuned for more updates coming from GITEX 2023 on our social media channels. Do follow us on LinkedIn, Facebook, Instagram and Twitter.
Blogs you will want to share. Delivered to your inbox.
Business Email
×
Read: The Ultimate eCommerce Checklist for this Festive Season