The Ultimate eCommerce Checklist for this Festive Season
On October 9, 2023
|
5 Minutes Read
Chatbots
Conversational AI
Conversational Commerce
Conversational Marketing
D2C & E-commerce
Generative AI
Retail
WhatsApp Business API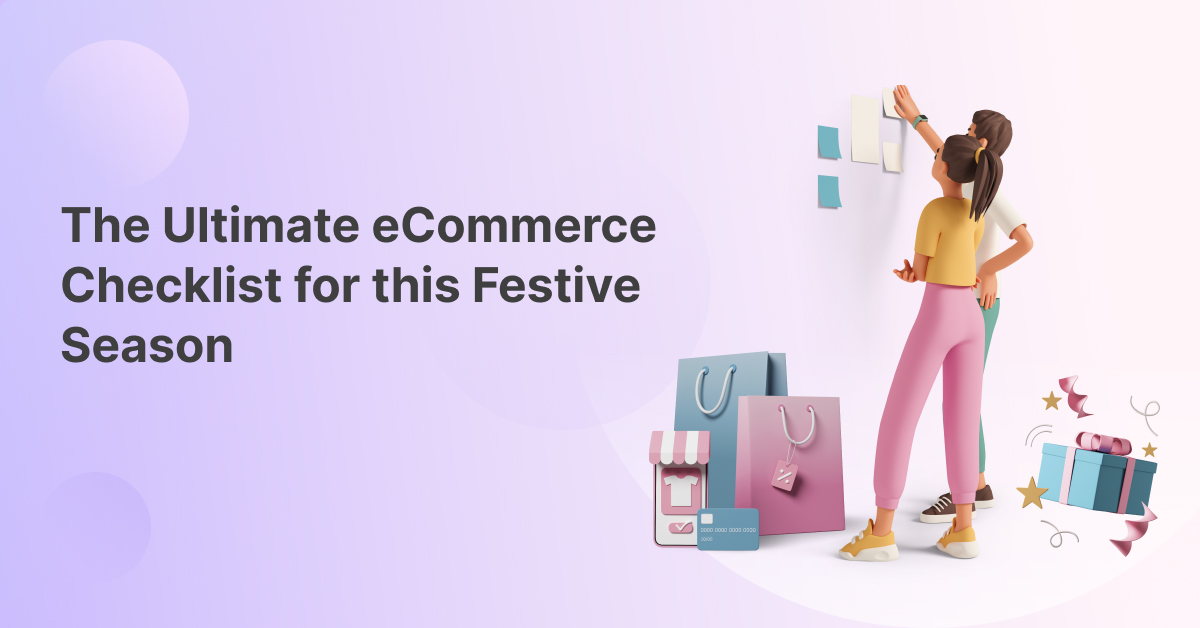 The brightest and the most cheerful time of the year in India i.e. the great festive season has commenced with Onam and Rakhi celebrations. It's a bonanza time for all the e-commerce brands and marketers have actively started prepping for the festive sales heavy discounts, and offers to captivate consumer interests.
The rise of e-commerce has fundamentally transformed our shopping habits. It's a well-known fact that our most preferred online retailers will roll out enticing deals to capture our purchasing attention during the festive season, leading us to invest considerable time in researching products, often using our smartphones. The brands that give the best mobile e-commerce experience are set to win the race.

When every other brand, including your competitors, is also planning to claim a bigger stake in the market, it's vital for your brand to offer a Conversational Experience through channels like WhatsApp, Instagram, Telegram, Google Business Messaging, and RCS Business Messaging.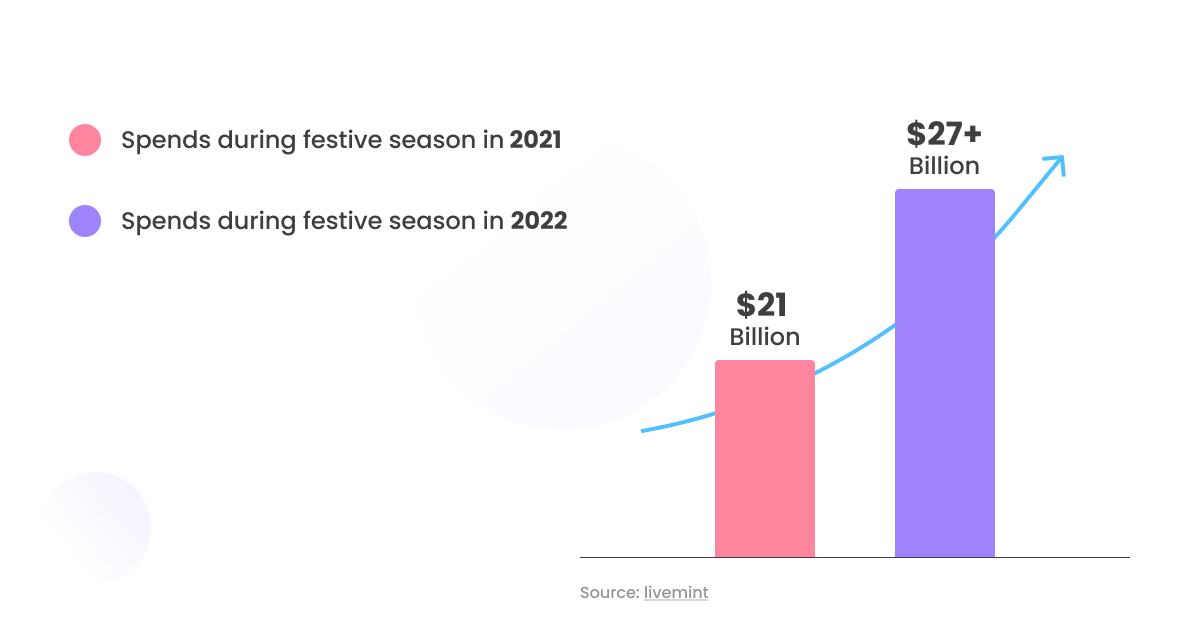 While the above insight is overwhelming, e-commerce brands need to create a seamless customer experience for their customers and prospects in order to keep them hooked throughout the 2023 festive season and beyond.

In this article, we will delve into the ultimate eCommerce checklist for this festive season.

Let's get started.

1. Create a Festive Calendar for Festive Promotions:
Festive marketing is one of the best ways to connect with customers and prospects. It's that period of time when your customers are ready to engage and make a purchase. The first step is to identify the key dates of the festive season and then start planning your marketing campaigns.

To make things easy for you, we have created a festive season calendar for you: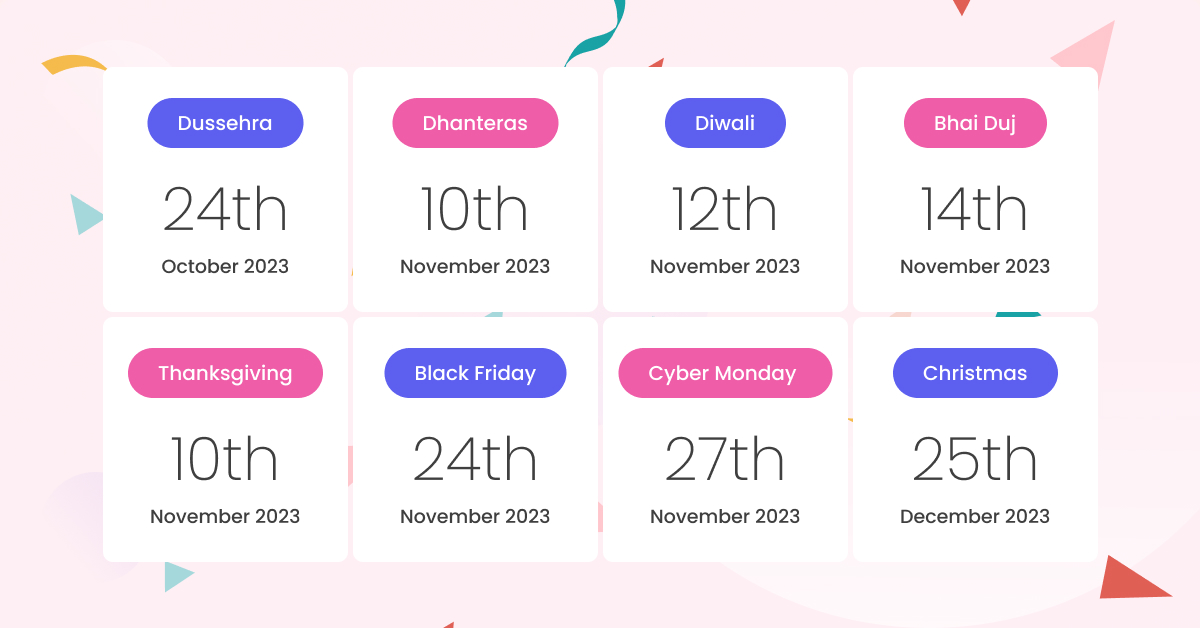 After knowing the key dates, it's important to have an understanding of your audience before running special festive campaigns. To promote your campaigns during the festive season the best tip is to offer product bundles to attract more sales. You can customize your marketing campaigns as per event festive themes as per your customer data.

2. Use Generative AI to elevate your CX:
By leveraging new-age technology solutions such as Generative AI e-commerce brands can gain a competitive edge in delivering memorable experiences to their customers and this will eventually drive stronger growth momentum. We have recently launched our ACE LLM which is a family of GPT models optimized for business conversations.

ACE LLM is set to disrupt the way brands converse with their customers with AI-powered conversational experiences. Your e-commerce brand will be receiving a demand spike during the festive season time and CX plays a vital role. We have industry-specific LLMs which means these models have domain expertise and will give precise responses making your interactions more streamlined and effective.

Bring your customers closer this festive season with Gupshup Conversational AI solutions. Request Consultation
3. Set up a winning omnichannel marketing strategy:
Consumers today hop from one channel to another channel and interact with brands through multiple channels. For instance, you saw a wristwatch in an offline store but you didn't buy it assuming that you may get a better deal offline. With the holiday season coming up you know that you will get a better deal in that period of time so you now you are waiting. Scrolling through the Instagram app you see the same watch with some great offers going, now you are being retargeted via brand not to the website but to WhatsApp. WhatsApp Click to chat is the latest way to connect with customers where they are.

It's not just about being available on every channel but expanding your reach and engaging with your audience on their preferred channels. Based on your audience's preferences, habits, and interests, marketers can design personalized campaigns that convert them into long-term customers beyond the festive season.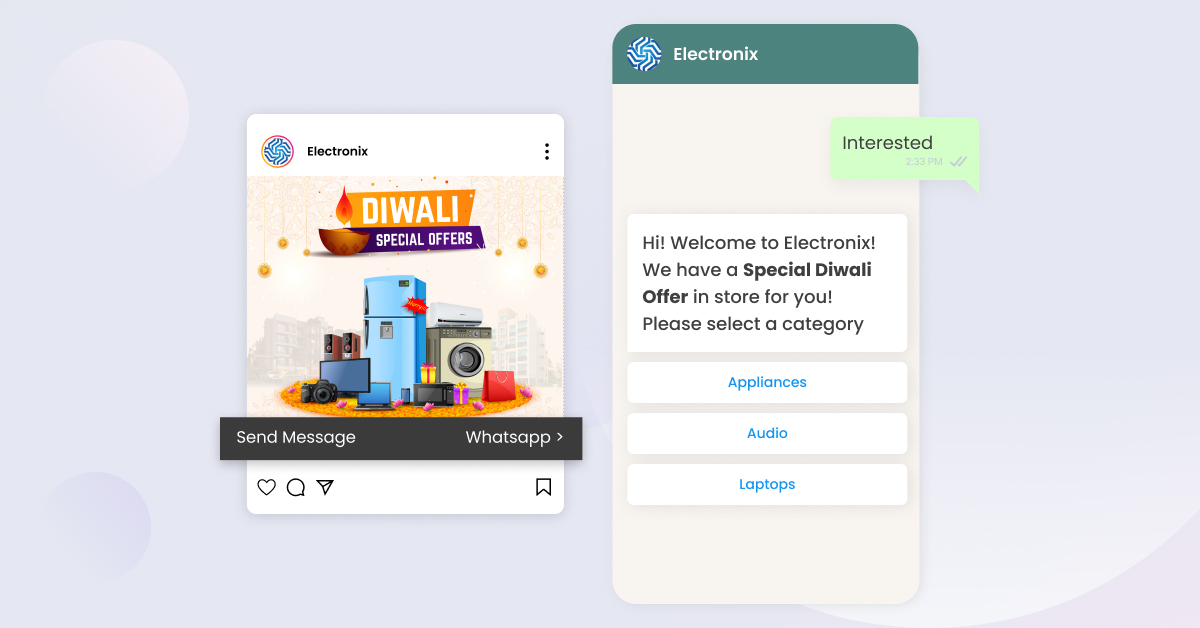 Quick read-  Ads that Click to WhatsApp: The Next Big Thing For Advertisers
4. Optimize your checkout process with WhatsApp payments:
Globally, there are more than 200 payment methods. Do you still face cart abandonment issues on your website? Well if you are overlooking it, then you are losing out on sales and cash flow. As many of your customers may visit the website but they are mostly just exploring the page and for them to reach the checkout page it's a lengthy process.
To optimize your checkout process switch your payment options directly on WhatsApp. WhatsApp Payment is the simplest way to generate the desired outcome. With WhatsApp Business API, you can provide an end-to-end shopping experience on WhatsApp. They can simply browse through the entire product catalog, add items to the cart, and make the payment via WhatsApp pay without even leaving the app.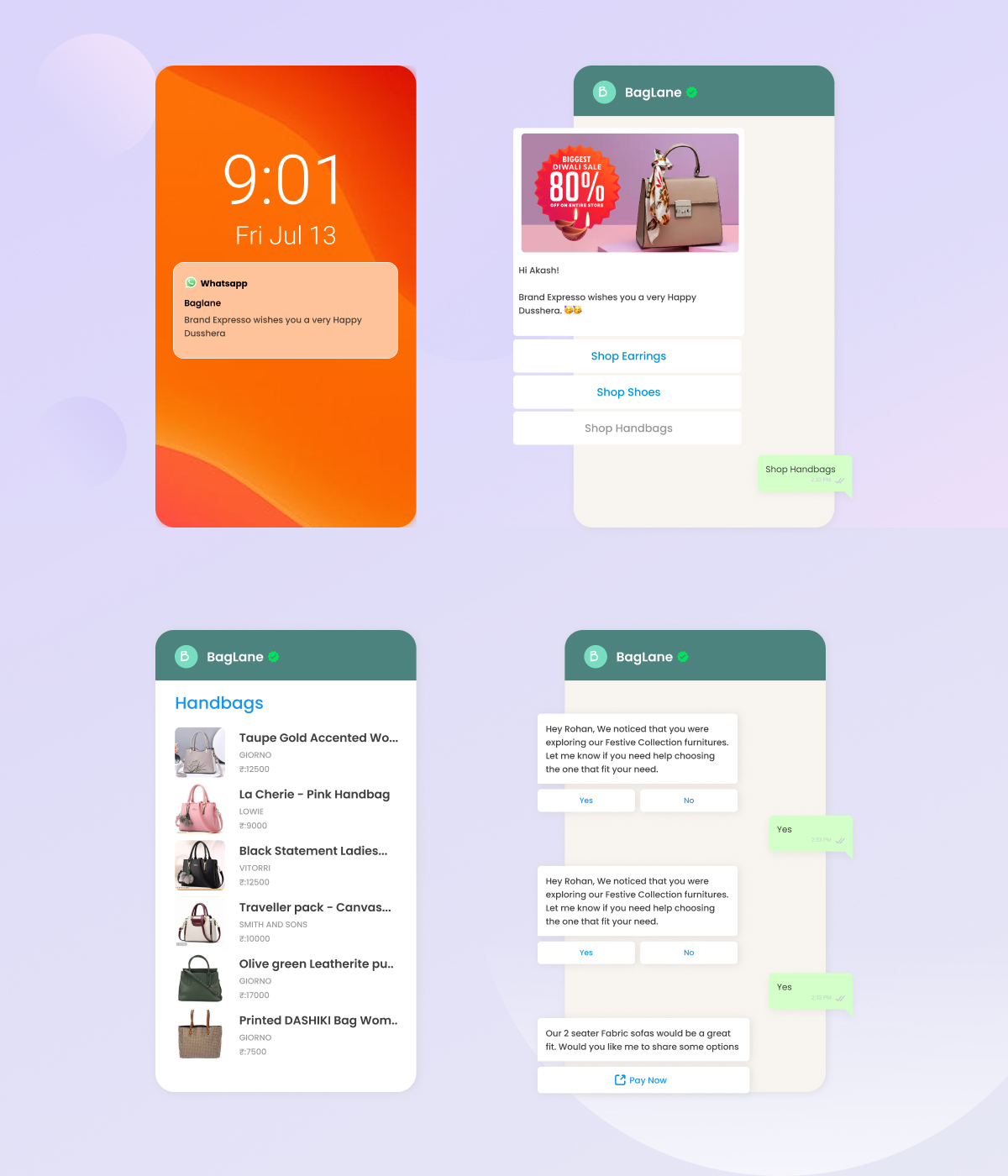 5. Scale up your customer support:
The festive season is one of the best periods for e-commerce brands to drive profits drastically. While the seasonal spike is great to have, if the demand for customer support is not managed properly everything can go on a toss. Your customer support team will face an influx of customer queries over calls and emails. Those can be typically FAQs and this may hamper the quality of customer service as you may not have such a big staff to handle such queries.

To reduce the waiting time, empower your customers to help themselves with Conversational Chatbots. It's a way great way to deal with such queries quickly and accurately in real time without spending much time on calls. Live chat can be a savior if there are any complex issues that need to be solved.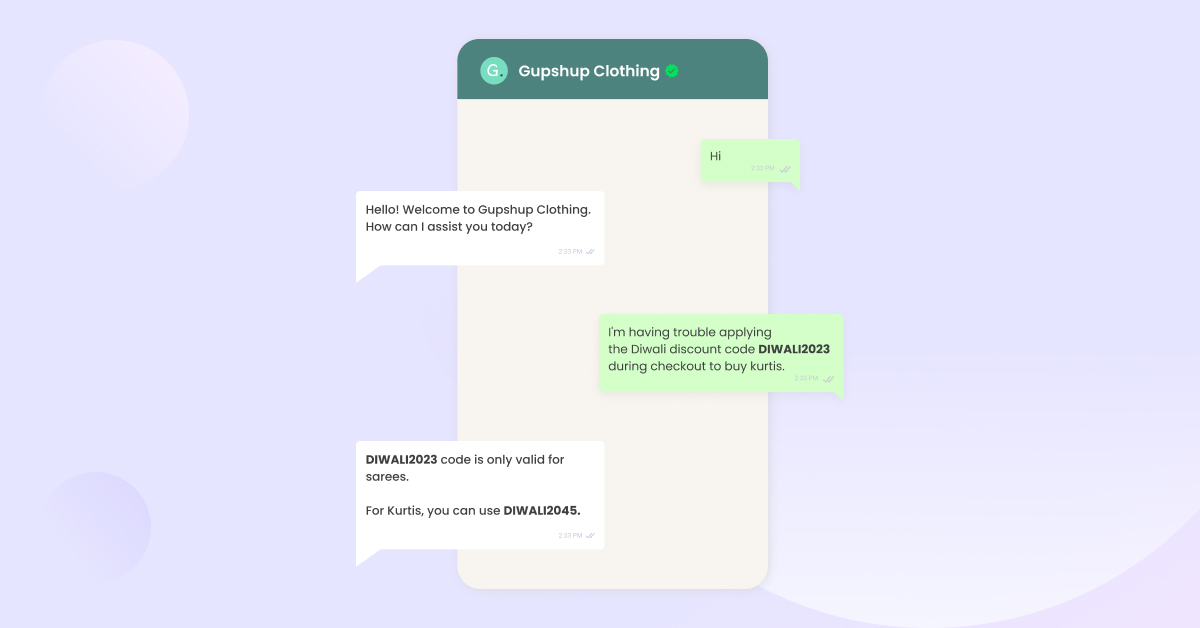 The festive season has already begun, partner with Gupshup for your festive e-commerce conversational campaign plan. Our experience team will guide you from planning your festive campaigns to converting conversions. Book your demo. 
Blogs you will want to share. Delivered to your inbox.
Business Email
×
Read: Crafting Perfect WhatsApp Campaigns for the Cricket World Cup Season