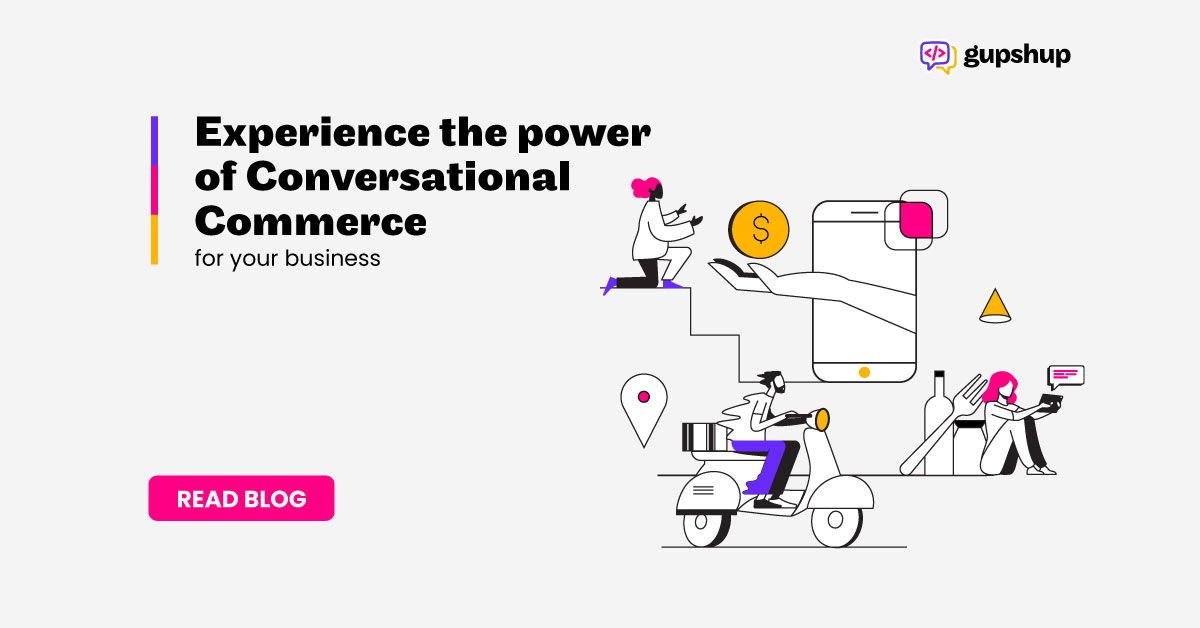 Experience the power of Conversational Commerce for your business
Conversational Commerce, Generic
On August 2, 2021
It's interesting to see how much commerce and the way businesses engage with their customers have evolved over the years. From marketing to sales to customer support, every function and platform has turned conversational. There's more personalization and customization to aspects where customer interactions are involved. One of the major elements in these conversational experiences of a customer journey is Conversational Commerce.
What is Conversational Commerce?
Conversational commerce is a form of e-commerce wherein businesses and customers interact on digital platforms with the help of AI-powered assistants. This helps businesses create more direct engagements and indirectly generate more revenue by taking customers on a conversational journey through the purchasing and sales processes. Customers can easily discover products, place orders, pay for the orders and track these orders on one messaging interface.
While app-based e-commerce was already in place for some time now, it has limitations. We have narrowed them down to two categories, namely a 'quantity' problem and a 'quality' problem.
The Quantity problem:
There are millions of apps out there, but most of us download just a handful of these. The number of businesses that can actually set up shop on the mobile device is thus very limited.
The Quality problem:
App-based experiences are great if you know what you want. But that experience doesn't work very well while purchasing complex products or products which need consultation or a personal touch where you need to talk with the merchant or a shop assistant.
Conversational commerce consolidates the entire customer journey on one messaging interface, with a chatbot assistant in place. This allows businesses to assist customers, offer deals to new customers leading to sales and transactions, and acting as a single platform for redressal for existing customers.
Elements of the Gupshup Conversational Commerce Solution
Gupshup's conversational commerce solution is backed by messaging-based AI-powered chatbots. Gupshup helps make any digital or physical entry point a conversation starter with the help of embedded QR codes or URLs.
AI-powered commerce chatbots
Gupshup chatbots allow businesses to interact with consumers directly, and also enable them to interact with businesses via any messaging app. This does not involve any app downloads. Customers can use the messaging channels / apps they already are on to interact with businesses, place orders, pay for the orders, track orders, get support, etc.
Product discovery and consultative selling
A chatbot plays the role of a virtual shopping assistant. Once a customer lands on your website, it prompts and makes suggestions on different products available, as well as makes recommendations as per the preferences shown by the customer.
Enable secure transactions via chats
Set up a one-click payment experience to ensure customers can seal up the sale within a single app in a few steps.
Offer personalized loyalty programs, connect customers with the history of your business and offer post sales conditioning.
Gupshup IP (GIP) Messaging ensures that customer confidentiality is maintained during any message exchange with secure messaging.
Integrate with leading POS systems, payment systems, CRM, ORM, social media and marketing automation systems.
Drive demand with messaging-based marketing tools
For smaller customer databases, use our P2P messaging-based marketing tools to interact with your customers on their messaging apps.
For larger customer databases, use our A2P messaging-based marketing solutions  across IP messaging, e-mail, SMS, and voice-based communication channels.
Convert 1-way messages into 2-way conversations with GIP messaging and convert any transactional notification into a 2-way conversation to up-sell and cross-sell products and services.
Benefits of Gupshup Conversational Commerce solution
The next step for commerce, after having gone online, is to go the messaging way to create compelling experiences for shoppers and prospective customers in the long run. There is not an iota of doubt that conversational commerce helps brands to sell more. With the help of Gupshup's solutions, put 'chatbot shopping' into place.
Expand your market reach
Make conversational commerce secure
Start conversations and build a direct digital connect with your customers
Respond to customers real time and engage them in conversations
Make all steps of the purchase and customer support lifecycle conversational
Convert your existing messaging workflows into conversations
Protect the privacy of your business and your customers at all times
With chatbots on messaging apps, no additional apps need to be downloaded
Make the online commerce experience consultative and conversational
Convert your existing SMS volume into conversation starters with embedded GIP links to chatbots
Conclusion
The benefits of conversational commerce are manifold, however, there is no singular correct way to implement conversational commerce for your business. Businesses may integrate chat bots or live agents for customer assistance. They may choose to engage customers through SMS or other messaging channels. The options are many and conversational commerce implementation can be tailored or customized as per a company's needs and requirements.
Grow your business faster by automating business processes and business conversations. Let Gupshup lead the way. Gupshup has experience in its portfolio with many happy businesses to showcase. Join the bandwagon and learn more about Gupshup's conversational messaging solutions for your business.
Blogs you will want to share. Delivered to your inbox.
Recommended Resources
What are AI-powered chatbots, how do they work, the benefits of chatbots and why are they...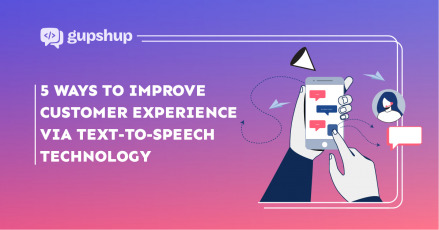 Take your customer support to the next level with text-to-speech technology! Read the blog to dig...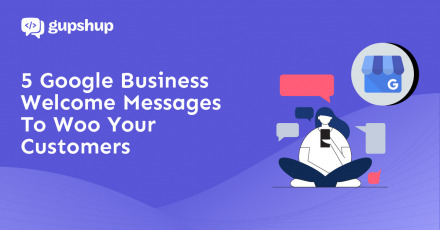 Want to initiate Business Messages like a pro? Read this blog to learn about the top...
×
Read: Integrate 1-way and 2-way messaging with Telegram