Five tips for designing a good voice bot
On May 16, 2017
|
5 Minutes Read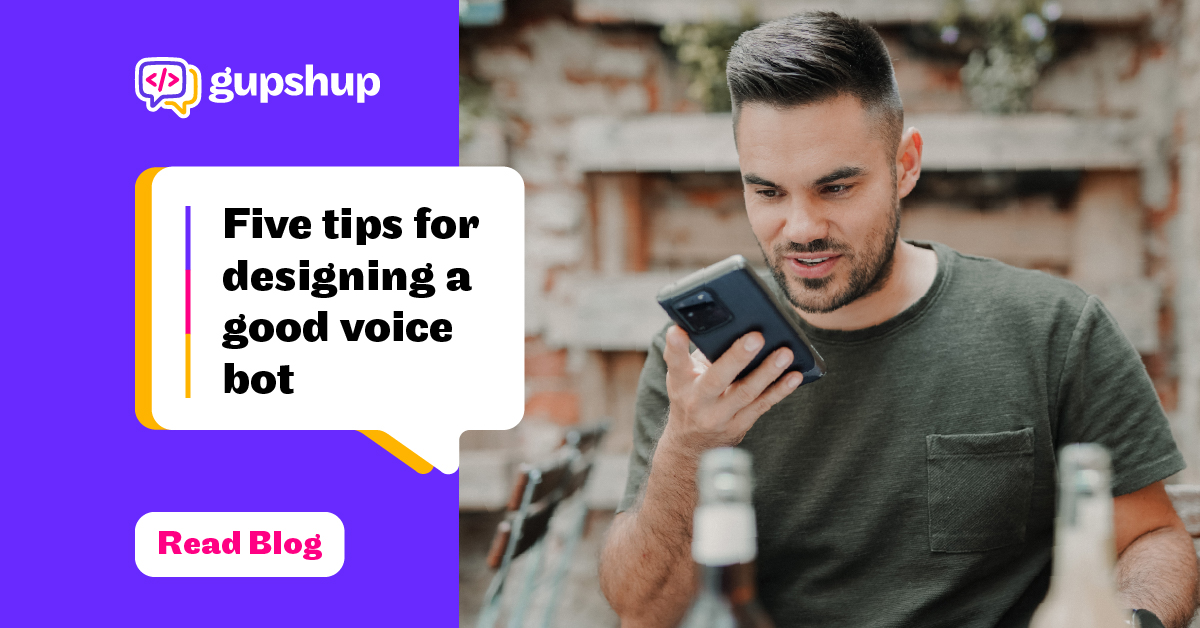 With lots of development in the bot ecosystem since 2016 , 2017 is considered to be the year of voice assistants (bots). CES 2017 was all about voice assistants.
Few big players in the voice bot landscape are:
Google – Google Assistant
Amazon – Amazon Alexa
Microsoft – Cortana
Apple – Siri
Almost all of them have opened their platform for developers to develop voice bots. 
Once you start developing a voice bot the most important aspect of it is designing the VUI (voice user interface). Since the medium here is speech and not text or graphical interface you need to be careful with how your bot interacts with the users. While designing the voice bot you should think about how two people converse and understand the fundamentals of the voice interaction.
Here are 5 tips to keep in mind while designing your bot's VUI.
Educate the user:
Users tend to expect a lot from a VUI and given the current state of the technology we have at our disposal it is only appropriate to say that a voice bot cannot fully live up to those expectations of a natural conversation partner. Hence it is imperative that as a bot developer you must present the capabilities to the users upfront to set the right expectations. You should not assume that users know what they need to do. This will result in a good experience for the new users who has never interacted with your bot.
Example – A news bot when invoked can start by saying
"You can only ask for the top headlines."
or a weather bot can start by saying
"You can only ask for today's weather".
Direct users with examples:
When people converse among themselves, more often than not they tend to use shortcuts or provide less information assuming that the other person is understanding what ever is being conveyed. While this may work for conversation between two people, this surely will give your bot nightmares. Google recommends that a VUI should offer people a range of ways they can phrase their queries, or examples that illustrate levels of complexity. Hence depending upon the capabilities of your bot you should present users with examples as to what they can say to move the conversation along.
Example:  For a bot that plays music, you can present user with example like this
"To play a song try saying things like "Play a song by "The Beatles"" or "Play the song "hey Jude" " or "Play any pop song".
Develop for the ear:
While designing the VUI you should really stress upon keeping the information of the verbal content short and precise. If your bot ends up giving too much information in one instance then users may forget or overlook some content and get confused.
Try keeping the conversation as short as possible without omitting anything critical. If you don't then users may become frustrated and stop interacting with the bot. Amazon recommends that you do not list more than three different options for an interaction while presenting users with a list of of options to choose from.
Example: "What news would you like to hear: Technology, Political or Sports"
There are no errors in conversation:
As per Google "Varied user responses are opportunities, not "errors" " . That means if a user has provided partial information or none at all, you should utilise this opportunity to prompt the user to get what the bot needs to process the request.
In a human conversation, it is expected that the person in front will either understand or ask for inputs to proceed. The same will be expected from the bot as well. So, always account for errors and prompt the user to get the desired input.
Example:  Here an event bot needs both the day and time to find the event for the user. In an ideal scenario here is how the conversation should flow:
User: Is there a meetup in SF?
Bot: Ok, for when?
User: Wednesday after 6 pm
Bot: Found a meetup with tile "Bot Builders meet SF".
But, there is a chance that a user might just provide one information hence the bot should not treat it as an error but prompt to get further information.
User: Is there a meetup in SF?
Bot: Ok, for when?
User: Wednesday
Bot: What time?
User: After 6 pm
Bot: Found a meetup with tile "Bot Builders meet SF".
Always  Acknowledge:
Usually in a conversation, if the listening party is not acknowledging whether they have got what is being said then it becomes really frustrating for the one who is talking. In the same way if a bot is not responding with some sort of acknowledgement that they have understood the user then the user becomes unsure and may start asking questions like "are you there?" or "are you listening?" which then will result in an error response from the bot causing frustration to the user.
If the bot is designed to provide some sort of acknowledgement then it shows that it is keeping track of the conversation resulting in a happy user.
You can utilise words like "ok", "Sure","Thanks" etc to prompt as an acknowledgement.
Example: –
User: Is there a meetup in SF?
Bot: Sure, for when?
Voice bots will soon become mainstream and will have a serious impact on the way users interact with brands and businesses. Here is a video you can check out to see a voice bot in action:
Gupshup  provides you the bot platform to quickly build bots for Google home, Amazon Alexa, Microsoft Cortana. So, get started!!!!
References:
Blogs you will want to share. Delivered to your inbox.
Business Email
×
Read: Twitter opens Direct Messages for Automated Experiences