Get Google Messaging API for your Business
On August 5, 2021
|
5 Minutes Read
Conversational Engagement
Generic
Google Business Messaging
Messaging API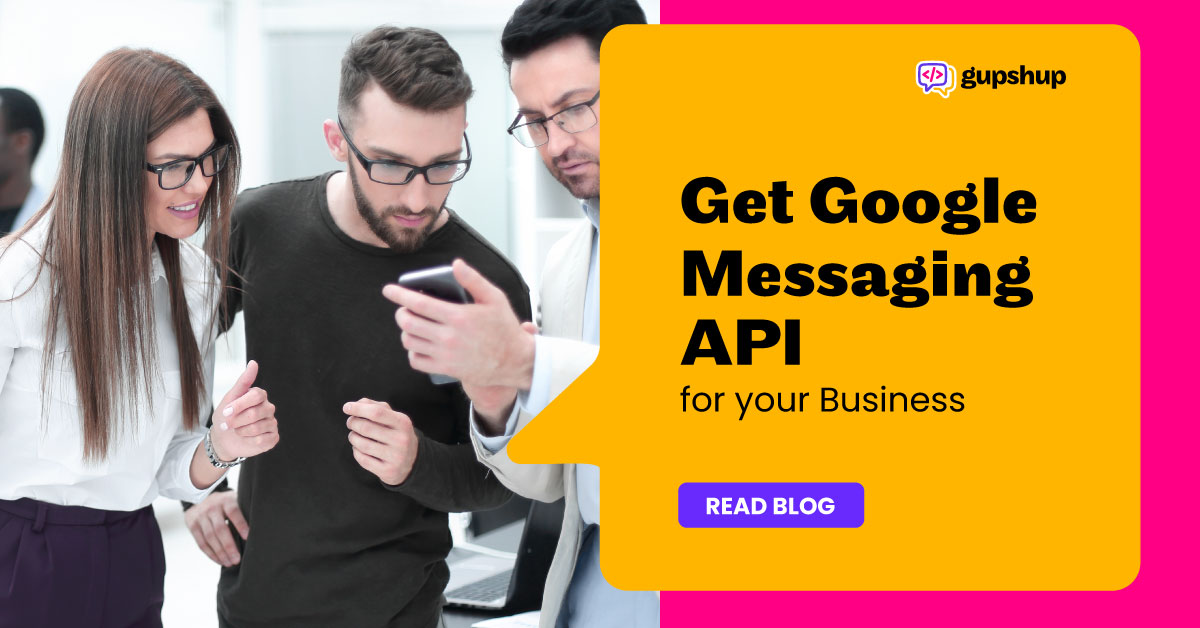 Google is one of the most used search engines on the web today. Its easy-to-use interface and capabilities ensure a more extensive search experience, making it a favorite for most Internet users. With 2 trillion global searches on its search engine each year, Google has become the de-facto gateway to the world. If, as a business, you connect with your customers who search for keywords related to your business via Google Business Messaging, it is easier to acquire them as customers, sell them products and services, and also support them.
There's scope for broad business exposure, and with Google Business Messages, businesses can provide an easy and direct conversational channel to customers. These could be right from the primary entry points on Google Maps, Search, and brand websites. Your customers chat directly with your business from these entry points, thus, driving more sales while providing excellent customer service and support.
Gupshup's Single API for Business Messaging
Google Business Messaging (GBM) is one of the 30+ channels that customers can use through Gupshup's Messaging API, which forms the core of the Conversational Messaging Platform. Make use of the world's most used search engine with the power of our messaging platform by integrating GBM API for your business.
Details of Gupshup GBM API
Some core components for reaping maximum benefits when a customer searches your business on Google.
Frequently Asked Questions (FAQ) 
Enables a straightforward representation of your business with quick responses via new smart replies, visual product carousels, unique welcome messages. It also enables a smooth transition from automated replies to a customer service agent handover.
Customer Interactions
Brands can connect with their customers and solve queries faster. Be available on mobile websites with smart, automated replies paired with live agents. Promote innovative ways in which communication tools can be used on Google search engines.
Lead Generation
It gives you a medium to manage your customers and drive them towards your business. Create and compete for your share of audience attention by navigating the traffic towards your brand. Expand business messages on Google Maps and Google Search and integrate Business Messages directly with your service platforms.
The Gupshup model
Gupshup has years of expertise on its side, and we have a list of ready-to-integrate templates. Our messaging model includes some core sections:
Leverage the built-in messaging templates for –
Experience and integrate the advanced APIs that provide access to multi-step messaging journeys. This includes –

Two-factor authentication, KYC
Lead generation journeys
Customer feedback journeys
EMI collection journeys
Custom forms based on business requirements

Provide a secure messaging platform, with features like –

Protect sensitive customer information like transaction value, account balance with captcha, disappearing text, 3-factor authentication, and other security measures.
Backed by ISO 27001 certification and GDPR compliance, that supports SSL encryption technique with TLS 1.2 256-bit AES
Benefits of integrating Google Business Messaging with Gupshup
Google in isolation has benefits of its own. It has a wider reach since many of your customers and other businesses are already using it in their day-to-day lives to search for different products, services, brands, etc. It would be best if you leveraged these benefits now to get better business results. Let us exemplify some of the benefits you can derive by integrating Gupshup's messaging API for GBM.
Get featured in local searches, organic searches, answer cards and integrate with third-party tools like ordering, delivery tracking, customer support, etc
Build a quick reply bot for all your frequently asked business queries
FAQ bots and live agents on chat help reduce customer support wait-time immensely.
Provide competent assistance to customers to view products with the help of attractive features such as carousels, suggested replies, videos, and images.
Understand and adhere to the guidelines pre-provided by Google.
Drastically reduce the number of phone calls that need live agent assistance.
Push your brand with Gupshup
Potential customers worldwide are looking for more straightforward and instant ways to connect with their favorite brands. Enable customers to directly message your business from Google search, and you can instantly connect with customers who search for keywords related to your business via Google Business Message API.
The concept of getting 'more' done with 'less' effort is entirely operational here. Leverage the expertise that Gupshup already has in place to push your brand globally. We enable better customer engagement through conversational messaging, powering over 6 billion messages per month. Across verticals, thousands of large and small businesses in emerging markets use Gupshup to build conversational experiences across marketing, sales, and support.
Our carrier-grade platform provides a single messaging API for 30+ channels, a rich conversational experience-building tool kit for any use case, and a network of emerging market partnerships across messaging channels, device manufacturers, ISVs, and operators. With Gupshup, businesses have made conversations an integral part of their customer engagement success. Join us and experience the difference it makes to your business.
Blogs you will want to share. Delivered to your inbox.
Business Email
×
Read: Redefine rich-media mobile messaging with RCS