Redefine rich-media mobile messaging with RCS
On August 6, 2021
|
4 Minutes Read
Conversational Engagement
Generic
RCS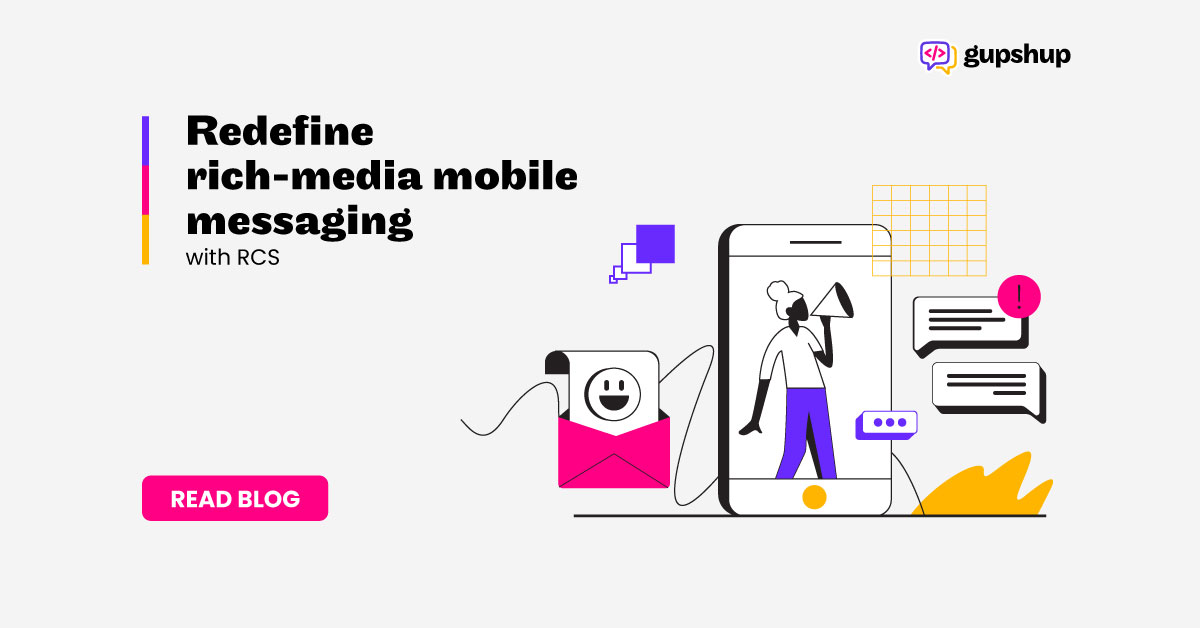 Mobile messaging has been in place for many years now. SMS was and is still quite popular when it comes to business messaging. However, newer channels with enhanced features are finding a place in the messaging domain. Rich Communication Services (RCS) is one such upcoming messaging channel emerging to be quite popular.
RCS is becoming the go-to messaging technology for enterprises looking for the most influential touchpoints to engage with customers and promote their brands. RCS is a new, visually appealing messaging channel that offers rich functionalities to engage more customer journeys. If you connect with your customers on RCS, it is easier to acquire them as customers, sell them products and services, and support them. Businesses looking to integrate RCS must consider Gupshup's single API-based RCS business messaging solution.
Gupshup's Single API for messaging
RCS is a channel amongst the 30+ channels that customers can use through Gupshup's Messaging API, which forms the core of the messaging layer of the Gupshup Conversational Messaging Platform. Gupshup is also a global partner for Rich Communication Services (RCS). We help upgrade SMS with business branding, rich media integration, and enhanced interactivity.
Gupshup's single API for messaging combines the global reach of SMS with rich media messaging for driving engaging conversations. You can create interesting customer interactions with RCS's rich UI and conversational messaging capabilities.
Gupshup RCS API
RCS business messaging helps increase or boost your brand image, as you can communicate with your customers with rich messages. Some features of Gupshup's RCS integration model includes:
Easy Transactions
Make your transactions fast and seamless across various industries
Provide login or password help
Facilitate onsite conversion
Show order status
Smooth Customer Services
Help customers instantly
Provide customer concierge services like billing and accounts management
Offer recharge assistance for phones, plans, and offers
Become a troubleshooting advisor by providing customer support and self-service
Marketing
Market your brand seamlessly
Increase engagement
Enhance brand love
Provide new ways for users to interact with your brands
The Gupshup Model
Leverage the built-in messaging templates for opt-ins, forms, and payment messages. Experience and integrate the advanced APIs that provide access to multi-step messaging journeys. This includes two-factor authentication, KYC, lead generation journeys, customer feedback journeys, EMI collection journeys, and custom forms based on business requirements.
Gupshup provides a secure messaging platform. Protect sensitive customer information like transaction value, account balance with captcha, disappearing text, 3-factor authentication, and other security measures. Gupshup is also backed by ISO 27001 certification and GDPR compliance, supporting SSL encryption techniques with TLS 1.2 256-bit AES.
Benefits of integrating with Gupshup
Gupshup's well-equipped RCS Business Messaging solution enables businesses like yours to deliver a rich and interactive messaging experience to your customer's SMS inboxes. Some of the benefits include:
Rich Media
Send rich-media features such as QR code, image, video, audio, location, etc., combined with contextual intelligent follow-ups to enable effective communication.
Branding
RCS provides options to enhance branding through profile pictures and rich media content, making the message more presentable and attractive.
Quick Replies
Enable interactive communication with the customer by providing quick replies through actionable buttons at the end of each message.
Suggested Replies
Increase customer engagement with your brand by providing suggested actions to help customers in their purchase journey.
Payment Links
Make payments easy for customers by directly connecting them with bank accounts or payment wallets.
Carousels 
Enhance customer experience by providing rich media carousels that enable them to browse through products and features.
Personalized approach
Understand your customer and send relevant and personalized messages that are more in line with their needs and requirements.
Final takeaway
RCS is changing the way we use SMS for our daily communications. Business messaging has only benefited from the advent of RCS.
Build a trusted brand presence with customized branding options, ranging from logos to brand colors to brand names. Enhance business messaging and communications at every stage of the customer journey – acquisition, on-boarding, engagement, support, retention, offers & rewards. Enable interactive mobile experience between enterprises and customers with RCS. Leverage the power of RCS and the capabilities of Gupshup to better engage with your customers and get higher conversion rates.
Use Gupshup's Single API to reliably send and receive rich messages on RCS and 30+ other channels. Get in touch with us today to get started.
Blogs you will want to share. Delivered to your inbox.
Business Email
×
Read: Build efficient workflows with advanced APIs