Google Business Messages – An All-In-One Guide
On December 8, 2021
|
12 Minutes Read
Chatbots
Conversational Engagement
Generic
Google Business Messaging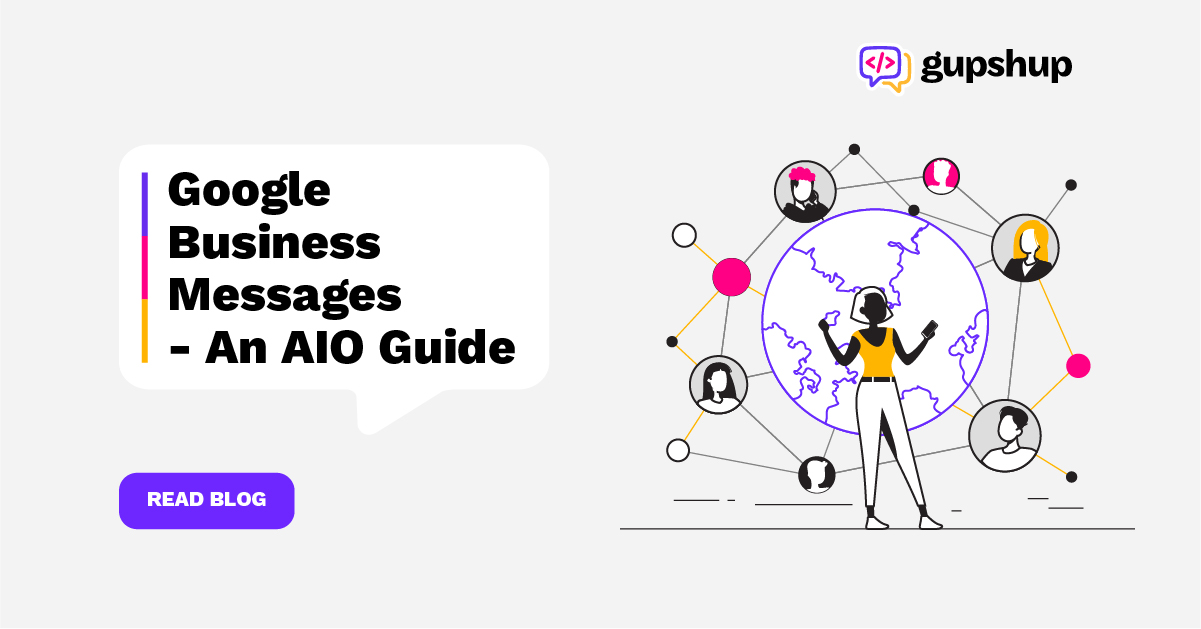 According to one survey quoted by Google, 75% of consumers prefer to engage with brands over private messaging channels rather than over traditional channels. The same survey also found that:
Support via private messaging is the "new normal" for 70% of respondents
Yet, only 39% rated their experience using such private channels as positive
83% of them have higher expectations for digital customer service than they did in the past
50% said that they didn't mind service provided by chatbots, as long as their issues are resolved
The trend towards digital, messenger-based customer service is on an upswing. And it will continue to remain so in future. To take advantage of all the benefits offered by digital care, brands need to optimise their mobile conversational messaging programme. One powerful yet easy way to do this is, by leveraging the scale and reach of Google Search and Google Maps.
Enter – Google Business Messages.
What is Google Business Messages?
Simply put, Google Business Messages is a mobile conversational channel that can help your customers message you directly from multiple entry points such as:
Google Search

Organic search
Answer cards

Local Search
Google Maps
Your brand's mobile website
Through this easy and direct conversational channel, you can deliver rich, asynchronous messaging experiences to meet customers where they are, delight them with timely, personalised support, and drive tangible results for your brand.
Keep reading this guide to know more about:
Google Business Messages
Google My Business Messaging API
How to respond to Google business messages
How to enable business messages with Google and a Google business partner like Gupshup
What is Google Business Messages?
Messaging is a powerful communication medium that enables customers to reach businesses with ease. Further, according to Google, by mid-2020, 2X as many businesses were messaging via Google now compared to 2019. This shows that messaging is also a powerful means for business-to-customer communication.
And they can do this easily with Google Business Messages. This platform provides a comprehensive messaging solution that enables brands to message customers through Google Maps and Search over Android and iOS devices.
Google Business Messages enables customers to directly message a business from their Android or iOS device from various entry points such as Google Maps, Search, or brand websites. The platform combines the best of:
Google search for information
+
Messaging for personalised answers
Together, these capabilities enable customers to easily find and engage with brands, and get the information or help they need along their purchase journey. Recent research shows that 72% of customers are more likely to make online purchases if they can question a real employee in real-time via chat.
Another 76% like to make purchases using chat or messaging. With Google Business Messages, they can do both, i.e. ask questions and complete online purchases through a simple chat interface. Simply put, with the Google RCS Business Messaging platform, customers can:
Ask questions
Get support
Make purchases
Complete payments,
and more – directly through the platform.
And by leveraging a Google Business Messages API from an official partner like Gupshup, brands – including yours – can take full advantage of the platform's rich features and easy accessibility to offer quick, efficient and personalised experiences to delight customers, create meaningful connections, build trust, and drive powerful business results. The Google My Business messaging API is perfect for businesses that want to integrate Google Business Messages into their communications stack. Smaller businesses can opt for the Google My Business app to answer messages on the go.
How Business Messages Works
Google provides a rich conversational messaging surface for business messaging conversations. The surface is available for both Android and iOS devices. By enabling Google rich business messaging, you can receive and respond to customer messages from Search or Maps through an "agent" (see below). All you need is a webhook and a Business Messages API like Gupshup.
The Business Messages platform allows you to place messaging buttons within organic Google search results. First, you must register with Business Messages and create an agent for your brand. After you do this, whenever a user searches and locates your brand, the results will include a message button. If they click on the button, they can immediately start conversing with your agent.
And how to respond to Google business messages? Simply, the agent you set up will automatically greet the user with a welcome message!
If/when the user sends a message, Google delivers it to a webhook that you define as a JSON payload. You can then route the message to human support staff or an automated response system depending on its content and use case. These asynchronous conversations continue until either the user or you stop sending messages. Users can return to completed conversations and re-engage agents as required.
Users can also connect with your business via the Business Messaging inbox in the navigation menu of their Google Maps app. This capability is ideal if your brand is location-based.
Benefits of Google Business Messages
Google Business Messages supports all kinds of businesses with a comprehensive messaging solution that works across Android devices through Google Maps and Search. Several organisations all over the world already use the platform, because it offers a wide range of benefits:
Engage Customers with Rich Communications
Like other rich messaging channels, Business Messages offers advanced features like:
Automated welcome messages to get conversations going quickly
High-quality emojis, videos and images for personalised conversations
Visual photos and carousels to showcase products (or services), and drive purchases, cross-sells and upsells
Suggested/smart replies that allow consumers to respond with just a tap of a button
Typing indicators, delivery confirmations and read receipts to keep conversations moving towards a conclusion
These features make messages visually appealing, provide greater convenience, and reduce friction on the customer's purchase path. Plus, they allow you to reach customers where they are with rich, contextual messaging and engaging experiences as you solve their problems, meet them in their moment of need and deliver delightful brand experiences.
Provide Fast, Contextual, Personalised Responses
Business Messages allows (human) agents to deliver fast service by reducing handling and hold times. They can simultaneously juggle multiple asynchronous conversations to provide fast resolutions along with personalised interactions. You can also set up conversational AI chatbots to send automatic responses to basic issues or common questions to further speed up resolution while reducing the load on your customer service team. The chatbot can even send estimated wait times to set the right expectations for customers.
Engage in Secure Conversations
All brand-customer conversations are encrypted between users' devices and Google servers, and between Google's servers and Business Messages agents. Google deploys on-device security models to protect message data. A secure back-end means that there's no need to share passwords, credit card numbers, social security numbers, and other sensitive information in the chat.
You can use any authentication protocol to verify customers' identities and prevent frauds and scams. Further, you can verify your brand's profile and messages with your distinct colours, fonts and logos. All these features ease customer concerns about security, brand recognition and brand legitimacy, and thus help to further garner their trust.
Increase Conversions and Revenues
When you combine Google RCS business messaging with a revenue acceleration platform, your revenue teams can work together to deliver exceptional, real-time digital experiences across the entire customer lifecycle. The combination can help them assist customers in the discovery phase, and thus boost visitor-to-lead conversions. It can also help with customer acquisition, renewal and expansion to help generate bigger revenue faster across the full lifecycle.
Build Customer Trust and Loyalty
Today, brand loyalty comes at a premium. In 2018, only 5% of consumers stopped doing business with a brand due to a poor digital customer service experience. Just a year later, this figure had shot up to 60%. Another 66% state that good digital customer service is a "very important" driver of brand loyalty.
Google Business Messages makes it easy to provide high-quality customer service to deliver amazing experiences and create strong connections. You can do better at "hearing" customers with open, on-demand conversations, show them expected wait times, and display answers to FAQs to make customer care more effective and efficient. The end result is greater trust, loyalty and long-term brand advocacy.
Works with Other Messaging Channels
Business Messages is perfect if you're looking to provide omnichannel customer experiences through a single platform. Use Gupshup's Google Business Messages API to access every communication channel your customers use, such as WhatsApp, Facebook Messenger, Slack, Skype, etc. This way, customers can connect with your brand on the platforms they already know and use, which in turn will help you reach a broader audience on the channel of their choice, deliver better, faster support, and increase customer satisfaction.
Business Messages is also available on mobile websites, which means that customers can quickly "Message" you right from your website. In turn, you can offer smart automated replies, live agent connection and secure payment transactions, easily handle service enquiries, provide order or refund updates, notifications or alerts, and expand conversations to drive more conversions, purchases and re-purchases.
Direct Integration with your Customer Service Platform
Business Messages can integrate directly with your digital customer service platform, so your agents can handle these conversations through one, easy-to-manage agent desktop. Provide assistive experiences and leverage its rich features to:
Save money and reduce staff workload with automated digital agents
Improve response times, and reduce handling times compared to other channels
Provide 24/7 support, so you never miss a single customer interaction
Drive more purchases and revenues
Provide up-to-date information about products, business hours, local stores, pick-up and delivery options, etc.
Optimise Your Support Programme
As more customers prefer to engage with brands over private messaging channels, you need a way to meet them where they are. Instead of making them go through traditional voice or email support channels, you can easily connect with them via messaging to quickly solve their issues. Google Business Messages provides a simple means to do so.
Route calls to chat (personalised messaging), leverage rich features like carousels, suggested replies, and photos, and improve customer satisfaction with CSAT data and feedback. The platform also provides a smooth transition from automated replies to a (human) customer service representative, so a customer can message your business without disruption or friction on either side.
Google Business Messages also provides powerful data-driven analytics features so you can gain a better understanding of customer intent and sentiment to improve your service and support programme.
5 Best Practices to Optimise Google Business Messages for your Brand
To make the most of Google Business Messages, make sure you follow these 5 strategies:
Add Messaging Links to Search and Maps
When setting up Google Business Messages, make sure you include all relevant profile information, including your:
Business name
Physical address
Website URL
Contact details, such as phone number and email address
Social media handles
Operating hours
Most importantly, add a "message" button in your settings so people can message you directly through search results or Google Maps. Also, add a welcome message if you haven't done so already.
Always Reply within 24 Hours
Customers have high expectations from brands. They're also impatient and more than ready to dump unresponsive brands. To prevent customer dissatisfaction and churn, always reply to every message within 24 hours (if not less). This applies to both automated replies via bots, and escalations via human agents. Quick replies are important to promote trust and encourage engagement, but also to prevent your business chat from getting deactivated (which Google may do).
Never Ask for Personal/Confidential Information
Do not discuss or ask customers to provide sensitive information like credit card numbers or passwords via chat. Also, make it clear to customers that your company has a policy to never directly ask for such information. This way, they will be more alert and therefore more likely to spot suspicious interactions, if any. Google also doesn't allow brands to use customers' personal information if customers have not consented to its use.
Use Google Business Messages with Other Messaging Channels 
As said earlier, Business Messages works with many other messaging channels if you implement a Google Business Messages API like Gupshup. Business Messages should not replace your other channels, but rather complement them as part of your omnichannel communications strategy.
Other Important Dos and Don'ts
When using Google Business Messages, it's also crucial to:
Stick to the topic of the chat, and not send messages unrelated to the original request ("spam" or "phishing")
Never message repeatedly with no response
Avoid excessively long messages
Avoid the excessive use of emojis and URLs
Comply with all applicable laws and regulations
Never make false statements about your company, brand, identity or qualifications
Never obfuscate or omit important information, e.g. billing information
Be aware of content that Google considers "inappropriate". This includes (but may not be limited to):

Content that promotes or condones hatred or violence (including terrorism)
Illegal content, or content that otherwise promotes dangerous and illegal acts
Harassing, bullying, or threatening content
Graphic or violent content
Sexually explicit images or videos
Content that exploits or abuses children
Ready to Get Started with Google Business Messages?
It's very easy to get started with Google Business Messages. All you need is a Google Business Messages API from an official Google partner like Gupshup. We can help you register with Business Messages, enable the platform for your brand, and connect with people who are already searching for you.
Build a quick reply FAQ, provide smart assistance with engaging features like suggested replies and carousels, and reduce support wait times with Gupshup. Seamless automation, global reach, omnichannel capability, regulatory compliance, and world-class support – Gupshup's API provides all this and more. To get started, talk to the experts by filling out this simple form here.
Blogs you will want to share. Delivered to your inbox.
Business Email
×
Read: How to Enable RCS Messaging on Android Devices