Content marketing is responsible to connect and engage with your customers and prospects. It's a strategic marketing approach widely used by most brands. But how do you break through the existing content clutter and stimulate the desired engagement?
If you think that relying on plain and simple content is going attract customer's attention and increase your conversion rate – think again!
You have a few minutes to grab attention, make it worth their time- use Rich Media to communicate your ideas.
Stories are a must for every brand.
Rich media can create powerful and interactive stories to attract your customers.
Rich media is a form of content which is different from normal text and static images.
Content marketing is trending, but you need 10X results on the content created by your business. Rich media will do this for you as it is more interactive compared to textual campaigns.
Rich graphics are eye-catching and evoke interest. They offer a rich user experience that leads to:
Greater Engagement
Higher Conversions
Customer Stickiness
Higher Revenue
Improved ROI
Gupshup's Smart Messaging platform enables you to send rich media content to your customers. Create more human like conversations and keep your customers engaged. The uniqueness of Gupshup's Smart Messaging platform is that it lets you send rich media content on the most preferred messaging applications of your customer like Facebook Messenger.
Pictures
These are some of the many ways to use rich media for your business. You could use different combinations of rich media to add value to your content marketing.
You cannot deny the power of pictures. Pictures are catchy and help in explaining content. Attach your brand logo for better brand recall. Promotional, transactional and reminder campaigns can all be executed using Gupshup's Smart Messaging platform.
Here's a screenshot of a brand promotional campaign using our Smart Messaging platform.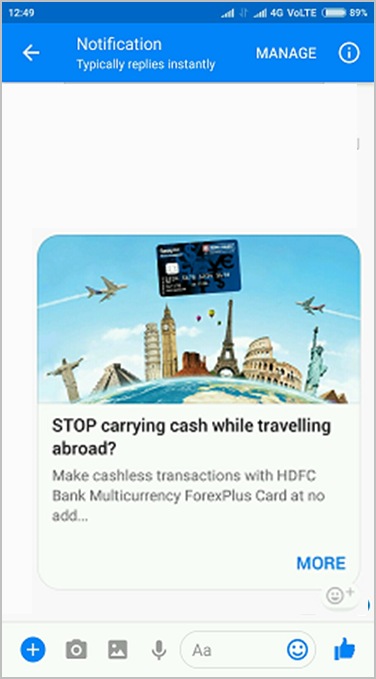 Videos and GIFs
As per Cisco Visual Networking Index, global consumer internet video traffic will be 82% of consumer internet traffic in 2020, up from 68% in 2015. So video as a marketing tactic needs to be utilized well. You can explain concepts and ideas, tell brand stories and make visually appealing ads. Videos and GIFs can achieve greater customer attention, higher engagement and stimulate customer conversions for your brand.
Emoji
Use interactive emoji's to elicit customer feedback responses. It's different from the usual 1-5 rating point scale. By telling the customer to click on the Emoji you can also gauge his affinity towards your service and brand.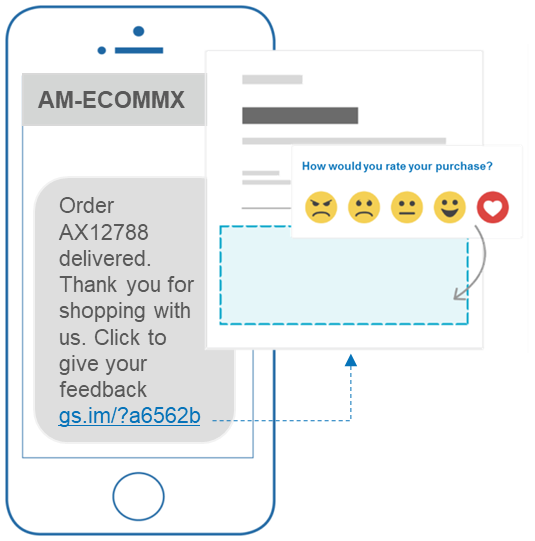 Audio files
This innovative rich media method can be adopted by an online music app or a radio station. The way to do this is, send prospective customers an audio file featuring the best musical edits with a promotional message to subscribe and listen to their favorite music.
Documents
Businesses can send password protected account statements and bills through a messaging app.
Location
A business hosting an event can send the location of the event and ways to reach the destination. A travel company can send their best travel destinations. Even a customer can chat with a goods/courier delivery company by saying "Send the product to my home" and then his location can be sent to the travel company. All this can be done by simply using a messaging app.
Contact cards
Dedicated relationship managers, insurance agents can make use of this medium to instantly send their contact cards.
Survey forms/polls
Make the survey process convenient for your customers. Send easy to submit feedback through web view form via a messaging app.
All of these use cases and more is possible using Gupshup's Smart Messaging platform. From creating an impactful sales pitch to deeper brand engagement, rich media can work wonders for your business. Using Gupshup's platform, you can leverage rich media content and target the right customers on the messaging channels where they are already present.