Hola! Merca – The official engagement bot of Merca Events, Mexico
On May 17, 2023
|
4 Minutes Read
Conversational Engagement
Media & Entertainment
WhatsApp Business API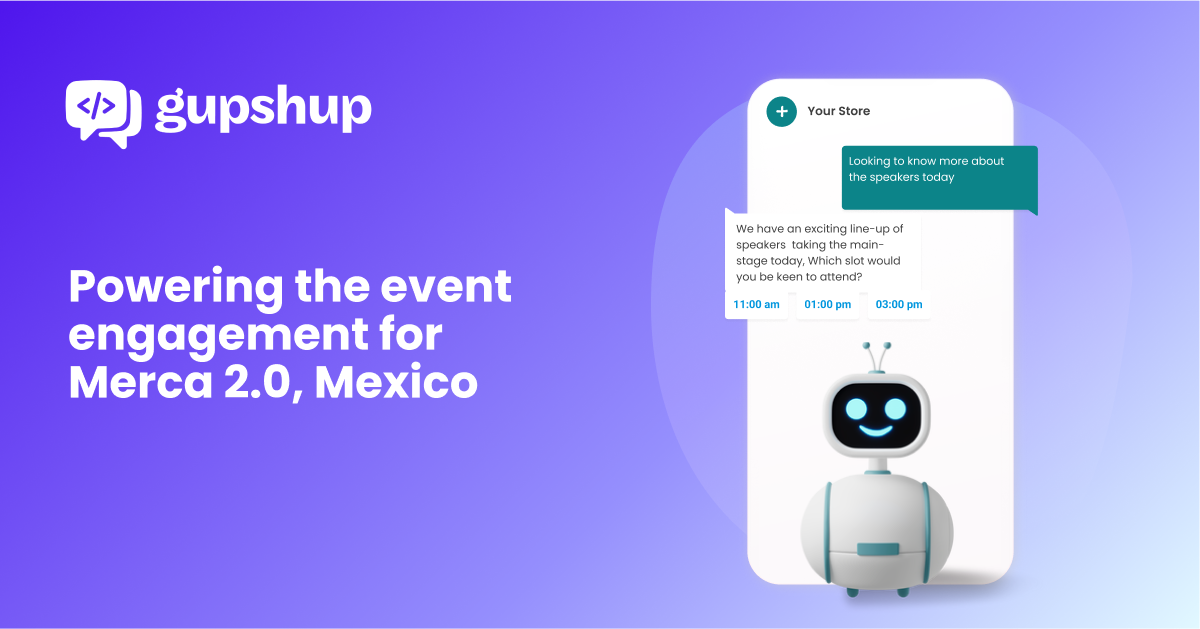 In the rapidly evolving world of technology, chatbots have emerged as a valuable tool for businesses across various industries. Event organizers, in particular, have recognized the potential of chatbots to revolutionize the way they engage with visitors. These AI-powered virtual assistants are designed to simulate human conversations and provide instant assistance, information, and engagement to event attendees.
In this blog post, we will explore how event organizers are leveraging chatbots to enhance the visitor experience and take their events to new heights.
Real-Time Information and Assistance: Gone are the days of long queues and confusion when it comes to seeking information at events. Chatbots offer a convenient solution by providing real-time information to visitors. Whether it's details about event schedules, session locations, speaker bios, or parking instructions, chatbots can quickly and accurately answer attendees' questions. By doing so, they alleviate the stress of event-goers and improve overall satisfaction.
Personalized Recommendations: One of the key benefits of chatbots is their ability to analyze user data and provide personalized recommendations. Event organizers can collect information during registration or through an event app, enabling chatbots to suggest relevant sessions, exhibitors, or networking opportunities based on attendees' preferences. By tailoring the event experience to each visitor, chatbots create a sense of exclusivity and ensure attendees make the most out of their time.
Interactive Event Guides: Navigating large event venues can be a daunting task. Chatbots serve as interactive event guides, assisting attendees with directions and helping them locate specific areas of interest. By leveraging chatbot interfaces through event apps or dedicated platforms, visitors can effortlessly explore event maps, find nearby amenities, and receive turn-by-turn directions. This streamlined experience saves time and allows attendees to fully engage with the event's content.
Engaging Pre- and Post-Event Communication: Chatbots provide event organizers with a unique opportunity to engage with attendees before and after the event. By utilizing chat platforms, organizers can send event reminders, share updates, and conduct surveys or polls to gather valuable feedback. These proactive interactions foster a sense of community, build anticipation, and enable organizers to improve future events based on participant input.
Lead Generation and Networking: Chatbots can play a significant role in lead generation and networking at events. By integrating with CRM systems or lead capture tools, chatbots can collect attendee information, answer product-related inquiries, and schedule appointments with exhibitors or speakers. Additionally, chatbots can facilitate networking by suggesting potential connections based on attendees' professional profiles, encouraging meaningful interactions, and enhancing the overall networking experience.
Continuous Support and Engagement: Even after the event concludes, chatbots continue to offer support and engagement. Visitors can reach out to the chatbot for post-event resources, access presentation slides, or request additional information. Furthermore, chatbots can be programmed to share event highlights, photos, or videos on social media platforms, extending the event's reach and keeping attendees connected long after they leave the venue.
Merca2.0 Chatbot by Gupshup – The official chatbot of Merca2.0
Interested to try our Conversational Engagement Solution for your Event?
Blogs you will want to share. Delivered to your inbox.
Business Email
×
Read: Powering TiEcon Mumbai 2023, Conversationally!