Powering TiEcon Mumbai 2023, Conversationally!
On May 31, 2023
|
3 Minutes Read
Conversational Engagement
Media & Entertainment
WhatsApp Business API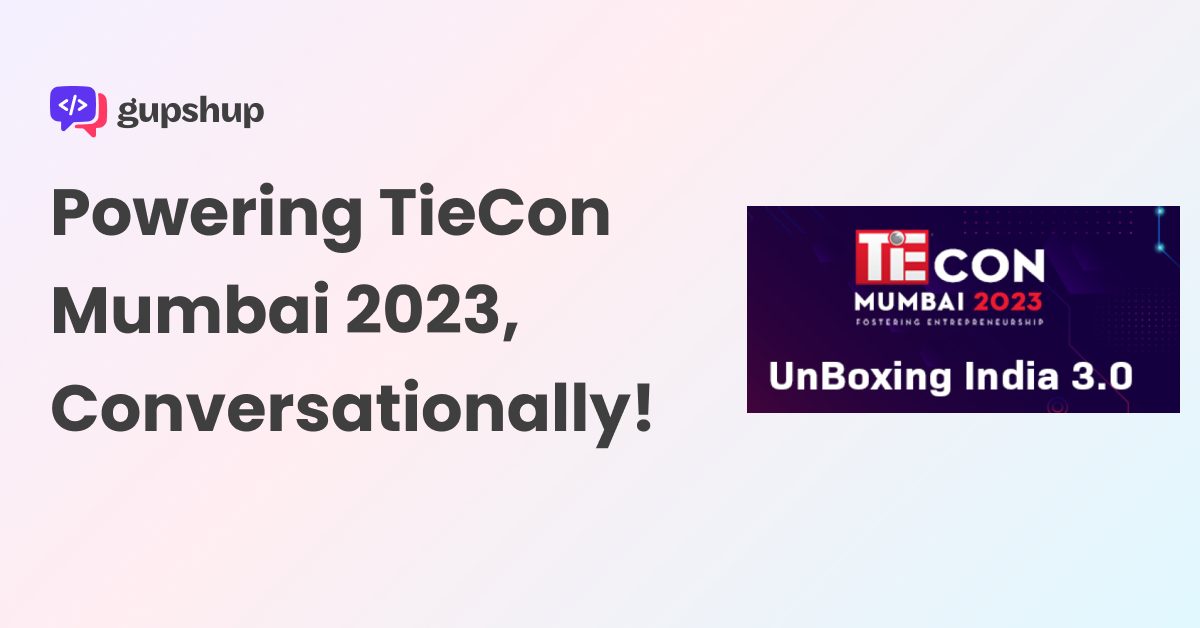 We are thrilled to announce that Gupshup, the leading conversational messaging platform, has been selected as the Event Bot Partner for TiEcon Mumbai 2023. This partnership marks an exciting step forward in leveraging cutting-edge technology to enhance the overall event experience. With Gupshup's innovative solutions and TiEcon's reputation as one of India's premier entrepreneurial events, this collaboration is set to make TiEcon Mumbai 2023 an unforgettable experience for attendees.
Seamless Conversations with Gupshup's Event Bot: TiEcon Mumbai 2023
At TiEcon Mumbai 2023, Gupshup's Event Bot will be at the forefront, facilitating seamless communication and providing real-time assistance to attendees. Powered by advanced Natural Language Processing (NLP) algorithms and artificial intelligence, the Event Bot will enable personalized and interactive conversations, ensuring attendees have all the information they need at their fingertips.
Key Features and Benefits:
Event Updates and Reminders: The Event Bot will keep attendees informed about the latest updates, session schedules, speaker announcements, and more. It will also send timely reminders to ensure participants never miss out on important sessions or networking opportunities.
Personalized Recommendations: Gupshup's intelligent Event Bot will analyze attendees' preferences and provide personalized recommendations, helping them navigate the vast range of sessions, workshops, and exhibitors available at TiEcon Mumbai 2023. This will enable participants to curate their event experience according to their interests and maximize their networking opportunities.
Q&A and Feedback: The Event Bot will be equipped to answer frequently asked questions, providing instant responses to queries regarding event logistics, session details, and more. Additionally, attendees can provide feedback directly through the Event Bot, enabling organizers to improve and enhance future iterations of TiEcon Mumbai.
Networking Assistance: Gupshup's Event Bot will facilitate networking by connecting attendees with like-minded individuals, potential mentors, and industry experts. It will enable participants to schedule meetings, exchange contact information, and even suggest relevant networking opportunities, fostering meaningful connections within the entrepreneurial community.
Real-time Assistance: Should attendees encounter any issues or require on-site assistance during TiEcon Mumbai 2023, the Event Bot will be available to provide real-time support. From guiding participants to the right venue or helping with registration queries, the Event Bot will ensure a smooth and hassle-free event experience.
The partnership between Gupshup and TiEcon Mumbai represents an exciting fusion of technology and entrepreneurship. By leveraging Gupshup's advanced conversational messaging platform, attendees will benefit from personalized recommendations, real-time assistance, and enhanced networking opportunities. This collaboration embodies the spirit of innovation and reinforces TiEcon's commitment to delivering an exceptional event experience.
Join us at TiEcon Mumbai 2023, where Gupshup's Event Bot will revolutionize how attendees engage with the event. Stay tuned for further updates and get ready for an immersive and technology-driven event journey!
To know more about Tiecon Mumbai 2023, visit their official website.
Interested to try our Conversational Engagement Solution for your Event?
Blogs you will want to share. Delivered to your inbox.
Business Email
×
Read: Elevating Customer Support with WhatsApp