How to use WhatsApp Business API
On June 21, 2021
|
4 Minutes Read
Generic
WhatsApp Business API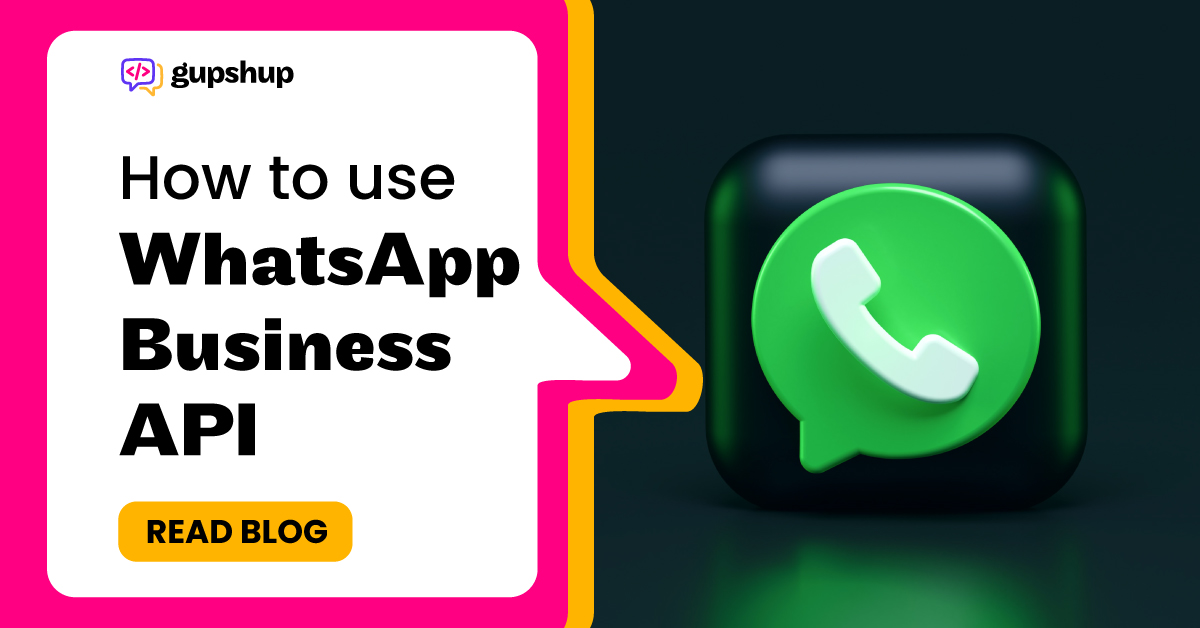 In today's digital world, communication is omnichannel. Among various channels like SMS, email, etc, messaging apps are fast becoming more popular with the current millennial for instant communication. With a variety of messaging channels in use, WhatsApp is the most preferred app by users worldwide. The reason is quite obvious. WhatsApp is a simple, and convenient app that allows people to converse quickly. One can create multiple people groups, share media like photos, videos, music and documents securely anytime, from anywhere. Apart from chatting with family and friends, users now want this ease and security while interacting with businesses as well. With the introduction of WhatsApp Business API, businesses across the world have gotten an opportunity to fulfill this consumer requirement.
WhatsApp Business API – how beneficial is the integration?
Organizations can now securely message customers directly from within the WhatsApp messaging platform. The WhatsApp Business API helps developers in building interactions that reach out to customers and initiate effective customer engagements.
Messaging privately and securely
Unlike SMS, WhatsApp is linked directly to a single phone number. So when a business sends a message to a customer, the customer can recognize the brand or organization they are receiving the messages from. WhatsApp's end-to-end encryption and strict adherence to protecting subscriber privacy is an added bonus. Additional security features like two-factor authentication (2FA) are helpful for businesses, as they are assured of the customer's authenticity .
Enables conversational commerce
Conversational messaging by integrating WhatsApp business APIs enables conversational commerce. Sales and support teams can answer product related or customer service questions quickly with contextual messages. This would either facilitate new sales or provide customers with support and keep a window for future engagements open.
Engages globally
Since WhatsApp comes preinstalled on many smartphones worldwide, chances are that most customers are probably already using the app. To connect with a customer, businesses need to just set up a WhatsApp Business profile and associate it with their business number. Companies can send appointment reminders, order notifications, product dispatch alerts, product promotional videos, verification codes, boarding passes, and 2-way customer surveys and generic product / service support messages. It's instant, more personal, and effective in the longer run.
Two-sided conversations
Primarily, WhatsApp serves as a great channel for notifications and alerts like purchase confirmations, customer support, new product alerts, etc. However, it also enables businesses and customers to interact with each other proactively via reliable two-way messaging. It also allows a more direct way to engage with customers and have the two-way conversations that normally take place in a physical store location or over the phone.
As the world's most popular messaging channel, WhatsApp users span over 180 countries, having a rough count of over 60 billion messages in circulation every day. If integrated correctly, WhatsApp messaging can take your business communications to a whole new level of engagement with private and real-time b2c conversations.
The apparent advantages for customers: customers want a familiar as well as a secure way to connect with businesses. The apparent advantages for businesses: better customer satisfaction, improved support costs, increase in conversions, and enhanced security, to name a few.
WhatsApp business API integration made easy
The introduction of WhatsApp as a business tool is strategic. With its extensive reach, highly engaged user base, and multi-faceted communications capabilities, it has the momentum to tap in the full potential of customer engagement. If a business wants to remain competitive and connect with customers proactively, creating their own WhatsApp Business is the next big step.
If you are ready to get started, Gupshup offers the simplest and best way to get your WhatsApp messaging app up and running. Gupshup has taken out the complexity from the development process to make it easier for businesses, with Gupshup's WhatsApp Business API.
Blogs you will want to share. Delivered to your inbox.
Business Email
×
Read: Conversational AI Support vs Live Chat Support – Pros & Cons