Conversational AI Support vs Live Chat Support – Pros & Cons
On June 23, 2021
|
4 Minutes Read
Conversational AI
Conversational Support
Generic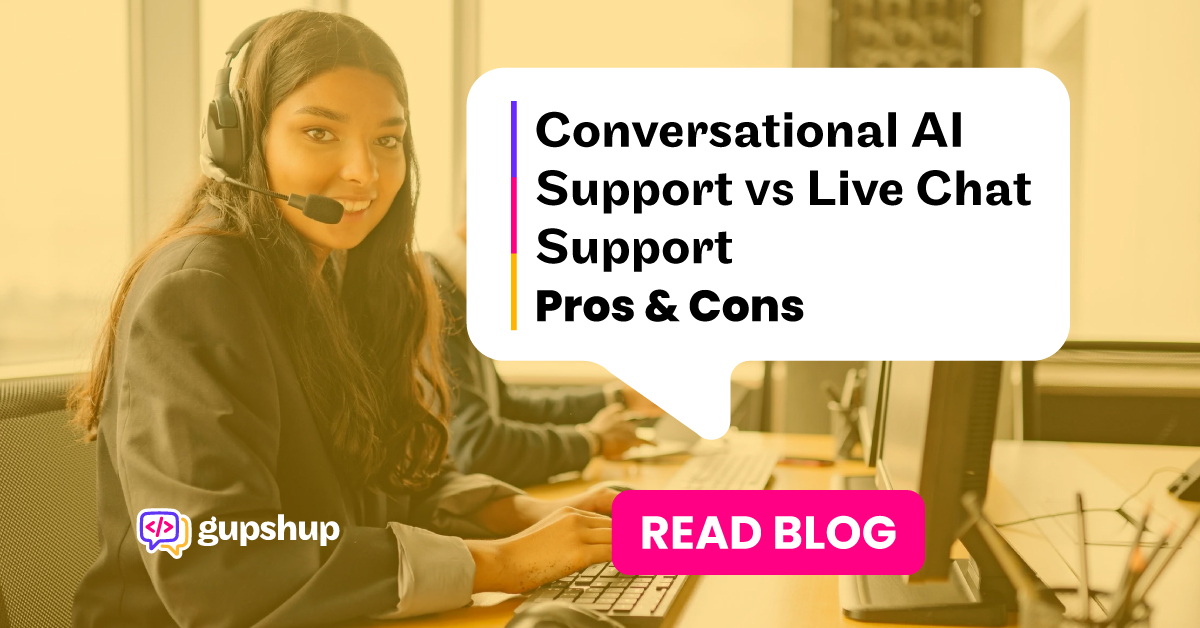 When it comes to customer support, businesses are divided between deploying live chat with human agents or the futuristic conversational AI with virtual assistants and chatbots. While both channels are effective in addressing and responding to customer queries, there are some pros and cons associated with each that showcase differences in their capabilities.
What is live chat support?
Live chat support helps customers to ask proactive questions through instant messaging platforms. For example, when one visits a website, a chatbox prompts users to input a query. The user is then directed to a live human agent who takes up the conversation.
Pros –
There is a personal touch in conversations with a human agent. When a customer gets to know they are chatting with a human at the other end, the comfort and trust that the problem will be sorted comes in naturally. Most people feel more comfortable chatting with a live agent than an automated chatbot.
Handling of complex problems and customizing solutions as per individual requirements is another strong point in favor of human chat support.
The process of live chat is simplistic in nature, not technologically demanding, and the customer satisfaction level is also higher.
Cons –
Availability of agents 24/7 is one of the many problems faced by businesses. There is always the possibility of human absence and unavailability attached with live chat. If there is an excessive inflow of customer chats at a point in time, the ability to scale up human agents instantly may not always be possible.
Operational costs are always high when customer support is highly dependent on live chats and human agents.
The turnaround time is unpredictable. Chances of connecting to a human agent, wait times and getting the correct solution for the query are always unpredictable.
Another problem with human agents is multi-tasking. Unlike chatbots, live human agents can only handle one customer at a time. There is also the issue of time lag and chances of errors.
What is Conversational AI support?
Conversational AI is the technology where automated messaging applications can make human-like interactions. It's an artificial intelligence platform that businesses can integrate on their websites to better solve customer queries. AI-enabled chatbots not only converse in the customers chosen language but also offer a personalized solution to customer queries.
Pros –
24/7 availability, support and assistance is one of the key highlights of conversational AI-enabled customer support. Conversational AI enabled bots work round the clock attending customer queries at even odd times.
There is less dependence on human agents and resources. This in turn reduces the overall operational cost for the business.
There is a higher scope of scalability,  efficiency, delivering better customer satisfaction with faster turnaround time.
Pooling of customer data helps create analytics for agent KPIs. Agents can take an informed decision in future follow ups, based on the recorded user behavior and preferences.
Cons –
Challenges in solving complex queries which may need human understanding and handling. Automation may be used only for answering repeated or frequently asked questions.
Difficulty in reaching out to customers who have resistance towards new technology.
Deploying conversational AI enabled apps require a higher level of expertise and technical knowledge on the part of the management, atleast at the initial stage.
The verdict on Conversational AI Support vs Live Chat Support
When it comes to giving a final verdict on delivering the best customer support – whether it's via live chat support or conversational AI chatbot support – a lot of points are in the favour of the latter. Conversational AI is futuristic with an ever evolving scope for technological improvements. When it comes to factors like scalability, availability, cost efficiency, better productivity, response time, waiting time and consistency, Conversational AI has an edge over live chat. Plus, the millennial crowd would rather 'text' than make a phone call, which makes implementation of conversational messaging even more relevant for businesses today.
However, the importance of human agents and live chat in the customer support space cannot be undermined at all. Human support in customer related queries and assistance will always be required. A conversational AI-powered customer support system would have an integrated live chat extension in it.
Get started with Conversational Messaging and Conversational AI-powered chatbots with Gushup. Gupshup helps create a rich conversational messaging experience for your customers. Convert your existing messaging workflows into rich conversational experiences and build messaging workflows for commerce, marketing and support. Leverage our unmatched channel, operator and handset partnerships. 
Blogs you will want to share. Delivered to your inbox.
Business Email
×
Read: Automate F&B Processes with Conversational AI