Giving Thanks, Getting Returns: Loyalty via WhatsApp Business API
On October 26, 2023
|
6 Minutes Read
Chatbots
Conversational AI
Conversational Commerce
Conversational Engagement
Conversational Marketing
Conversational Support
CX
Generic
WhatsApp Business API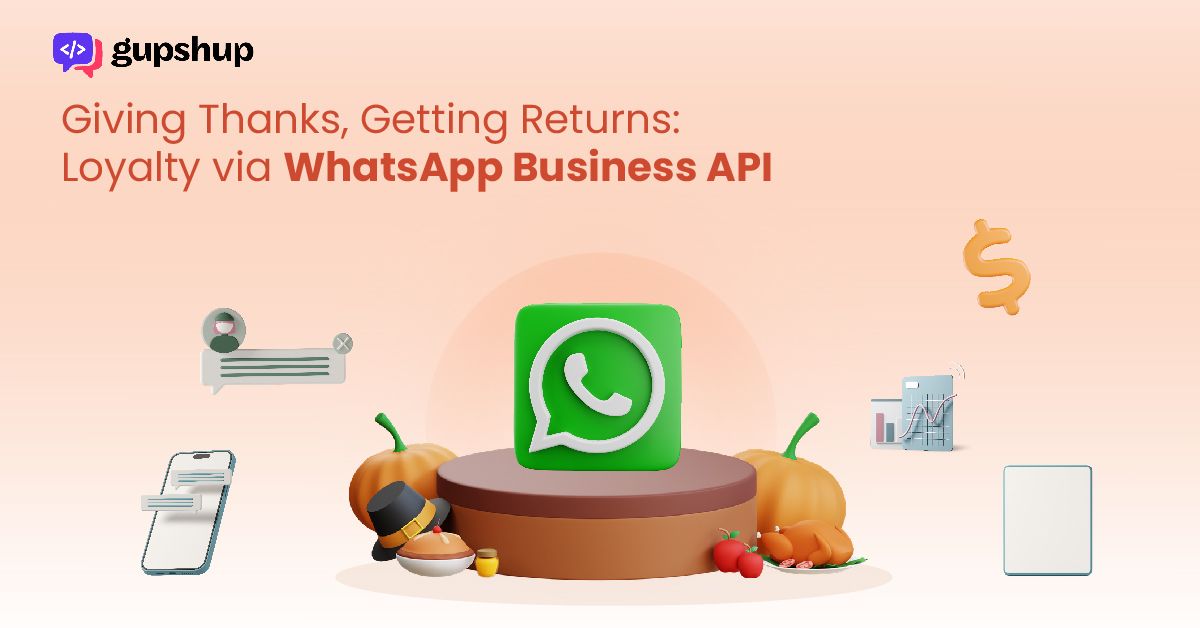 In the spirit of Thanksgiving, let's talk turkey—well, not literally. As the aroma of roasted turkey fills the air, the WhatsApp Business API is simmering up something special for brands hungry for success. Imagine hosting a Thanksgiving dinner where you not only give thanks but also build a lasting bond with every guest. That's precisely what we're serving up today. Welcome to the banquet of "Giving Thanks, Getting Returns," where loyalty isn't just about gratitude; it's an art, perfected with WhatsApp chatbots and seamless automation. Ready to feast on insights? Grab your plate (or shall we say smartphone?), and let's dive in!
Imagine extending the concept of thanksgiving to your business. The idea of gratitude, loyalty, and communication isn't just for once-a-year family dinners; it's also the recipe for creating and sustaining robust business relationships. Now how about we sprinkle a bit of that festive magic into your business, giving it that extra zest and zing?And what better platform to stir this mix than the world's most used messaging app, WhatsApp? Cue the WhatsApp API and chatbots!
You might be wondering: "What's the connection?" Stay with us as we journey through the festive lanes of operational efficiency, customer acquisition, revenue drives, and exceptional customer experiences, all served with the flavor of the season.
Blending Thanksgiving Warmth with Advanced Business Solutions
     1. The Welcome Appetizer: Customer Acquisition with WhatsApp's Digital Assistants
Setting the right tone at the start of a meal is crucial. Enter the WhatsApp bot, your digital head waiter. By warmly greeting potential leads and answering their initial questions, it makes them feel right at home.
How & What Features Are Useful:
Instant Communication:

WhatsApp chatbots provide real-time responses, ensuring potential leads never have to wait.

Automated FAQs:

Using the WhatsApp API, businesses can set up a series of frequently asked questions and answers. When new leads inquire about common topics, they get immediate and accurate answers.

24/7 Availability:

Bots don't need breaks, ensuring that there's always someone (or something) to attend to potential customers, regardless of the time or day.
Example: "HomeyStay," a popular bed and breakfast, uses a WhatsApp bot to instantly respond to accommodation queries. Potential guests can ask about room availability, special requests, or even the breakfast menu, receiving swift, accurate answers. The result? More bookings!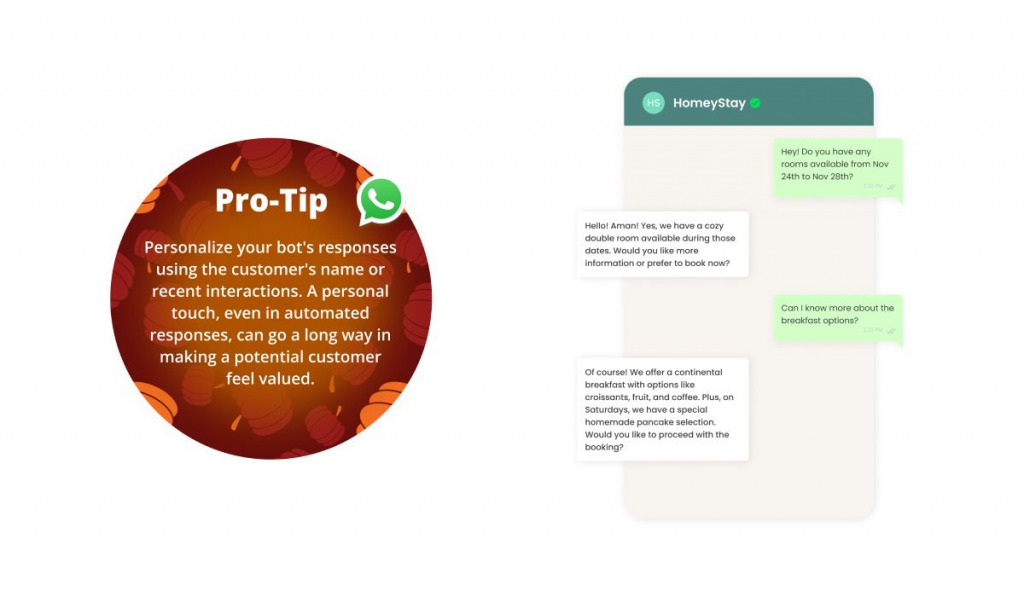 2. A Hearty Main Course: Supercharging Revenue with WhatsApp Automation
Just as the turkey is the centerpiece of the Thanksgiving table, revenue is the heart of your business. And what better way to boost those numbers than with timely WhatsApp automation? Sending out personalized deals, exclusive offers, or reminders thereby automating the conversational engagement entices the customers to dive in.
How & What Features Are Useful:
Segmented Messaging:

WhatsApp API allows businesses to segment their audience. For instance, sending out targeted promotional messages based on customer purchase history or preferences.

Timed Messages:

Using automation, businesses can schedule flash sale alerts or limited-time offer announcements for peak engagement times.

Multimedia Support:

WhatsApp allows sending images, videos, and audio clips, which means promotional content can be visually rich and engaging.
Example: "CraftyCrafts," an online arts and crafts store, knows the value of a timely deal. As Thanksgiving approaches, they send out messages like: "Early bird Thanksgiving offer! Get 15% off DIY table decor kits! Limited stock." Customers, eager to add a personal touch to their festive table, quickly snap up the offer.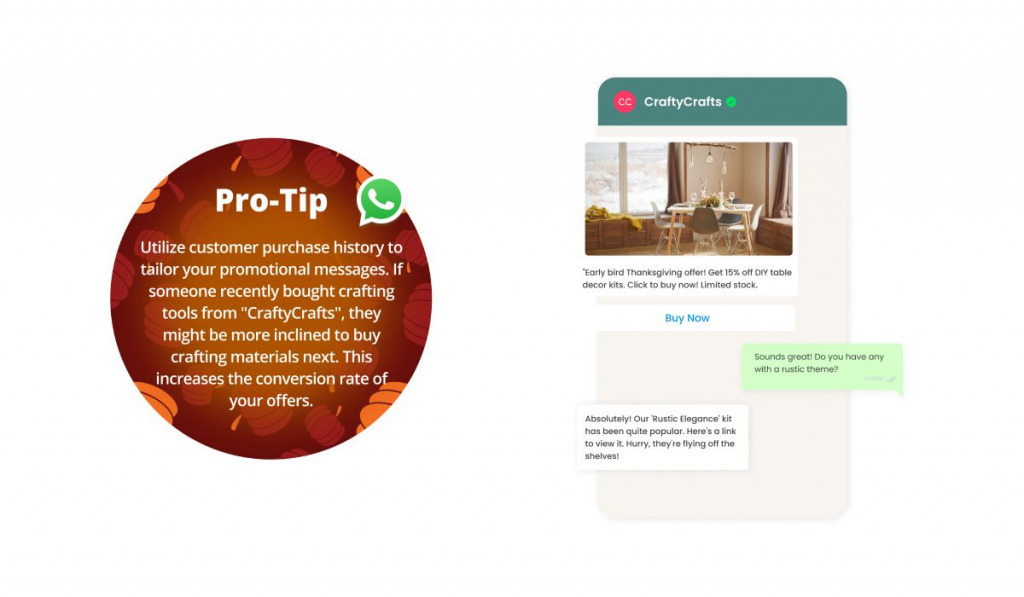 3. Savory Sides: Operational Efficiency via WhatsApp API Integration
Every Thanksgiving feast has those indispensable side dishes that perfectly complement the main course. For your business, operational efficiency is that indispensable side, and WhatsApp API integration is your go-to recipe.
How & What Features Are Useful:
Two-Way Communication:

The WhatsApp API supports bi-directional communication, enabling businesses to both send and receive messages, making operations like bookings or feedback collection efficient.

Real-time Updates:

For businesses like taxi services, real-time location sharing and status updates can be sent directly to the customer.

Integration with CRMs:

The API can be integrated with existing CRM systems, ensuring all customer interactions on WhatsApp are tracked and managed efficiently.
Example: "CityCabs," a local taxi service, integrates the WhatsApp API for streamlined bookings. Riders receive real-time updates on cab locations, expected arrival times, and even details about their driver. It's a smooth ride every time, with increased customer satisfaction and fewer canceled bookings.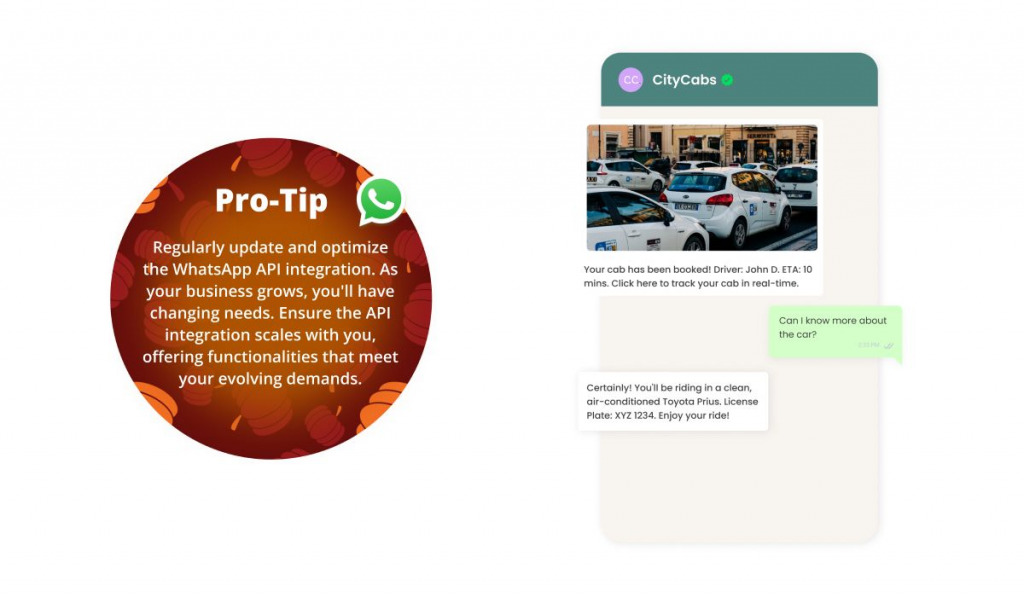 4. The Sweet Dessert: Exceptional CX with WhatsApp Chatbot
Ah, the dessert! The perfect ending to a perfect meal. In the business world, that's the unforgettable customer experience (CX) you offer. With a WhatsApp chatbot, you're ensuring every interaction is sweet, satisfying, and leaves a lasting impression.
How & What Bot Features Are Useful:
Personalization:

It can make use of customer data to provide personalized responses or product recommendations, enhancing the overall customer experience.

Quick Problem Resolution:

For tech or product support, these can instantly provide troubleshooting steps, guided solutions, or direct users to relevant resources.

Feedback Collection:

Post interaction or purchase, it can solicit feedback, ensuring continuous improvement in service and product offerings.
Example: "TechGuard," a company selling antivirus software, uses a bot to assist users. Whether they have questions about installation, updates, or troubleshooting, the chatbot is always available, ensuring users are protected and pleased.
But what's Thanksgiving without some extra treats?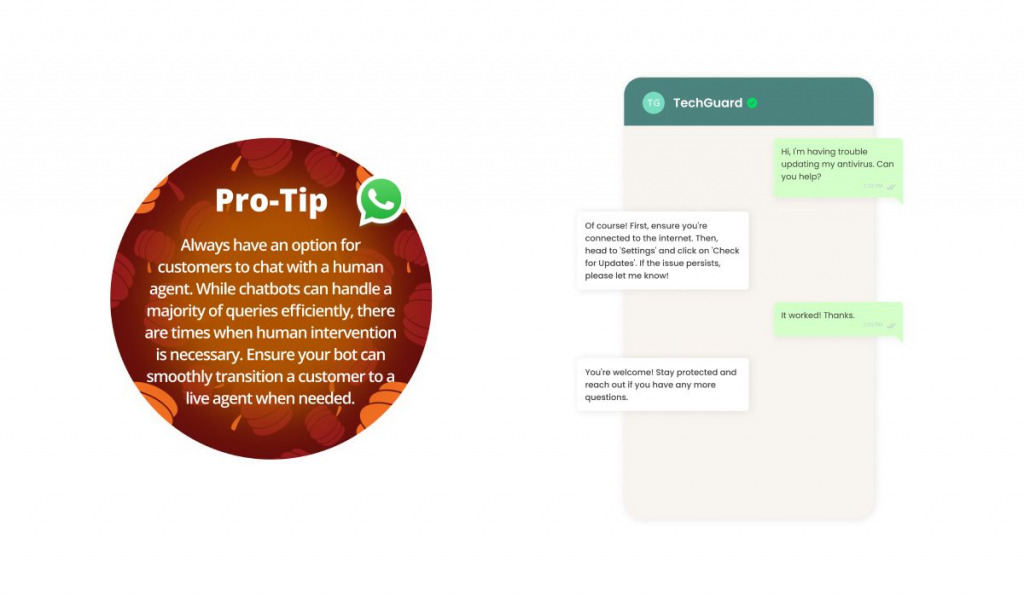 5. The Cherry on Top: Building Loyalty
Just as you'd look forward to grandma's pumpkin pie every year, wouldn't it be great if customers eagerly anticipated your offerings? By consistently offering value, being accessible via platforms like WhatsApp, and genuinely caring for your customers, you build loyalty that lasts.
How & What Features Are Useful:
Consistent Engagement:

WhatsApp's chatbot ensures consistent engagement with customers, be it through check-ins, special offers, or personalized recommendations.

Read Receipts:

The platform's blue tick feature lets businesses know if their messages have been read, allowing for timely follow-ups.

Seamless Experience:

Using the

WhatsApp Business API,

you can offer a seamless experience from browsing to purchase to post-purchase support, all within the familiar interface of WhatsApp.
Example: "GS Coffee," a local coffee shop, regularly checks in with its loyal customers via WhatsApp, sending them special discounts, early bird access to new blends, or simply a message saying, "We miss you!"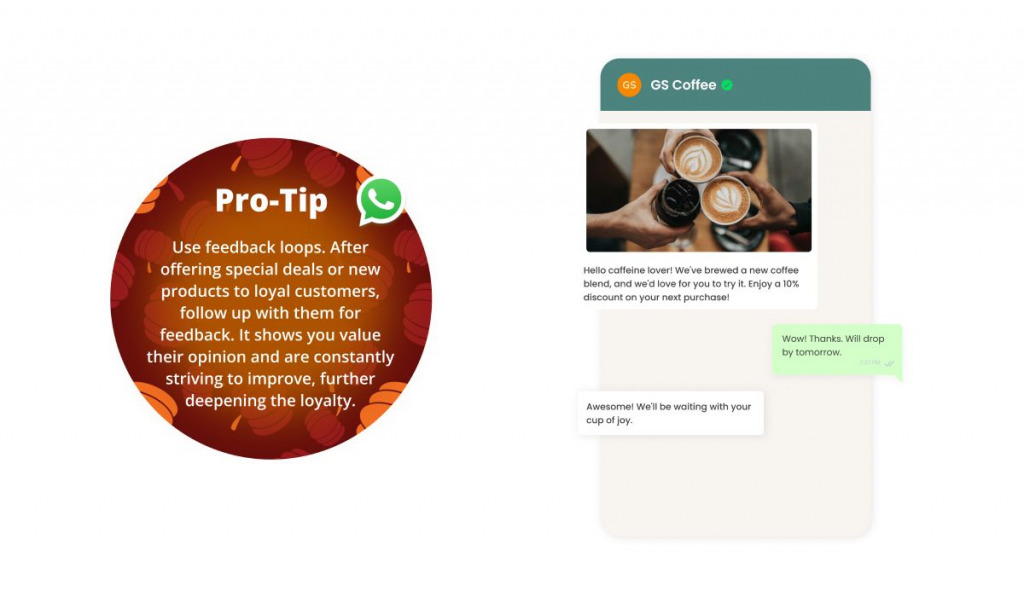 The Final Toast: Wrapping Up Our Festive Business Feast
If this has left you drooling (business-wise, of course), you're not alone. With the rich aroma of the WhatsApp Business API and the sizzle of chatbots, businesses worldwide are cooking up success stories that leave everyone craving more.
In essence, much like Thanksgiving, business is about connections, gratitude, and of course, serving up the best. And with tools like the WhatsApp Business API, every day can be a day of giving thanks and getting returns.
Ready to transform your business this Thanksgiving and beyond? Let Gupshup's expertise in WhatsApp Business API and bots serve up the success you crave. Dive into a seamless customer experience today. Connect with Gupshup now and let's set the table for your business feast!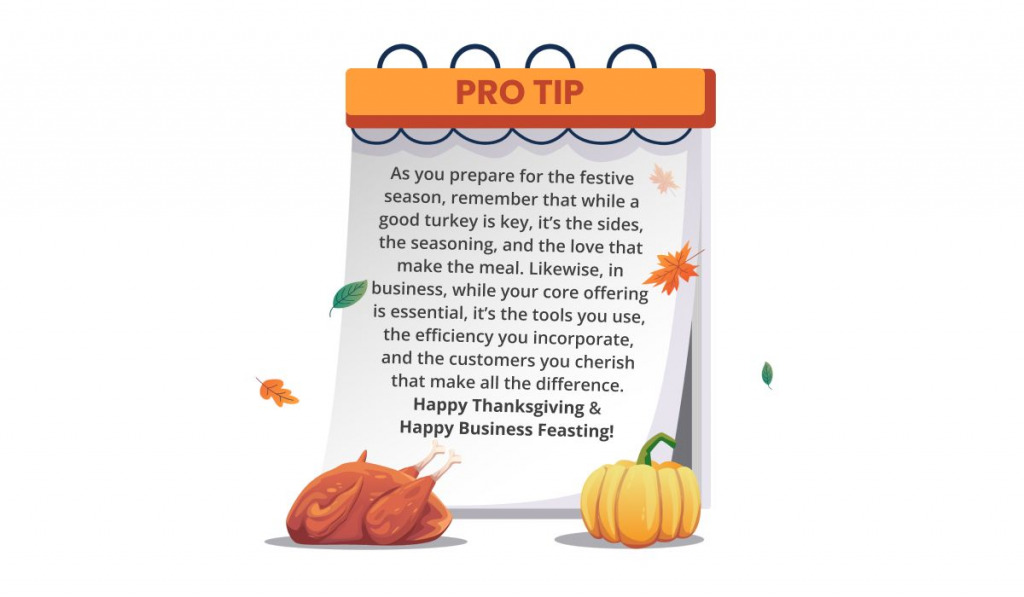 Blogs you will want to share. Delivered to your inbox.
Business Email
×
Read: RCS Messaging: How Brands can Amplify Outreach During the Holiday Season