Making The Media & Entertainment Experience Conversational
On November 1, 2021
Chatbots
Conversational AI
Conversational Engagement
Media & Entertainment
OTT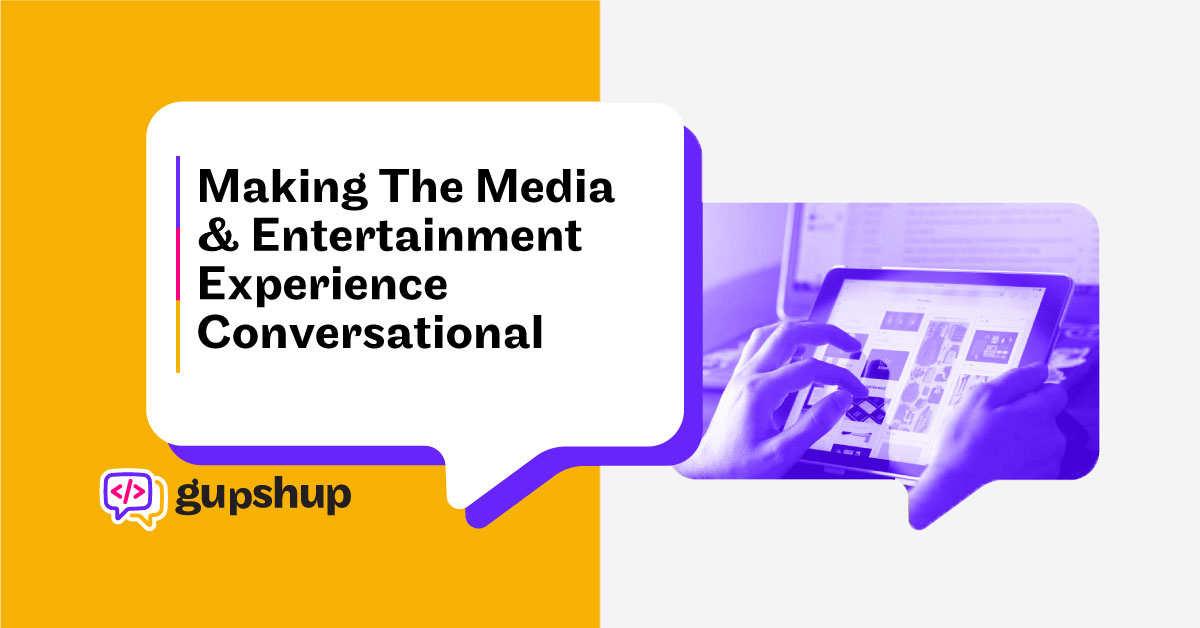 The Media & Entertainment industry is among the many industries that are seeing a lot of potential in using Artificial Intelligence (AI) to enhance their productivity and increase revenues. Between virtual reality, chatbots, augmented reality, artificial intelligence, and 360-degree video, the media & entertainment industry is tapping into digital experiences. If the right steps are taken, the media and entertainment industry can take full advantage of technological advancements to provide interactive, intelligent, conversational experience.
Advertising is turning conversational. So how can you transform subscriber and audience experience with chatbots on messaging channels? Conversational AI-powered chatbots play a huge role in this. Conversational AI is gaining traction fast. The possibilities are endless, especially in the Media & Entertainment industry which is constantly on the lookout for new ways to entertain their audiences.
Conversational Solutions for Media & Entertainment
There are many ways to get your message across these days. Companies are considering using an AI chatbot, powered by deep learning neural networks, that can deliver customized services (marketing, commerce, support) that is tailored for each user, based on complex factors. And the best part is that it will likely cut down costs, while delivering more value at once.
Gupshup provides media and entertainment companies with a solution to transform subscriber and audience experience with AI-driven chatbots. The solution enriches customer experience with personalized conversations across every stage of the customer journey.
Offer free trials
With the help of conversations, acquire OTT platforms, channel subscribers, offer free trials, register them on your platform, etc. This will increase customer engagement and retention.
Get subscriptions
Over a conversational workflow, replicate the subscription and payment workflows. You can also publish the same on all messaging handles.
Offer subscriber support
Integrate trained AI models that can handle subscriber/viewer FAQs with context changes and pass on complex queries to human agents.
Conduct feedback and surveys
Run surveys, capture NPS, record subscriber/viewer feedback through a conversational workflow and monitor these for future nurtures.
Features
When building a business online it is crucial that your target audience can quickly and easily find you or get in touch with you. For millennials, who make up today's leading viewership across many digital channels, speed and convenience trump all other considerations when interacting with media companies. The information we want tends to be the same: cancellations, feedback and appointments to name a few. This is where AI comes in: chatbots can allow millennials to get what they need faster than ever before – by delivering any information via messaging apps such as Facebook Messenger, text message, Snapchat and even within an app itself.
Some features of our chatbot for the media and entertainment industry include:
Choosing from a list of pre-built bot templates, customizing its content and instantly publishing it
Launching a fully functional media bot in minutes
Automating support, content nudging, and user feedback workflows
Availing AI-powered self-serve conversational tools
Offering customers easy payment options via payment messages like 1-click bill pay
With Advanced APIs, get pre-built, customizable sequences to plug-in, use and accelerate the automation of key subscriber workflows
Interacting and transacting with your customers across 30+ messaging channels
Benefits
Conversational messaging offers an abundance of potential advantages and a new way of audience engagement for the media & entertainment industry. A chatbot that's conversational in nature can help streamline communication on any platform, especially at this moment when companies are looking to prioritize the primary engagement metric of millennial audiences.
Smooth integration
Integrate your API with your existing CMS, website/app and IT infrastructure so that your API can work alongside it to give a wholesome experience to the consumers of content.
Availability round the clock
By providing 24×7 assistance, you can reduce the likelihood of errors when it comes to issues such as payments and access to the platform.
Automate the workflows
Convert your digital workflows on the website/app to be conversational with purchase workflows.
Reduce engagement costs
Control overheads at all levels by having fewer staff members involved in any given area of the business. Automate your processes by deploying artificial intelligence tools that are capable of intelligent conversations with customers.
Leverage and gain against competition
Gain a competitive edge above your competition by developing smarter technology for OTT platforms.
Leverage the power of omni-channels
Through cross channel consistency and making sure customers don't fall through the cracks, you can appeal to customers where they happen to be.
The Final Takeaway
Media and entertainment has long been the trendsetter for industries that are now increasingly adopting Conversational AI solutions. It's not hard to see why. It's a way to engage and interact with the audience in a way that seems engaging and human. The media and entertainment industry is full of data that is scattered across different departments. The need to collate and use this data in a uniform manner is critical in understanding the performance of the company and the industry in general.
Gupshup works with a variety of media & entertainment companies like OTT platforms, cable operators, radio stations, film/tv production houses, digital content creators and event producers. Through our conversational messaging platform, and the conversational experiences on messaging apps, players in the media and entertainment industry can now converse with their audiences and engage with them in a personalized way.
Learn how with the help of conversational messaging, the entire media consumption experience can be made easy. #LetsGupshup to know more.
Blogs you will want to share. Delivered to your inbox.
Business Email
Recommended Resources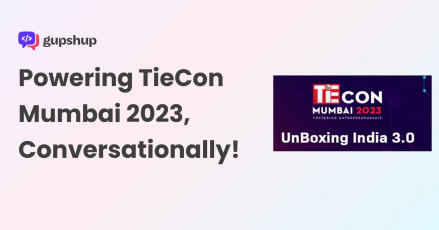 TieCon Bot, enables the event delegates to navigate the event intelligently allowing them to interact with...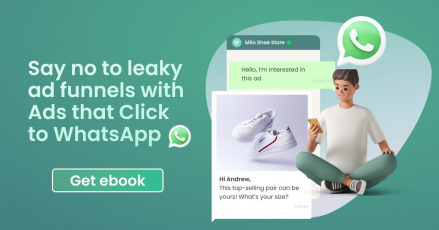 Read the eBook by Gupshup to uncover you can increase your return on ad spends by...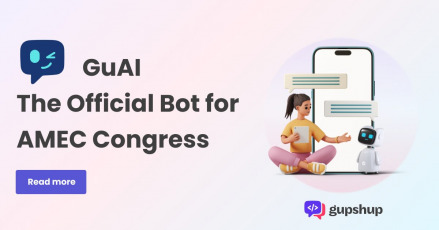 GuAI, the virtual assistant of AMEC Congress, enables attendees to interact with speakers and sponsors, access...
×
Read: Chatbots Are The Paradigm Shift for E-commerce in COVID-19 Era