Elevating Customer Support with WhatsApp
On June 5, 2023
|
10 Minutes Read
Conversational Support
Generic
WhatsApp Business API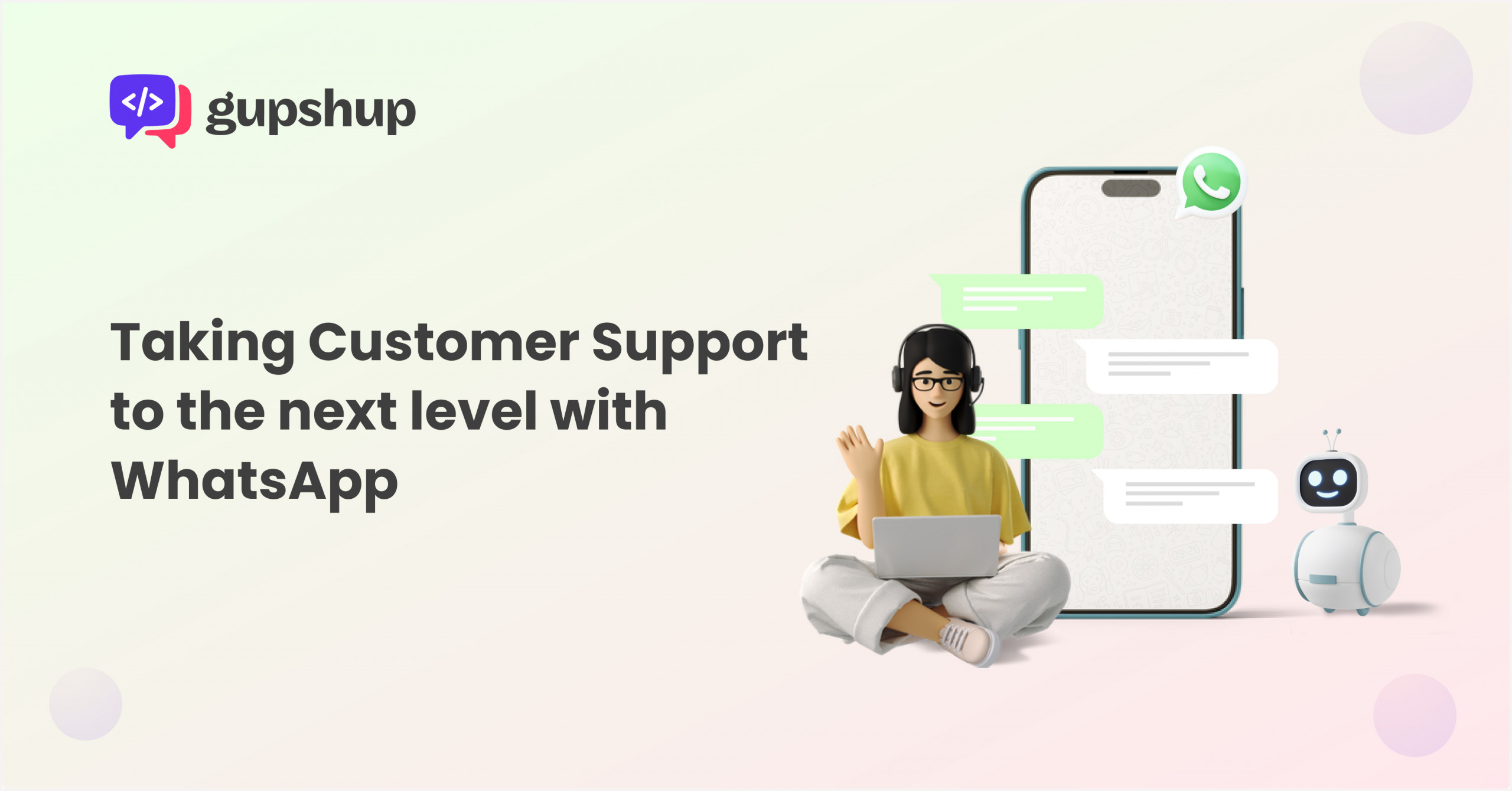 In today's fast-paced digital landscape, providing exceptional customer support is more crucial than ever. To meet customers' expectation of convenience and instant solutions, businesses must adapt and embrace communication channels that align with these evolving demands.  According to McKinsey's  State of Customer Care Survey 2022, customer care is now a strategic focus for companies. The report further states that customer care leaders are increasingly looking at improving CX through Customer Care and are focussing more on reducing contact volumes, deploying AI Assistance and increasing revenue generation. 
The results of Achieving Customer Amazement Study 2020 are even more revealing. The study that interviewed 100 customers found out that 96% of customers were willing to switch to another company for bad service.
"Customer service is broken" is a comment that we get to hear so often. Instances of customers getting annoyed because of being passed on from one representative to another are far too common. In many cases, it's broken from the brand's side because their agents are loaded with high volumes of calls and mundane queries. Add to that multiple channels that they need to manage- voice, emails, text etc.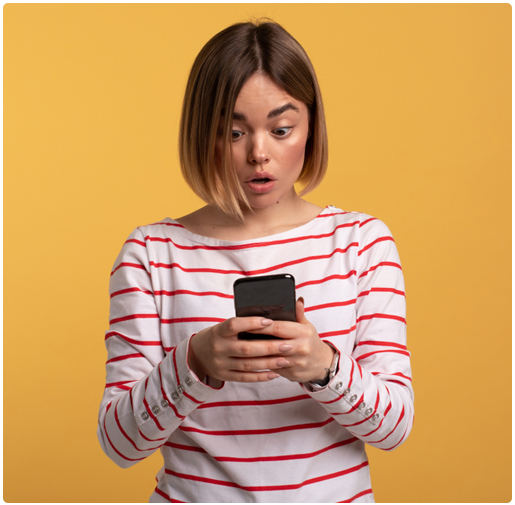 Enter WhatsApp, the ubiquitous messaging app that has transformed the way we connect and share information. As a leading platform with over 2 billion active users worldwide, WhatsApp offers unparalleled reach and accessibility, making it an ideal tool for building robust customer support. With Conversational support on WhatsApp, you can not only boost customer satisfaction but also grow online sales with opportunities to upsell and cross-sell.
In this blog, we will explore the untapped potential of WhatsApp as a powerful customer support channel and delve into its unique features and benefits. From small startups to multinational corporations, brands across industries are harnessing the capabilities of WhatsApp to create meaningful, personalized interactions with their customers.
So, buckle up and get ready to explore the world of customer support revolutionized by WhatsApp. Let's unlock the power of seamless communication and elevate your customer support to new heights!
The rise of WhatsApp in Customer Support
In recent years, WhatsApp has emerged as a frontrunner in the realm of customer support, revolutionizing the way businesses interact with their customers. With its extensive user base of over 2 billion active users worldwide, WhatsApp offers an unparalleled reach and accessibility that businesses simply can't ignore. What started as a personal messaging app has evolved into a powerful tool for businesses to build meaningful connections and provide exceptional support to their customers.
One of the key factors driving WhatsApp's popularity for customer support is its widespread adoption. Almost everyone is familiar with the WhatsApp interface, making it a natural choice for businesses to connect with their customers.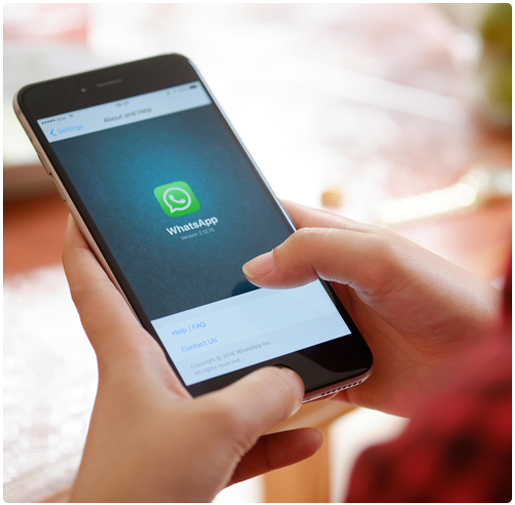 Customers appreciate the convenience of using a familiar platform to seek support, eliminating the need to download additional apps or navigate complex systems. By leveraging WhatsApp, businesses can tap into a massive user base and establish a direct line of communication with their target audience.
WhatsApp's cross-platform functionality is another aspect that contributes to its popularity in customer support. It is available on various operating systems, including iOS, Android, and web browsers, ensuring seamless communication across devices. This versatility allows businesses to reach customers wherever they are, be it on their smartphones, tablets, or computers. 
Furthermore, WhatsApp's instant messaging format aligns perfectly with the modern customer's expectations for swift and efficient support. Customers no longer want to endure long phone queues or wait for email responses. With WhatsApp, businesses can provide real-time support, allowing customers to receive instant answers to their queries. The speed and immediacy of WhatsApp facilitate a seamless support experience, leaving customers satisfied and confident in their choice of a brand.
Benefits of Using WhatsApp for Customer Support
Solve a variety of support needs– Conversational support on WhatsApp allows you to offer help to your customers for a host of needs. Brands can leverage pre-built Conversational flows to automate returns and refunds, cancellations/rescheduling, complaint management and account and transactional updates. Besides these, feedback collection, payment reminders and loyalty programs can also be executed through automation on WhatsApp.
Reduce costs and boost CSAT– WhatsApp is a cost-effective way for businesses to provide customer support. They don't need to invest in expensive call center infrastructure or hire additional staff to handle customer queries. With a self-service model, brands can automate more than 80% of requests, helping them achieve 20%higher CSAT with first time resolution.
AI+Live Agent Support–  WhatsApp can effectively be used to deflect to a live agent at any point in the customer journey. A hybrid support infrastructure with a seamless bot to agent and agent to bot handover can take care of complex queries.
Personalization: WhatsApp allows businesses to personalize their interactions with customers. They can use the customer's name and previous conversation history to provide a more personalized experience. This helps to build a stronger relationship with the customer.
Enables rich Multimedia messaging– By leveraging WhatsApp's multimedia capabilities, businesses can provide richer and more personalized support experiences. Some customer inquiries may require visual demonstrations or step-by-step instructions to resolve issues effectively. With WhatsApp's multimedia capabilities, businesses can easily share images or videos to guide customers through troubleshooting processes or provide visual explanations.
Better Engagement: WhatsApp provides a better engagement experience for customers. They can send messages, images, and videos, which helps to provide more context to their queries. This helps businesses to understand the customer's problem better and provide a more effective solution.
Use cases for building support on WhatsApp
Offer Post-Purchase support-  Once your customer has transacted through an app or website, use WhatsApp to share updates with them. It's good to do this on a channel where they are most active, so that they don't miss out on necessary information. Send order confirmation and updates and allow them to track and cancel, within the messaging app.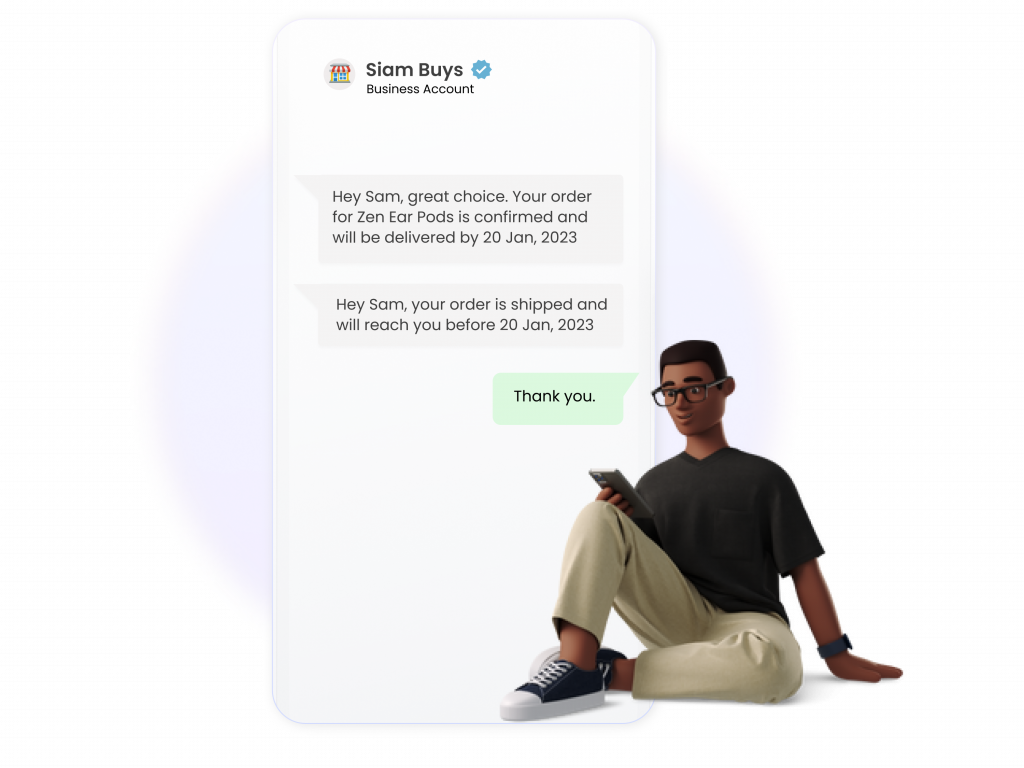 Collect feedback– Instead of sending feedback survey questions over email or website pop-ups which may never get opened, WhatsApp serves as a great tool to collect instant feedback from customers. In case of a poor experience, brands can use the same messaging thread to help customers with their complaint, turning it into a great experience and improving their CSAT score.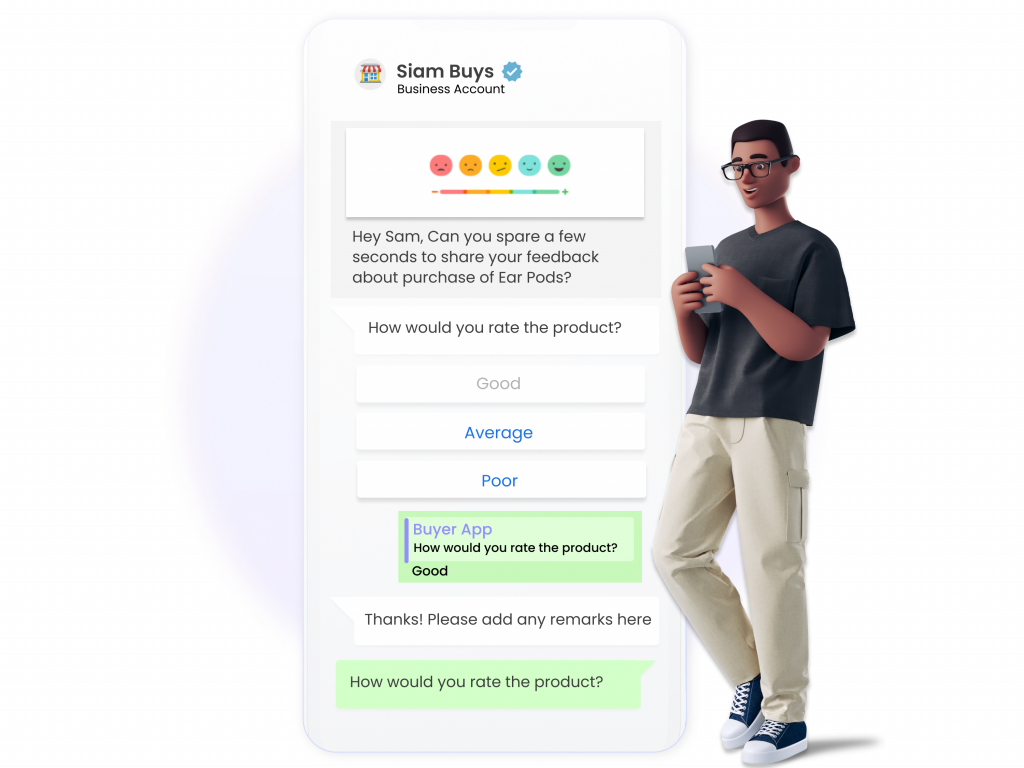 Live Agent Support– While chatbots are effective in managing frequently asked support queries at scale, there can always be some situations that need a nuanced approach making human support a necessity. The messaging app can be used to offer live one-on-one chat with agents, thus solving customer queries in real time.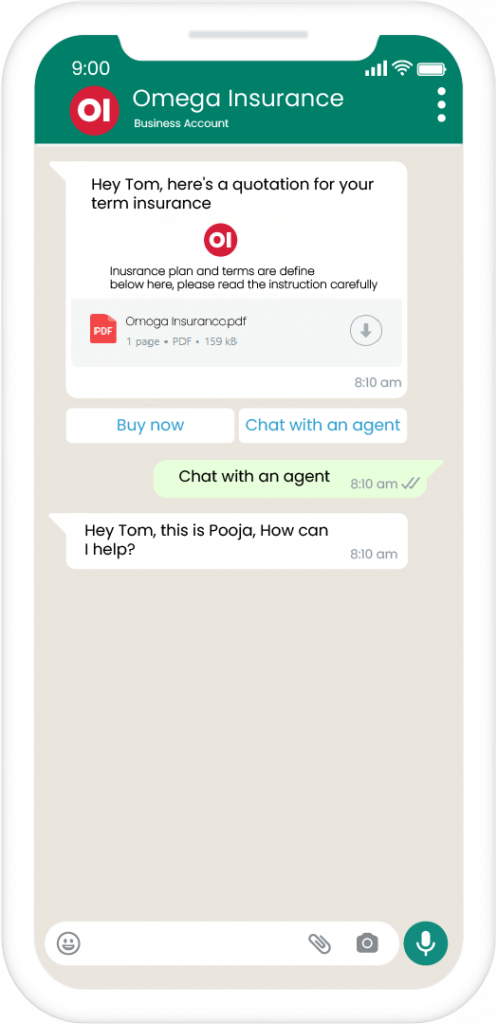 Promote upselling via agents– Besides the typical complaint handling and customer service, live agents can also be used for sales and marketing and for upselling/cross selling products and services.
How to set up WhatsApp for Customer Support
Create a WhatsApp Business Account: The first step in using WhatsApp for customer support is to get a WhatsApp Business API that allows businesses to interact with customers on the platform. Businesses can use this API to send and receive messages, and automate responses.
Promote Your WhatsApp Number: Once you have created a business account, you need to promote your WhatsApp number to your customers. You can add a WhatsApp button on your website, social media profiles, and email signature. This will make it easy for customers to reach out to you on WhatsApp.
Set Up Automated Responses: You can set up automated responses to common customer queries. This will help you to respond to customer queries quickly and efficiently. You can use chatbots to provide automated responses. Chatbots can handle simple queries and provide relevant information to customers.
Provide 24/7 Support: WhatsApp allows customers to send messages at any time. It's essential to provide 24/7 support to your customers. You can use chatbots to handle queries outside of business hours. This will ensure that your customers always receive a response.
Streamlining customer interactions with Chatbots on WhatsApp
In today's fast-paced digital landscape, chatbots have become an invaluable tool for streamlining customer support operations. When integrated with WhatsApp, chatbots can revolutionize the way businesses handle customer interactions, providing instant responses, reducing wait times, and improving overall efficiency.
Before diving into implementation, it's important to understand the different types of chatbots available. Rule-based chatbots follow predefined rules and decision trees to provide responses. They work well for handling simple, repetitive inquiries and can be set up relatively easily. On the other hand, AI-powered chatbots utilize machine learning and natural language processing to understand and respond to more complex queries. They can learn from customer interactions and improve over time, offering a more personalized and sophisticated support experience.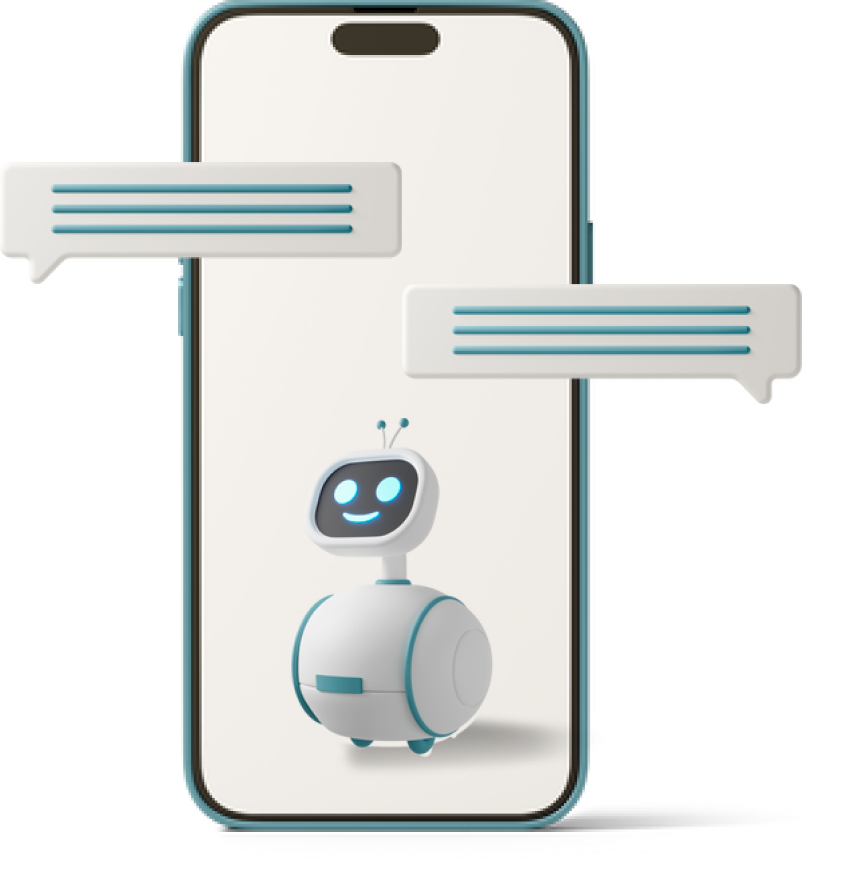 One of the primary advantages of chatbots is their ability to handle routine inquiries, such as frequently asked questions, order status inquiries, or basic troubleshooting. By programming chatbots with predefined responses, businesses can ensure that customers receive immediate assistance for common queries. This automation frees up human agents to focus on more complex issues, providing a faster resolution for customers and reducing response times.
While chatbots excel at handling routine inquiries, there are situations where human intervention is necessary. In such cases, chatbots can intelligently identify complex queries and escalate them to human agents for further assistance. This seamless transition from chatbot to human agent ensures that customers receive personalized and specialized support when needed, striking the right balance between automation and human interaction.
Gupshup offers frictionless customer support on WhatsApp through AI bots and live agents. With 300+ pre-built customer support journeys and multilingual assistance, your brand can quickly deploy conversational support on WhatsApp using Gupshup's Conversational Automation suite which comes with Contact Center and Agent Assist. The platform has a number of features that enhance agent and customer experience including single view window, intelligent routing, agent assisted commerce along with real time analytics and insights.
Moreover, now with Gupshup's Auto Bot Builder, brands can build GPT-3 based chatbots to automate customer service and cut response time. These advanced conversational chatbots can answer user queries fluently, keeping the context intact. Gupshup can help build your GPT-3 based support bot. Reach out to us to know how.
Real World Success Stories
A leading brand managed peak traffic efficiently by diverting customer calls from voice to chat. On calling the helpline number for complaint or support, the customer would get notified to switch to chat support over WhatsApp.

A popular early nutrition brand automated query management around complex questions relating to pregnancy and baby symptoms.

One of the largest insurance companies in India reduced support calls by 45% by answering policy related questions on WhatsApp.
Conclusion
By embracing WhatsApp as a customer support tool, businesses can cultivate stronger relationships with customers, enhance satisfaction, and drive growth. Remember, exceptional customer support goes beyond just providing assistance—it's about creating meaningful connections, fostering trust, and delivering experiences that leave a lasting impression. So, embrace WhatsApp as a powerful customer support channel, harness its features, and embark on a journey of building stronger customer relationships that drive success in the digital age. Gupshup can be the trusted partner for your Conversational support needs, enabling you to create a stellar CX and a great CSAT. #LetsGupshup today
Blogs you will want to share. Delivered to your inbox.
Business Email
×
Read: The Future of Customer Experience is Generative