Redefining CX In Insurance Sector With Conversational AI
On June 6, 2022
|
5 Minutes Read
Chatbots
Conversational AI
Conversational Support
Insurance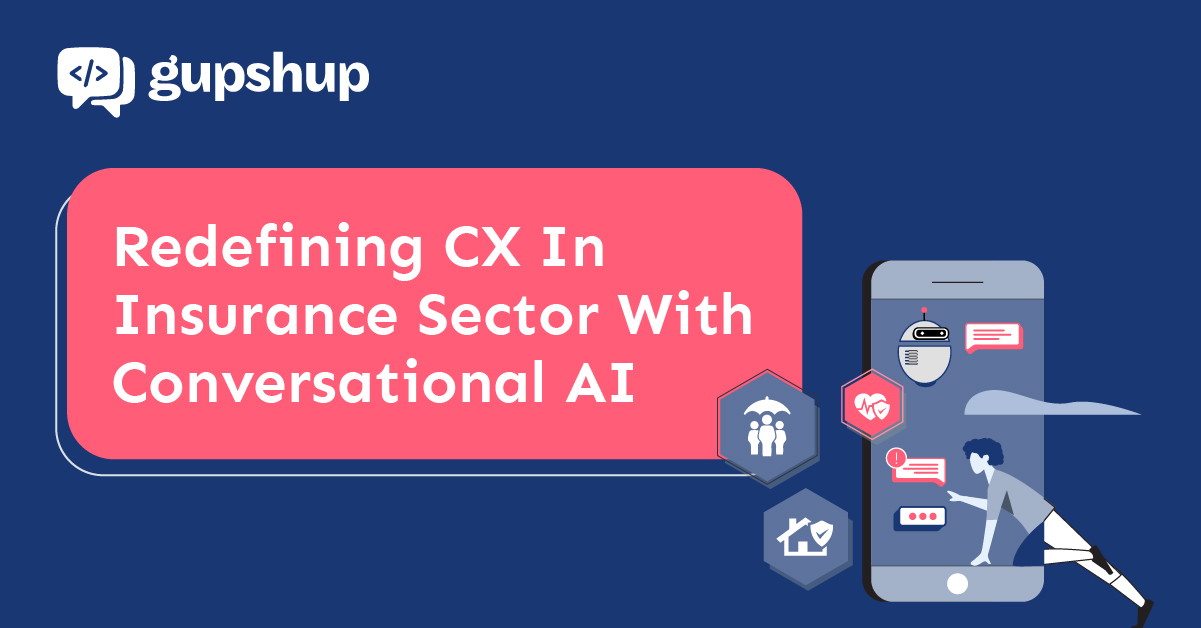 The insurance sector is witnessing unprecedented growth with the adoption of advanced technologies such as Conversational AI. While the traditional processes are digitally transformed, new and progressive methodologies like smart underwriting, virtual digital assistant, 24X7 insurance services are wiping out old practices.
This advancements are paving the way towards enhanced customer experience and opening doors for fresh business opportunities for the Insurance sector. That's why 73% of insurance executives, according to a Mantra Labs survey, are in favour of adopting technologies like conversational AI to deliver an omnichannel experience and expedite the process of addressing and resolving user queries. At the same time, 44% of customers prefer using chatbots to make insurance claims. Whereas 43% of customers are using chatbots to buy insurance policies.
That's being said, this blog takes a closer look at how conversational AI-powered chatbots are enhancing the insurance customer's journey with some use cases. But first let's understand the role of conversational AI in insurance sector.
Role Of Conversational AI In The Insurance Sector
In the simplest term, Conversational AI is a technology that a user can converse with, like a chatbot or a virtual assistant. Conversational AI is being used extensively for customer-facing conversations enabling businesses to stay online 24X7 and improve customer experience, provide support and service, facilitates sales, market services and products, and more.
In the Insurance sector, conversational AI serves as the perfect automated insurance agent – educating prospective customers about insurance, helping them compare policies and plans, and even making personalized recommendations based on their requirements.
Juniper Study predicts that by 2023, the use of conversational AI chatbots in insurance will lead to cost savings of almost $1.3 billion across motor, vehicle, health and property insurance, up from $300 million in 2019.
From these stats, it's clear that Conversational AI-powered insurance chatbots are invaluable for modern insurers.
Use Cases For Insurance Chatbots
1. Help With Policy Selection
Customers often struggle to choose the policy best suited to their needs, lifestyle, goals, etc. An insurance chatbot can reduce the overwhelm and help them choose the right approach in the shortest possible time.
It can collect information about the customer and available policies and help them narrow down their choices based on their coverage needs and risk profiles. They also help them pay premiums from within the same interface for a seamless end-to-end purchase experience.
2. Self-service: Purchase
Often navigating complex websites results in frustration for multiple customers, ultimately leading to no purchases. Chatbots revolutionizes the purchase experience by bringing it into their favourite messaging apps.
Customers can easily ask questions, read and evaluate plans and policies, obtain guidance, and sign up for a plan while saving time on long meetings and company visits. Gupshup's chatbot solutions seamlessly take them throughout the insurance journey without wasting time. Consumers can subscribe, browse, and purchase insurance plans by themselves.
The chatbots also helps them fill out long forms faster, provide more details regarding plans, and help them get started.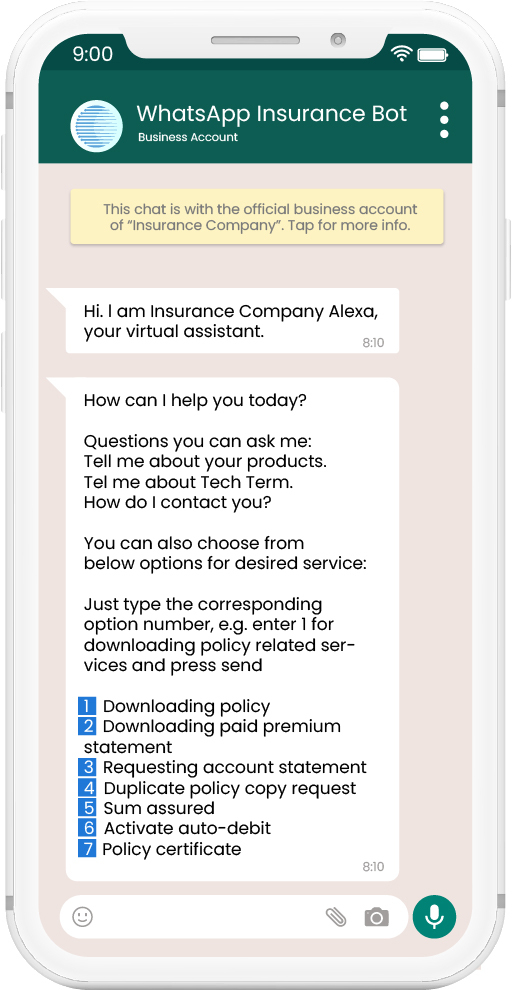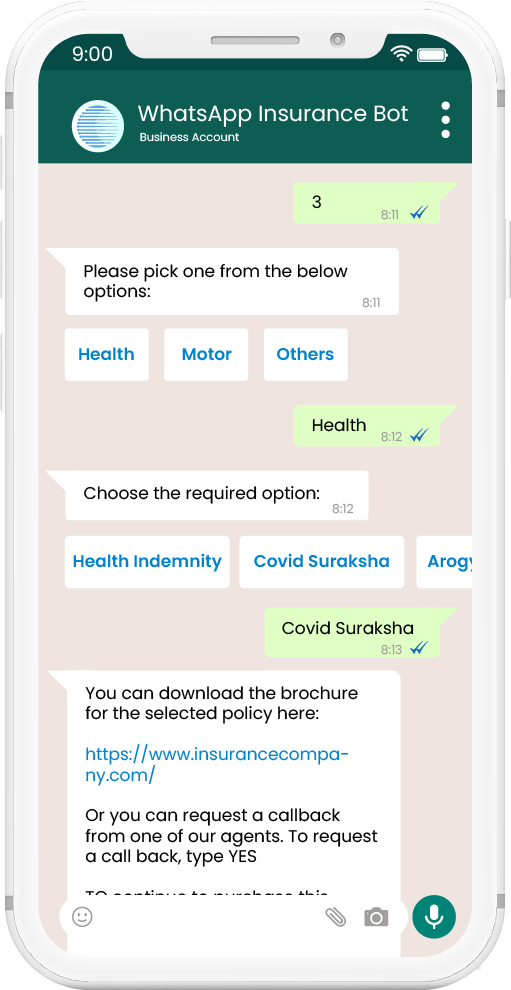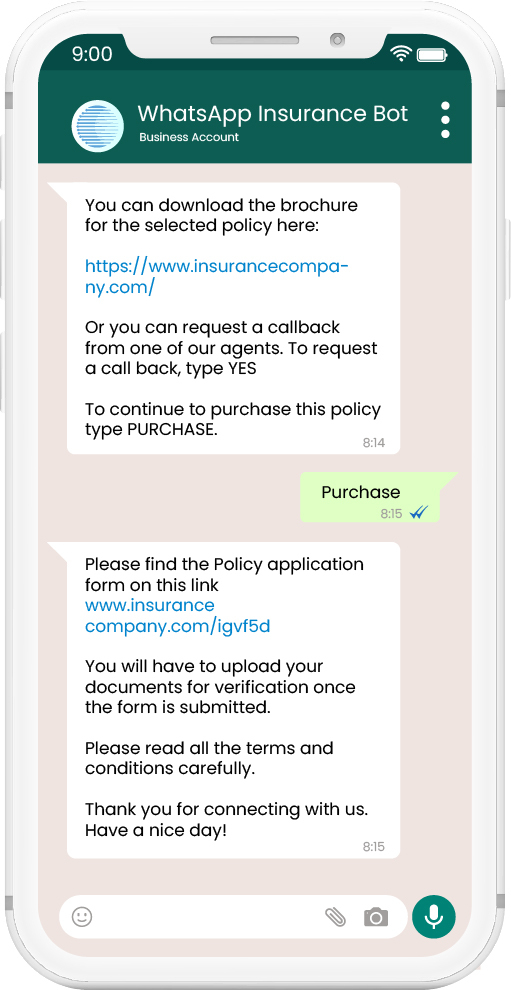 3. Document Submission
Insurance documents are a complicated maze of clauses, terms and conditions because of the stringent regulations in the industry. Firms make sure that the documents are comprehensive and cover all their bases in case of large claim and lawsuit.
Insurance providers can integrate chatbots to educate agents about their policies, pricing plans, benefits, terms and conditions, service details, promotions, and more. This helps improve organizational communication and enhance customer servicing in insurance. Consumers can also use this chatbots to furnish requests for documents and raise a query for the same.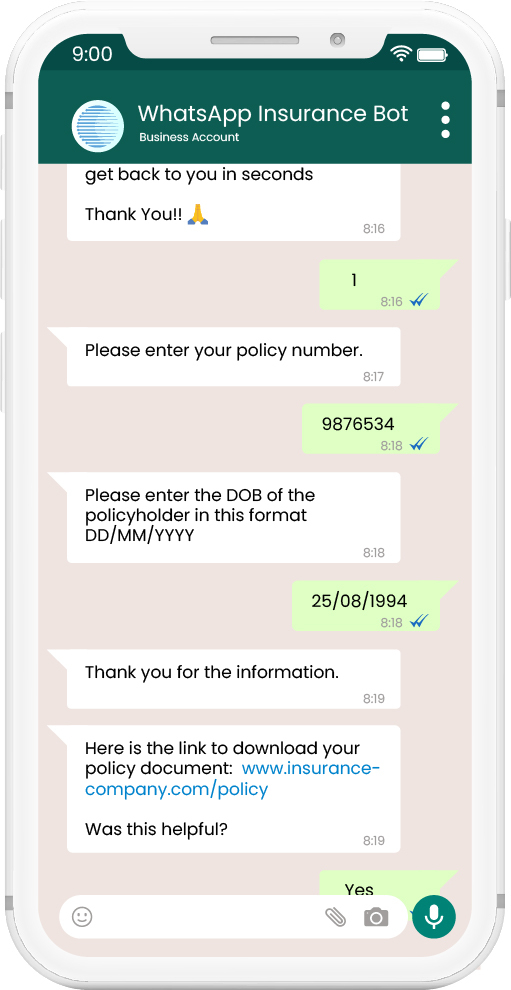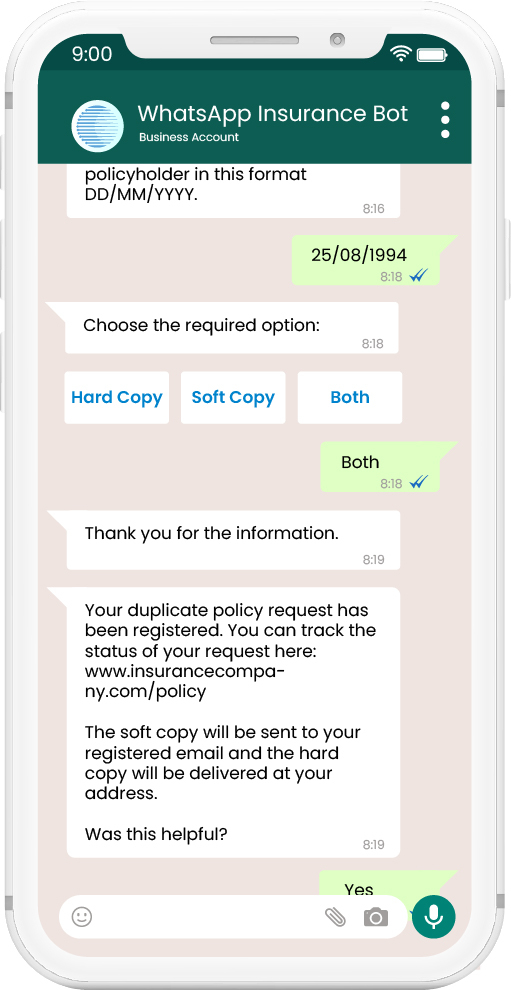 4. 24×7 Customer Support
The chatbots can also be used to handle repetitive queries or FAQs from insurance customers, agents, or key stakeholders within the company. This is conversational support. Whenever a stakeholder has repeated questions, the chatbots can instantly solve these queries without human intervention.
One of the largest Health Insurance CX pain points also includes finding hospitals in the insurer's network. Chatbots can help customers navigate to the nearest network hospital in emergencies.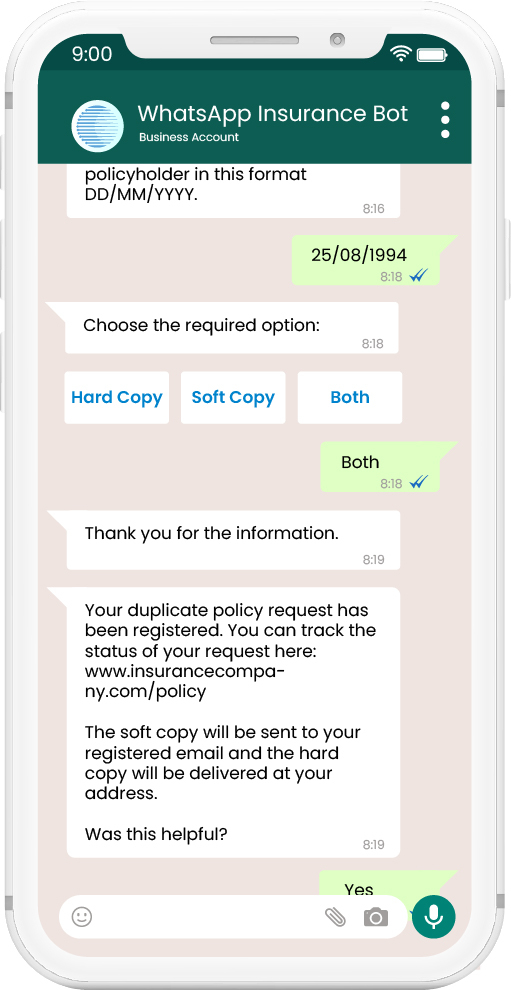 5. Premium Payment Collection
Premium Payments have never been easier. Using the chatbots, policyholders can be reminded of upcoming, late or missed payments. Integrating a payment gateway (native or third party) is pretty easy, and enables customers to pay their premiums with a single click, all within the messaging app ecosystem.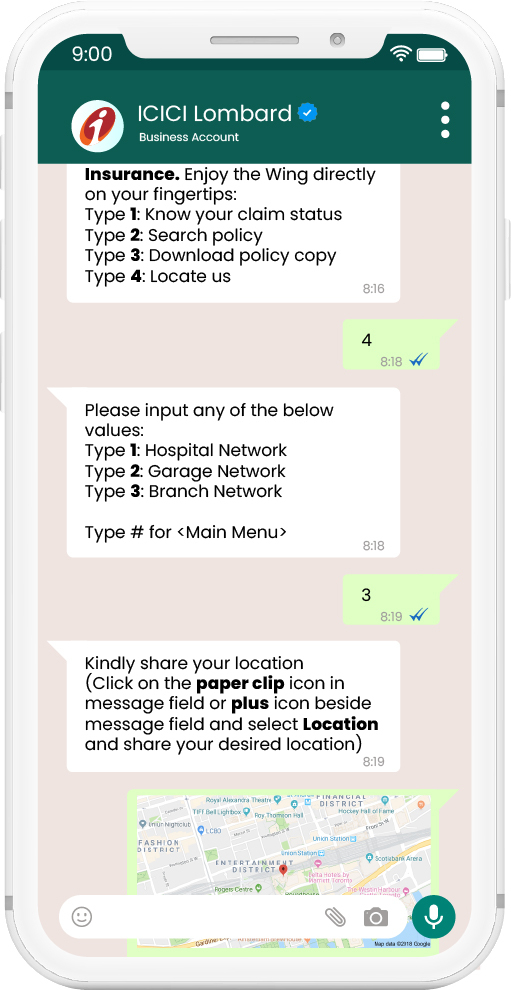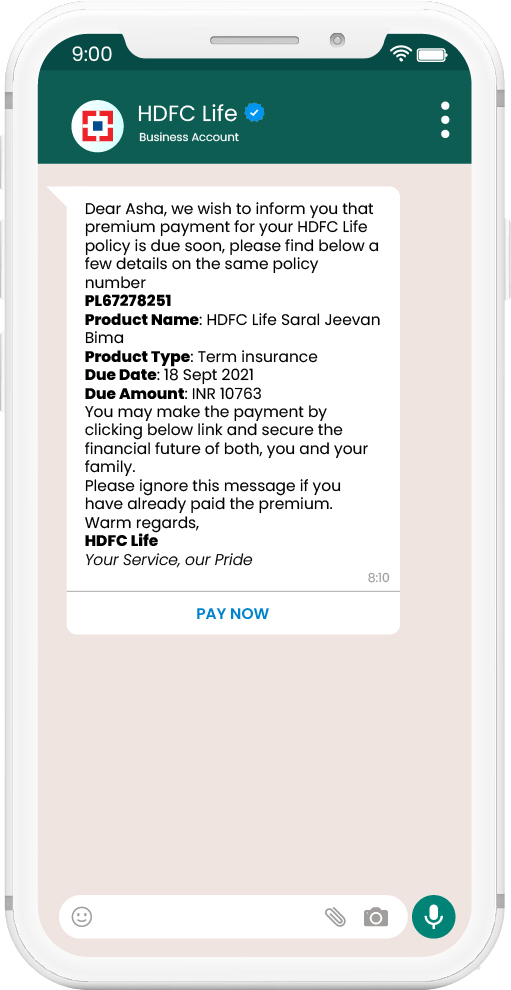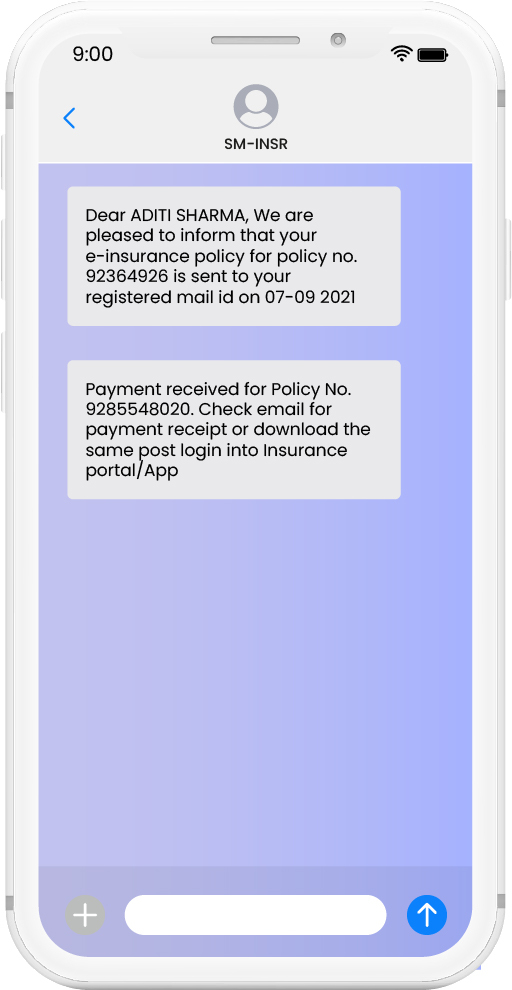 6. Lead Generation
With chatbots, insurers can effortlessly automate the lead qualification process, so sales staff have all the necessary information to go after the most qualified leads and increase their conversions.
Conclusion
The enormous benefits of using Conversational AI within the insurance industry have already become apparent. The insurance firms can transform their customer service by streamlining the end-to-end response and query-resolution of over 80% of incoming enquiries using Conversational AI while slashing operating expenses dramatically.
With global insurance spending on AI platforms set to reach $3.4 billion by 2024, now it's time for insurers to take the lead. The companies who know how to leverage advanced technologies – in the right place, and time – to do more, faster for their customers will be the winner in the race to deliver unbeateable customer experience.
If your insurance company wants to build a user-friendly, customer-focused insurance chatbot quickly, Gupshup can help. #LetsGupshup to know more about our low-cost bot-builder platform and bespoke bot development services.
Blogs you will want to share. Delivered to your inbox.
Business Email
×
Read: 5 Google Business Welcome Messages To Woo Your Customers