Businesses today are leveraging technology to connect with customers and accelerate responses. The best way to reach your customers is through mobile, and mobile itself is evolving into a thriving ecosystem with a multitude of channels and apps becoming accessible and relevant to consumers on their mobile devices. With over 1 Billion active users each on WhatsApp and Facebook Messenger, it's clear that consumers love data messaging apps. Not just for personal communications, but for business communications as well. A 2016 Nielsen research study says 53% of consumers say they are more likely to shop with a business they can message.
So marketers, doesn't this mobile messaging trend open up an opportunity to grow your business?
Driven by consumer messaging trends and the desire to use technology to enhance business, Gupshup pioneered Smart Messaging. Gupshup's Smart Messaging platform enables businesses to send messages on SMS as well as popular mobile messaging channels like Facebook Messenger, WeChat, Twitter etc.
Here's a success story of a business that achieved remarkable results by leveraging Gupshup Smart Messaging platform.
Richfeel, the health and beauty expert, wanted to capture customer feedback whenever the customer contacts the support team for a service. Now, there's always a tendency for customers to ignore a customer feedback survey or just remain silent even though they appreciate the service. Also, generally customer feedback survey is outsourced to an agency, the authenticity of which can never be ascertained.
So instead of making a beeline for the usual way of surveying customers, Richfeel opted for Gupshup's Smart Messaging platform.
Richfeel first sent out an SMS response that said thank you for interacting with our support staff. Richfeel also used Gupshup's Link Tracking service in which a link to the customer feedback form was embedded in the SMS. Along with the SMS, the customer would instantly receive Richfeel's feedback form on Facebook Messenger if he has the Messenger application installed on his mobile.
Using rich media, Richfeel converted a tedious survey form into a rich and interactive message on Facebook Messenger application which was too striking for a customer to ignore. Here's a screenshot of the message.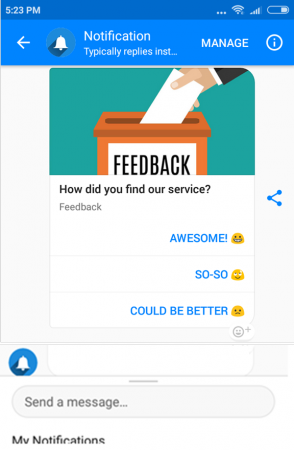 The feedback received will easily be submitted through web view form. Have a look at Richfeel's response to each customer feedback.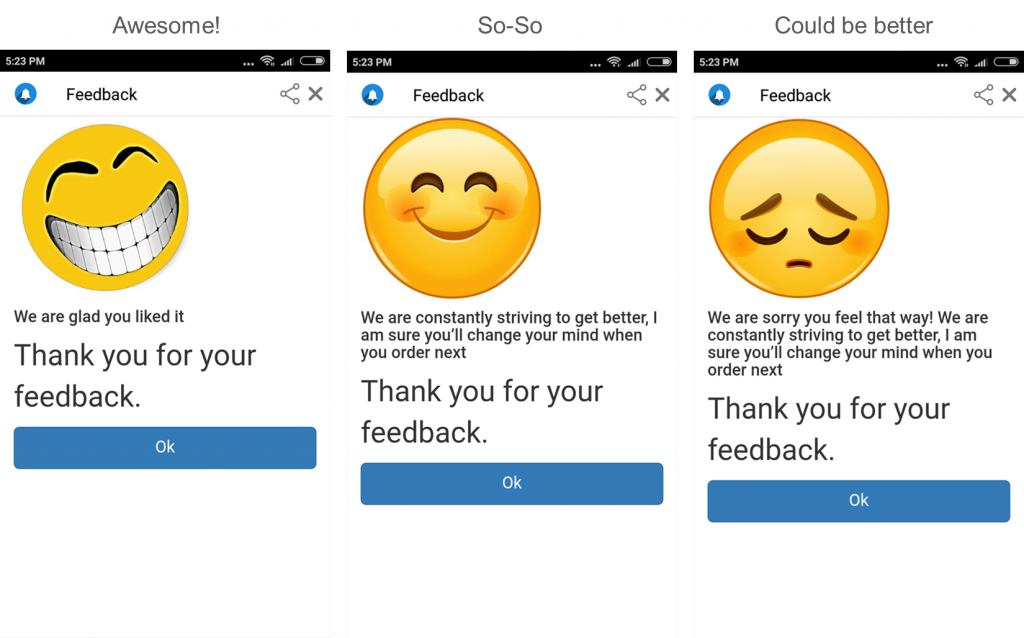 Let's say the customer hasn't downloaded Facebook Messenger application, the link which was sent to him in the SMS will open in a browser and the customer can easily provide his feedback. It would look like this.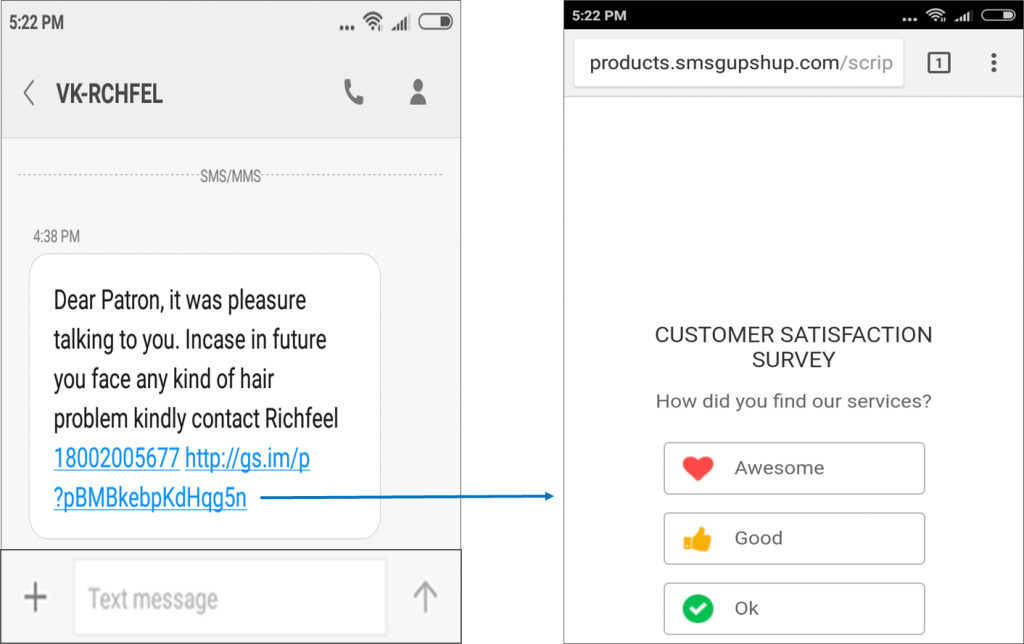 Richfeel was able to analyze exact feedback as per each customer. They could also take immediate corrective steps to pacify a dissatisfied customer.
Gupshup's Smart Messaging platform helped Richfeel increase customer engagement. They were able to reach out to customers, connect with them at a personal level and convey that they are listening to their customers. Richfeel captured authentic customer responses on a real time basis. These authentic response results could be showcased as testimonials on their website to improve their Net Promoter Score and earn goodwill among prospective customers.
Smart Messaging creates such powerful messaging experiences by leveraging the rich, intuitive messaging features of data messaging apps like Facebook Messenger, WeChat, Telegram, etc. Data messaging apps lets you use rich media like images, videos and survey forms to improve your interaction with customers. An interactive interface elicits a higher customer response rate. Compare it with a plain text message and you'll definitely observe better responses on using rich media.
Gupshup's Smart Messaging is the first mover to expand to data messaging channels. Since our inception, we have been in the business of mobile messaging and our expertise has helped businesses improve mobile customer engagement. Come explore how Gupshup's Smart Messaging platform can revolutionize your interactions with customers.