The Right Approach To Conversational Advertising
On May 18, 2022
|
9 Minutes Read
Chatbots
Conversational Marketing
Outdoor Advertising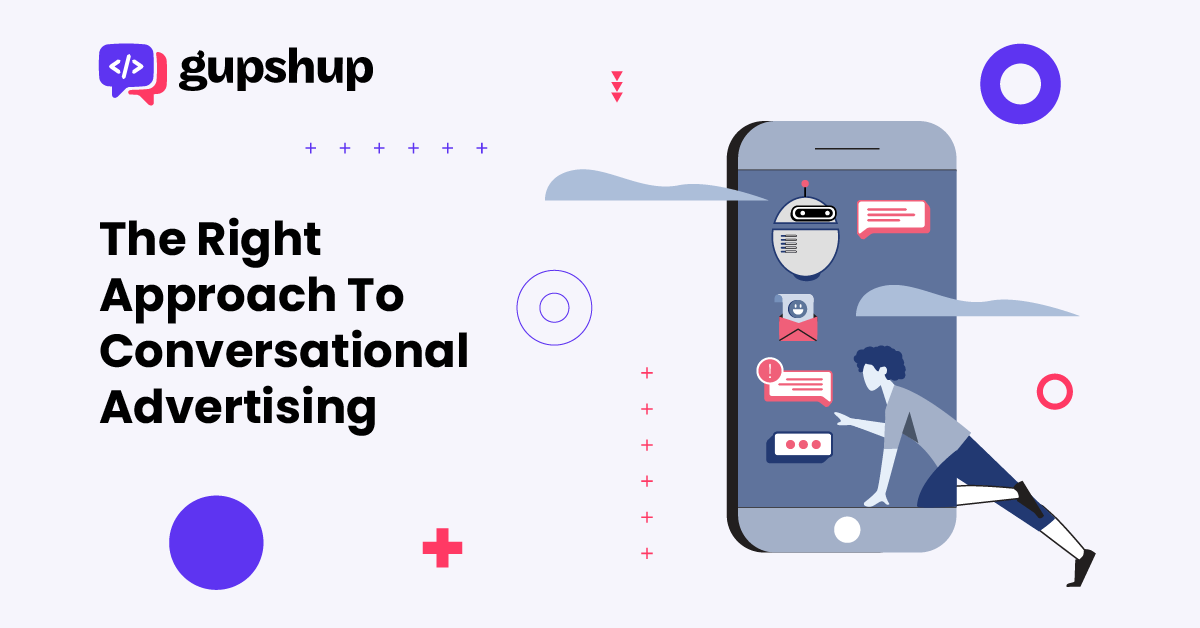 The more time passes, the more companies are changing their focus from traditional to conversational advertising. This is a great way to connect with customers and get them interested in your product or service.
Gone are the days of impersonal, one-way advertising. With various companies feeling that traditional advertising is no longer working as well as it used to (or at all), the need for a more personalised touch has come into play.
Customers want to feel engaged and involved in the brands they support. Conversational advertising can come in many different forms, but all aim to create two-way communication between customers and advertising companies.
With the ability to create advanced conversational experiences, there's no limit to what you can do with conversational advertising.
This article will explore why conversational advertising is essential and provide examples of successful campaigns run by various companies. We'll also give you some tips on creating conversational campaigns that work.
What Is Conversational Advertising?
Conversational advertising is a form of marketing that uses a conversation-based approach to advertising. There's also a focus on online chatbots to communicate with potential customers. Chatbots are computer programs that can mimic human conversation, making it possible to engage in one-on-one dialogue with customers.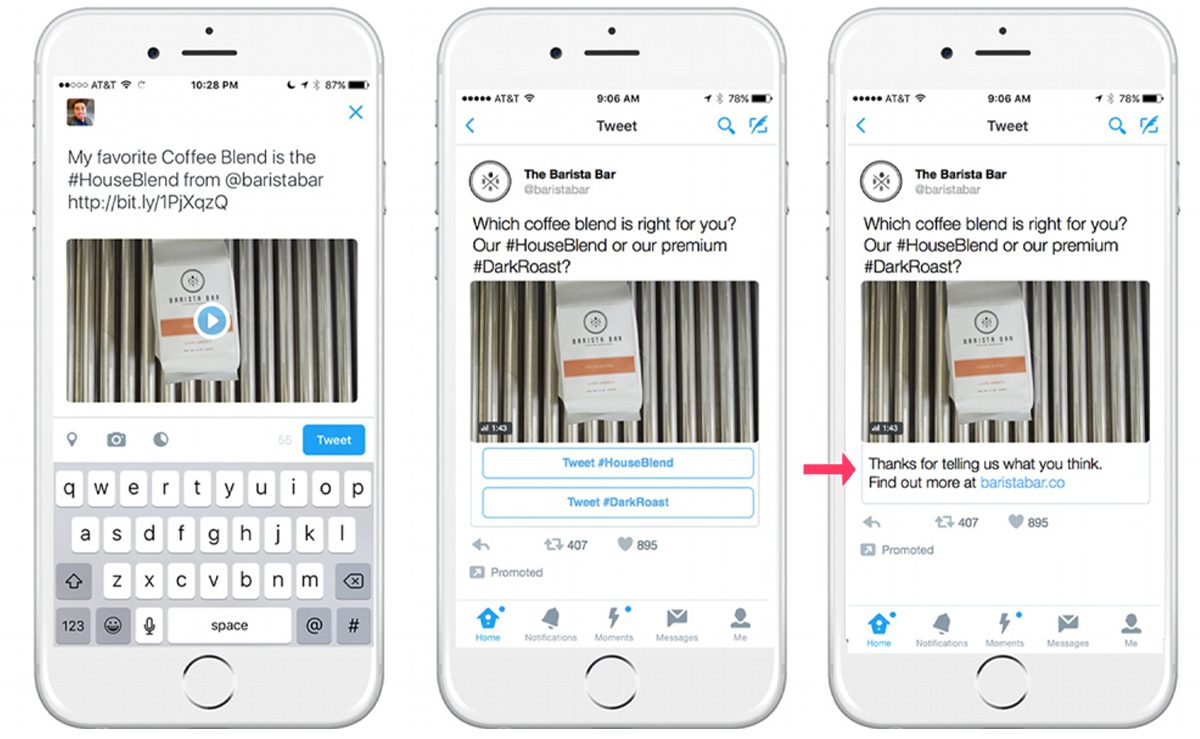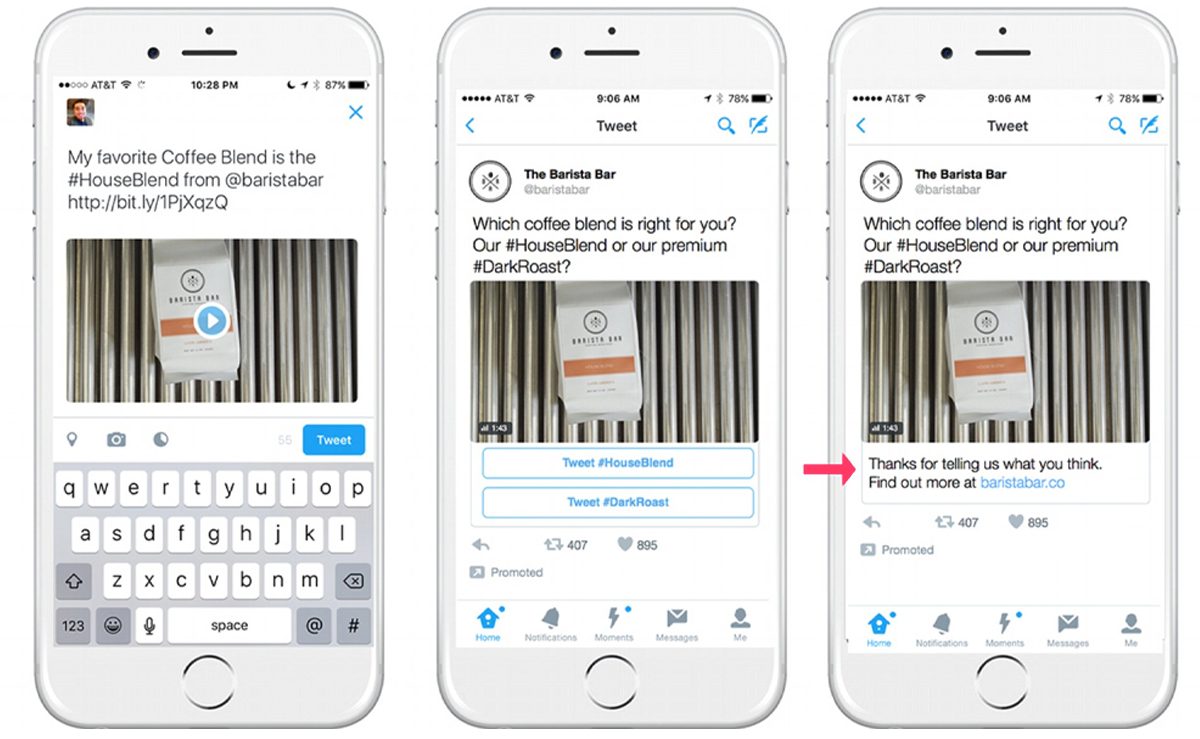 Image Credit: Source
This type of marketing is growing in popularity because it allows businesses to connect with potential customers more personally. Companies can also use it to create a more engaging user experience.
A Word On Chatbots
One of the reasons that conversational  or outdoor advertising is becoming more popular is because chatbots are becoming more sophisticated. Chatbots can now do more than mimic human conversation; they can also be used to gather data and create targeted content. This makes it possible for businesses to connect with potential customers more personally and deliver targeted content relevant to their interests.
In addition, with AI (artificial intelligence), chatbots are becoming even more able to make decisions. Companies can also use them to understand natural language, making it possible for businesses to have a two-way dialogue with customers. This type of interaction can help to create a more engaging user experience and gather data about customer preferences.
It's important to consider that conversational AI and traditional email support both offer benefits in the customer journey. The former is excellent for acquiring first-time customers, whereas the latter can be used for engaging and cross-selling current customers. Knowing when to use one over the other is critical.
Why Should You Use Conversational Advertising?
There are several reasons why you should consider using conversational advertising for your business. Here are a few of them.
Connect With Potential Customers On A More Personal Level
One of the main advantages of conversational advertising is that it allows you to connect with potential customers more personally. Through both chatbots and asking the right conversational questions, companies can ask customers about their needs and preferences, making it possible to develop a more targeted marketing strategy.
This might be especially useful if you have a great self employed job and want to take things to the next level. There are many ways to use conversational advertising to get to know your customers better and connect with them on a more personal level.
Create A More Engaging User Experience
Another benefit of using conversational advertising is that it can help you create a more engaging user experience. One can use this type of advertising to provide interactive content, such as quizzes and polls, to keep users engaged with your brand. Additionally, chatbots can then take this data and provide personalised recommendations and suggestions, making the customer experience more enjoyable.
Boost Conversion Rates
One can also use conversational advertising to boost conversion rates. Providing incentives, such as discounts and coupons, can persuade customers to make a purchase.
Generate leads
One of the main benefits of conversational advertising is that it can help you generate more leads. Primarily through the use of chatbots, companies can collect information about potential customers, such as their names, email addresses, and phone number. These companies can then use this information to create marketing campaigns that are more likely to convert into sales.
5 Companies Who Do Conversational Advertising Right
The following companies are executing conversational advertising right and can provide you with some valuable insights into how to do it for yourself and your business.
1. Domino's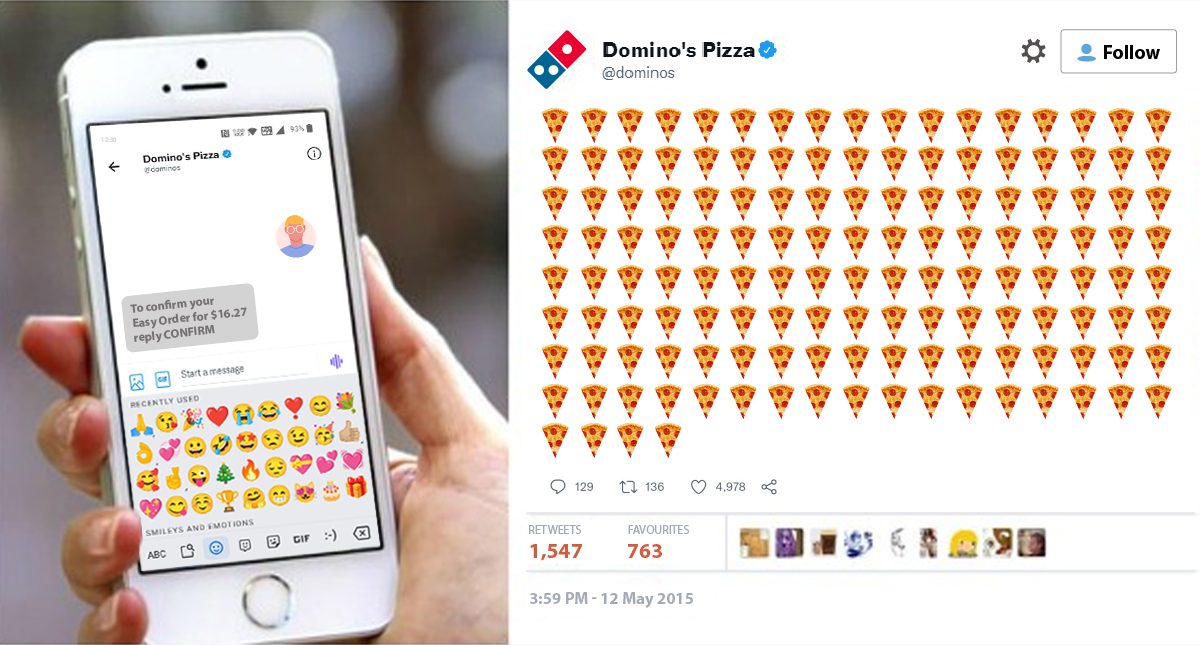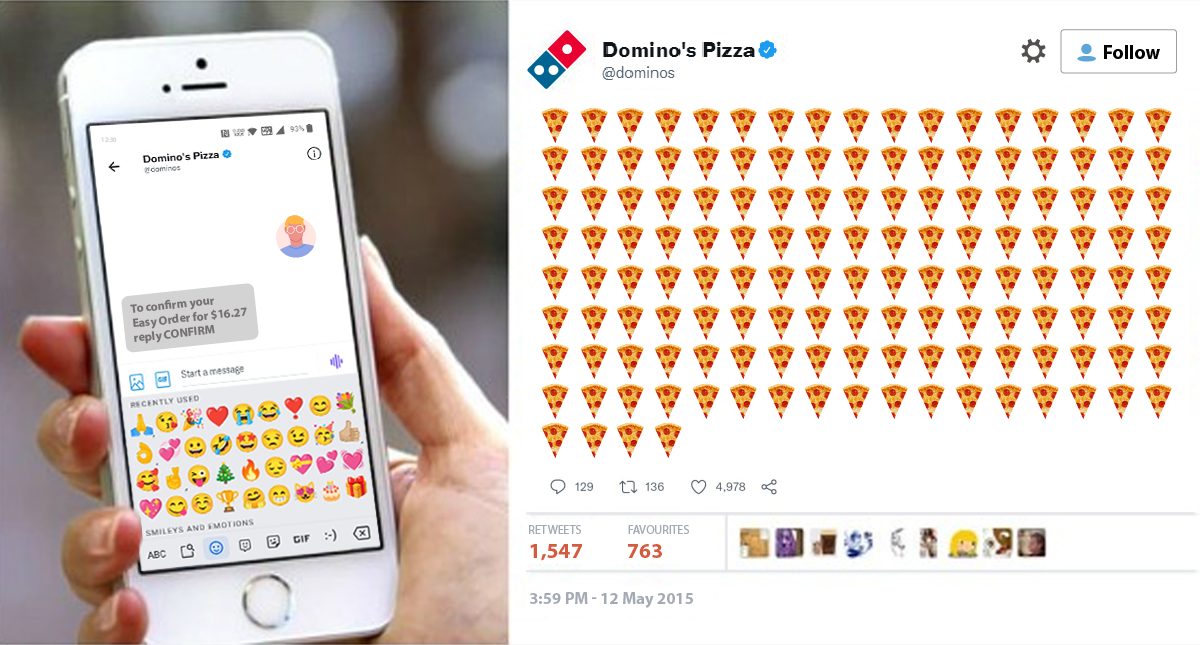 A company that is doing conversational advertising well is Domino's Pizza. Domino's uses text messages to connect with customers and provides them with information about special offers and discounts.
Additionally, Domino's uses chatbots to provide customer support, which can help reduce the number of abandoned shopping carts.
They also constantly use emojis in their chatbot conversations, providing a user experience that's both conversational and also one their target audience has now grown to expect.
2. 1-800-Flowers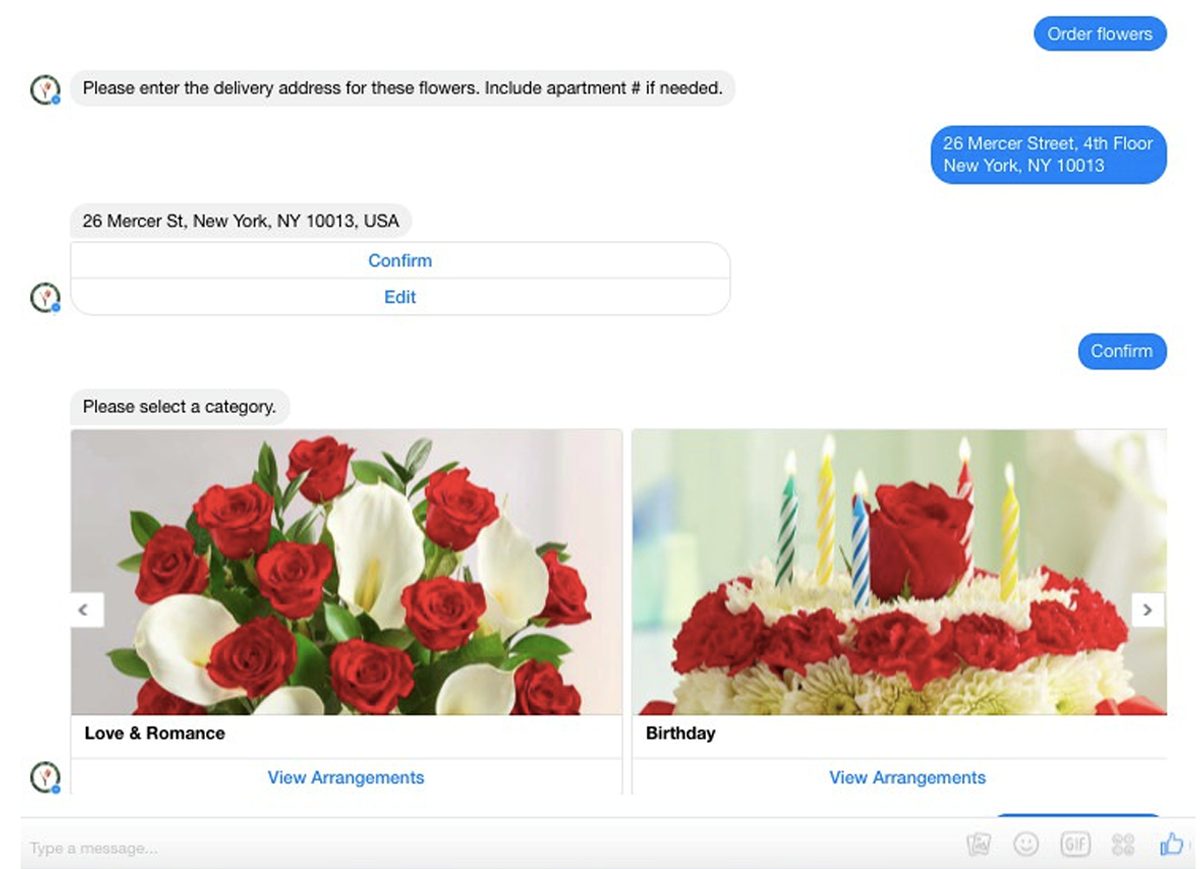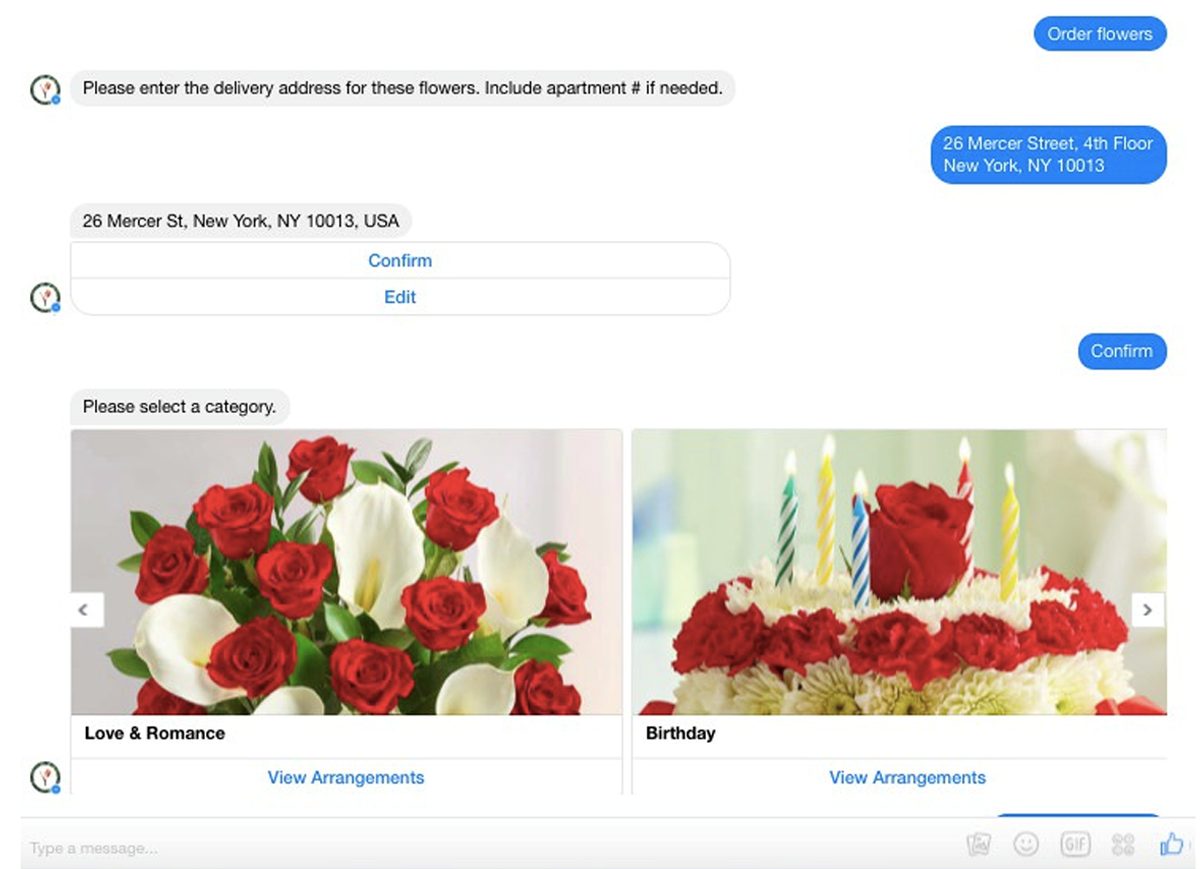 Image Credit: Source
Using chatbots on Facebook messenger, 1-800-Flowers can connect with customers more personally. The chatbots ask customers about their needs and preferences, which helps 1-800-Flowers develop a more targeted marketing strategy.
1-800-Flowers also takes advantage of gifs and other visuals to keep their conversations light and fun.
3. Sephora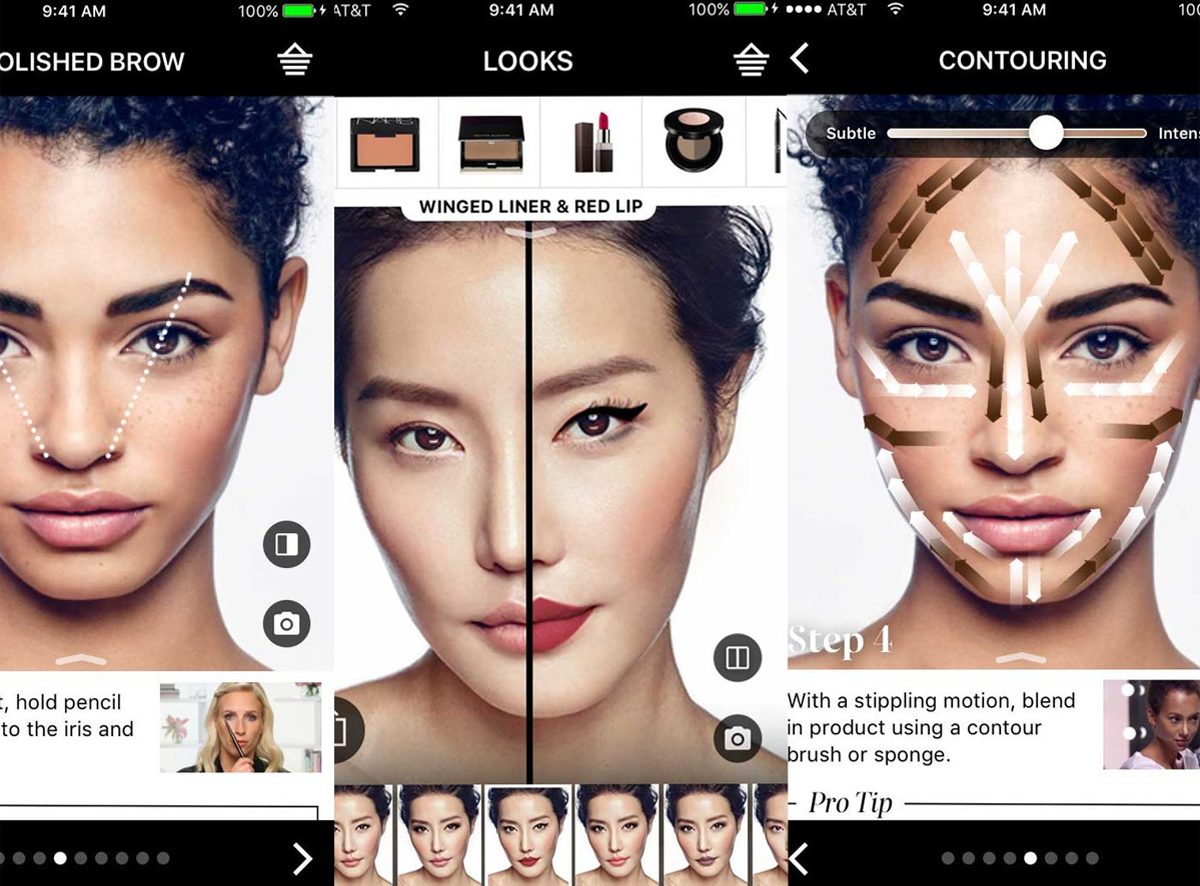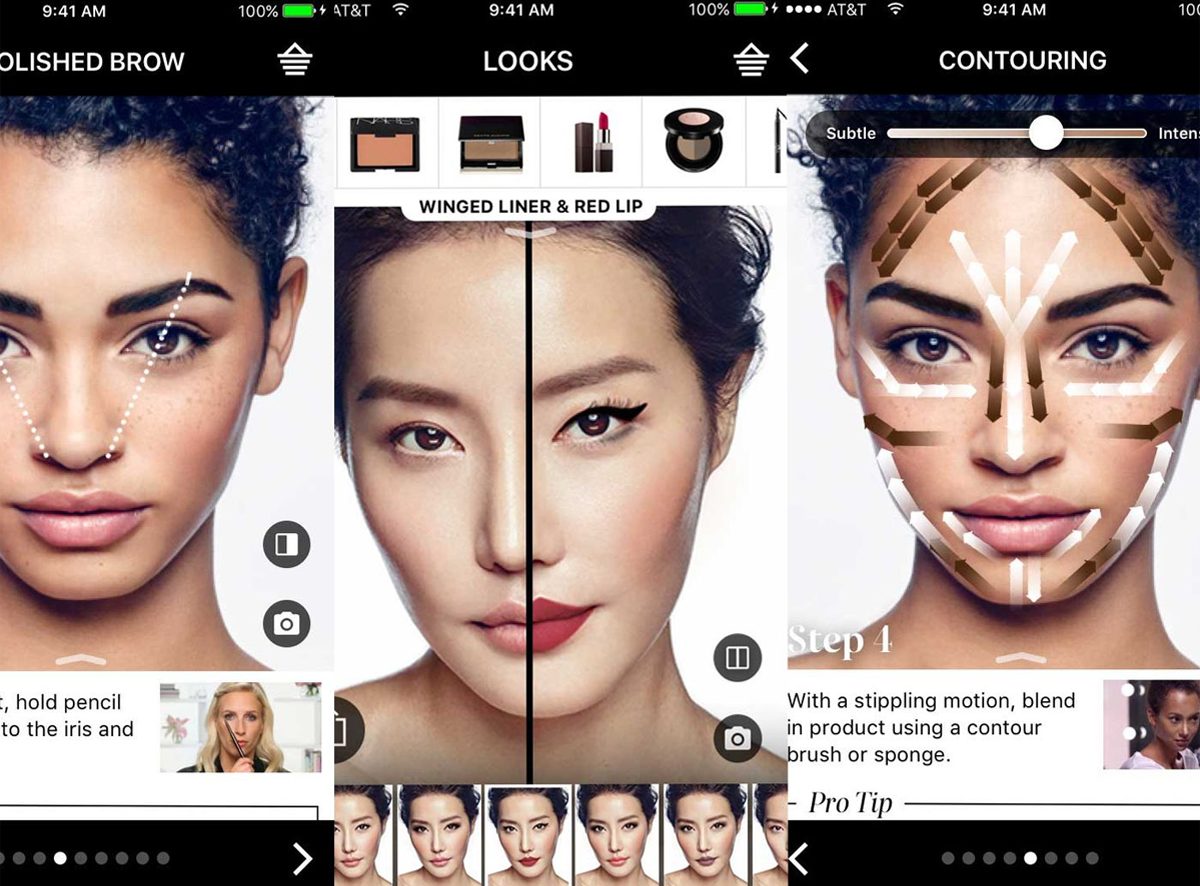 Image Credit: Source
The makeup company Sephora has also embraced conversational advertising. Sephora's chatbot provides customers with information about products, services, and special offers.
With their brand slogan being "Let's beautify together," they believe in a two-way conversation with customers, not just a one-way push of products.
They also use augmented reality through a Sephora Virtual Artist app that lets customers see what they would look like with different makeup on.
This is a great way to deliver a great customer experience and advertise to customers simultaneously.
4. Casper
Using various social media platforms, Casper can connect with customers and provide them with information about their products.
Social media is made for having such conversations, and Casper does this well with quirky, lighthearted comments.
This ensures they get a great customer response, which is also great user-generated advertising that isn't coming from the brand itself. This type of advertising builds on the whole idea of conversation and helps to spread the word even more.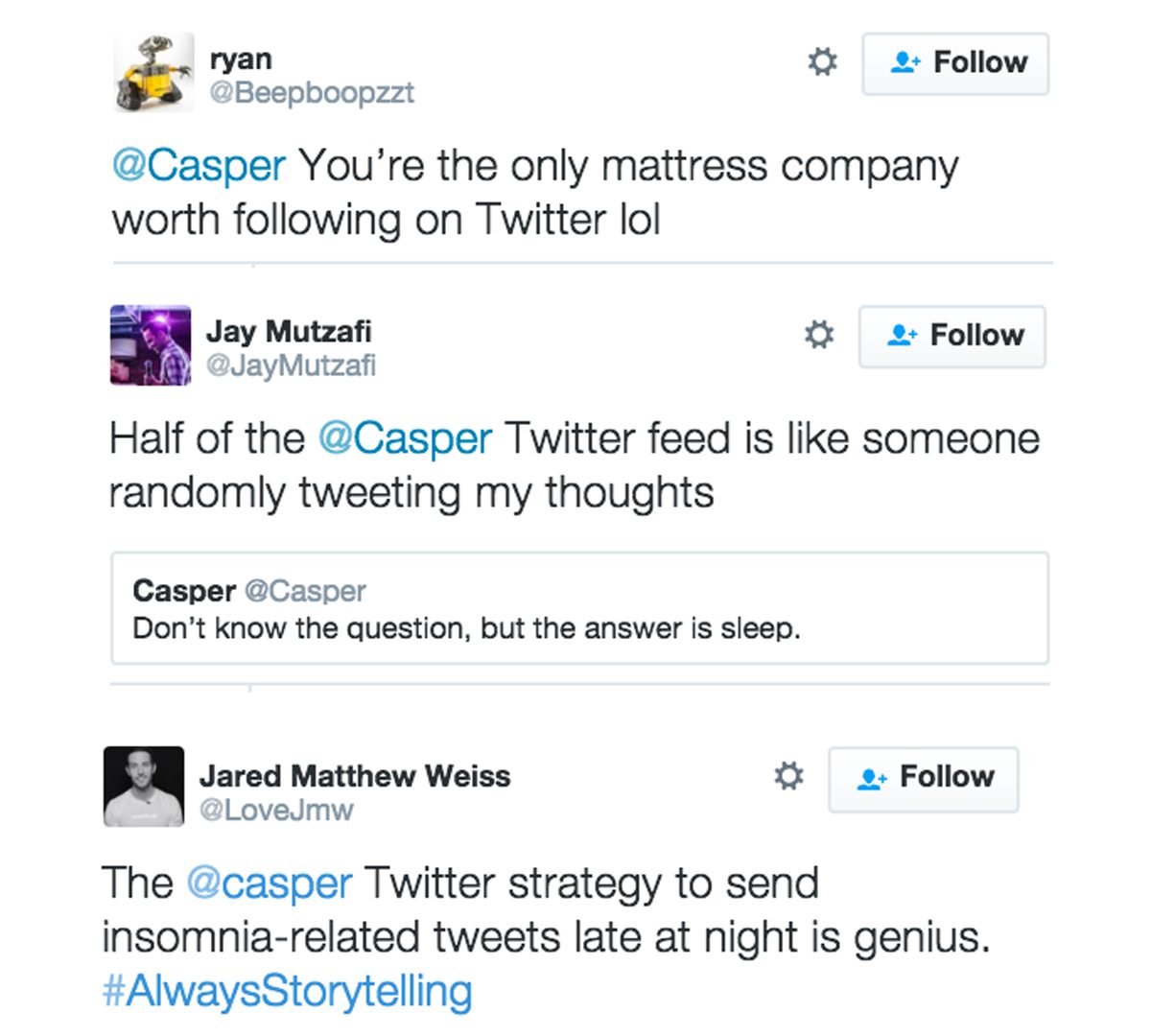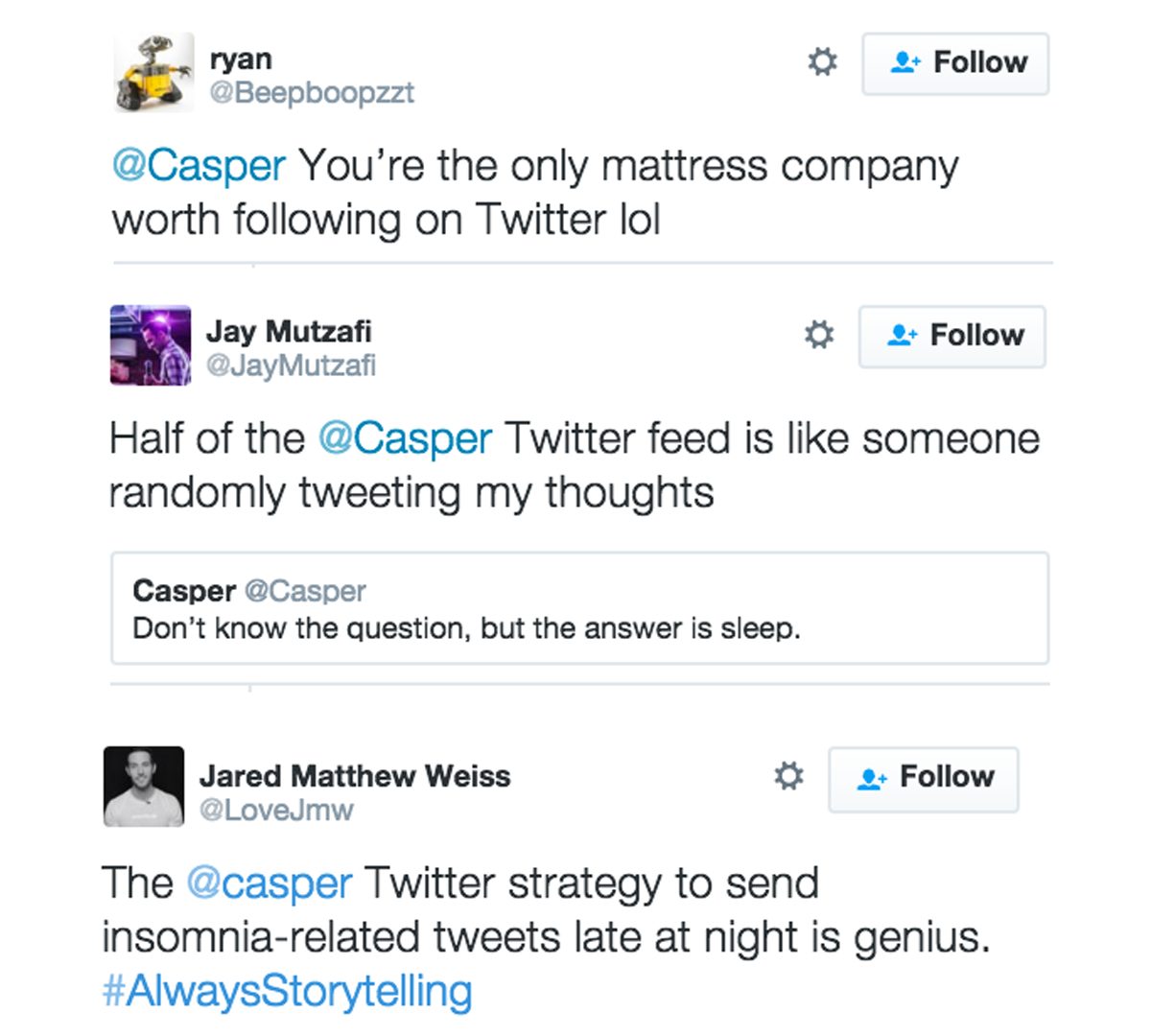 Image Credit: Source
5. Toyota Prius Prime
Another example of using conversations to advertise can be seen by Toyota Prius Prime.
They have a chatbot that you can talk to on Facebook Messenger, which helps with their advertising. The chatbot asks questions about your driving habits to provide you with an informed answer about whether this vehicle is the right one for your needs.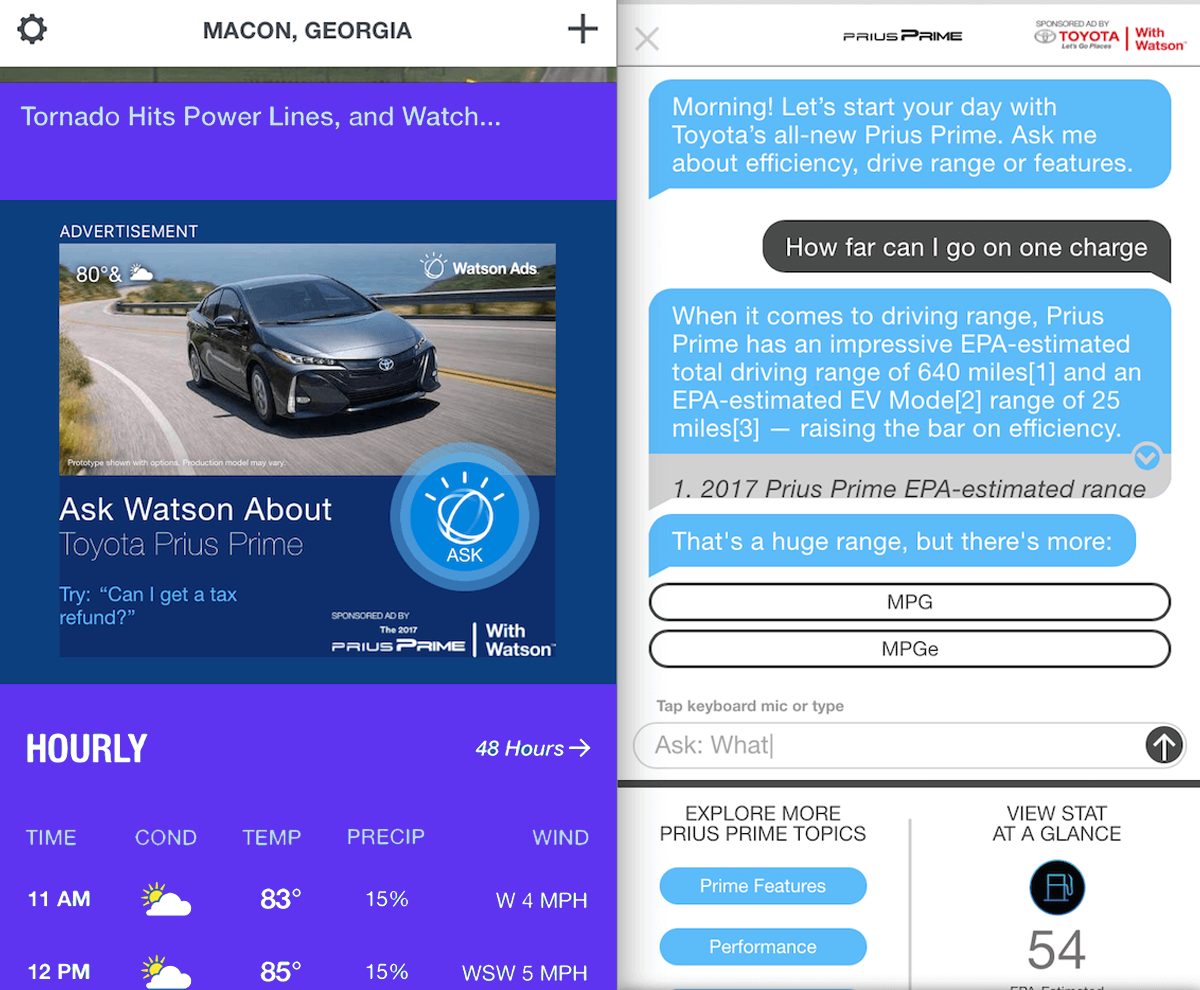 Image Credit: Source
By using this type of marketing, Toyota got a 37% increase in their engagement compared to other campaigns they ran before.
Conversational Marketing Best Practices
Let's now look at some best practices for conversational marketing.
Start With A Question
Questions are a great way to start a conversation. They help engage the other person and make them feel like you're interested in what they have to say.
Use Natural Language
When you're having a conversation, you use natural language. You don't speak formally or robotically. The same goes for conversational marketing. Be yourself and use the same language when talking to someone through this type of advertising.
If you're using chatbots, you should either clarify that this is so or ensure that these bots use natural language that people would use – if they were the ones on the other end of the conversation.
Be Personal
One of the benefits of conversational marketing is that it allows you to be personal with your customers. You can address them by name, ask them how they're doing, and talk about important things to them. This helps to create a more personal connection over both the short and long term.
Simplify payments
Simplifying payment is a crucial part of conversational marketing and advertising. When dealing with people, transactions should be easy.
Make it straightforward for customers to pay you by accepting various payment methods, including credit cards, debit cards, and Paypal.
Use Humour
Humour is a great way to engage customers and make them feel more comfortable with you. However, use it sparingly and at the right moment, as too much humour can be jarring.
Be Responsive
As the conversation progresses, be sure to respond to customer feedback. This helps to keep the conversation flowing and shows that you're engaged in what customers are saying. There's not much point in trying to have a conversation-based approach to advertising if you cannot respond to someone's questions.
Use Bots Sparingly
Bots can be a great way to automate specific tasks but avoid overusing them. Too many bots can make customers feel like they're talking to a machine, which can be frustrating. People want to have a conversation with other humans, so be sure to have the resources available to do so.
Follow Up
Once the conversation is over, don't be afraid to follow up with customers to see how they liked it and whether they had any other questions or suggestions about this type of advertising. This helps keep the relationship strong and encourages customers to come back to your company in the future.
Conclusion
Conversational marketing is a great way to connect with customers and build relationships. By following these best practices and taking what successful companies are doing into account, you can create a successful conversational marketing campaign of your own.
With the focus on chatbots and AI in terms of customer service, conversational marketing will only become more critical in the coming years. Are you ready to start talking to your customers?
#LetsGupshup to know more.
Blogs you will want to share. Delivered to your inbox.
Business Email
×
Read: Conversational Engagement In Web 3.0