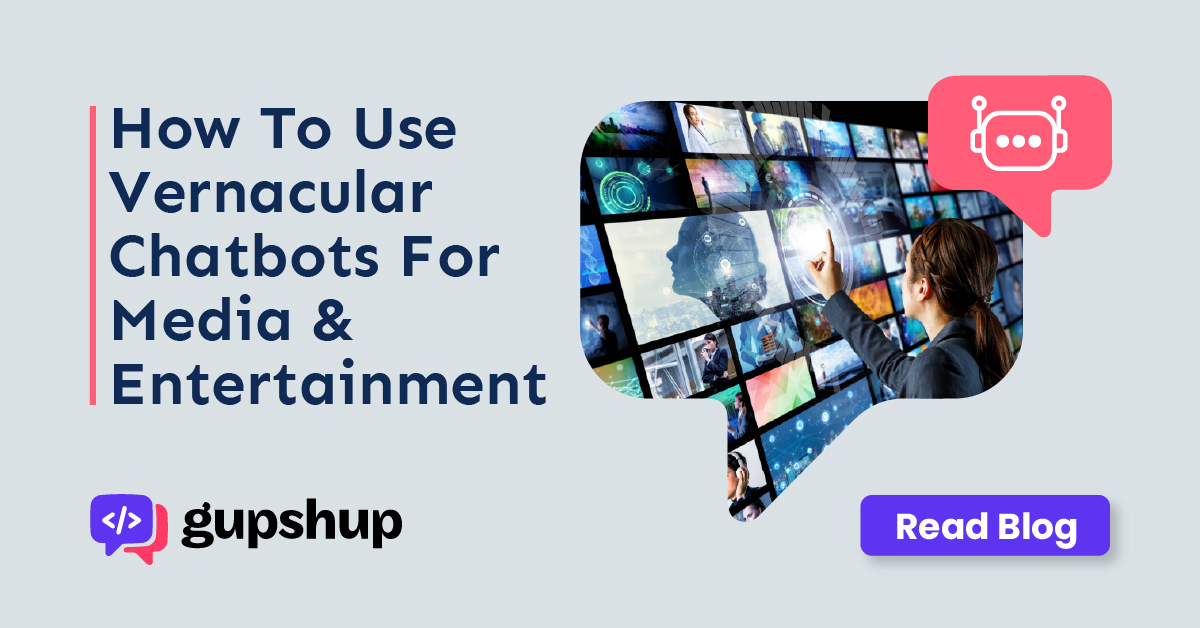 How To Use Vernacular Chatbots For Media & Entertainment
Chatbots, Conversational AI, Conversational Messaging, Media & Entertainment
On April 1, 2022
The use of conversational AI in the media and entertainment industry is not limited to text-based chatbots. Conversational AI is a newer and more advanced version of legacy AI technologies that are often referred to as chatbots. The entertainment industry is no exception, as its leaders pioneered the creation of chatbots to use conversational AI technology. Nowadays, the possibilities of chatbots are almost limitless, as their use has spread to all verticals in almost all areas.
Their biggest impact has been in the customer service segment, which they have completely transformed. The role of chatbots in customer service is significant, which is why startups are investing in them. While chatbots are still unlikely to take over all of our jobs, they can still be incredibly useful for businesses by improving customer service (thus potentially increasing conversions) and lowering operating costs. They have the potential to significantly reduce costs, drive investments in more efficient channels, improve the customer experience and attract new customers.
Power Of Chatbots
Chatbots give organizations the ability to be proactive in their interactions by initiating conversations and tracking how customers are using their websites and landing pages. In addition to the SMS-based interaction mechanism, chatbots can also interact with customers through voice conversations. Chatbots can then be used to connect with first-generation Internet users, giving them the benefits of the Internet without language clutter. Chatbots were originally developed by companies as the primary means of communicating with customers.
Today, chatbots have established themselves as a fundamental tool that also helps increase customer engagement and retention. It is clear that chatbots have evolved from being a fun tool for retailers to being a real solution for building closer relationships with customers. Chatbot features such as 24/7 availability, quick and easy fixes, instant responses, and live chat features make help desk chatbots the perfect tool to improve customer service.
Adding chatbot assistants not only reduces overhead by maximizing the use of help desk staff time, but also allows media and entertainment companies to provide a level of customer service during hours when real-time agents are unavailable. With multilingual chatbots, businesses can also cut costs by reducing labor and maintenance costs.
Multilingual Chatbots
Multilingual chatbots make it easier to provide personalized customer service in native languages. Sophisticated natural language processors used in intelligent conversational chatbots allow them to understand different languages. Intelligent conversational chatbots use automated speech recognition techniques to understand the words spoken by users.
These types of chatbots use machine learning (ML) and artificial intelligence (AI) to remember conversations with specific users in order to learn and grow over time. Contextual chatbots use machine learning and artificial intelligence to remember conversations and interactions with users, and then use those memories to expand and improve over time.
Instead of relying on keywords, contextual chatbots use what customers ask and how they ask for it to provide answers and improve. Unlike keyword-based bots, context-aware chatbots are smart enough to improve themselves based on what users ask for and how they ask for it. Chatbots based on keyword recognition. Keyword recognition based chatbots are a bit more complex; they try to listen to what the user is typing and respond accordingly using keywords derived from customer responses.
The most common are chatbots that work based on pre-programmed and predefined responses, but while this particular module is the easiest (and cheapest) to build, many OTT & D2H companies opt for AI-enabled and machine learning-enabled intelligent robots. To make conversational interfaces even easier, businesses are now starting to use voice chatbots or voice bots. With 24/7 availability and highly complex human-like conversations, chatbots have gone beyond busy IVR days to dramatically improve business performance.
Cross-platform Chatbot Solutions
Creating thoughtful cross-platform chatbot solutions can help media houses stand out from the competition and increase business revenue as a by-product. Not only is a chatbot a new format for gaming and storytelling, but entertainment organizations can use automated agents to help with the flood of support calls and ticket requests on the day of the event or the day tickets go on sale. The main motive is that customers can interact with a special helpdesk bot depending on their preferences. Chatbots can also inform sales reps and even customers about the production and delivery process, easily informing them when additional products become available.
With the help of chatbots, marketers can easily process a large number of requests and ensure smooth interaction. While it may take some time for chatbots to replace real people in jobs and other functions, the technology can still be used for lower-level tasks and free up employees for jobs that real people can do better.
#LetsGupshup to know more.
Blogs you will want to share. Delivered to your inbox.
Recommended Resources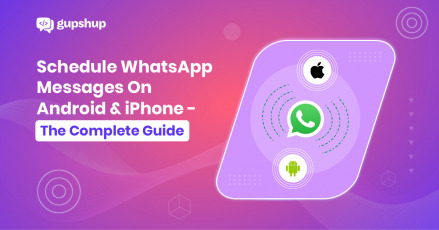 Read our blog to learn how to schedule WhatsApp messages on Android and iOS with simple...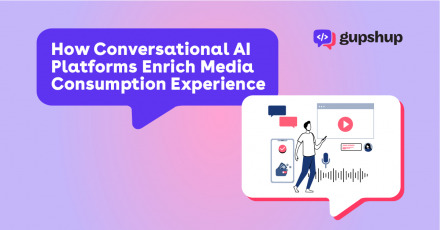 Conversational AI can improve media consumption by incorporating chatbots throughout the consumer journey.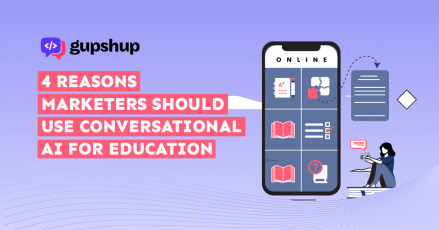 Read this blog to learn how EdTech players can leverage conversational AI to expand their reach...
×
Read: 8 Benefits Of Automating Customer Support with Chatbots