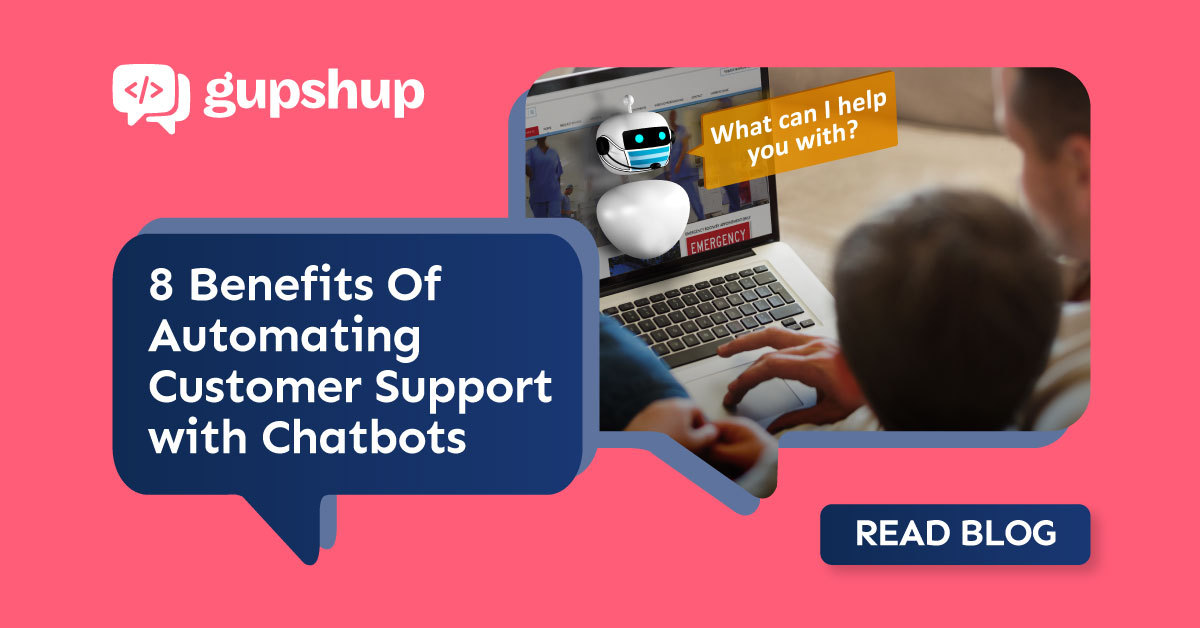 8 Benefits Of Automating Customer Support with Chatbots
Chatbots, Conversational AI, Conversational Messaging, Conversational Support, Generic
On April 4, 2022
Today, trying to speak to a customer service executive to answer your query is largely an exercise in increasing stress levels and one of the significant customer service issues. Usually, one ends up pressing a series of buttons only to be put on hold indefinitely while being subjected to piped music.
This experience of lack of customer service is less than the ideal, of course, and often leaves customers frustrated. Companies are aware of this but have stuck with this system for years, due to a lack of a better alternative.
Until now, at least.
Customer support chatbot for conversational AI customer service
Are you wondering what problem does chatbot solve?
Chatbots are the latest paradigm in the tech world. Smartphones with data are ubiquitous, and messaging apps are among the most used apps in the world. Thus it is no surprise that the ecosystem has moved to a messaging paradigm. Chatbots are the new apps, and all the available services on the web and apps are transitioning to chatbots.
Now, what if the current customer support model replaced voice with chat. Instead of using your phone to dial a number, you message the company on Facebook/Twitter or any other messaging app. A series of clicks will take you to the relevant customer support executive, who will answer your query over chat. It is an improvement over the existing IVR-based system as it's less obtrusive than having a phone to your ear and takes place in a medium that most people prefer today. But you are still left with the customer support problems of having repeated back-and-forths to explain your problem to the person at the other end and then waiting an eternity for an answer.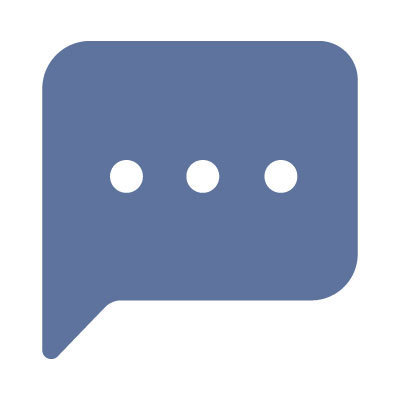 …. is typing
This is where a customer support chatbot solution, can disrupt the ecosystem.
A customer support chatbot can significantly enhance a user's experience. A customer service AI chatbot can be the new standard medium on which customer support AI chatbot service operates by programming answers to commonly asked questions and automating service responses.
These bots can parse a query and give relevant answers to a user using Natural Language Processing (NLP). Most companies face almost the same set of questions from different users, and they'll save a lot of money and resources by automating the answers to some of these queries.
Completely automating customer service is near-impossible. However, queries that cannot be parsed by a bot should seamlessly switch to a human on the other end. Every query routed to a human will be fed back into the intelligence to make the bot smarter, for any questions that may arise in the future. This feedback loop ensures that the customer support chatbot gets more intelligent as more queries are answered.
Here's a rough diagram to illustrate the above.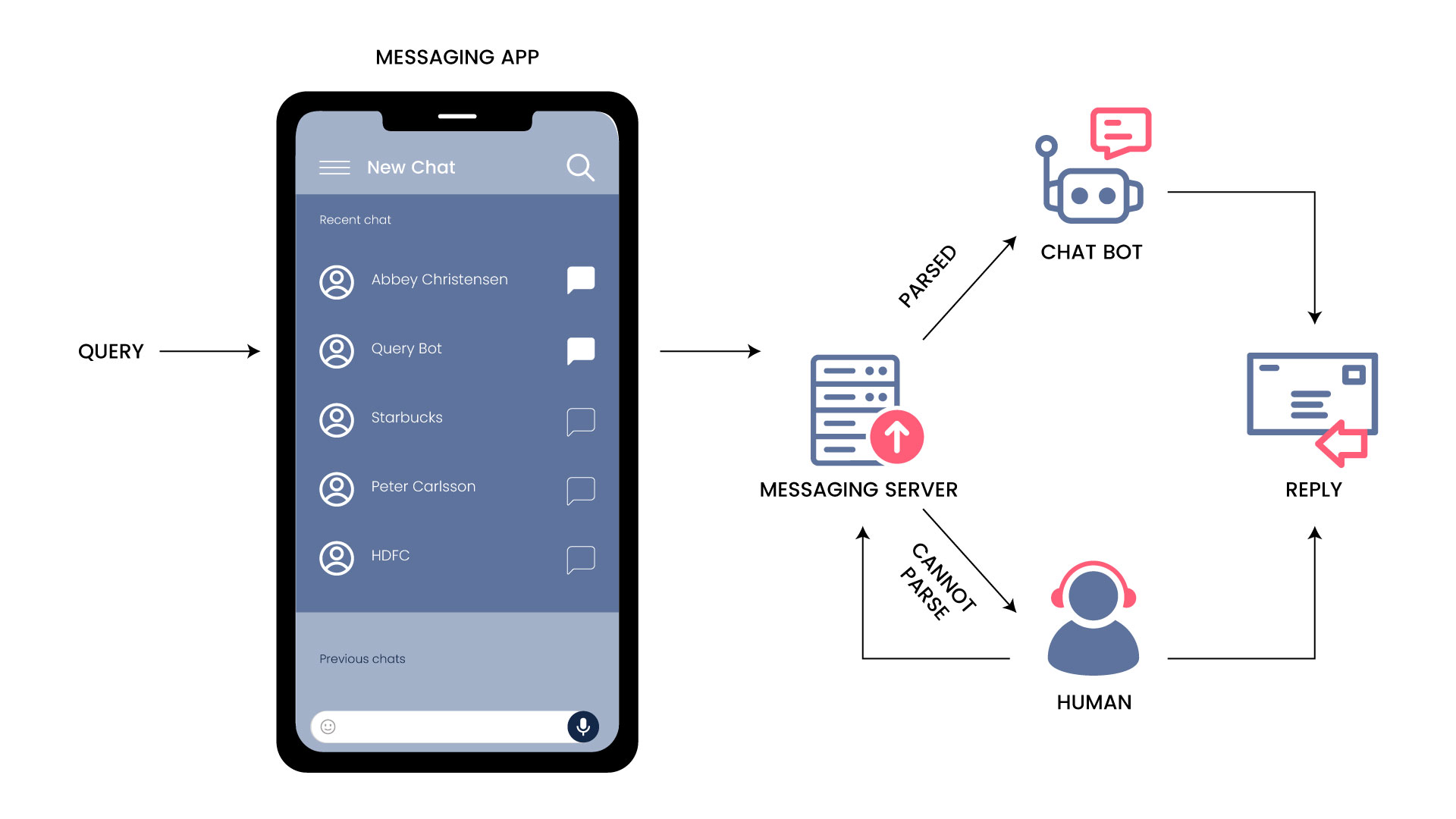 Why switch to a Customer Service Chatbot?
Why do we need chatbots? Is your business still following the traditional method of customer support service and not yet harnessing the power of a customer support chatbot? Are you wondering why use chatbots?
There are several advantages to adopting a customer service chatbot, a primary one being solving the challenges of customer service representatives. If you're a business owner who hasn't yet implemented chatbots to manage customer service and assistance, here are several compelling reasons to adopt customer support ai chatbot solution for websites:
1. Chatbots offer Instant Response
A chatbot for customer care responds to customer inquiries in real-time. They don't have to stand in a huge line or wait for an agent for several minutes. Until an agent is available to react to client inquiries, a customer support chatbot can gather basic information, inquire about the topic of their inquiries, and respond with pre-programmed responses. If a customer needs to speak with a human, the customer service chatbot can direct them to the appropriate department, thus reducing the challenges of a customer service representative.
When a consumer asks a query, a chatbot doesn't merely make a recommendation: they use their source content, such as knowledge bases and FAQs, to automatically answer questions, and thus they are the best solution for poor customer service.
2. A customer support chatbot has a Self-service ability
Your consumers don't need to contact a genuine representative for several jobs or customer inquiries. An intelligent customer service chatbot can give your clients self-service capabilities, allowing them to get rapid answers to their questions and do everyday tasks without waiting for a human service professional to become available.
3. With a customer support chatbot, you can ensure your customers' 24 x 7 Availability.
Having support personnel available 24 hours a day, seven days a week, is an expensive proposition. As a result, several companies limit their customer service hours. On the other hand, customer issues may not occur during support hours; they may encounter a problem or have a question at any time of the day (even at night) and on holiday.
Unlike humans, a customer service chatbot does not require sleep. If your team is unavailable, an AI customer service chatbot can fill in for them by answering inquiries and providing information. If they cannot assist you, the customer support chatbot can identify your available hours and when a human will contact you.
If your chatbot support is receiving a lot of complex questions that nearly always require human intervention, you can create a special "out of office" bot to take over when no one is available to respond. The customer will not have to wait for a response, and a member of your team will be able to respond as soon as they return.
Thus, conversational AI powered customer support chatbots in customer care make your company's support available to customers 24 hours a day, seven days a week, without burning a hole in your budget.
4. A customer support chatbot always learn new things
A customer service chatbot doesn't merely use AI to answer inquiries. They also utilize it to learn and improve the quality of future service delivered automatically. Thats conversational support for you.
If a customer support chatbot understands how to respond to any question, it can recognize similar ones that have the same meaning. That identical phrasing can be automatically added to its knowledge bank, ensuring that future questions phrased similarly are accurately answered.
Furthermore, if a consumer finds a chatbot's rapid response unhelpful, the customer service chatbot is less likely to employ that response in a subsequent discussion. For example, if your customer service bot informs someone where to add users when looking for user photographs, a simple rating can assist it to understand the difference.
Of course, you do not require artificial intelligence customer service for all learning. You can also teach your bots to give more accurate responses. For example, you may improve the way your bot replies by using questions that your clients have asked (or that you expect they will ask).
5. You can customize responses for various categories of clients using a Customer Service Chatbot
Customers may not be happy with the same answer even if they have the same question. For example, consider a situation – A customer on your Enterprise plan asks if your plan includes the applications too in the price, but your bot responds by referring to your Startup plan; it's as if it didn't respond at all.
You can choose whom the customer support chatbot speaks to and how it responds depending on parameters like customer expenditure, business kind, location, and more. Answers that are hyper-targeted to your consumers' demands can help you address their difficulties in a better manner.
6. A customer support chatbot has a better understanding of each consumer.
Why not utilize an AI & chatbot customer experience that has been eagerly waiting for you? Customers who notice chatbots are more likely to ask questions rather than surf silently and become an "invisible lead."
You have a customer's information in your system when they contact you. It is a fantastic start since, if customers reach out to you again, your agents can refer back to the previous conversation history to understand their needs better or double-check that they got the correct answer to their first query.
Your team can receive a thorough picture of each customer's journey, how they're progressing, and how the team can help each lead on their unique route toward conversion or upgrade by logging all customer conversations (including AI ones). For example, if a prospect has many questions about price, your team will undoubtedly want to treat them differently than a prospect who has only one question about user roles.
This in-depth understanding of the consumer and their journey may also provide some suggestions for improving the responses of your customer service chatbot for websites. For example, if you notice some interactions taking place solely with your agents, it indicates that your chatbot isn't responding to queries as it should. That's an excellent time to do some training and enter those questions into your database.
7. The user experience is made consistent with customer support AI chatbot service.
Finally, a customer support chatbot can assist you in providing your consumers with a consistent, on-brand experience. There will be no "we don't say that" scenarios because you control the voice, tone, and vocabulary used in your bot's responses.
The accuracy of a customer service chatbot only adds to this uniformity. Conversations aren't accidentally missed, help emails don't go to spam, and there's no copy-pasting or mistyping that might lead to the erroneous information being given to a client when AI is in charge.
8. A Customer Car Chatbot is Cost-Effective
An AI customer support bot immediately assists in lowering the cost of customer service personnel, thus removing all barriers to customer service. Using chatbots for customer service eliminates the need for extra support staff by automating regular processes and being available 24 hours a day, seven days a week, to answer consumer questions. Furthermore, a customer support chatbot aids in enhancing the productivity of the existing support personnel by decreasing workload and automating repetitive jobs.
Conclusion
Companies are slowly understanding the importance of chatbots to enhance their customer experience. Chat allows for personalization and enables the user and the company to retain context from past interactions.  Soon you will be interacting with your bank on Facebook, inquiring about concert tickets on Telegram, or talking to your Internet provider on Slack, and surprise, surprise! You won't pull your hair out in frustration. Companies with customer service issues will benefit the most from chatbot customer engagement.
With Gupshup, build intelligent bots, use NLP tools, AI models and industry templates in a plug-n-play mode and deploy on any messaging channel. Choose from a list of pre-built bot templates, customize its content and instantly publish it. Launch a fully functional bot in minutes. Create your conversation flow with a graphical edito and create detailed and advanced conversational bots using just point-and-click tools.
#LetsGupshup to know more.
Blogs you will want to share. Delivered to your inbox.
Recommended Resources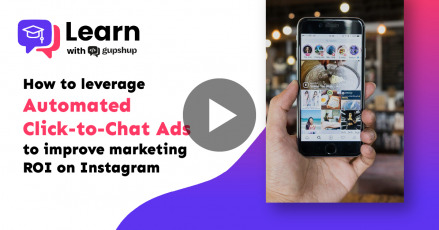 Click-to-chat ads enable brands to reduce drop-offs and increase conversions by engaging with prospects in one-on-one...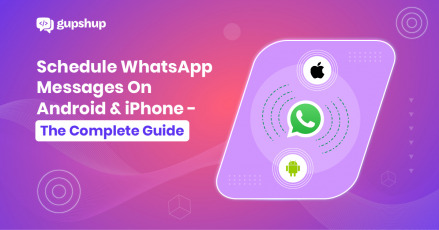 Read our blog to learn how to schedule WhatsApp messages on Android and iOS with simple...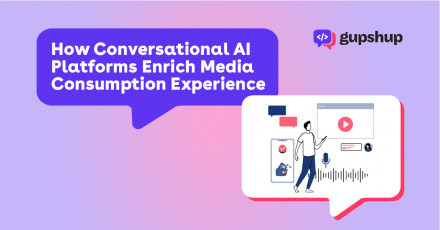 Conversational AI can improve media consumption by incorporating chatbots throughout the consumer journey.
×
Read: 6 Reasons Why WhatsApp Is The Future Of Commerce