13 benefits of WhatsApp CRM Integration
On April 30, 2021
|
5 Minutes Read
Generic
Integrations
WhatsApp Business API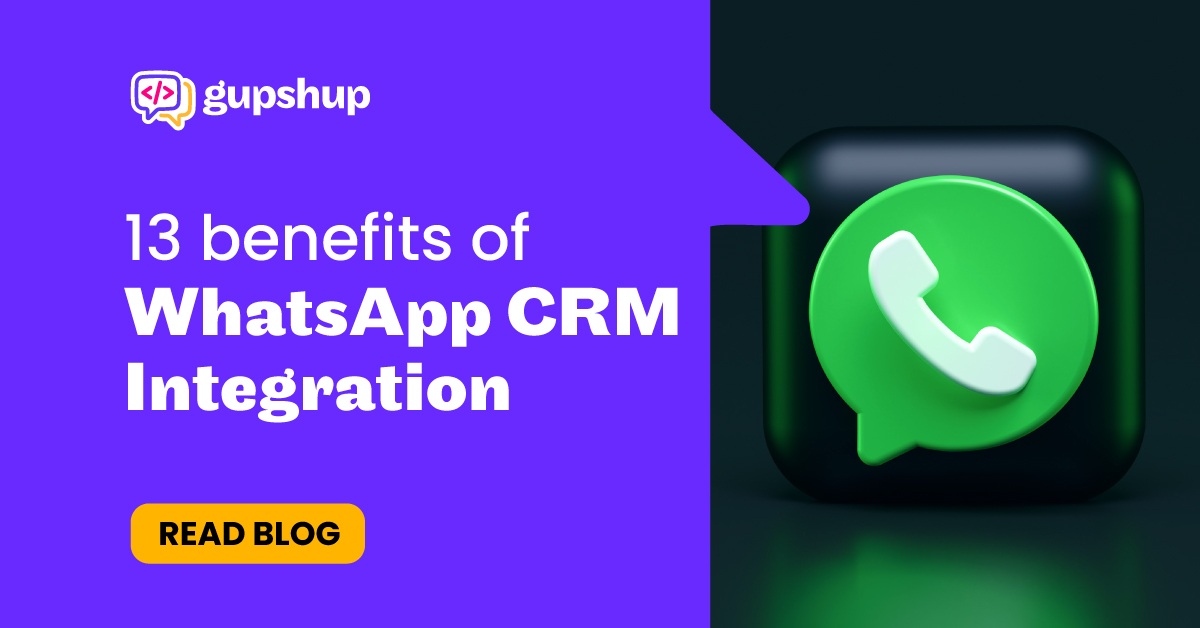 WhatsApp is one of the most popular messaging apps, used for both personal and business purposes. Organisations that use WhatsApp for business can leverage more benefits by integrating it with their CRM systems. Let's start by understanding the basics of WhatsApp Business Accounts.
Two types of WhatsApp business accounts
A WhatsApp Business App Account is most useful for small businesses that comprise 1 to 6 employees, receive a low volume of customer queries, and require only one or two agents.
WhatsApp Business API is ideal for medium and large businesses with more than 11 employees, which frequently receive a high volume of queries from prospects, leads or customers.
The WhatsApp Business App is free and easy to install, which is why many businesses prefer it over the WhatsApp Business API. However, it will not work if a company has more than 11 employees, or has multiple users, or wants to create custom message templates. This is where the WhatsApp Business API has a comparative advantage.
Understanding the WhatsApp Business API Account
The WhatsApp Business API allows users to connect their WhatsApp Business Account to conversational messaging platforms like Gupshup to enable creation of commerce, marketing and support workflows and to deploy them on WhatsApp. To create a WhatsApp Business API account, the company needs to get the API through an official WhatsApp Business Service Provider, which can be a time-consuming and tedious process. However, there is a quicker way too. There are several WhatsApp Partners to choose from. But before selecting the Service Provider, the user needs to select the partner based on factors like API pricing, the provider's ability to port the mobile number of the user's choice, and so on. Once you finalise your WhatsApp Partner, and your account is ready, the next thing you need to do is to choose a CRM for WhatsApp
Choosing a CRM for your WhatsApp Business API Account
You can integrate your WhatsApp API account with a WhatsApp Customer Relationship Management (CRM) platform to begin messaging. Integration allows your WhatsApp instance to leverage information already contained in your CRM.
WhatsApp can be integrated with many popular CRMs, including:
HubSpot
Zoho
Microsoft Dynamics 365
SugarCRM
AmoCRM
SuiteCRM
Salesforce
Pipedrive
Benefits of WhatsApp CRM Integration
Lead Nurturing

WhatsApp CRM Integration allows you to send a catalogue, images, location, documents, audios, videos, and much more to potential customers and/or clients based on their latest communication with your team. This is a great way to move them down the sales funnel and increase your chances of conversion.

Order Tracking

You can automate notifications and information about the status of customer orders so they get quick information without burdening your human agents.

Follow-ups

Send automated messages with details about your products or services to current or potential customers and/or clients. These messages are easy to set up, and can be sent out quickly with very little effort. Thus, you can ensure that your customers get the information they need without making them wait, or risking their annoyance. You can even save the answers to the most frequently asked questions to your knowledgebase, and reuse them in future to save even more time, and further speed up your issue resolution

Improved Internal Communications

Besides allowing you to communicate with prospects and customers, WhatsApp CRM integration will remove inefficient departmental silos to improve communications within your company.

Collect Customer Feedback

Instantly send automated links to request customer feedback once the order has been successfully completed. Businesses that are open to taking customer feedback, and then acting on them, tend to leave a positive impression in the hearts and minds of their audience.

Automate Keyword-based Actions

You can even automate your CRM tool's actions, based on your present and potential customers' keywords, further improving your processes, and saving time and money.

Assign Labels for Seamless Communications

Create labels and visually mark customers based on these labels to understand which stage your customer is at in their journey with your brand, and to tailor your communication accordingly. For instance, you could create one label for "New Customer", and one for "Invoice Sent" to organise and streamline your communications.

Initiate Conversations

Greet customers with a personalised message, say with their first name, when they begin the conversation with your business.

Create Workflow-based Drip Marketing Campaigns

Automate your sales process by creating a drip marketing campaign. Send a sequence of WhatsApp messages to your leads at a specific schedule and follow up with them easily to improve conversions.

Send Time-based Messages

Trigger time-based or date-based WhatsApp messages, such as birthday messages or anniversary wishes to connect with customers in a meaningful way and build a long-term relationship with them.

Improve Customer Support

Send quick and timely updates on ticket creation, status, and resolution, so customers know exactly what's happening without having to follow up with you multiple times.

Send Team Notifications

Notify team members about new inquiries or tickets assigned to them, or any issues that have escalated internally, so they can take the right action quickly.

Build a Strong Brand Reputation

Build a reliable brand image, and gain customer confidence by creating a profile for your business displaying important information, such as name, address, contact number, email, website, etc.
Blogs you will want to share. Delivered to your inbox.
Business Email
×
Read: The Ultimate WhatsApp Business Checklist