How to connect WhatsApp Business API via Gupshup
On June 4, 2021
|
5 Minutes Read
Generic
WhatsApp Business API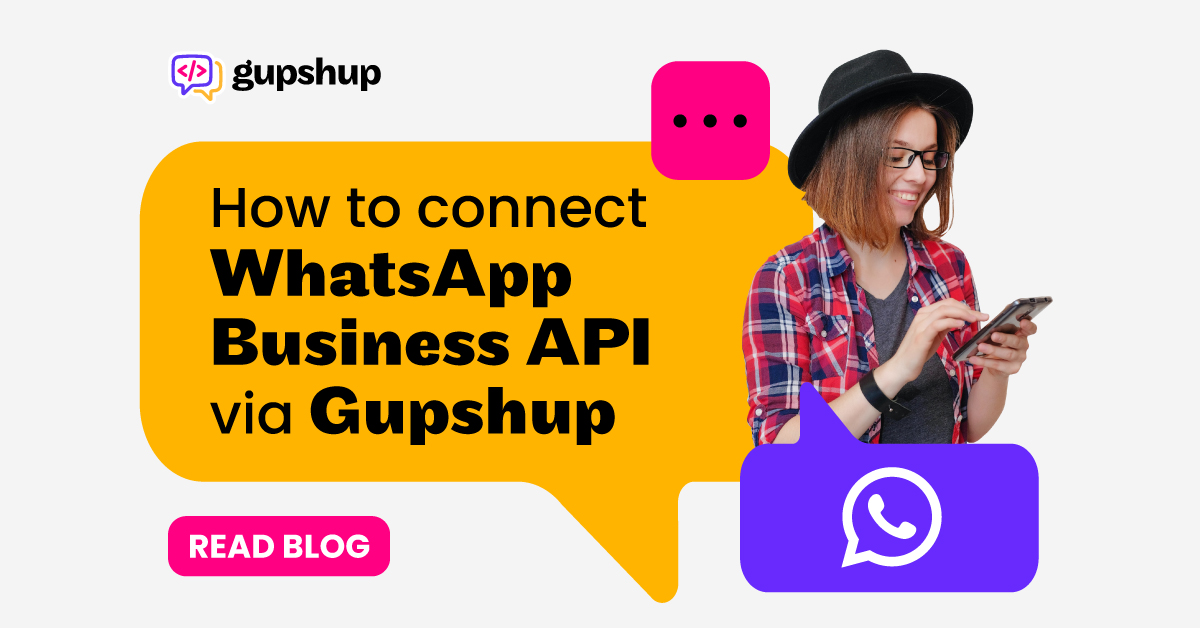 If there is anything that marketers and sales support teams of a brand completely agree on, it's the importance of customer experience management. And a major aspect of that is how brands communicate with every individual customer; before, during, and after a sales transaction. It's no surprise, therefore, that as businesses have gone digital, so have their customer touch-points.
Customer support used to depend on face-to-face interaction, in-branch, or on-site service. Then came the time of on-call support, IVR, and SMS services to make customer interactions quicker and after-sales customer experience smoother. The mobile nature of customer support has now extended to in-app and WhatsApp engagement.
Businesses are adapting their lead management and service functions to reach millions of customers every day via WhatsApp. So even without returning to the app, customers can still receive the order and service-related notifications of their business. This is a feat that is impossible to achieve without automation, and that's where WhatsApp Business API comes into play.
How WhatsApp Business API works
WhatsApp Business API is a communication feature designed by WhatsApp for medium and large businesses. Businesses can increase their visibility with a dedicated business profile on WhatsApp that can offer helpful information to the customers.
The API allows businesses to connect with their globally dispersed customers securely and reliably. A business website or application can be integrated with the WhatsApp business account to streamline customer service and support interactions automatically.
However, setting up the account and managing the technical interface requires a deep understanding of the platform and customer communication. After all, communication automation should not mean that your brand message is getting lost and customer experience is compromised.
How Gupshup can help
Gupshup is a conversational messaging platform that can help you avoid the hidden pitfalls of customer interaction automation. The platform assists you in building customer engagement during commercial transactions, marketing and support-related activities. Not only can you build conversational experiences and set up a structured messaging workflow, but you can also maintain your brand voice with Gupshup.
Therefore, when you connect your WhatsApp Business API via Gupshup, you benefit from the expansive reach of WhatsApp and the communication sensibilities of Gupshup for your brand. You can also build your very own chatbot, integrate your tech-stack with WhatsApp, and operate at a large scale.
Getting your company verified
But how to connect WhatsApp Business API via Gupshup? To begin with, you need a verified company account in Facebook Business Manager so that you can connect your contact numbers with WhatsApp Business API. You can check whether your company has a verified account or not by visiting the info or security pages on Facebook's website for businesses.
If your company is not verified, you can click on the 'Start Verification' button provided on the security page and follow the given steps to verify your company. Once your company is verified, you can then connect your official contact numbers with WhatsApp Business API.
Connecting WhatsApp Business API via Gupshup
To begin the phone number connection via Gupshup, you can follow the steps given below.
Login to the Gupshup website using your email id or a Facebook or GitHub account.
Upon logging in, you will be able to access your very own Gupshup dashboard for managing a variety of tools. Since you are a new user, you will see a 'Create your first app' button on the very first screen of your Gupshup dashboard. Click on this button to begin your WhatsApp Business API connection process.
The platform will then ask you to select the type of app you want to create. For this, select the 'Access API' option and proceed further.
The platform will then ask you to enter a unique name for your WhatsApp messaging app. Define the app name as per your brand name, and scroll down the page to click on the 'Next' button. However, make sure to check the availability of the app name to avoid any confusion for your customers or setup delays.
The next screen will ask you to go to your Gupshup dashboard. Click on this button, and you will arrive on your dashboard, where you can finally see a 'Go Live' button next to your newly created app.
As you click on 'Go Live', the next screen will show you a checklist of things that you will need to provide. Review the checklist and click on the 'I'm ready' button to progress further.
You will need to select your country/region to view and accept pricing details. Once that's done, the platform will then ask for your essential business information.
Fill in all the relevant business details in sync with the information that you have provided on your Facebook Business Manager account. Refer back to the account to ensure there are no discrepancies, and then click on the 'Next' button.
The Gupshup platform will then ask you to verify your linked email account. Click on the 'Verify Now' button to complete the process.
Once your email is verified, return to the business information form, check all your entered information, and click on the 'Confirm' button.
On the next screen, you will need to verify your company's ID on the Facebook Business Manager. Enter the id and click 'Save' to successfully submit your application.
Now, you can finally connect your phone number using WhatsApp Business API via Gupshup and set a Company Name.
To ensure seamless interaction between Gupshup and WhatsApp Business API, you need to approve the received request for linking Gupshup in your Facebook Business Manager account. Once you are done, return to your Gupshup dashboard and click on the 'Request Approved' button.
WhatsApp typically takes anywhere between 2-7 working days to process and approve linking requests. Once you get the approval, you can effectively start using your WhatsApp Business API via your very own Gupshup app.
Blogs you will want to share. Delivered to your inbox.
Business Email
×
Read: Conversational AI in Retail and E-Commerce