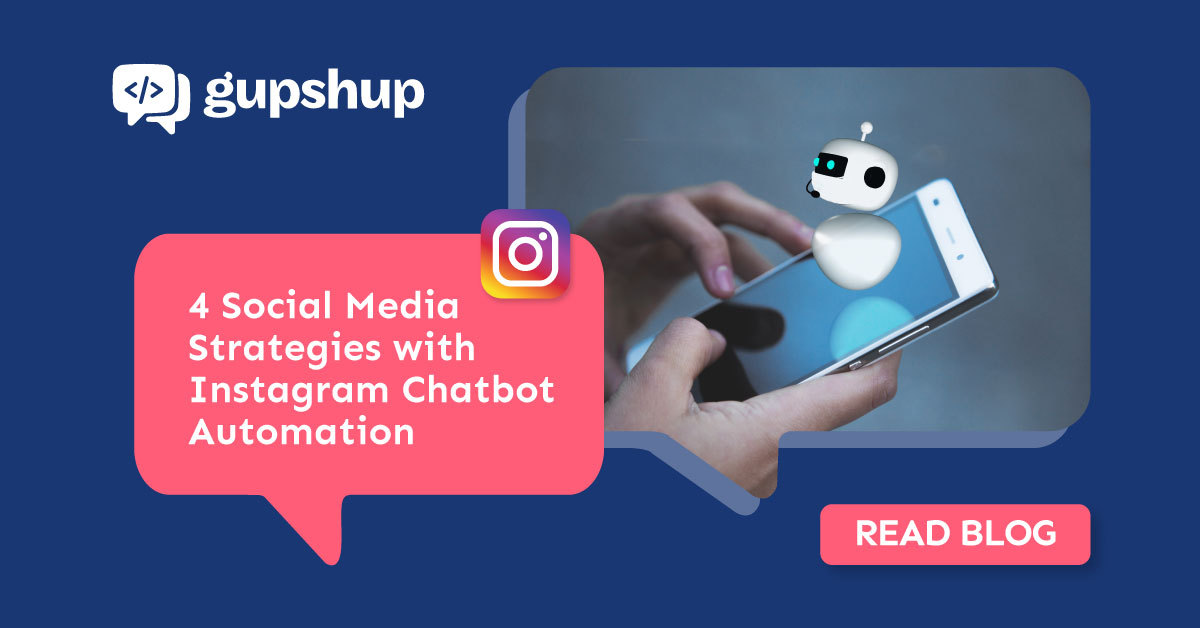 4 Social Media Strategies with Instagram Chatbot Automation
Chatbots, Conversational Engagement, Generic, Instagram API
On January 24, 2022
Social media today has become an active part of your customer's life. They spend around 145 minutes on social media every day.  Prompt customer communication is vital for support and sales alike. One great social media strategy can revolutionize your whole brand. That is where AI-powered chatbot marketing can make a difference. With myriad industries leaning toward automation, it's no surprise that bots will play an integral role in business marketing.
If you're wondering how to create a social media strategy with such capabilities, read along  and discover how you can nail your social media marketing with chatbot automation on Instagram.
Role of Social Media in Marketing
Social media has proven itself to be more than just a phenomenon. It has been helping businesses implement marketing strategies to improve business ROI. By applying a well-planned social media strategy, you can:
Boost user engagement
Build brand personality and trust
Increase conversion rates
Set better communication channels
Be more human to your target audience
Undoubtedly, social media marketing holds a tremendous potential value for your company. But what you are doing might not be just enough to set you apart from your competitors.
Current Practices Followed For Building A Social Media Marketing Strategy
Marketers know the role of social media in brand building. And there are two essential social media plans followed by marketers currently:
Maintaining Content Calendar
A content calendar is an excellent approach to initiate social campaigns on specific days or events. It will allow you to grab more attention from your current and potential customers. Moreover, you can streamline your plans by scheduling your posts, be it on Instagram or other channels
Share Engaging Content
Possibilities are endless with a well thought out social media content strategy. Defining brand attributes becomes essential via specific hashtags, logos, or unique social media post templates.
Brands focus on sharing unique posts with their features in mind. They use various formats in social media content strategy to diversify content, such as live videos, stories, user-generated content, and polls. The content is useful for the following purposes:
Educate about product or service
Entertain and increase the followers
Support lead generation
Drive traffic to your blog
But what gets missed is personalization and a connection with individual customers at every stage of their journey. Chatbot automation can help you achieve that.
Instagram Chatbot Automation – the Future of Social Media
Due to the hectic lifestyle, people nowadays want instant access to information. If companies fail to provide such an experience to their prospects, they reach out to their competitors. Hence, conversational marketing in social media or automated chatbots has become  need of the hour. The launch of Instagram Messenger API in 2021 has set the precedent, making mass conversations on Instagram via chatbots automation a reality being sought by brands across industries.
Providing brands with the capability to increase product visibility, Sales and Support via conversations, chatbots on Instagram have become an  ideal marketing tool, enabling businesses to deliver a stellar customer experience.
What are Chatbots?
Human-like conversations without any human involvement? Well, that's a chatbot for you. It is a computer program that automates particular tasks based on what a customer chooses or requests while chatting. Moreover, today you will find many brands using chatbot marketing hacks to boost sales.
Now, what is chatbot marketing? From extracting customer insights through social media to ad click, these self-serviced virtual assistants personalize the consumer journey at every step. Brands sending promo and launch offers directly on your WhatsApp is one of the best chatbot marketing examples.
These conversational interfaces powered by Artificial Intelligence and Machine Learning technologies help companies personalize responses and enhance customer interactions. Today, many third-party chatbot integration services help businesses develop their conversation trees with no special development skills or coding required.
Things you can do with Instagram Chatbot Automations
Automated chatbots on social media platforms like Instagram offer a world of possibilities and can help brands attain their business and social media goals better.  A chatbot on Instagram can be designed to be a comprehensive communication tool. It can not only help businesses answer common customer queries faster but also nurture customers towards their sales journey.
Here are some things you can achieve with chatbots on Instagram and that can help you excel on Instagram and your social media marketing overall:
Faster and Seamless Communication
Communication plays a crucial role in promoting any business. Instead of dialing a customer service number or sending a mail, now several people turn to their social media handles to find information or solve the issue. The Instagram messenger chatbot can break down the communication barriers between businesses and customers.
Why is it crucial to fulfilling your customers' needs in such a way? Providing instant response and resolving potential problems will protect your business from abandonment. Hence, you can create your reputation as a caring and responsive brand by offering support through a Instagram  chatbot.
Develop Customer Insights
Interacting with customers can help know a lot about your customer's behavior, demography,  likes and dislikes. With Gupshup's intelligent systems to gather such information along with access to customer chat history your brand can derive real business insights and tailor them into business and social media strategy.
Eventually, businesses can use these insights to segment, retarget and nurture leads in real-time. Thus, chatbots are the future of conversational marketing.
Personalized Outreach
Besides managing customer concerns, Instagram chatbots facilitate valuable conversations by proactively connecting with customers. The previously collected customer information helps provide a personalized experience to your customers.
Instagram chatbots can understand the customer preferences to suggest suitable products, content, or latest offerings. Thus, you can offer a better user experience to your followers.
More Conversions
The main objective of the business is to generate leads and drive sales. Through deeper and constant engagement with prospects, Instagram chatbots can boost conversion rates for companies. Thus, bots can become a vital tool for e-businesses to implement smart sales strategies.
Bottom Line
Are chatbots the future? Of course, yes.
The Fourth Industrial Revolution is here. So, now is the time to leverage chatbot marketing strategy with your current Instagram campaigns. With AI and ML-powered bots from Gupshup you can enhance the role of social media in your business promotion by effortlessly adjusting its response as per the consumer query and needs.
The role of social media in marketing is to satisfy customers through instant engagement, answering queries, and guiding shopping experiences. You can easily cater to these customers' needs with bots, which depicts both a brand's professionalism and care. In a nutshell, a chatbot for Instagram would most likely be valuable to your customers. However, if need be, conversations can always be transferred to a live agent with smart escalations.
Engage with and monetize your followers with Gupshup's Messenger API for Instagram. Have rich two-way conversations with your with Gupshup's rich array of Instagram messaging and conversational tools. #LetsGupshup to know more.
Blogs you will want to share. Delivered to your inbox.
Recommended Resources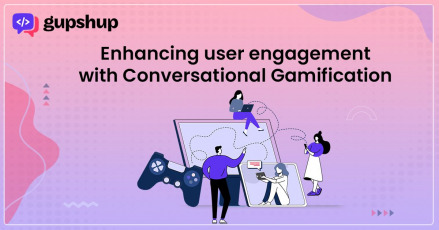 How gamification using Conversational AI builds engagement for customers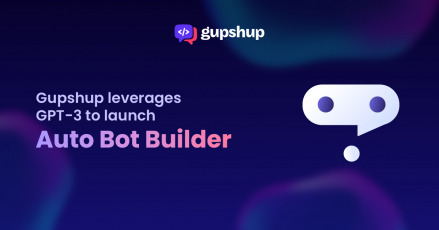 Discover the power of GPT-3 with Auto Bot Builder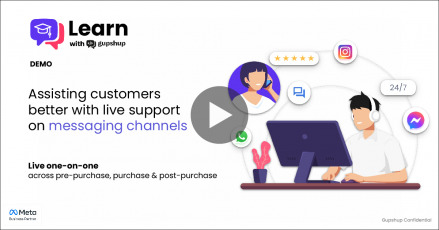 Customers today expect businesses to be there for them on messaging apps. Learn why and how...
×
Read: Creating Conversational Experiences On WhatsApp