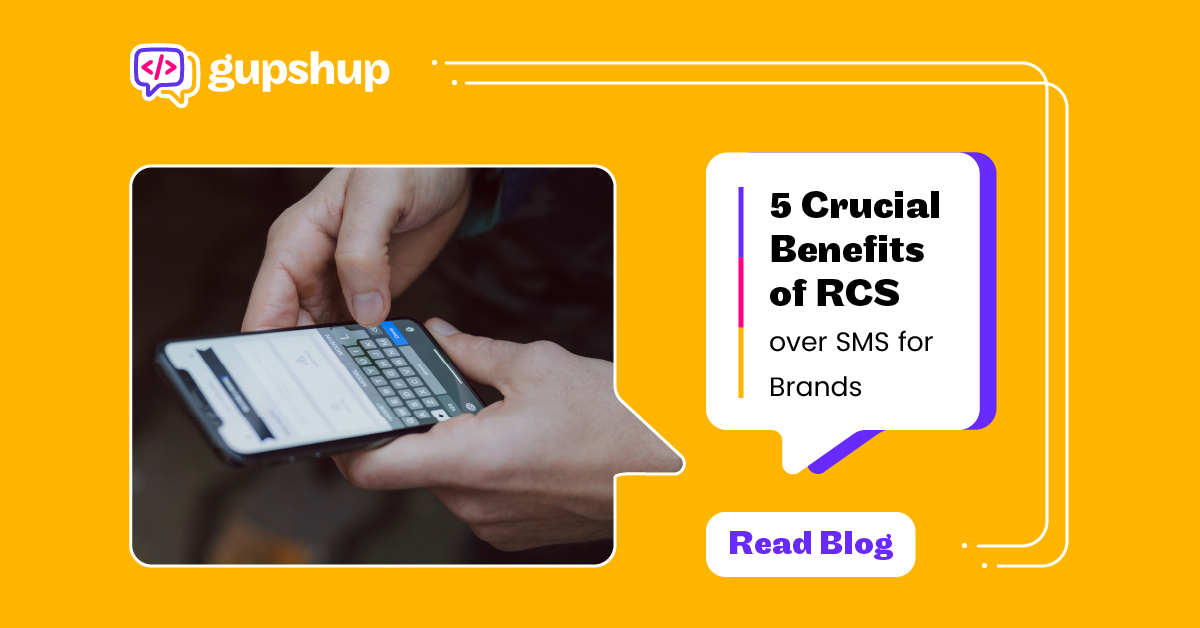 5 Crucial Benefits of RCS over SMS for Brands
Chatbots, Conversational Engagement, Generic, RCS, SMS API
On October 14, 2021
SMS-based communication has been the cornerstone of marketing for brands for a long time. Over the years, user engagement with SMS has been steadily declining as text-only messaging is not sufficiently interactive for users. Other channels of communication have emerged which are highly engaging and user-friendly. RCS is one such medium where the interaction between the users and brands is not only engaging but also supports end-to-end automation.
RCS Business Messaging (RBM) allows the deployment of industry-specific automated chatbots on the RCS channel. RBM also enables brands to interact with users with an advanced version of the SMS.
Let's take a look at what makes RBM so attractive when compared to SMS:
1. Interactive Messaging:
RBM offers a variety of user-friendly features such as the suggested replies, carousel images, web links as buttons, and more. The conversational pattern with a personalized touch provides an interactive user experience to boost sales. Further, brands can roll out attractive offers to foster long-term relationships with customers.
2. A Variety Of Metrics:
RBM allows brands to analyze several business metrics such as user actions on chatbots, products they opted for, the completion rates of transactions, among several others to provide deeper insights on customer behavior. The intelligence obtained can be leveraged to craft effective campaigns to onboard new customers in addition to retaining the existing ones.
3. Applicable For All Industries:
RBM is industry-agnostic and therefore, can be used across a multitude of business verticals such as e-commerce as well as brick-and-mortar stores, small and large enterprises, across the globe. RBM can be used for various purposes: sending notifications, OTPs, transaction confirmations, and so on.
4. Supported By Default Messaging Apps:
A default messaging app in your mobile phone is sufficient to support RBM, through which brands can seamlessly connect with their customers; users are spared from the need to download an external app. However, currently, RBM is available on Android phones only.
5. Trustworthy:
Verifying the source of an SMS is not straight-forward. But RBM allows brands to include their logos besides having their profiles verified. The verification tick on the messaging chatbot helps brands in gaining their customers' trust  that eventually increases sales and helps in broadening the user base.
Conclusion
RCS has been gaining momentum worldwide and the support from carriers plays a major role in unleashing its true potential. While the support from carriers is growing like never before, support from the brands plays an equally critical role in the growth of the RCS ecosystem. Brands ought to leverage the channel in order to redefine customer engagement.
Having carved a niche for itself in the conversational messaging space, Gupshup has championed the cause of RCS. Gupshup is a global partner for Rich Communication Services (RCS) that upgrades SMS with branding, rich media and enhanced interactivity. A single API to access every communication channel your customers use, engage customers through seamless automation and start building solutions instantly.
Blogs you will want to share. Delivered to your inbox.
Recommended Resources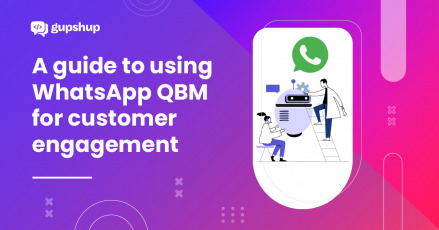 Whatsapp quality based Messaging QBM| Why use Gupshup QBM.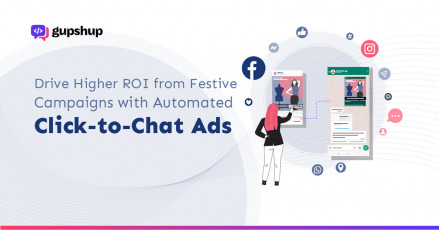 Learn how click-to-chat ads can help you drive higher ROI from Festive Campaigns with Automated Click-to-Chat...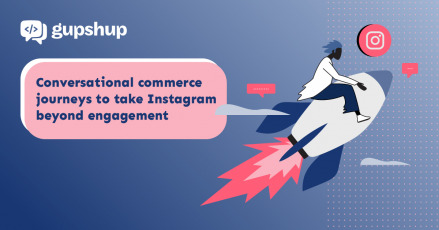 Know how to leverage automated conversations to drive commerce on Instagram through conversational commerce journeys
×
Read: Creating Frictionless No-app Journey For Fintech Companies