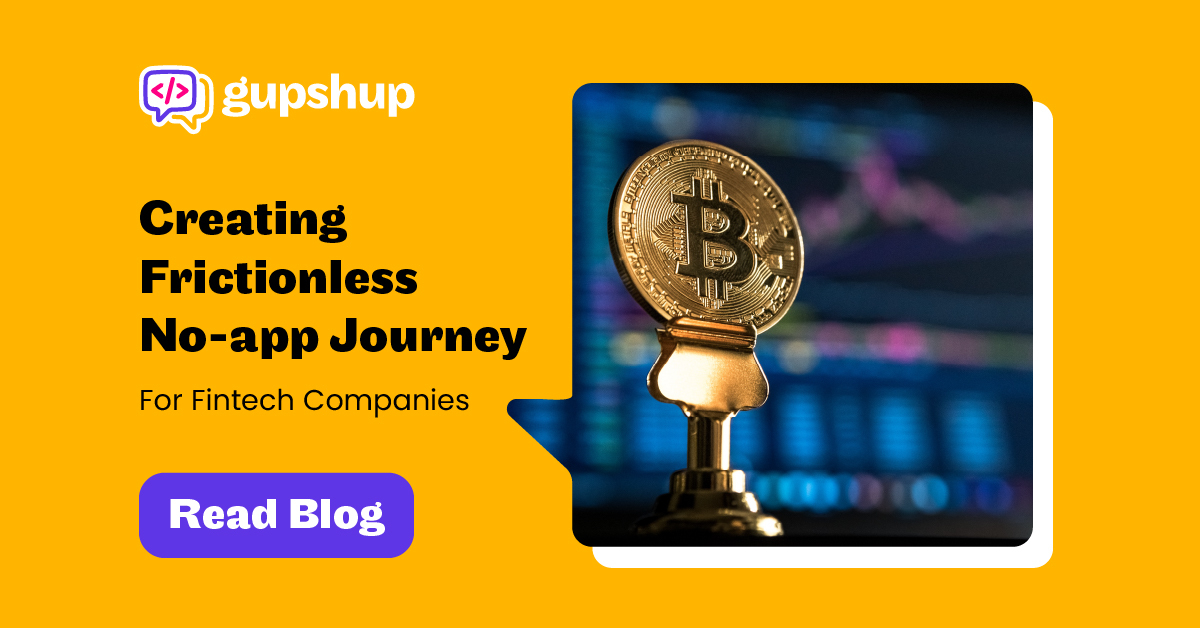 Creating Frictionless No-app Journey For Fintech Companies
Fintech, Messaging API, WhatsApp Business API
On October 18, 2021
In the ever-changing and ever-evolving landscape of the digital world that we inhabit now, especially since the advent of COVID-19, most of our purchases, transactions, and other exchanges happen online or via a smartphone. Hence, it is crucial for an upcoming or even an established FinTech company to understand the changing consumer needs and behavior. As of today, India remains at the cusp of the FinTech revolution. In the average 20,000 startups mushrooming, 10,000 plus are only FinTech related. These changes have actually revolutionized the FinTech ecosystem.
The transition or transformation of financial processes from physical to digital media, and onto web and mobile apps has been fast. But within digital media itself, there is another transformation taking place. Beyond the era of the websites and apps, there is an emerging era of conversations and messaging. FinTech also is moving in this direction of going beyond the app and is sort of living in the messaging ecosystem.
Gupshup CEO Beerud Sheth and VP of Marketing, Srinivas B Vijayaraghavan, along with Pratekk Agarwaal, who is an experienced financial advisor of FinTech companies, discuss at length how the integration of messaging to FinTech services is an absolute win not only for the brands, but more importantly, for the consumers. Listen to their conversations here.
Keeping Up With Consumer Behavior
Many FinTechs have entered the scene today, but most couldn't sustain themselves in this dynamic environment. It is not easy to figure out consumer behavior and keep on evolving as a brand. Almost a decade ago, there was a limited medium to reach out and contact the consumers. Most of the KYCs were done manually, and customers had to be present in person. Landline phones, and emails were the only established mediums to communicate, but all this has now gone through a drastic change. Another change that has happened within the digital landscape is the transfer from websites to apps. All thanks to the advent of smartphones and trickling down of Internet access to almost all sectors of society.
However, there is still a major share of consumers who either do not have access to Internet facilities or are simply hesitant about using a smartphone for monetary transactions. They are increasingly being encouraged to join the e-transaction route via advertisements, government policies, etc. Hence, this is a remarkable time for FinTechs to grow and evolve conversational experiences for their customers. Since conversation-based apps or messaging apps are the most frequently used apps and transactions mostly require a constant thread of communication, the FinTechs should be (as they already are) gravitating towards integrating with conversational messaging and conversational AI.
The Increase in Integrations
There's a general trend across multiple industries today, where businesses would build their own mobile apps. But the problem is that there are millions of mobile apps today. But how many restaurant apps, banking apps, airline apps, or store apps are going to be downloaded by customers on their mobile device? Very few, even though these are brands that they do interact with quite regularly. Consumers can't have several apps on their phones, with each built for just one specific purpose.
So what if Fintech companies can converse with their customers on messaging apps that the customer is already on? Like WhatsApp? Coming to the specificities of a conversational messaging app like WhatsApp in India, the most striking feature is the feasibility of this app. Because it is a free application, it is available in application stores, and is quite easy to use. Young children who haven't passed out of high school use it as frequently as a seventy-year-old retiree. Young people are using it all for professional and personal conversations. Hence, it is the most preferred platform for integration. Also, it is becoming increasingly difficult for a brand to make consumers download their app as consumers are only open to well-established, popular, and user-friendly versatile apps.
Changes in FinTech
The changes that have occurred in FinTech are mostly due to foreign investments; whether you look at investments in FinTechs or fintech's role in facilitating investments in other sectors of the economy. There is reduced reliability of cash for transactions with the advent of UPIs, QR codes, etc. The reliability of plastic money such as debit cards and credit cards is also increasingly decreasing. It can be noticed that it is not the way of transaction, but the ease, that matters to the consumer and that defines its popularity.
As a FinTech or any company related to the banking sector that relies on monetary transactions, it is important to grow and evolve according to the trends. If your brand and product doesn't grow with the available and incoming technology, it becomes obsolete and dies in no time. The changes are first resisted by many, but once a few people get used to it – and those need to be the key players in the market – the rest of the consumers also accept it and shift eventually.
Final Takeaway
Customers are long done with downloading dozens of apps that serve different purposes. Their needs and habits have changed to being able to do all online activities at once, including finance, regardless if it's through WhatsApp, or any mode they use for messaging. Therefore, FinTech services, being one of the most powerful industries in the digitised era, needs to move forward along with its consumers.
It's an absolute win for FinTech companies to offer their services through a messaging app instead of going through the complex, not to mention expensive, process of building a separate app. From the customers' perspective, these apps are time-consuming, and outdated. The integration of conversational messaging in FinTech services is what would bring customers exactly what they need, which would have countless returns for the brands. Less complex processes means more customers will buy insurance, open a savings account, get a personal loan, etc.
Being an authorized distributor of the WhatsApp business solution, Gupshup facilitates easy coordination between you and WhatsApp and saves you a lot of trouble. While most of the communication is automated, Gupshup efficiently takes care of processes that WhatsApp has deliberately left to human expertise
#LetsGupshup to know more!
Blogs you will want to share. Delivered to your inbox.
Recommended Resources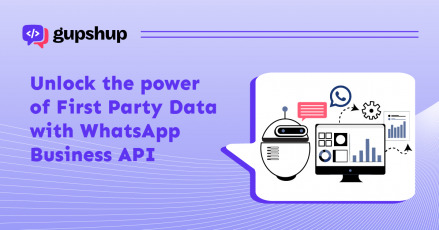 Know what is WhatsApp direct messaging api, how you can leverage it.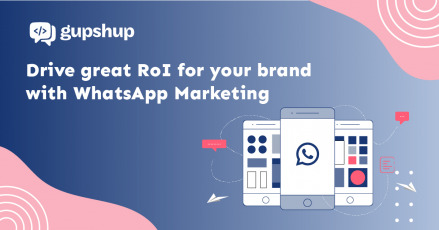 Know how to Improve your RoI with WhatsApp Marketing using Gupshup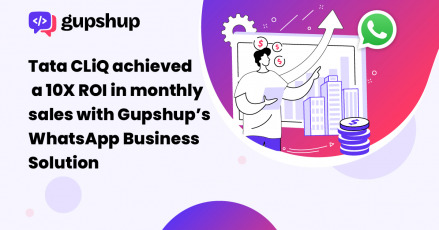 Case Study- How Gupshup's WhatsApp Business Solution Helped Tata CLiQ achieving 10X ROI in monthly sales.
×
Read: Innovative Use Cases of RCS