5 Reasons to Integrate Retail Chatbots into Your Business Strategy
On August 18, 2023
|
6 Minutes Read
Chatbots
Conversational Engagement
Retail
WhatsApp Business API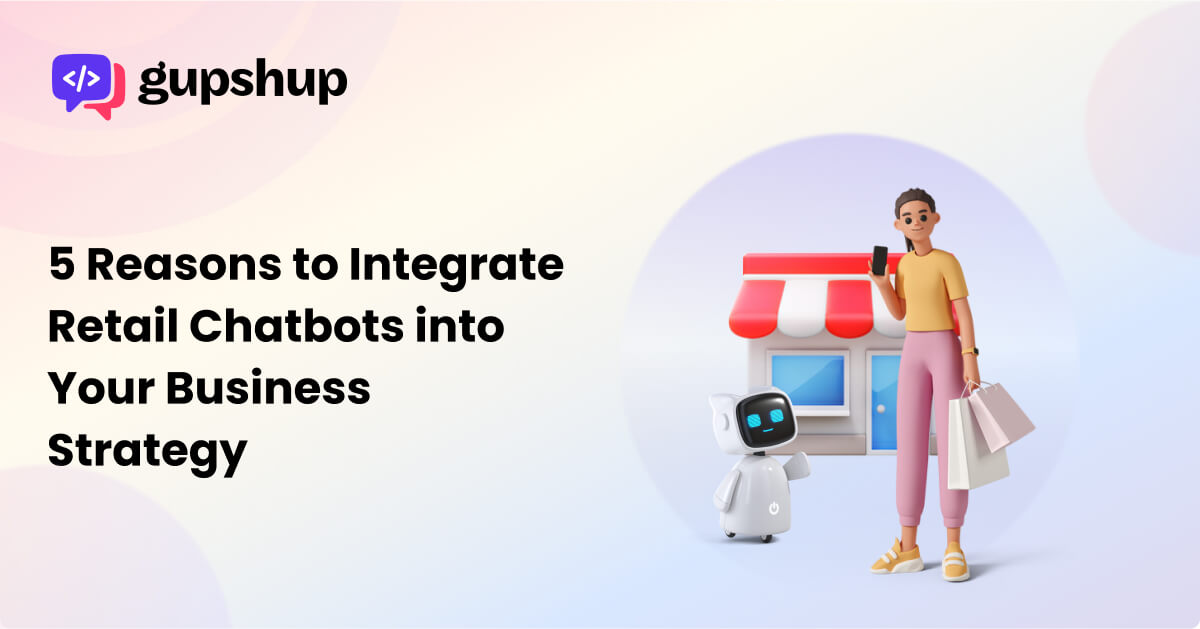 With the continuous increase of mobile users globally and how apps are adapting to ensure seamless communications, customers want everything in their pockets. Today's tech-savvy retail customers no longer want to visit stores and stand in long queues to buy something which can be done in the palm of their hands via the app and at their convenience. To drive towards digital-enabled business retailers need to make the utmost use of retail chatbots to optimize business processes, reach new customers, expand market share, and improve productivity.
Even if your customer visits your retail store, self-checkout has been an active area of interest for them. Customers can just scan the QR code and use it as a medium for running different campaigns like promotional, marketing, and transactional purposes. They can even pay directly via the WhatsApp app making their shopping experience safe. It can be a game changer for your store as you can easily get opt-ins and in the future engage them with other automated campaigns like discount messages, send them a survey form, and ask for feedback.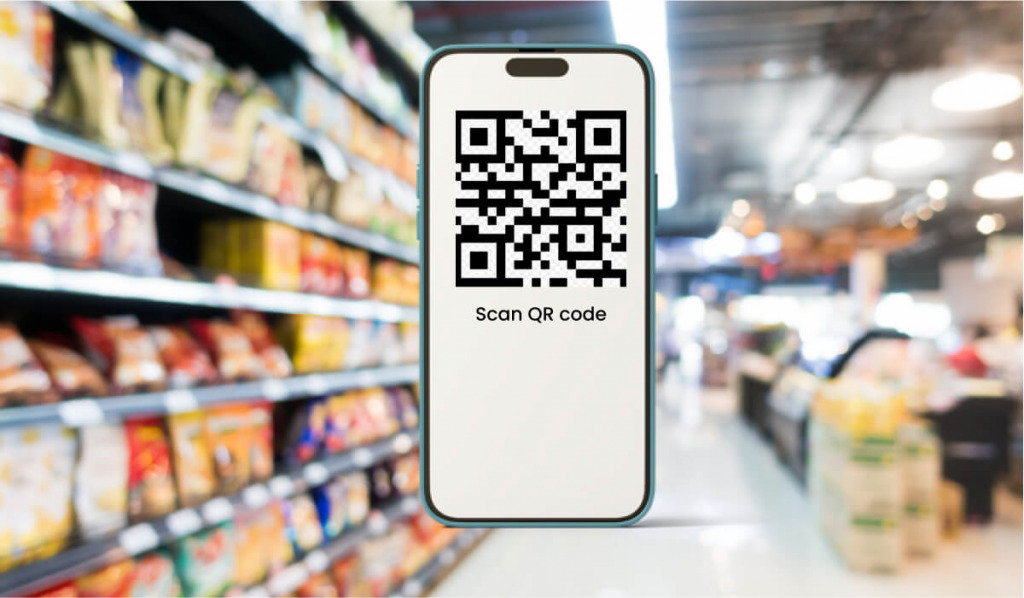 The adaptability of retail chatbots can work wonders if you are planning to grow your retail business. In this blog, we take you through the top reasons why you must embrace the chatbot.

5 Reasons You Must Opt for Retail Chatbots

Omnichannel Support:
To meet your customer expectations and deliver a consistent brand experience, Omnichannel retail support is no longer a nice-to-have but a must-have. As shoppers keep on bouncing from websites to various apps it's vital to provide a seamless experience across channels. Getting a single view of customer activities in a dashboard and enabling automation across channels using a single API helps you deliver a rich personalized experience to every shopper.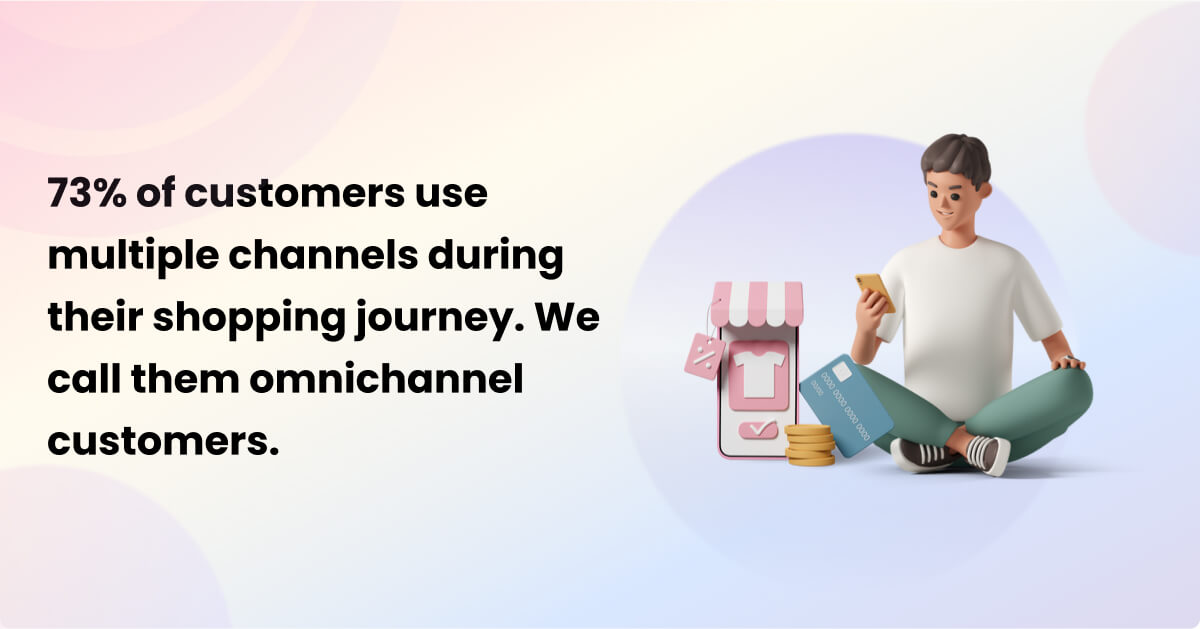 Physical leaflets have been commonly used by retailers to promote special offers, upcoming sales, and for other promotional activities. With everything going digital, Digital leaflets on WhatsApp will help you build long-lasting relationships with your customers in a fraction of the time and build loyalty by personalizing promotions by geography, and category down to SKUs.
Personal Shopping Assistant:
Retail chatbots can assist customers in all stages of the customer journey. Imagine a scenario you wanted to buy the red polka dot shirt from the brand and when you ask on the chatbot, they exactly send you the same dress link. What goes in the backend is by going through your past behavior the retail chatbot creates personalized recommendations that are unique for you, ultimately making it your own personal shopping assistance.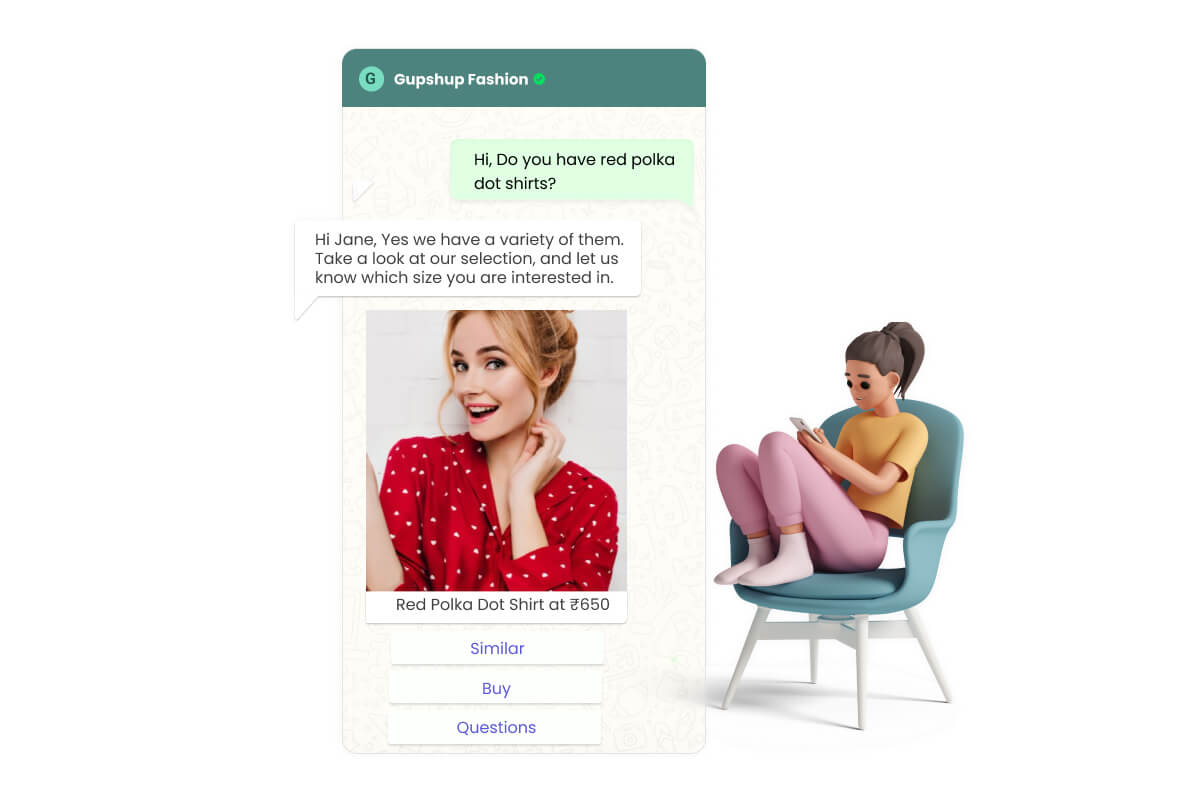 To make it more personalized for your customers, you can send out personalized offers and promotions to them on their special occasions like birthdays and anniversaries via WhatsApp Business API, eventually boosting your customer satisfaction.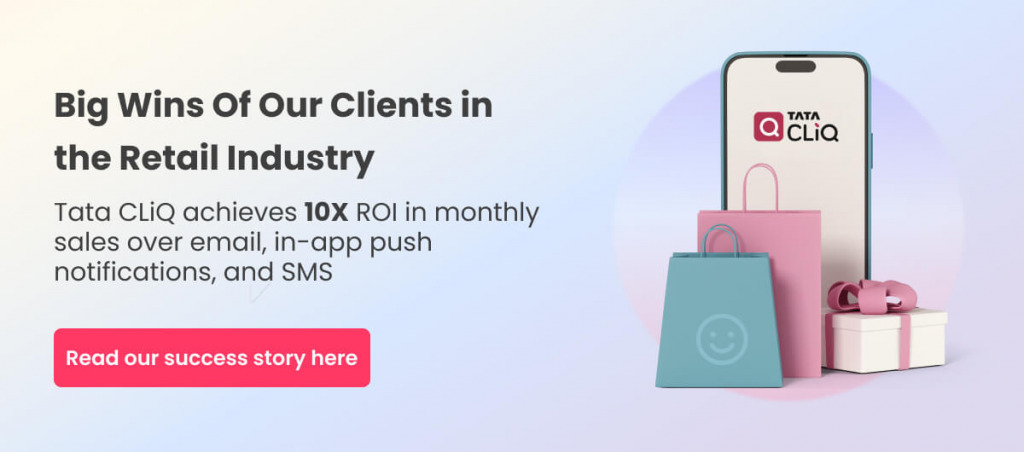 Improved accessibility:
The concept of 'Open Hours' is just a past, today's customers expect you to deliver 24/7* communication and as per a recent study, 51 percent of people say a business needs to be available 24/7. You can develop uninterpreted communication between brands and customers by answering customer queries effectively, proactively engaging shoppers at the perfect moment, recommending additional purchases, and many more. This makes your user more accessible and they can transfer customers and context to an agent when assistance is needed. Giving such accessibility will drive both loyalty and conversions.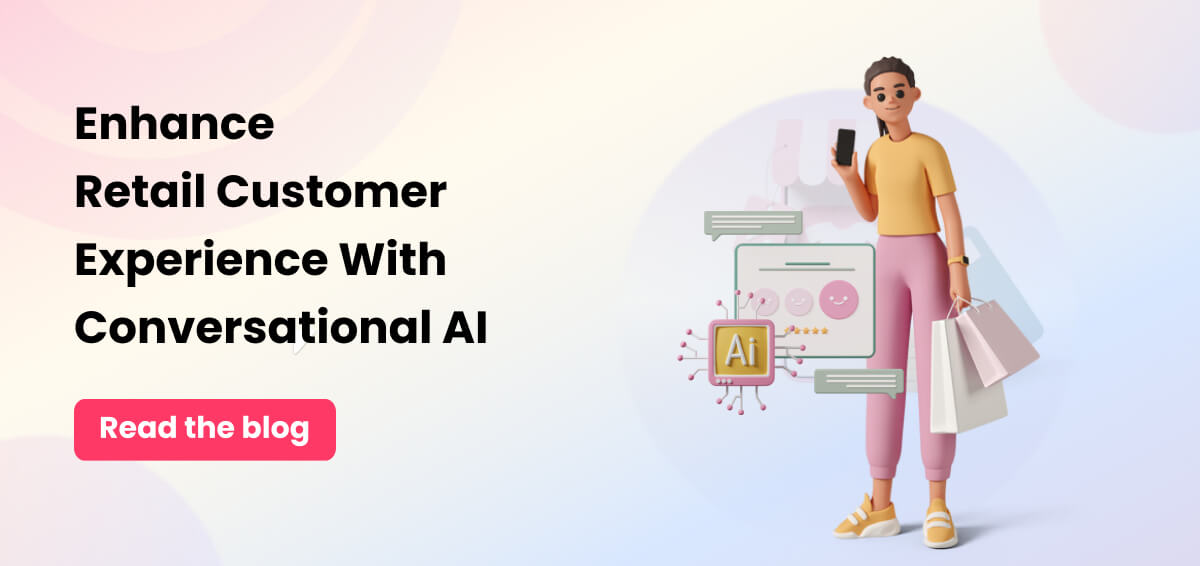 Drive sales directly via DMs:
Retailers cannot ignore the power of social media and how it can actually act as a medium of sale. They don't have to rely on a landing page for their prospect to connect with them, conversational ads can directly take them to DMs. Instagram chatbots can engage in private conversations with the help of automated, programmed responses to common questions or even interactive, personalized conversations. Retailers can use chatbots to collect potential customer information and can respond instantly whenever you are not online leading to turning Instagram into a more efficient marketing channel.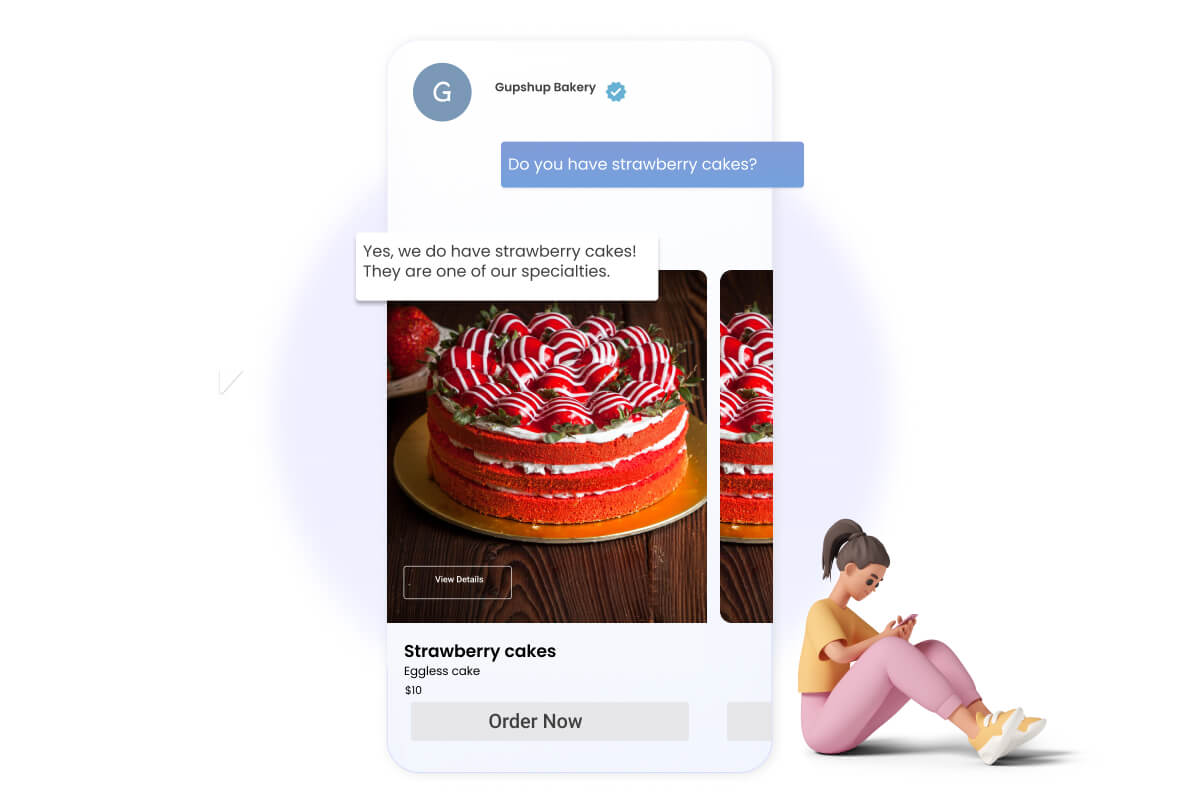 Reduce abandoned shopping carts:
Cart abandonment is a common challenge for brands, we just can't ignore it as it can dent your profits and end up losing sales from the potential prospect. To bring new life to your abandoned carts you must unleash the power of WhatsApp Business API by providing them a seamless shopping experience. Firstly, send out a reminder message on WhatsApp, and still, if there's no action taken encourage them to buy by giving out a reason to create a Fear of Missing Out (FOMO) on the product.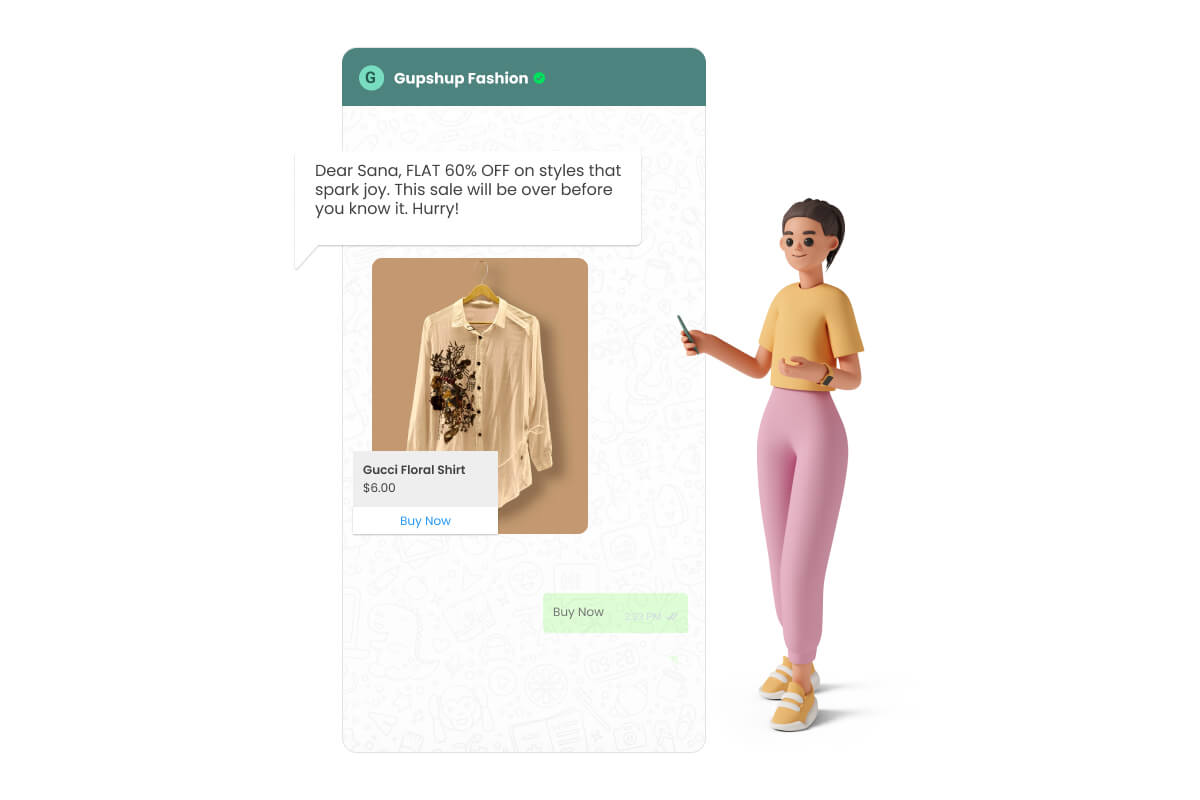 Cost Effective in Reducing Customer Service Cost:
Retailers are thriving to automate their sales and customer support service and it's no doubt that chatbots are becoming popular to reduce cost and improve efficiency. Chatbots have the ability to answer all the FAQs and provide automated and immediate assistance whenever required. One biggest advantages of a chatbot is that it supports multilingual customer support where a human agent can speak 2-3 languages, and a chatbot can converse in multiple languages.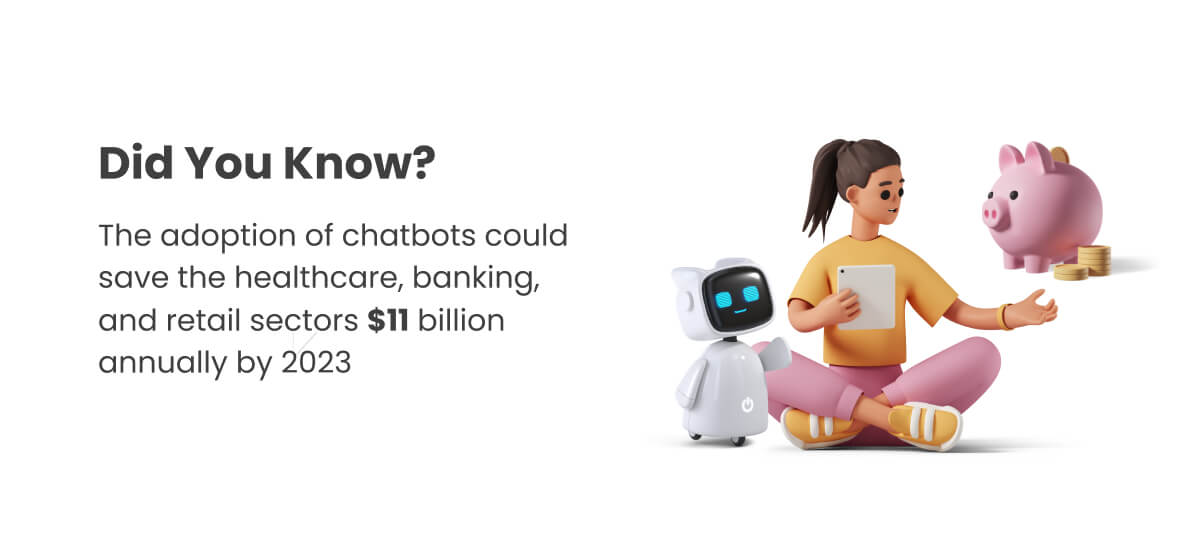 The Future of Retail Lies in Conversational Chatbots:

We are in the new era of Retail 2.0 where every brand is leveraging technology to enhance customer experience with the help of AI. And the transformation to Retail Chatbots is just the beginning of how retailers can use the power of Conversational AI to optimize and automate both agent and customer interactions, leading to quicker onboarding, decreased agent turnover, increased revenue, and enhanced customer satisfaction and loyalty.

In a recent study done by Fortune Business Insights, global artificial intelligence in the retail industry is projected to grow from $7.14 billion in 2023 to $55.53 billion by 2030. By leveraging technology, machine learning algorithms, and real-time data, retailers are going to benefit the most by creating a seamless flow throughout their operations. The capabilities of Chatbots continue to evolve and by integrated them gives you an edge over your competitors. We will see more retailers optimizing Conversational AI in the coming years to enhance the shopping experiences of customers.

To meet customer expectations and their evolving needs, retailers need to be agile in adopting the newest technologies for them to stay competitive. It's time for you retailers to redefine your offline shopping experience with chatbots. Book your personal demo with Gupshup today, and take the next step towards your Retail Chatbot success. 
Blogs you will want to share. Delivered to your inbox.
Business Email
×
Read: How Ads that Click to WhatsApp Work?