How Ads that Click to WhatsApp Work?
On August 21, 2023
|
6 Minutes Read
Agent Assist
Bot Builder
Conversational Engagement
Generic
WhatsApp Business API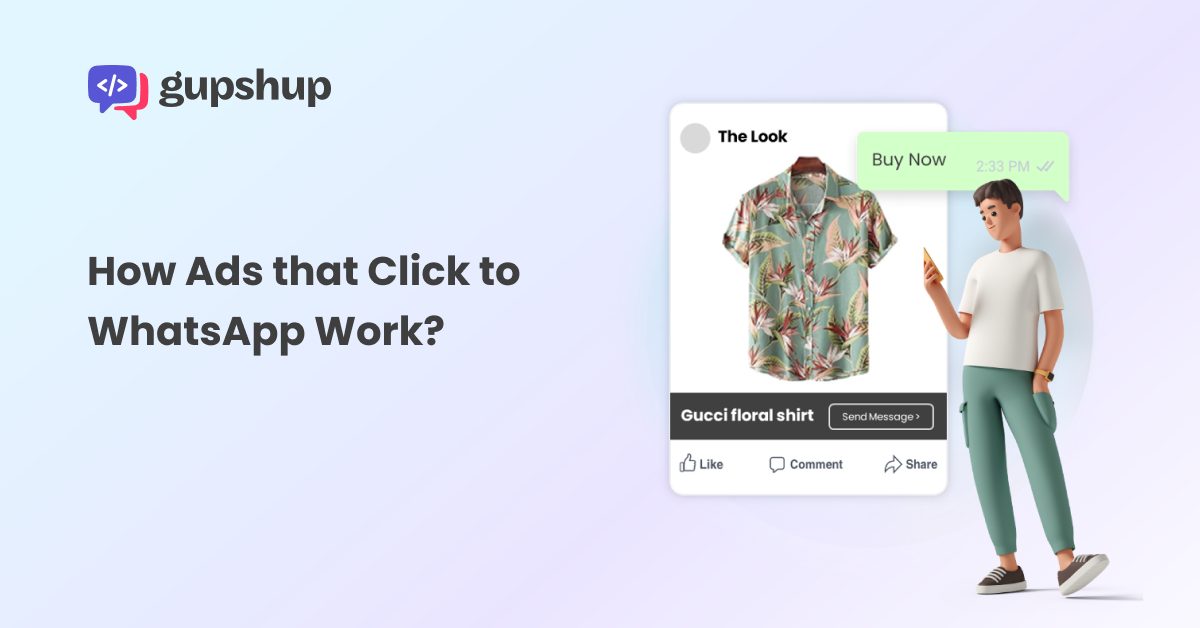 WhatsApp Business API is transforming the business conversation between enterprises and their customer base. You can now offer 24/7 customer support, personalized shopping guidance, resuscitate abandoned carts, and run attention-grabbing promotions all in a single conversation on the world's most customer-preferred OTT messaging platform.
Now to help businesses further enhance their outreach and lead generation, Meta introduces – Ads that Click to WhatsApp, offering you an opportunity to capture 100% of leads. With Ads that Click to WhatsApp, you can integrate an engaging call-to-action button within your Facebook and Instagram ads. Clicking on which leads customers into a direct conversation thread with you on WhatsApp. 
You can run these ads strategically across Facebook and Instagram feeds, as captivating stories, and the bustling marketplace. With this newest tool the opportunities are endless – accelerate lead generation efforts, upsell and cross-sell, collate first-hand customer data, run successful retargeting campaigns, analyze customer behavior, and finesse your marketing efforts. 
But, where do you start? How do you even connect your Facebook and Instagram accounts to WhatsApp? What should you do to get the best results? Read on to find the answers to such questions and more.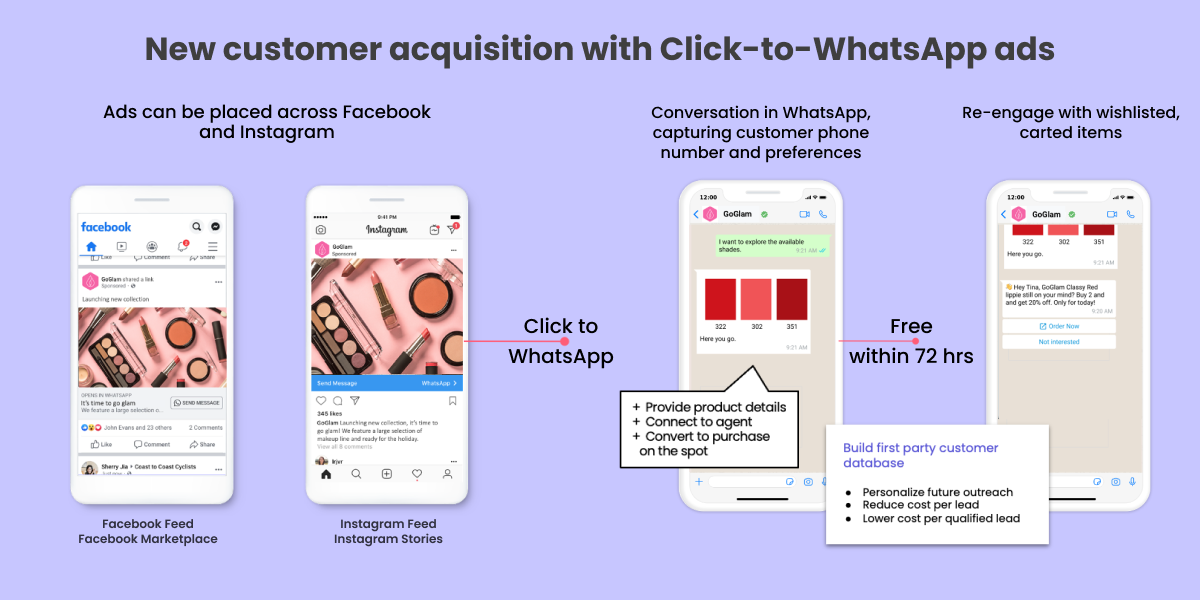 How to start with Ads that click to WhatsApp?
To successfully implement Ads that Click to WhatsApp campaigns, you need to first get a WhatsApp Business API account, which is different from your regular WhatsApp App. 
With this account, you get:
– A verified green tick WhatsApp number
– Product catalogs to showcase your products
– WhatsApp Chatbot and chat automation
– Marketing, promotional, support, and advertising tools
Add the WhatsApp Business Number to your Facebook Page
The first step, connect your

WhatsApp Business

and your Facebook page.

Click Settings

Scroll down the left-hand side column, click on WhatsApp

Select your country code and add your WhatsApp Business number

Click 'Continue'

Enter the OTP code you receive and click 'Confirm'
Ensure that you have connected your Instagram account with your Facebook account.
Creating Ads that Click to WhatsApp
Go to the Ad Creation section of your Facebook Ads Manager

Select "Create" and then choose your ad objective

Choose the "Messaging Apps" option under the "Conversion Location"

If you choose engagement objectives, then go to WhatsApp in the Accounts section. Now, select your Business WhatsApp number from the drop-down menu. 

If you choose traffic and sales objectives, select the relevant Facebook Page. Facebook will use the WhatsApp number connected to that Facebook Page.

Select the target audience, schedule, budget and ad placement

Choose your ad format 

Click on "+ Create" to create the journey flow 

Then, click on "Save & Finish"

Once done, hit "Publish" to take your ad live
You can track its performance via metrics like impressions, and click-through rate in the Ads Manager.
Why should you cash-in on Ads that Click to WhatsApp?
Capture first-party data for successful retargeting 
With over 2 billion users, WhatsApp is one of the most trusted and widely used OTT messaging platforms. So, it's only natural that customers are at ease sharing their personal information on WhatsApp with businesses they are talking to directly. So, you can easily collect the prospects' personal information like name and phone number. You can also capture their purchase interest and website behaviors, storing this in your CRM for retargeting absolutely free in the first 72 hours.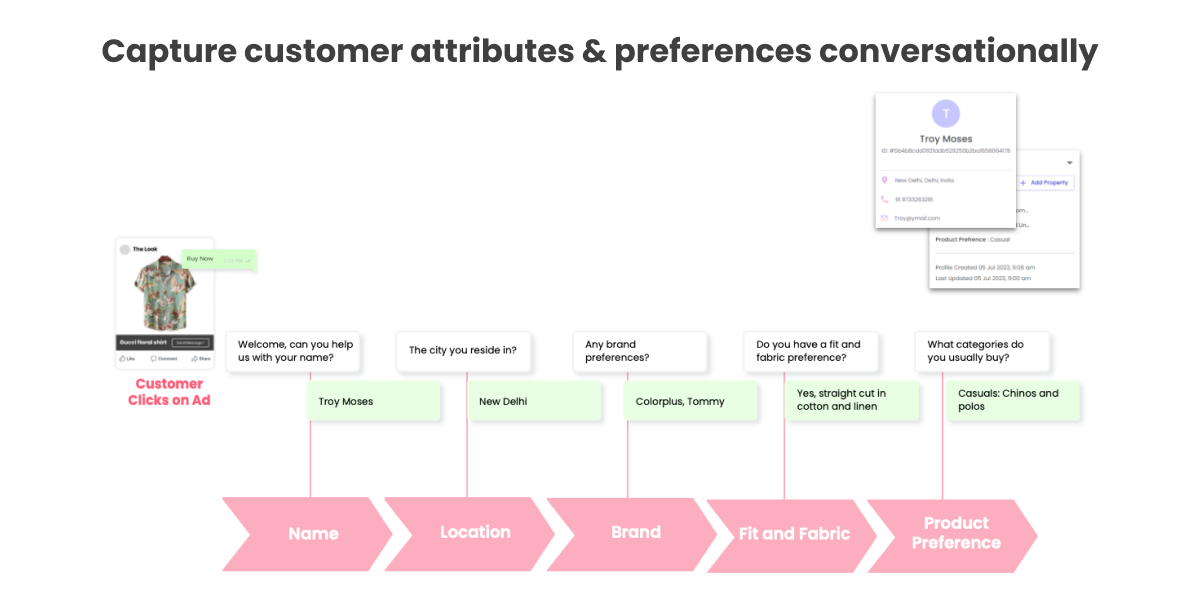 Amplify your discovery and sales efforts via chat
Ads that Click to WhatsApp help ease the customer journey, and allow you to effectively persuade your prospects in various ways like query resolution, consultation, or acquiring customer details and preferences for placing an order or scheduling an appointment. With Ads that Click to WhatsApp, you can also conduct surveys or lead generation campaigns via a chatbot.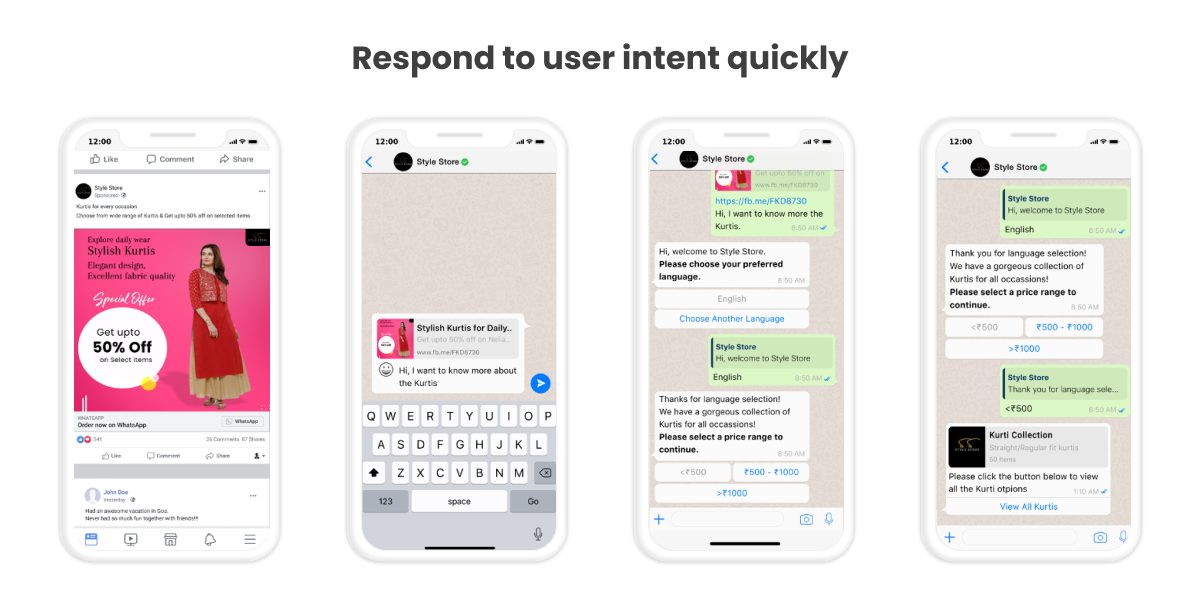 5X lower cost per acquisition
A certain company's survey showed that 47% of its customers preferred support on WhatsApp Business. Paying heed, The company started running Ads that Click to WhatsApp on Facebook initiating more than 6,000 conversations in 2 months. The company realized that the cost per acquisition via Ads that Click to WhatsApp was five times lower than their other online conversion campaigns 
How can Gupshup help?
With Gupshup's comprehensive ads to conversion offering, you can get the best out of your Ads that Click to WhatsApp efforts. Let's see how:
Build chatbots without coding with Gupshup's Bot Studio
With our Bot Studio, you can build and integrate a complete automated chatbot journey into your Ads that Click to WhatsApp campaign with zero code. Just using the visual bot journey builder, you can create a seamless user journey, offering engaging, interactive, and prompt 24/7 assistance at every step.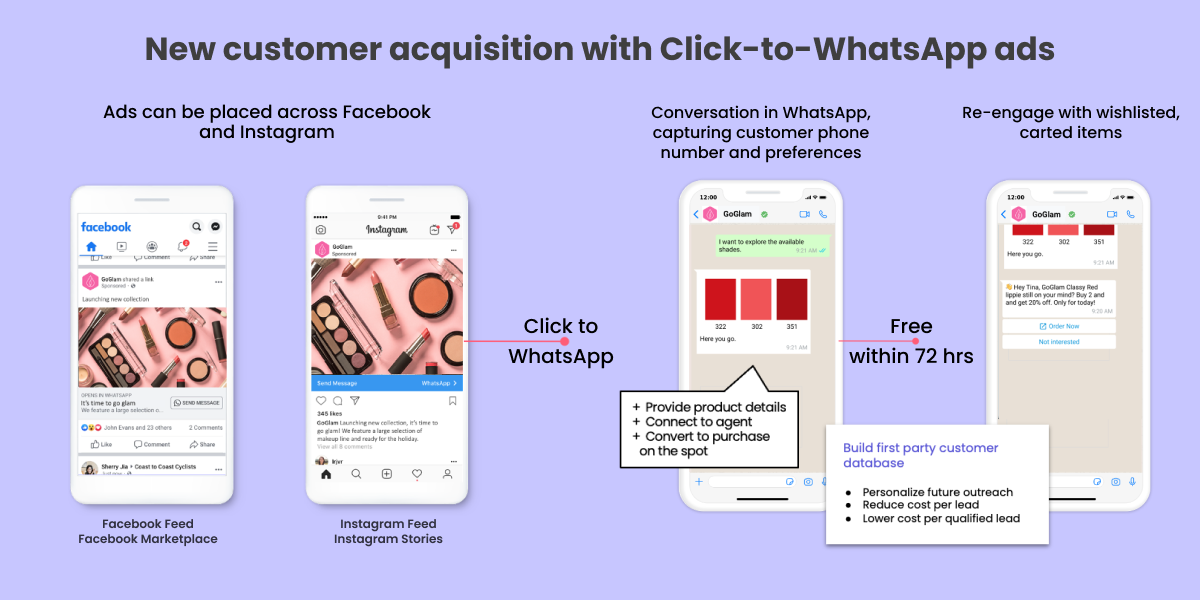 Access customized lead generation templates and bot flows 
Don't have the engineering resources to automate your WhatsApp Business, worry not! You can simply use our templates to create conditional journeys based on customer responses, triggers, pre-set delays and prompts to capture leads at specific intervals in the customer journey.
You also get access to quick-response reply buttons, engaging carousels, images, and lists, helping you deliver an engrossing shopping experience. And most importantly, you can easily integrate all of the above into your existing systems and with live agents.
Grant your customer support agents superpowers with Agent Assist
From a single, shared, omnichannel interface, a single customer support agent can address queries across 30+ channels. Agents have full autonomy to share catalogs and promptly add buttons to customize notifications and message flows on the fly – the perfect blend of human touch and automation. 
If that's not enough, then with Agent Assist, you can seamlessly transfer chats from chatbots to live agents, offering 360-degree query resolution and enhancing customer experience.
Seamless end-to-end campaign management
Just at a glance, you can track the performance of all your Ads campaigns on a single, comprehensive dashboard. You can also track bot journeys linked to the campaigns and make modifications on the fly. You can even launch WhatsApp retargeting campaigns pursuing dropped-off leads and reignite the conversation.
In-depth analytics on ad performance
On a single analytics dashboard, you can track all ad insights like impressions, clicks, CPC, CPM, and CTR. Additionally, you can also track bot and flow performances. 
To top it all, you can track off-thread events happening outside WhatsApp like registrations, payments, and KYCs to respective ad ids and accurately calculate ROI. This is a feature that's not present in Facebook Ads. 
Ads that click to WhatsApp allow businesses to open a direct line of communication with prospects on a messaging platform they prefer. Their comfort in addition to Gupshup's solution will skyrocket the results of your lead generation and promotional campaigns, getting you maximum returns on your ad spends. So, why wait, contact us today and save big, get greater ROI, and be omnipresent to your customers!
Blogs you will want to share. Delivered to your inbox.
Business Email
×
Read: Why Your Bank Deserves its own Fine-tuned Banking LLM