6 Advantages of Restaurant Chatbots
On July 14, 2021
|
10 Minutes Read
Chatbots
Conversational Commerce
Conversational Marketing
Conversational Support
Food & Beverage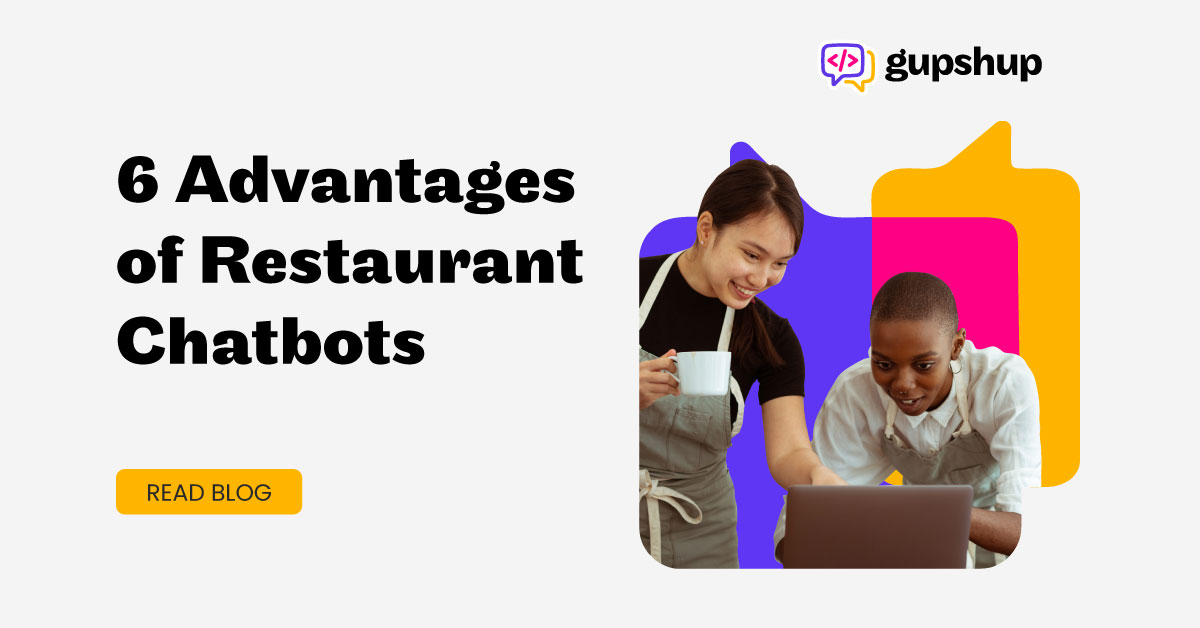 By 2025, the Conversational AI market is poised to grow to a massive $13.9 billion. But even before that, virtual agents will handle up to 90% of customer service queries (2022) and businesses will save 5 billion hours (2023). It's clear that organisations all over the world are already adopting chatbots, virtual agents and other applications of Conversational AI in droves. But when it comes to adopting these new technologies, the restaurant industry is a bit behind the curve.
Are you a restaurant owner or manager?
Is your business lagging behind due to post-COVID restrictions around business curfews and social distancing?
What do your business objectives include?
Generate more leads and get new diners – both for dine-in and takeaways
Enhance daily activity
Provide a contactless restaurant menu and even full contactless dining
Engage with customers in more personalised ways
Deliver more enjoyable dining experiences
Build a loyal customer base, and a valuable brand reputation
If you answered "Yes" to any of the above questions, why not ask Gupshup for a restaurant chatbot demo?
A "food chatbot" – such as a food ordering chatbot, food delivery chatbot or a combination of these and several other capabilities in a single chatbot – is specifically designed for the fast-moving, ultra-dynamic restaurant and food service industry.
When you implement a chatbot for food ordering, especially one that's intelligent and incorporates Conversational AI capabilities, you can achieve all of your objectives – fast, at low cost, and on auto-pilot. With a simple, user-friendly chatbot, offered on a channel that your patrons prefer and are most comfortable with (e.g. Facebook Messenger or WhatsApp food ordering), you can effortlessly meet their demands for contactless dining (including contactless restaurant ordering) – that too at scale. The chatbot can display menus, take orders, answer questions, share business information, and even manage payments. Over time, this translates into more customers, repeat business and more profits – in short, a thriving food business!
Ready to know how a fully-customised restaurant chatbot can "open new doors" for your restaurant?
What is a Restaurant Chatbot/Food Chatbot?
Put simply, a restaurant chatbot is an automated customer communication tool built specifically for restaurant businesses. Powered by Conversational AI, Machine Learning and Natural Language Understanding (NLU), restaurant chatbots are a great way to engage with patrons to enhance their experiences, while also simplifying the business lifecycle for the restaurant. A chatbot can also help your business save costs, since it can take care of many tasks where you would otherwise need to hire humans. These include:
Making reservations
Displaying the menu
Presenting personalised recommendations
Taking and processing orders
Preparing the bill
Processing payments
Answering customer queries and complaints, and much more.
When you simplify these processes and save money in these areas, you can invest more time and funds in improving your offerings, providing more options, creating an enjoyable dining atmosphere, and ultimately delivering the memorable experiences that so many people associate with good food.
The easiest way to build a restaurant chatbot is with a business-friendly, low-cost platform like Gupshup. With this plug-and-play platform, you can build a customised, automated chat assistant in just a few minutes. If you're still in two minds, Gupshup can provide a free restaurant chatbot demo, so you can see exactly how your future chatbot can add immense value to your restaurant business. Click here to get started.
In the next few sections, we show you the advantages of deploying a Conversational AI chatbot in your restaurant or food delivery business.
Make Reservations Easier 

When the pandemic was raging, very few people were thinking about restaurant dining. But now that the crisis is abating in most countries, more and more people are looking to once again enjoy the experience of eating out with friends, significant others and families. Many prefer to make reservations in advance so they don't have to worry about table availability,even on busy days.

A restaurant chatbot, whether on the restaurant's website or integrated with a messenger app like Facebook Messenger or WhatsApp, or even Gupshup IP (GIP), allows patrons to book reservations quickly and with minimal friction. Instead of calling in a reservation, which can be overwhelming and confusing for some customers, they can simply chat with the chatbot and book a table.

No missed requests, no errors, no time wasted and no annoyance – the chatbot will take care of the entire booking process seamlessly and in just a few clicks. You can even set up your chatbot to send confirmation emails or in-app notifications, so they don't miss their slot. A reservation booking chatbot is a great way to build customer trust and earn their loyalty over the long term.

Seamless Chatbot for Food Ordering and Contactless Dining: In-table and Takeaway

Over the past year and a half, demand for restaurant contactless ordering has become more important than ever. A food ordering chatbot is an effective tool to add to your contactless ordering restaurant.

With a restaurant chatbot, you can easily provide an end-to-end contactless dining experience to customers, starting with food ordering. Create an itemised menu and make it available via the chatbot's user-friendly interface. Diners can easily browse this menu and place an order once they're ready. To further enhance and simplify their order experience, the chatbot can display daily specials and offers, show them videos, and answer questions – all without the need for human contact.

And you can include all these capabilities in your chatbot, whether they're eating in the restaurant or ordering a takeaway. A food ordering chatbot is a great way to help customers make the best choices in a non-intrusive, friendly and comfortable manner.

Provide Personalised Food Recommendations and Menu Item Suggestions

Every customer is different, and many expect restaurant brands to cater to these differences in a preferential, personalised manner. Restaurants that understand these realities can serve their patrons better, garner their loyalty, and thus enjoy greater success in a highly-competitive industry.

Traditionally, restaurants relied on human employees to gain a deep understanding of customers and make personalised recommendations based on their previous interactions, known likes and dislikes, etc. But humans can make mistakes, and even one mistake is enough to lose you a customer – permanently. A restaurant chatbot eliminates these challenges.

A food chatbot uses previous purchase information to make personalised recommendations about what they may like, new dishes just introduced to the menu, drinks to match their preferred meal, etc. It can even suggest additions (e.g., "Would you like garlic bread with that pasta?) and upsells to increase the order value – without annoying the customer. A chatbot provides a tangible means of showing customers that you care about their preferences, and are willing to go the extra mile to ensure their happiness. This not only delights them, but also builds a greater affinity and loyalty, and keeps them coming back for more.

Entice Prospects with Targeted Ads, Special Offers and One-off Discounts

Once you have built your chatbot, you can easily run ads on Facebook or Instagram to drive users to it. Simply add a "click to chat" button on the ad, and users can easily start chatting with the chatbot with a single click. Simple, seamless and hassle-free.

Then when you have captured their attention, use the opportunity to tell them about any special offers or discounts you may be running. As they ask questions, the chatbot can provide quick answers that keep them engaged, and can even move them towards reservations or food ordering. You can also offer special deals and sponsored messages to re-engage old customers who haven't visited or ordered takeaways for a while.

The chatbot can send these offers as a text message, or as simple messages within WhatsApp, Facebook Messenger, etc. The chatbot will even help you create custom audience segments, and send these messages only to those most likely to find them relevant.

Simplify Payments, Deliveries and Takeaways

A chatbot for food ordering is in fact much more than simply a chatbot for food ordering! Your chatbot can do much more than simplifying the ordering process for in-restaurant or takeaway dining. It can also simplify order processing, billing and payments.

Integrate it with many kinds of payment apps and methods, e.g., credit/debit card, online banking, PayPal, etc., so customers have a wide variety of choices and no hassle when it comes to paying for their meal. The payments process is completely seamless and contactless, even if the customer is placing orders remotely.

Once they place their order, they can quickly pay with their preferred option in just a few clicks. They even get the bill instantly so they can check if there are any errors. The cash register also gets the order confirmation immediately, so the kitchen can start processing it to speed up delivery.

Answer Questions and Ask for Feedback

Sometimes customers may not be happy with their dining experience, and they will want to tell you about it. A chatbot is a great way to encourage them to share their positive and negative experiences, and assure them that you will take action on their inputs.

Create a bot that acts as the first contact with the customer in the feedback/complaint process. Once it greets them with a friendly message, they can explain their problem or share their feedback. Customers usually appreciate authentic engagement, and are more willing to give a restaurant a second chance, even if their first experience was sub par. A more advanced chatbot can even solve the customer's issue right away to ensure their poor experience doesn't translate into poor word of mouth, or worse, complete disengagement and a lost patron.

A chatbot can also answer routine questions, and provide support, either when human support is not available or when customers prefer not to deal with face-to-face (or phone-to-phone) encounters.
Tips and Best Practices to Implement a Food Chatbot in Your Restaurant
If you want to get more patrons into your restaurant, create enjoyable dining experiences for every customer and increase customer loyalty – keep these tips and best practices in mind when deploying your restaurant chatbot:
Get started fast with built-in templates in the Gupshup bot builder template wizard
Set the bot to auto-reply to comments made to any posts on your Facebook or Instagram page
Add a "click to chat" button next to every offer or post on Facebook or Instagram to make it easier for customers to chat with your bot
Create a list of predefined questions and answers so your bot can answer all routine questions
Create a multilingual bot if your restaurant or food business caters to customers from different linguistic or national groups (e.g. tourists)
Include custom images and/or greetings ("Hello John!") to personalise bot-customer communications
Leverage the data gathered by the bot to guide your recommendation/discount/offers strategy
Ready for a Restaurant Chatbot Demo? Contact Gupshup Today!
If you're ready to:
Get more diners interested in what you have to offer
Increase repeat business because patrons love your food
Advertise special promotions to entice people to come back
Generate leads and increase the size of your customer base
Deliver amazing dining experiences that directly convert into more sales and more profits…
…a food chatbot is perfect for you. Sign up with Gupshup and we'll give you a free restaurant chatbot demo. Explore the platform, understand its various features and see exactly how it can take your restaurant business several steps ahead of the competition.
Blogs you will want to share. Delivered to your inbox.
Business Email
×
Read: 5 Ways For Small Businesses To Use WhatsApp API