5 Ways For Small Businesses To Use WhatsApp API
On July 16, 2021
|
4 Minutes Read
D2C & E-commerce
WhatsApp Business API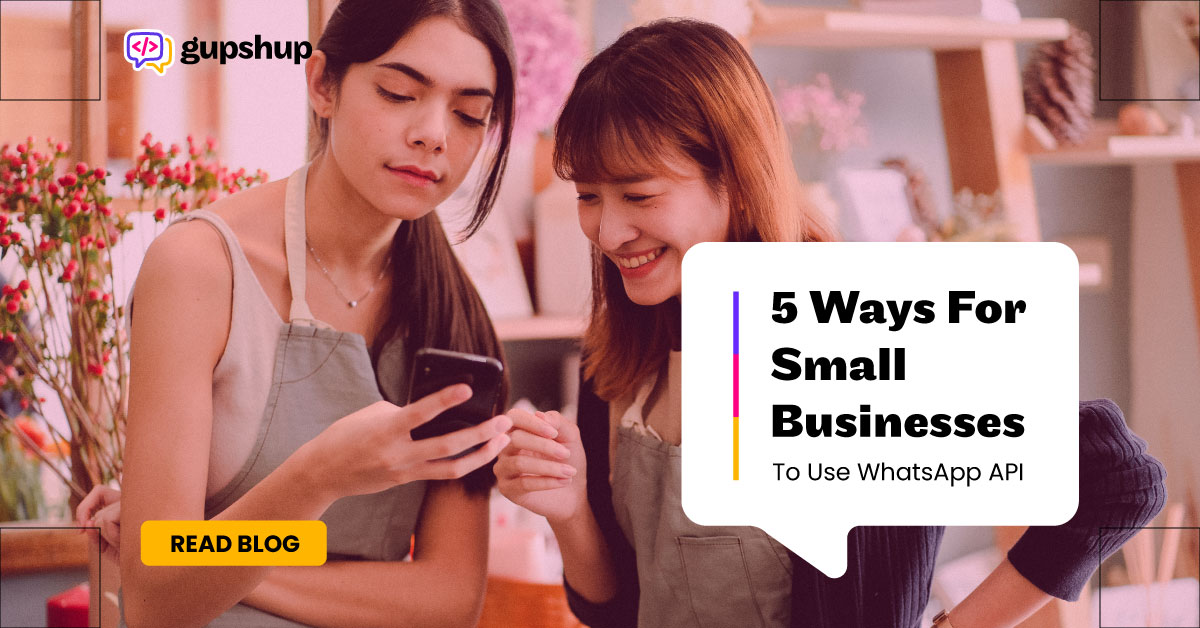 Have you been wondering how to scale your business with the WhatsApp API, but are not exactly sure if you need it? Well, the platform has more than 2 billion active users and it's now open for business.
In this article, we'll cover your options for using the WhatsApp API for business, and discuss the various practical instances where it can find a place in your business strategy.
How To Use The WhatsApp Business API
There are five broad realms where you can use the WhatsApp API in your business and see immediate results.
Recruitment

Today, recruiters right and left are flocking to messaging apps to reach their candidates. While there's no replacing formal and telephonic interviews, messaging on WhatsApp is far more discreet and widely welcomed by candidates at their workplaces. It also allows you to reach passive applicants looking for low-commitment jobs which don't need any formal applications or documents.

Simply generating a QR code to reach your business on WhatsApp can allow you to potentially reach millions of candidates across the globe. Plus, if you start taking advantage of automated responses, the candidates can enquire about the status of their application and get answers to their follow-up questions any time of the day.

Internal Team Communication

For businesses with few employees, it may not be worth investing in a dedicated enterprise communication application. Then, when companies generally try to do it, they're met with resistance and often bombarded with questions on how to use the tool. Using WhatsApp, on the other hand, doesn't require any training.

In particular, its familiarity also makes WhatsApp more appealing as it removes the hurdle of making your team adapt to an unfamiliar interface. Moreover, you do not have to keep reminding your team to check your messages — everyone's hooked to it anyway.

The WhatsApp Business API also serves a few special cases for internal communications. For instance, it can offer onboarding support to new joiners via templatized FAQs. The API can escalate more complex cases to the relevant departments. Similarly, you can also collect regular feedback and make urgent announcements through push notifications.

WhatsApp API for Business does a great job in providing key insights on your messaging, letting you know how many of your messages were delivered and read. You can also make use of Facebook's ad targeting feature which allows you to send ad traffic straight to WhatsApp, thus improving conversion rates.

Customer support is perhaps the biggest application of WhatsApp Business API. It bypasses the concept of waiting in queues, unread emails, and delayed responses.

You can deploy a chatbot on WhatsApp to handle the frequently repeated queries, and if it's beyond the scope of the bot, the matter can be escalated to your staff. The platform also enables a more conversational means for communication. Moreover, unlike emails and social media platforms that are flooded with marketing messages, it's spam-free.

Getting Creative

People have now discovered various intuitive ways to build and grow their businesses sustainably using WhatsApp. Russsh, for instance, is a Mumbai-based service for running errands that leverages WhatsApp for bookings. Following a similar idea, a great number of restaurants now take orders on WhatsApp. This allows customers to communicate and let their preferences and customization instructions be known in real-time.

Medical professionals, too, have started using WhatsApp for offering consultations, just as pharmacies now accept prescription photos on the platform and accept orders for home delivery of the medicines.
Summing up
When using the WhatsApp Business API, the possibilities are endless. It is a powerful communication tool that has consistently proven to be instrumental for scaling businesses and taking care of day-to-day hiccups. Given the fact that it is cost-effective, there aren't any proven downsides.
Harvest the power the WhatsApp Business API promises you, and book a demo with the Gupshup sales team to learn how!
Blogs you will want to share. Delivered to your inbox.
Business Email
×
Read: 5 Things to Keep in Mind when Choosing a Chatbot