Chat­ Based Commerce – Retail's Next Phase
On March 3, 2016
|
5 Minutes Read
Chatbots
Conversational Commerce
Retail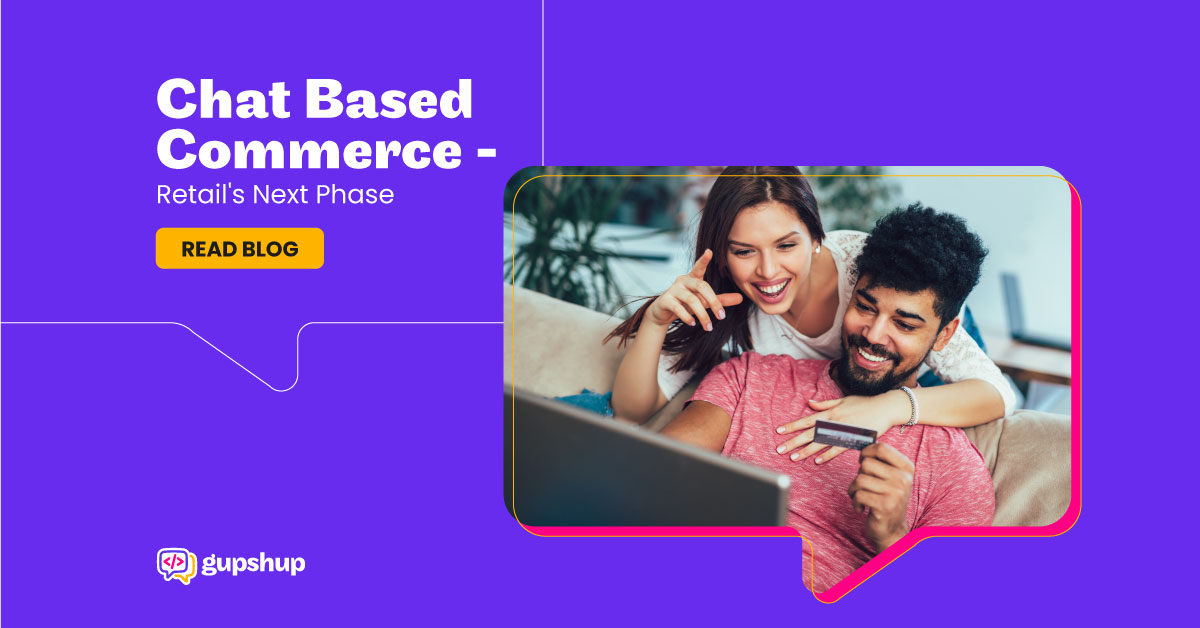 During Facebook's recent quarterly earnings call with investors, founder Mark Zuckerberg said the social media giant would begin expanding Facebook Messenger to more businesses after testing with companies such as Uber and Everlane. This type of commerce, sometimes referred to as c­commerce, (for chat­based commerce), allows business to interact directly with customers through a messaging service.
We say it's the future of retail. Below are a few thoughts on why the tech world is abuzz with this new approach to retail — and why, in a way, it's a return to retail's person­to­person origins.
What is the 'chat-based commerce' story?
In the nineties, everything was web-­based, and the general approach was catalogue­-based. Amazon pioneered this. You pick what you want, you click "buy" and you check out.
A decade ago, everything became app-­based. You go to the app store and you download an app. It was on a smaller screen, catalogues were smaller, but it was easier and convenient.
Now we're coming to a phase where it's all chat­based. You have a messaging app and you communicate with various services. Imagine you are just having a conversation with the website before, during and after purchasing the item. It sounds simple, but it has a lot of implications for the entire experience. It's easy for developers and consumers. It changes everything.
How is that easy for developers? We're talking about artificial intelligence and bots.
When we went from desktop-­based apps (like Word) to browsers, that became easy for developers because all of the software was in the cloud, so you could quickly add new features. It became easy for the users, because you didn't have problems with different versions that you had to update.
There's the same issue with apps. When the user downloads it, the developer loses control. It's time­consuming and the costs are high.
Chat­-based stuff is on the server side, which means you can update these bots very quickly; every day you could roll out a new feature. The end user has to download nothing — you're just chatting with a service. There are no screens, so the interface becomes simple and transactional; You ask and you receive. Everything you can do on app or website, you can do with these bots. It might be more simplistic, but you can say, "Show me more like this dress," and the bot will show matching dresses.
There is something called smart messages, where messages can be richer with buttons or fields in them, like a menu with option A, B or C.
When it comes to A.I., that will add even greater capabilities. It's still a long while away that we can do it fully. I'm not counting on A.I. in the next few months, but it will happen inevitably.
Who is using it?
In China, virtually everyone is, and the rest of the world soon will be. There's an app called WeChat, like WhatsApp or Facebook Messenger. You can do shopping, book a taxi, order pizza, do banking just from within your messaging app. Developers create an assistant, like your banking assistant. You can say, "What's my balance; Can I transfer some money?"
We really are apped out. You probably don't have 50 fashion apps on your phone. It's really painful to download all these apps and maintain and upgrade. If you can take that inconvenience away, and say now it's in Facebook Messenger, you can do a lot more in one place in a natural way.
So I could chat with a retailer and say I need a red shirt?
Yes. Let's say you chat with the brand Ralph Lauren. You could ask for a red shirt, and they will send you options, and you're just chatting. It has your account information and address already.
It sounds like you have to go into it knowing what you want.
You can start by saying, "What's popular these days?" And it may show a couple of patterns, and you can say, "I like this," then they show you choices, and you say, "Do you have that in blue?"
Or it could start with pictures.
In the catalogue­-based approach, you have to do all the searching. Here, someone else is doing the searching. It makes discovery easier, because all you have to do is ask. Obviously you add some personal preferences.
People are familiar with Siri or Google, so it's enhancing that process?
Right. You can have human agents and then you have some bots. The user might not realize when it goes from a human to a bot. You may have bots handling 80 percent of the queries but the complicated ones are escalated to a human, but then the next time the bot knows what to do.
If I'm a retailer, what is preventing me from doing this now?
First, the mind­set. The web and the app mind­set are very different from the chat mind­set;
Implementing requires you to rethink commerce. Today it's a very catalogue­-based approach, but as screens get smaller, people want smarter choices, not more choices. You need to get intelligent about the preferences users have.
And platforms have to be ready, which is already getting solved. Facebook will slowly allow more businesses to get on Messenger to interact with customers.
Computers today have forced humans to behave like computers, but with a chat-­based approach, computers are forced to behave like humans, and now we get to be who we are. It's a throwback to boutiques, where people who provide good service get the order.
The ecosystem is emerging, and retailers who figure this out will succeed.
Blogs you will want to share. Delivered to your inbox.
Business Email
×
Read: Get ready for the chatbot revolution : They're simple, cheap and about to be everywhere