How Cloud Telephony Boosts Growth Prospects Of Startups and SMEs
On May 9, 2022
|
6 Minutes Read
Conversational Engagement
Conversational Support
Generic
Voice API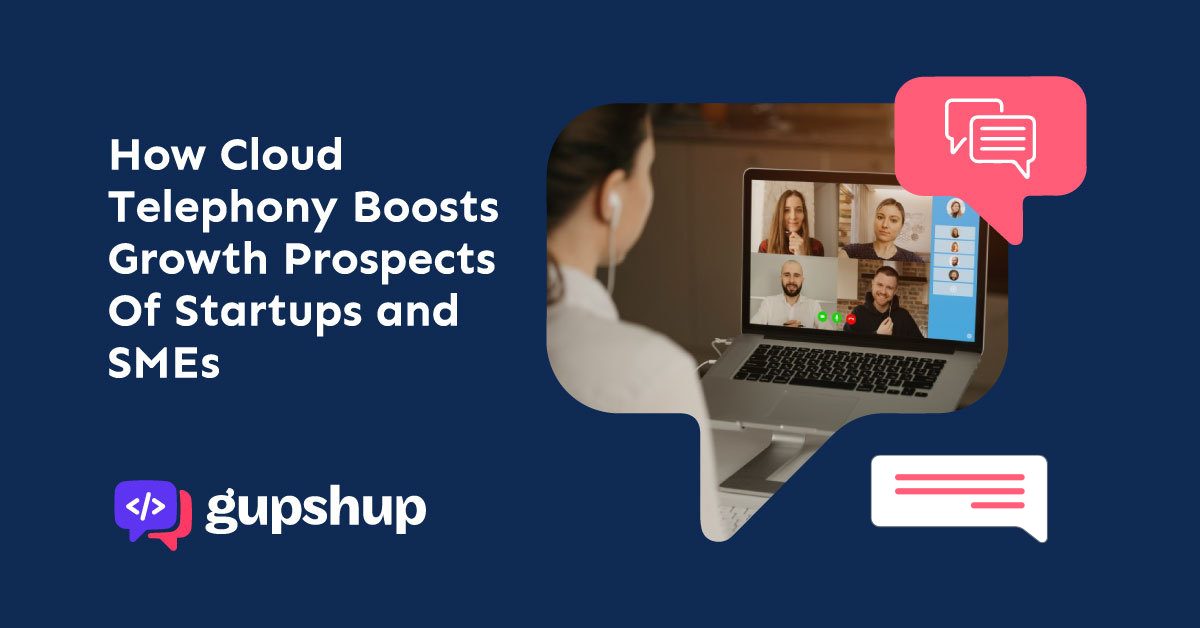 Let us introduce ourselves first. We are a part of Gupshup's Knowlarity division—a leading provider of robust, scalable, and easily customizable cloud-based voice communication solutions and services. Knowlarity's state-of-the-art unified voice solutions for a myriad of use cases have already empowered 6000+ customers spread across 65 countries, handling over 12 million calls per day with a 99.99 percent uptime with unprecedented reliability and intelligence. We are globally recognized for enabling business communication through voice, video, AI, and messaging through our smart platform. As a part of Gupshup, conversational messaging and conversational AI also constitute our key areas of expertise. That's about us.
But we know you well 😊
You are a budding entrepreneur on a mission to eliminate the cliché that start-up ventures fail. Starting humbly with bootstrap funding, you managed to find a seed investor who was convinced of your vision and the timelines you had in mind for bringing out the minimum viable product (MVP) into the market. Now is the time to spend judiciously on the company's infrastructure.
Remember, you have embarked on your entrepreneurial journey in the post Covid era. While things are returning to normal (well, hopefully), work culture has undergone a sea of change in the last two years. As things stand today, employees are wary of returning to the offices for various reasons; remote working is here to stay. But as often said by thought leaders in business, a crisis is too big an opportunity to be wasted. The pandemic was one such opportunity that start-ups must leverage as a rule to reduce their operational expenditure. Let us see how.
If your product is still in the development phase, then it is obvious that you need a bigger team to work on it. Further, until your MVP is out, you can hold back your investments in setting up an office; allow employees based out of different locations to work remotely. But how would different members of the team collaborate for various tasks? This is where cloud telephony fits in.
Why Do Start-ups Need Cloud Telephony?
The short answer is that they provide numerous benefits to start-ups. But what are the major benefits for start-ups from cloud telephony? Some of them are:
Support For Remote Working
Customer Support
Easy Scalability
Robust Security and Stability
Latest Upgrades All the Time
1. Support For Remote Working
With employees seeking to work remotely, catering to their demands puts start-ups at an advantage. Cloud telephony comes with numerous advanced features such as video conferencing, screen-sharing, call recording, video conferencing, and more that help employees collaborate with each other seamlessly. Using the Knowlarity solution requires no more than a PC or a smartphone or a tablet device, which is extremely handy in a world where the 'mobile-first' approach rules the roost.
2. Customer Support
Gupshup-Knowlarity's cloud telephony solution caters to the customer support use case as well. When the company's customer base grows to mandate the setting up of a dedicated call center, cloud telephony features such as IVR (interactive voice response), auto-attendants, missed call features for customers, or even call forwarding through the webRTC, among several others, prove useful; setting up toll-free numbers for customer service is a breeze with our cloud solution.
3. Easy Scalability
Scaling Gupshup-Knowlarity's cloud telephony offering is easier with increase or decrease in workforce, which ensures that companies pay only for what they use, keeping the expenses commensurate with their usage of the product. The provision to easily scale the usage results in optimization of the expenditure for the company.
4. Security & Stability
Companies that are into product development often record the internal discussions and brainstorming sessions between members for future reference. On the other hand, it is a common practice among support teams to record the customer calls for performance auditing and other reasons. But where is the repository from which the team members can access these videos/audios?
It is reasonable to assume that start-ups do not have the resources to invest in physical servers or data centers. Even with funds available, it is never prudent to spend on them as maintaining those assets involves a lot of overhead in terms of dedicated staff members. Knowlarity addresses the problem in its entirety as our solution comes with a cloud-based repository where corporates can access their content and data from anywhere without having to worry about security. A 99.99 percent uptime is guaranteed to all our customers.
5. Consistent Updates
As the responsibility of maintaining the cloud environment rests with Knowlarity, companies would always enjoy the latest upgrades and patch updates that guarantee the best of features and user experience, in addition to security.
The Gupshup-Knowlarity Advantage
Industry-specific Solutions:
We offer a wide range of customized solutions tailored to suit the niche requirements of each industry such as BFSI, IT & ITeS, education, healthcare, real estate, and lots more, with quick deployment on cloud. The Knowlarity solutions portfolio includes:

Corporates can also gain big from programmable speech analytics, real-time data insights, multi-operator redundancy, and lots more.

CRM Integration:
The Gupshup-Knowlarity cloud telephony solution integrates with all the leading CRMs, which simplifies the process of lead management, tracking the customer lifecycle management for corporates.
24×7 Support:
We offer dedicated account managers to support businesses round the clock.
Sales & Lead Generation:
Automate the sales and lead generation process on a unified communication platform to identify and nurture potential prospects. Offer extraordinary customer experiences while boosting your sales funnel by tracking, qualifying, and engaging with data-driven leads.
Higher RoI:
An efficient, low-cost channel to identify and filter leads while closely coordinating all facets to ensure a smooth sales process.
Incremental Sales:
Incremental sales help amplify sales bandwidth. Knowlarity's cloud-based voice communication solutions ensure smooth sales and lead generation processes to maximize profit.
Secure and Reliable:
Our databases are highly secure to ensure the confidentiality of your sales and leads data.
Personalized Customer Experience:
Superior customer experience. Solve customer issues instantly via self-help IVR menus. Extract live call reports for deeper insights.
Smart Analytics:
Track calls, categorize leads based on various analytical parameters, customize your dashboards to make better-informed decisions. Text-to-speech analytics and speech-to-text analytics are areas where Knowlarity has an edge over its competitors in the market.
Conclusion
Optimizing the expenses is a critical component of business for companies, more so during their initial areas. In the wake of changing work culture and employee preferences, it is inevitable for companies to have the technology to enable seamless communication between employees and customers, spread across the world. Cloud telephony is no longer a nice-to-have feature, but a quintessential component of office infrastructure. Knowlarity helps you customize the solutions to best suit your needs.
Do talk to us and discuss your requirements.#LetsGupshup
Blogs you will want to share. Delivered to your inbox.
Business Email
×
Read: Conversational AI Improves Customer Satisfaction At Retail POS