Conversational AI Improves Customer Satisfaction At Retail POS
On May 11, 2022
|
5 Minutes Read
Conversational AI
Conversational Commerce
Retail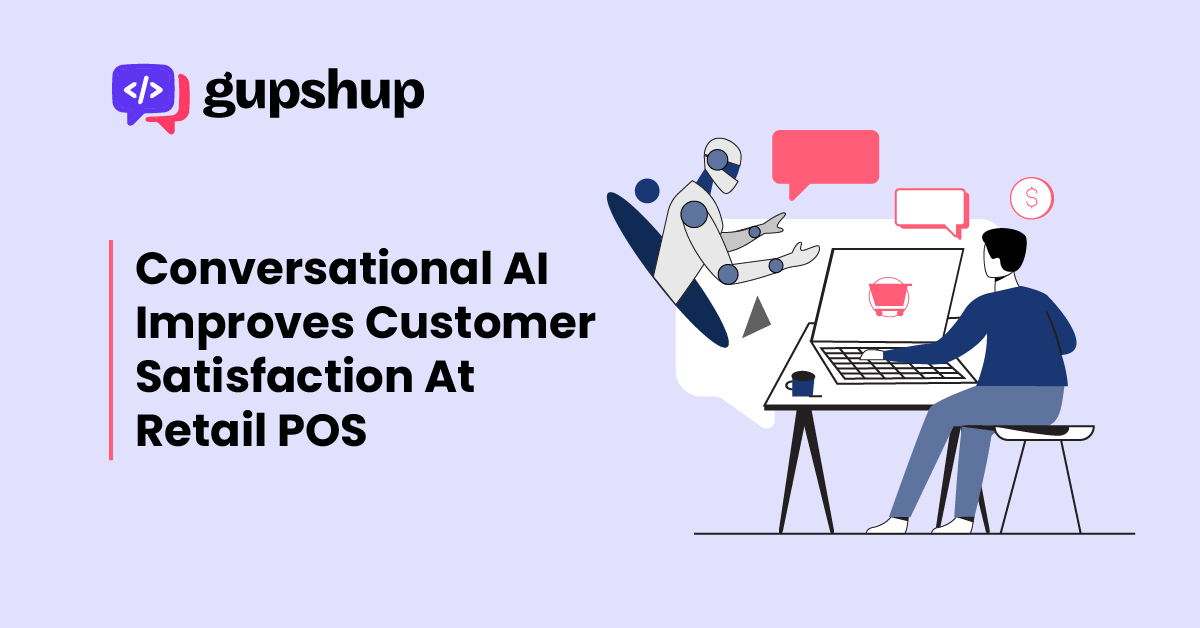 Customer experience must be the priority before high-quality products and reasonable pricing. A satisfied customer is more likely to recommend a product or brand to their family, friends, or colleagues. According to HubSpot, 90% of people trust recommendations and suggestions by friends and family, and 70% trust online reviews by real customers.
Here are some common problems retailers face with unsuccessful customer service at POS.
Ineffective complex customer query handling and support.
Insecure and ineffective POS.
Insufficient product information and tracking details.
Inability to build strong relationships and maintain positive brand perception.
How can you ensure a smooth and delightful customer experience at POS for your retail business?
Here's your answer: It's Conversational AI.
Conversational AI is an automated messaging technology that enables better communication between your brand and customers. This technology is a solution to all your customer experience problems in one place.
Yes, it's time to be more innovative and ingenious to be more profitable.
Gupshup, a conversational AI platform, offers a Single API that can enhance your customers' experience throughout their shopping journey, especially when closing the sale.
Here are some strategies that Gupshup implements to boost customer satisfaction at the point of and after closing a sale.
Seamless checkout system for purchasing items in the cart.
Instant payment facility.
Order tracking facility.
24×7 one-to-one customer support
Ensuring customers have a good experience with timely and hyper-personalised support
Notifying about future promotions and product recommendations
The Gupshup Solution
Let's deep dive into how beneficial Gupshup, the conversational messaging platform, can be to your retail business.
1. Seamless order placing system
With the Gupshup API, users can place orders for any item from your store conversationally. If they like something, they can ask the chatbot about the item's details and the price. If they want to buy something, they can tell the chatbot that they want to buy that item, which will help them out through the process.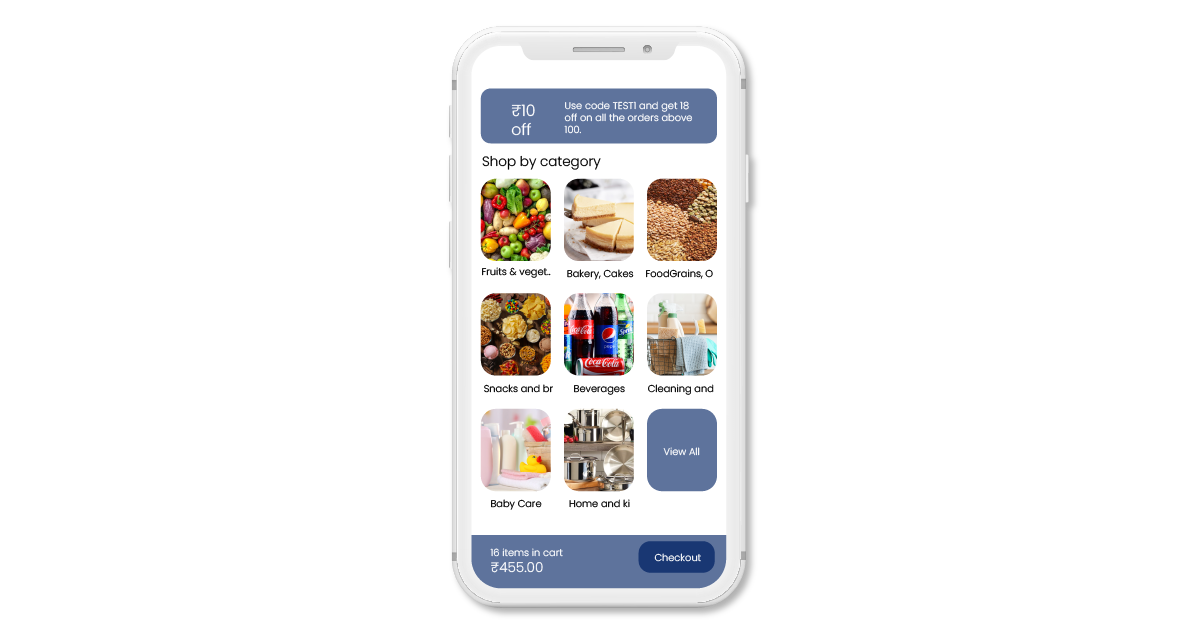 Gupshup can help customers view product catalogues, track orders, share live locations for delivery, and receive hot offers on their devices.
Your business can offer incredible discounts to buyers at this point to boost customer satisfaction and convert unique customers into loyal ones.
With WhatsApp-based commerce, users can use WhatsApp payments to make purchases and ensure high data privacy. They can choose multiple payment methods on WhatsApp and place an order.
Not just WhatsApp, you can provide such a comfortable experience to your customers wherever they go. Gupshup works with more than 30 messaging applications, including SMS, Instagram, Viber, Telegram, Messenger and more.
With Gupshup's QR code service, patrons can make instant payments by scanning QR codes to purchase an item from your store. There are no obstacles to hinder their purchase when you have Gupshup.
2. Hassle-free checkout system for retail customers
Users avoid businesses with a lengthy and inconvenient checkout system. Everyone prefers a checkout system that helps them easily add items to the cart and make an instant and secure payment. Conversational AI enables patrons to checkout and make payments conversationally.
With Gupshup, this layer becomes entirely hassle-free. Customers can request the chatbot and get a seamless interface to add items to the cart, checkout and make payments by their preferred methods. That way, the whole system is conversational, and customers feel like talking to a real salesperson from your company.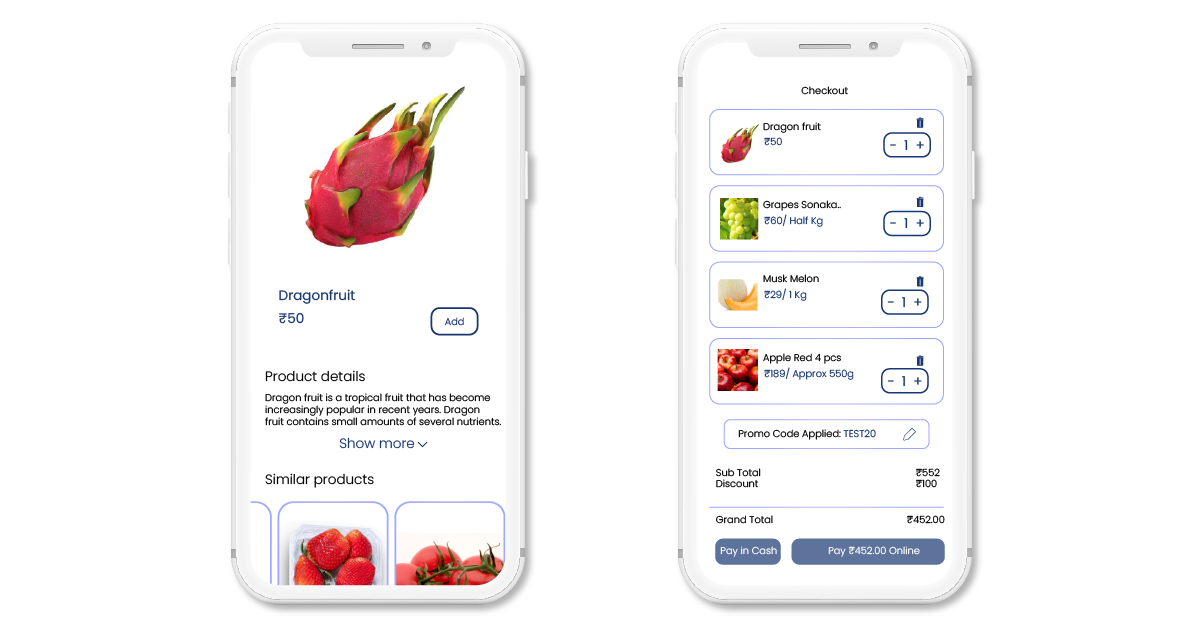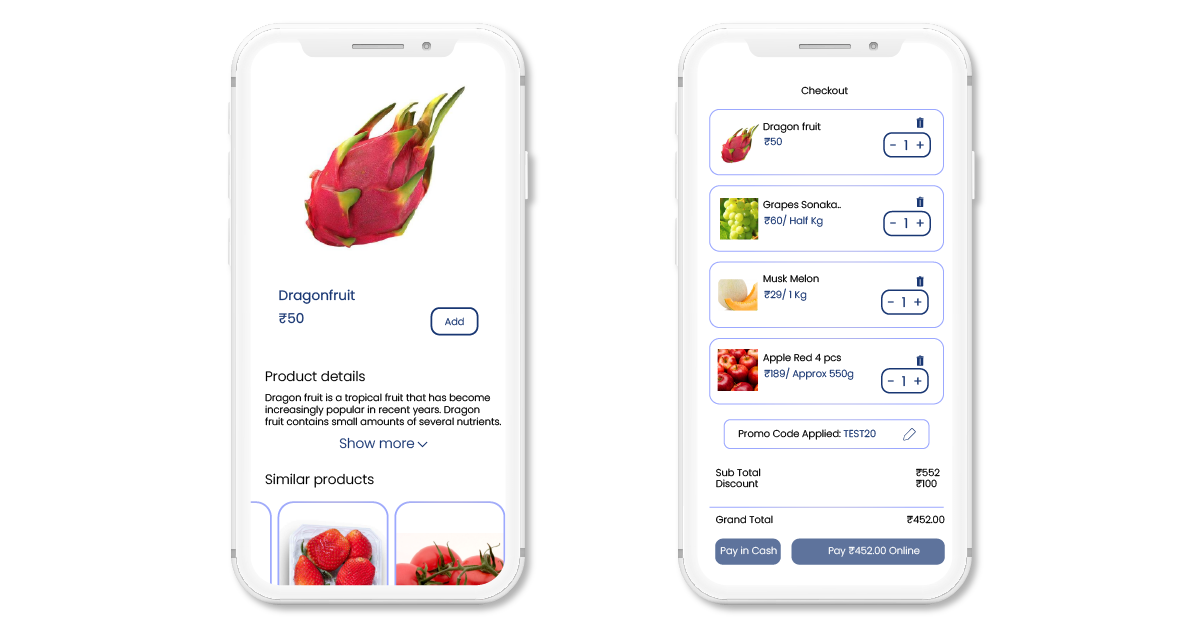 Before proceeding to checkout, users can take a final look at the items added to their cart and make sure everything is perfect. They can easily add or remove items before proceeding to checkout by asking the chatbot.
Users opting for WhatsApp-based shopping can get product catalogues, cart overview, checkout, and payment facilities in the WhatsApp application.
3. Conversational order tracking facility
If a customer wishes to track their item after placing an order, Gupshup will do it for them. Users can request tracking details from the chatbot to provide a tracking link for a product ID.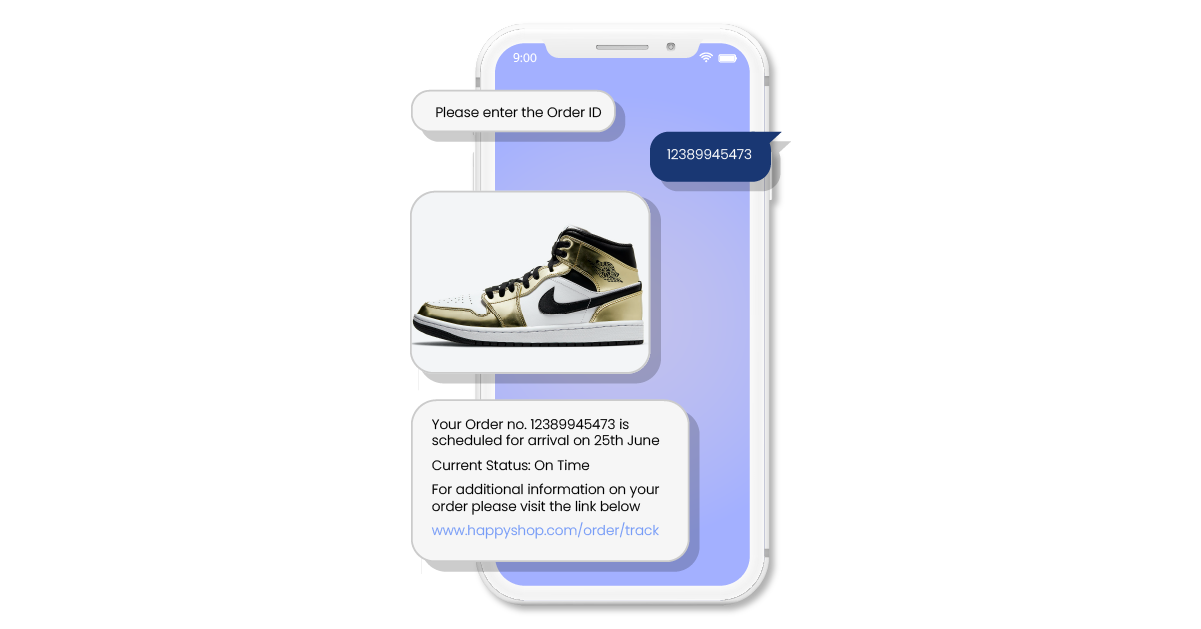 It will ensure a seamless customer experience even after shopping at your store. Customers feel valued throughout the user journey and are more likely to recommend your business to their families and peers.
Too good to be true? Request a demo with Gupshup.
4. Listening to customer grievances and complaints
If a user is unhappy with a product, they can contact your business support team to register a complaint via the Gupshup API.
The chatbot will collect data about the issue and let your support team know. That way, you can address consumer grievances and offer replacements or compensate for the customers' loss.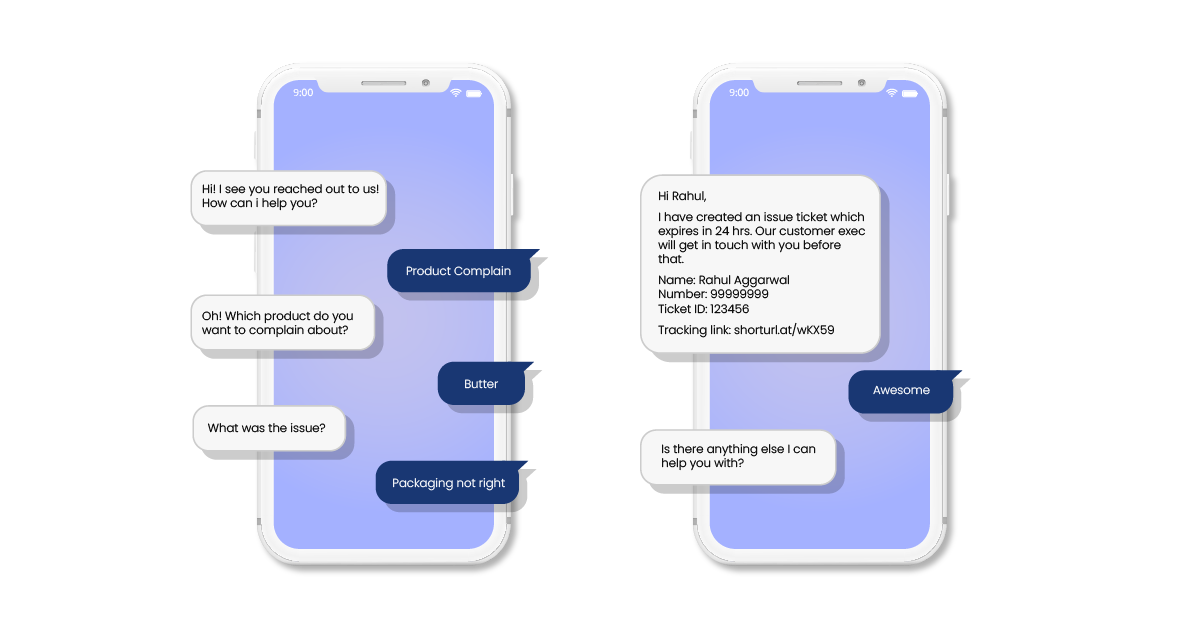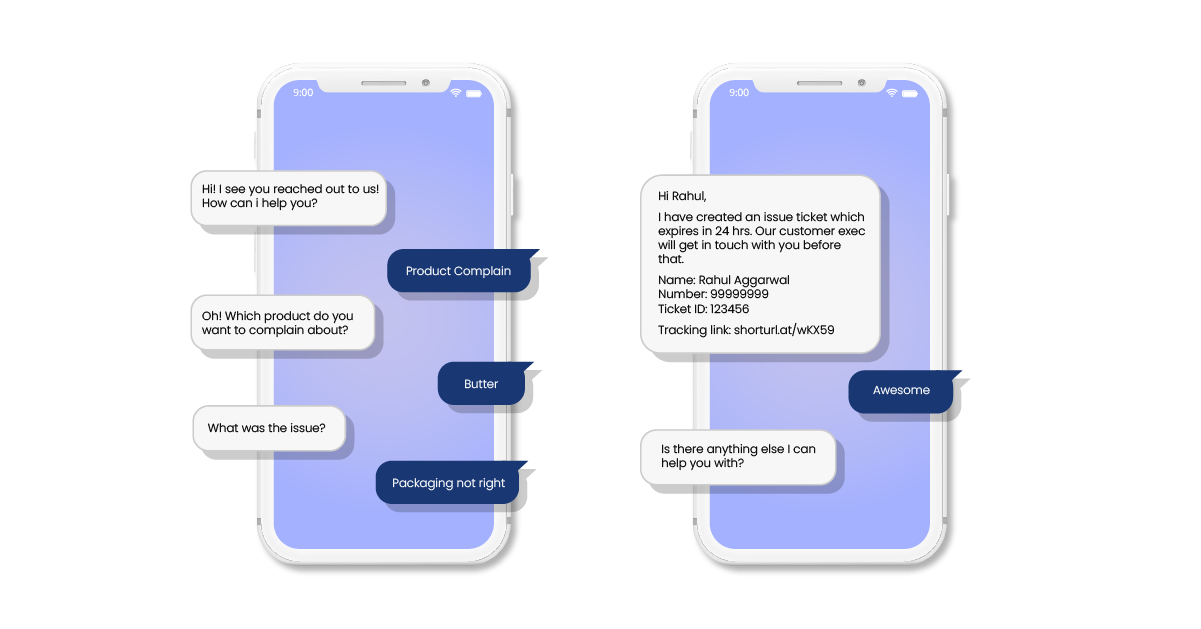 Lending an ear to customer grievances is of top priority because 33% of customers abandon a brand or store just with one bad experience, as per PwC's future of CX report. Also, 92% of customers discard a brand after two or three negative experiences.
Make sure you deliver high customer engagement and satisfaction by offering quality products and a seamless shopping experience to customers. With Gupshup, customers' shopping experience is engaging, delightful, and convenient at every step.  Schedule a demo with Gupshup today and look for yourselves how this single messaging API can benefit you.
Conclusion
Today, conversational messaging helps multiple businesses offer enhanced customer experience, specifically, the retail industry. With smart chatbots, users can shop from anywhere they like. Such advancements and conveniences for the customer prove to be beneficial for the retail business. Customers can check out product catalogues, add items to the cart and make a purchase as soon as they like something.
All of this has become possible with the help of smart messaging APIs like Gupshup, helping retailers boost customer satisfaction by enabling them to provide a super-fast service. Transform the shopping experience at your store and boost profits.
#LetsGupshup to get started on your success journey.
Blogs you will want to share. Delivered to your inbox.
Business Email
×
Read: 6 Reasons Why Brands Need Google Business Messages In 2022