Contactless Menu for Restaurants
On July 12, 2021
|
10 Minutes Read
Conversational AI
Conversational Commerce
Conversational Marketing
Conversational Support
Food & Beverage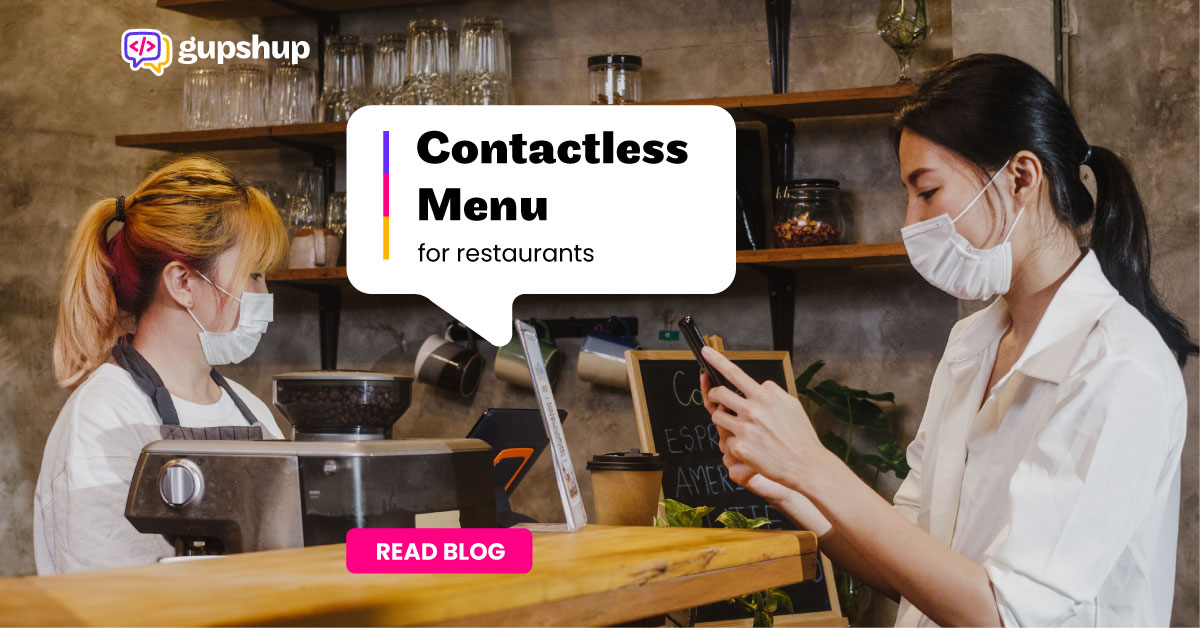 Not too long ago, restaurants were about intimate, social settings where people connected with each other and with staff.
But now, "contactless dining" has become a regular occurrence, allowing diners to still enjoy a dine-out experience, albeit with little or no human interaction. Despite the pandemic, people do want to eat at restaurants, or order takeaways to eat in the comfort of their own homes. However, they want the experience to be as contactless as possible.
A recent study found that:
15% of diners choose a restaurant if they offer contactless delivery
33% of people experienced contactless payment on their most recent restaurant occasion – and expect it from all restaurants going forward
81% of diners felt safer when restaurants provided contactless menu ordering
Another 2020 study also found that in the U.S., 1 out of 7 people insist that they would only dine out at restaurants that offer contactless dining.
For restaurants, offering options such as contactless restaurant menus, contactless billing and contactless delivery creates more opportunities to get more patrons in the door, and boost their revenues and profits.
The contactless revolution is picking up speed in various parts of the world, including North America, Europe and India. Digitisation is a big part of this revolution – in particular, the use of Conversational AI chatbots and contactless menu apps.
What exactly is a contactless menu for restaurants?
What is a contactless menu QR code?
And the question that many restaurant owners and managers increasingly ask: how to make a contactless menu?
In this guide, we will address many such questions about contactless menu cards, and what role they play in contactless restaurant ordering and dining. We will also share some tips to show you how you can enhance your restaurant's contactless digital menu.
What is a Contactless Menu for Restaurants?
A contactless menu card is one of the most important enabling aspects of contactless ordering for restaurants. Unlike old-fashioned paper-based menus, a contactless menu is a QR code-enabled digital menu. Also known as a "touchless menu", a contactless digital menu can be scanned on a mobile device. This enables both in-restaurant diners and takeaway patrons to view the restaurant's food offerings and place their orders – without the need to interact with human wait staff.
Restaurants often need to update their menus based on new food "trends", customer demand, specials, seasons, pricing changes, etc. With paper-based menus, this can be an expensive proposition, especially if disposable menus are also involved. A contactless menu card eliminates this cost, allowing food service businesses to be more flexible with any required changes.
A contactless restaurant menu is also a boon for patrons. In the following sections, we explore how.
But first…
How does a Contactless Menu App Work?
A contactless restaurant menu is a better version of the restaurant's digital (e.g. PDF-based) menu. Through this QR code menu ordering system, guests can order anything the restaurant offers, from appetisers and drinks, to main courses and desserts, right from their mobile devices.
Their smartphone functions as a "contactless menu scanner". They can scan the restaurant's QR code (which is like a "barcode" for the menu) using the camera app on their device. The menu instantly appears on their screen. There's no need to type in a long URL or go through multiple steps to see what's on offer.
Patrons then browse this contactless digital menu, and select the items they wish to order. Depending on the contactless capabilities built-in, guests can either place their order through the contactless menu app itself, in which case, the order is processed through the restaurant POS and sent directly to the kitchen for preparation. Or they can engage with a (human) server and then place their order. The former is an example of end-to-end contactless dining, which many restaurants in the U.S. and Europe are already implementing.
Most Apple and Android Smartphones come with camera apps that include QR code reader technology. With just a few taps, patrons can create a direct link to the contactless menu on their device screen. The link looks just like any app icon, which can be opened by touching it. There's no need to install a new app to be able to read the QR code that opens the restaurant's contactless menu card. Moreover, since they can literally carry the menu with them wherever they go, they can access it any time they want to order food from the restaurant. This is a huge advantage for food businesses that offer takeaways and deliveries.
Advantages of Contactless Menu Ordering
In recent times, the demand for contactless restaurant ordering has become immensely popular. One reason is the availability of contactless restaurant menus. In the post-pandemic world, restaurants must come up with creative contactless menu ideas, because the advantages are totally worth it.
Lower Risks and Improved Safety
Customers want to eat out, but not at the expense of compromising their safety. In restaurants, printed menus are among the highest touch-surfaces. In the current pandemic situation, these menus make customers uncomfortable, and increase their worries about safety and hygiene. This is why, in contactless ordering restaurants (and cafes, food trucks, etc.), the contactless menu is a vital ingredient.
With a user-friendly, touchless menu, restaurants can serve their patrons safely, ensuring that they enjoy the dining experience without worrying about potential contamination or any risks to their health.
Mobile-friendly, Easy to Use
As explained earlier, a contactless menu simply requires a patron to scan a QR code. No app downloads, no long URLs, no unnecessary waiting, and no clunky PDFs. The menu is mobile-friendly, giving customers a familiar feel. It also uses the small screen space optimally, since the design automatically adapts to match the user's device. This makes it look like a contactless menu app that's been built into the system – even though it's not.
The fonts, design, boxes, buttons and spacing on the contactless digital menu are clear and clean, making it easy for customers to scan the offerings and place their orders. They can even swipe through to find the right menu category or price list.
Can be Enhanced with Smart Ordering and Contactless Payment Processing
A contactless menu can be enhanced with ordering and payment capabilities with a Conversational AI restaurant chatbot. This enables customers to place orders and make payments, all without having to call into the restaurant or interact with a human (which makes some people uncomfortable).
The easiest way to build a contactless restaurant menu enabled with a smart chatbot is with Gupshup's no-code platform. With this plug-and-play platform, built-in templates and a bot builder template wizard, restaurant businesses can build a customised, automated chat assistant in just a few minutes. Click here to see this platform in action.
Easy to Modify/Update/Upgrade
A contactless restaurant menu offers a flexible, on-the-fly method to make updates or modifications so you can:
Create different (or somewhat different) menus for different locations
Create or update menu categories with different items and modifiers, e.g. breakfast/lunch/dinner, brunch, late-night menu, beverages, etc.
List dishes and beverages as per availability, demand, season, etc.
Configure the contactless menu card to only be available on select days, or during select times, e.g. weekend specials, brunch-only, etc.
Display dishes with upcharges or downcharges
Include food/beverage illustrations or photos
Include information like ingredients, dietary restrictions and available versions,  e.g. vegan, vegetarian, gluten-free, etc.
A contactless menu is a powerful tool for restaurants looking to offer contactless dining for both dine-in and takeaway orders. Since the menu is easy to use, customers can quickly place orders without friction or hassle. At the same time, restaurants can increase their speed to order, turn more tables, and increase revenues and profits. They can also reduce their overheads and labour costs while delivering safer, faster service with existing staff. In the long term, a contactless menu for restaurants enables food service businesses to offer better dining experiences to patrons, build stronger relationships with them, and thus earn their loyalty and ongoing support.
How To Make A Contactless Menu + Tips
There are several ways to make a contactless menu card for your restaurant.
One is to upload a PDF version of your menu, and create a QR code for it using a dynamic QR code generator. You can then display this contactless menu QR code throughout your restaurant which customers can scan to view your offerings.
The second option is to create a mobile-friendly version of your touchless menu using a responsive website design. But this requires some coding and knowledge of HTML, CSS, etc. so if you don't have a development team (or access to one), this might not be the best option for you.
The third and easiest option is to build a contactless menu card with a menu-building tool. Then by leveraging Gupshup's bot-building platform, you can create a complete contactless dining solution that displays the menu, takes orders, processes orders, generates bills, accepts payments, etc. Just upload the menu into the platform and link your restaurant's Facebook page to start receiving orders.
Some tips to create an accessible, beautiful contactless menu for your restaurant:
Group items by category to simplify navigation
Add photos and descriptions so diners can learn more about the offerings
Add optional modifiers so:
Patrons can customise their order, e.g. "no onion", "dressing on the side", etc.
You can cross-sell or upsell, e.g. "extra fries"
Add forced modifiers to clarify important preferences, e.g. "vegetarian", "gluten-free", etc.
Brand the menu with your restaurant's logo, colours, photos, etc.
Adjust options based on popularity, seasonal availability, day of the week, time of the day, etc.
Highlight one high-margin item in each category
A question that many Indian restaurant owners ask: Can I make a contactless menu in India?
Yes, you can.
A contactless menu is country-and restaurant-agnostic. No matter which country you're in or what kind of restaurant business you operate – fine dining, takeaway, food truck, cafe, tea shop, etc. – a contactless digital menu can be a great addition to your business.
Get Started With Your Own Contactless Menu for Restaurants
In the post-COVID world, one of the biggest benefits of contactless dining is that it reduces face-to-face contact between diners and staff. And a contactless menu card is a big part of this transformation.
With a touchless menu, your customers will have fewer surfaces to touch, and less people to interact with, which will increase their comfort level and make them more willing to support your business. You can also improve order accuracy, enhance business productivity, table turnover and revenues with fewer staff.
To get started on your contactless QR code menu ordering system, contact Gupshup today.
Blogs you will want to share. Delivered to your inbox.
Business Email
×
Read: 6 Advantages of Restaurant Chatbots