How Conversational AI Enhances Edtech Customer Journey
On July 4, 2022
|
6 Minutes Read
Chatbots
Conversational AI
Conversational Commerce
Conversational Marketing
Conversational Support
EdTech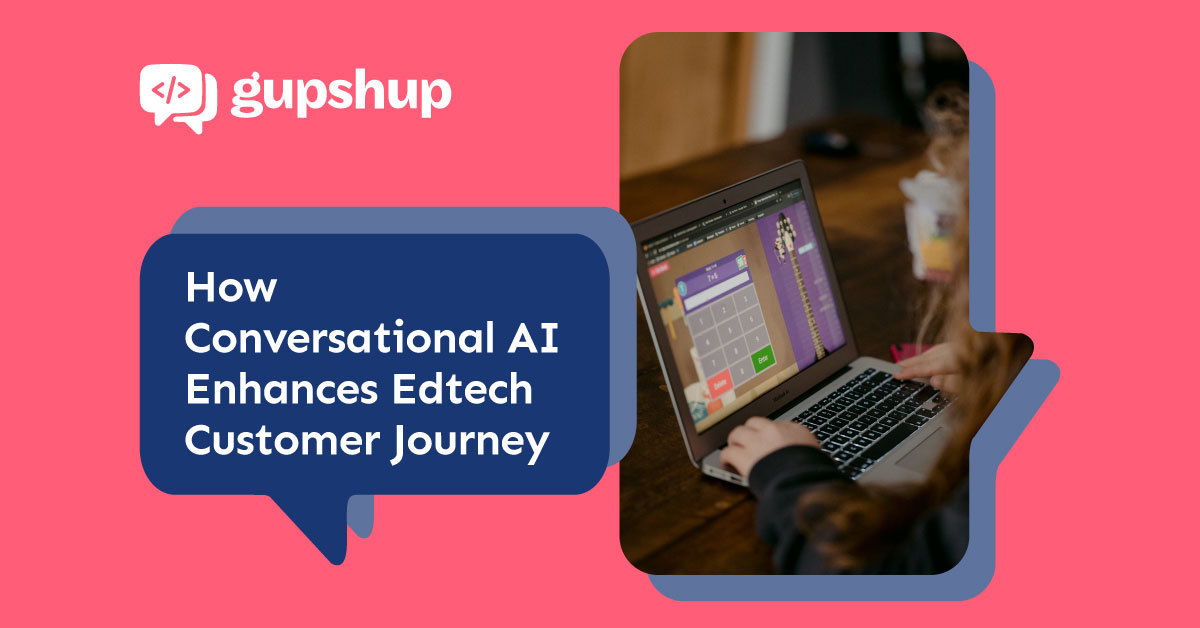 E-learning classrooms and the Edtech sector have seen an unprecedented boom amid the pandemic-induced remote-learning wave in the past two years.
While the wider student pool is adopting the concept, the sudden influx of virtual classroom learners has opened up many opportunities for Edtech. However, the sector has been facing a number of headwinds, particularly related to communication in the virtual space.
The Edtech domain involves different customers – teachers, students, and parents. In the initial stages, virtual learning was a challenge for each of them, especially due to the lack of a unified communication platform that would bring all three groups together at a time.
However, the implementation of Artificial Intelligence (AI) in the Edtech space is revolutionizing the virtual classroom and making things easier for all. A unified conversational messaging API has the potential to make communication less ambiguous for all stakeholders. It can help boost tutor-student engagement through interactive interfaces. Also, parents, students, and counsellors can easily keep track of the progress, and maintain much-needed contact throughout the learning process with the help of Conversational AI-enabled chatbots.
Wondering how Conversational AI works as a game-changer for Edtech industry? Read on to know more.
Common Cx Problems Faced By The Edtech Industry
A key challenge is to provide an engaging, interactive experience and minimize the virtual and communicative distance between the student, the teacher and the guidance counsellors. Conversational AI solves this problem by addressing concerns, providing 24/7 support, unifying a multitude of communication channels and offering a seamless virtual learning experience.
Other challenges include:
Course content available on-demand.
Multi-channel messaging and engagement.
Difficulty signing up and tracking progress across multiple courses.
Improper feedback mechanisms.
Lack of structured data to generate actionable insights/to personalize education plans.
Gupshup's Conversational AI helps solve these problems. Let's see how with some use cases.
1. Automate Admission Process
On starting a conversation, students can browse all courses on offer.
Once they choose the course, the chatbot will show options based on user input and immediately encourage them to seek admission to the selected course. Parents can complete the payment online, and students will start receiving lecture notifications directly on their WhatsApp (or chosen conversation platform)
Students can upload all documentation via a messaging platform of their choice and thus, have a seamless onboarding experience. There is no waiting time, forms, and dealing with unruly staff for parents, students and institute administrators to complete the admission process.
The chatbot responds to any query regarding the process or the institution without any human intervention.
2. Automate Troubleshooting
The success of e-learning platforms depends on their agility, particularly how efficiently they can solve any doubt raised by a student. Conversational messaging, enabled through WhatsApp, SMS or a chatbox on the website, will support parents and students in making well-informed decisions. They can pick the course, complete the enrollment process smoothly, and students can start their online classes without any delay.
The Conversational AI chatbot can essentially answer all basic questions, and refer the consumers to a human agent for complex queries.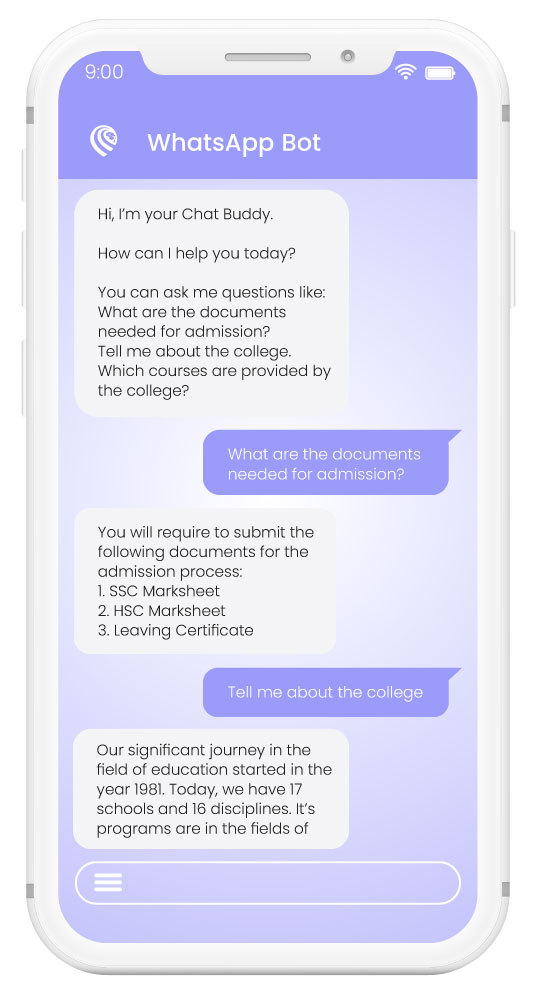 3. Chatbots Can Support Referral Marketing Initiatives
A chatbot for an e-learning platform can provide rewards for parents and students when they refer their friends to these online courses to encourage word-of-mouth advertising. These rewards are redeemed against the course fee for other courses. This helps create leads and retain the existing customers.
4. Notifications & Upselling
With a chatbot, students can get information about all courses offered. They can choose the course they like from the unified chatbot. The course fee and payment information are provided instantly by the chatbot so that parents can decide quickly. Once the students have picked the course, the e-learning company can use the chatbot solution to notify students when a new batch for the course starts. This will boost the number of students interested in signing up for the course.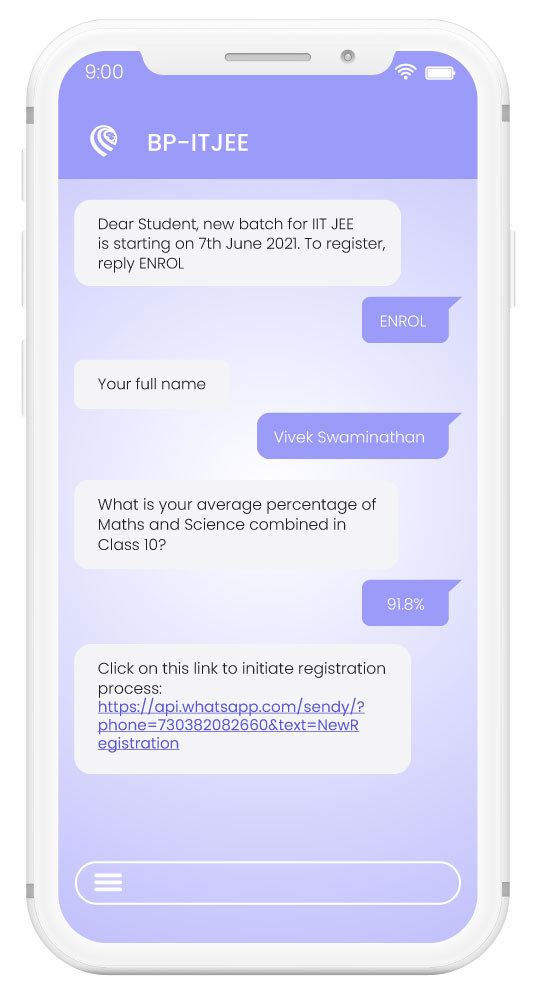 5. Calendar Management
Chatbot can help students keep track of their course lectures in real-time. Students often sign up for multiple courses, and at times, lose track of the course schedule. In such a scenario, the Chatbot provides live updates, notifications, and reminders to attend daily lectures.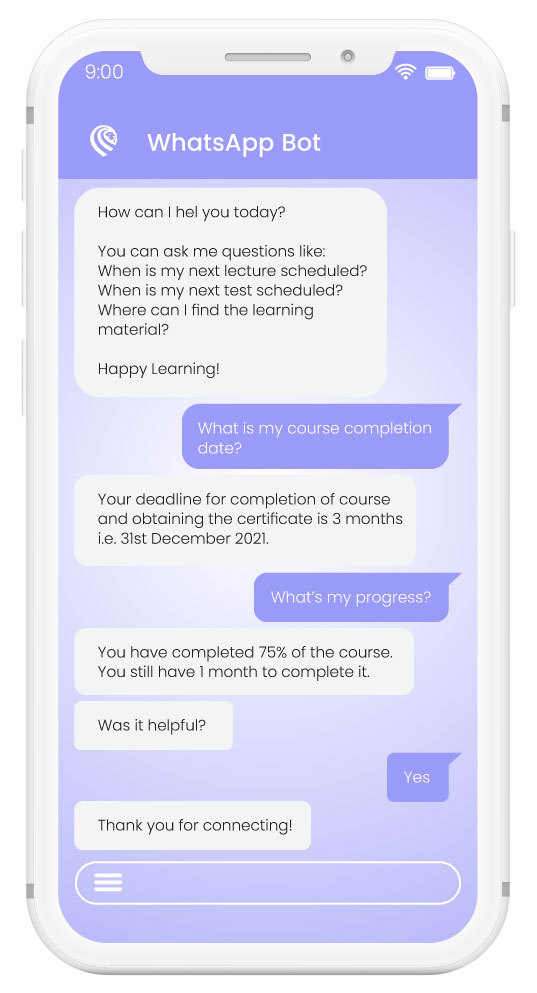 6. Real-Time Connectivity Between Students & Educators
One of the biggest hurdles in virtual education platforms is facilitating engagement between students and teachers. While students enjoy flexibility through online learning, teachers cannot be available all the time to resolve their queries. This communication gap is easily tackled by the chatbot, which connects students directly with teachers; if it fails to answer a question or resolve a query.
Techno-functional queries and their responses can be built into the chatbot. The chatbot can help with calendar management and blocking free time-slots for doubt clearing sessions etc, at the click of a button.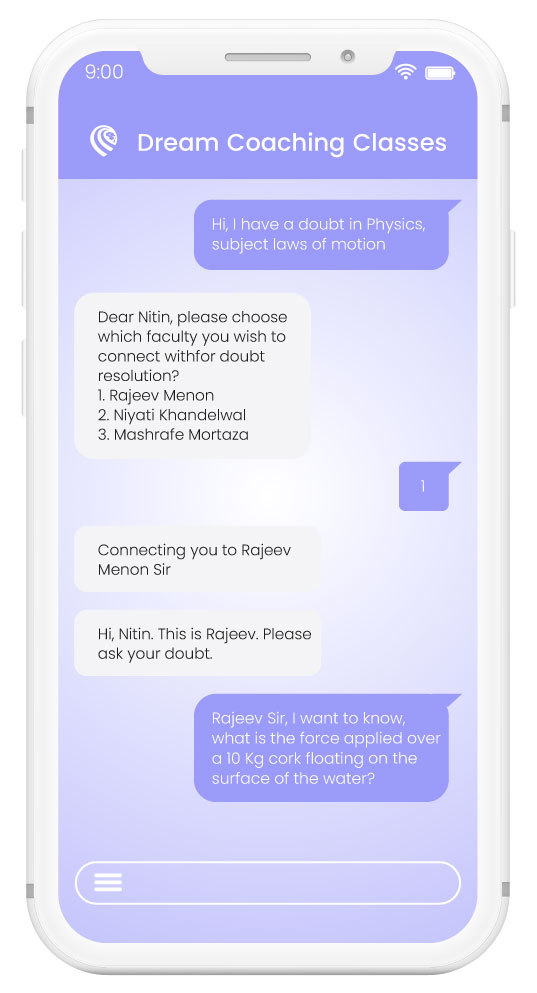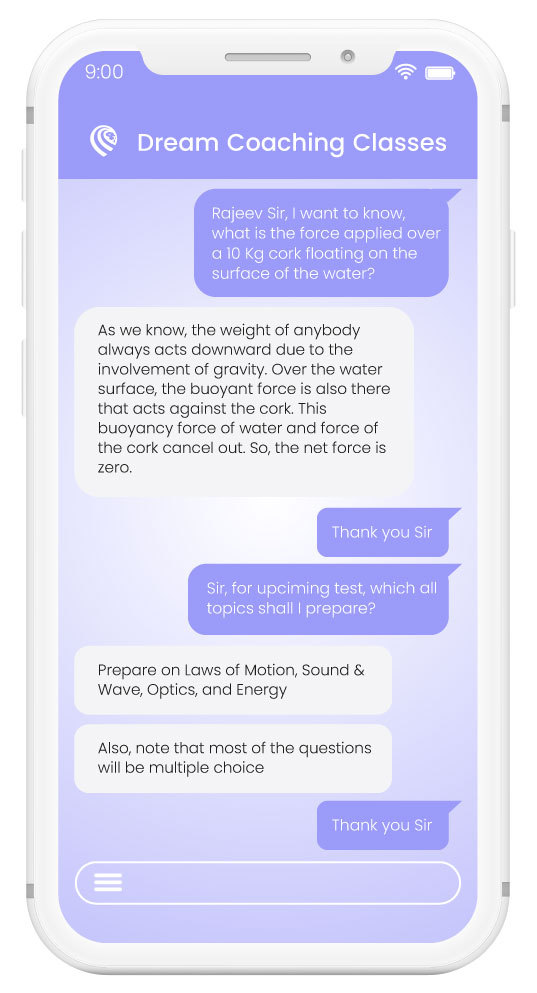 Students can use the chatbot to select a teacher. The chatbot can then transfer control of communication to teachers to solve students' doubts in real-time. It helps students personalize their study sessions, and brings onboard experts to resolve their queries at the time of the call.
7. Personalize Exam Preparation For Students
Chatbot enables students to learn at their own pace. They can choose the subjects they want to learn, download model question papers, attend the model exams online, or attend quizzes online at any time. Students can plan their study sessions and systematically prepare for exams. The model question papers and quizzes are readily available. The answers are evaluated immediately, and scores are shown to help students improve their learning outcomes.
8. Improve Customer Interaction With Live Feedback System
Feedback is key to digital learning. Educational organizations can thrive and scale up faster when they get appropriate feedback from students, teachers, institutes and administrators. Gupshup's conversational messaging solutions enable feedback collection through a single window. The feedback questions are relevant to the end-user providing the feedback. The feedback loop will help the business improve its user experience across different types of users.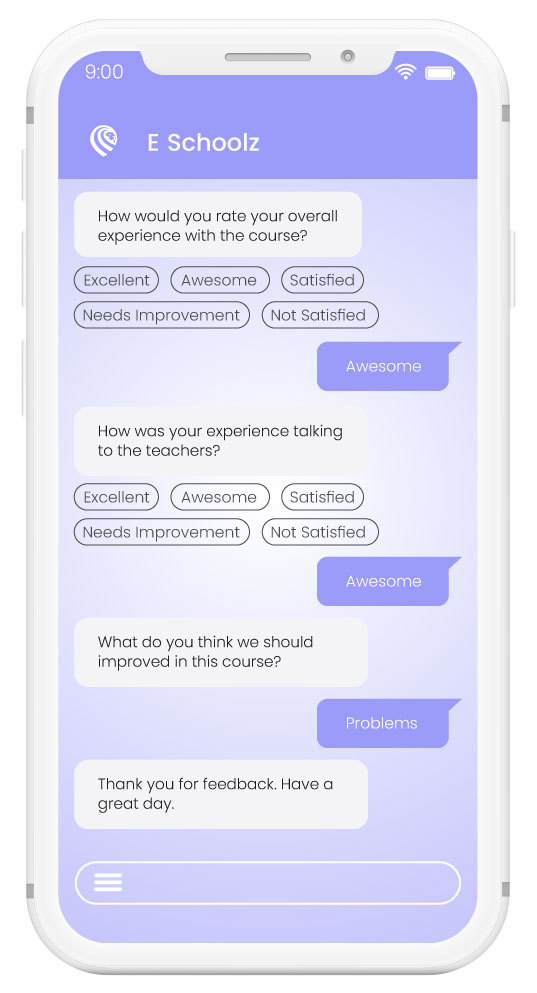 Conclusion
Technology is making life convenient for those who use it judiciously. Students, teachers, CEOs, counsellors, universities, and all stakeholders in the digital education ecosystem are reaping the benefits of adopting technology. It is never too late, and even those who have jumped onto the bandwagon later have tasted success through digital education.
In the EdTech space, chatbots and conversational AI offer e-learning companies a compelling value proposition through smart, personalised messaging to win the trust and confidence of all key stakeholders, parents, teachers and students.
Schedule a demo with Gupshup to digitize user journeys and take your e-learning platform to a whole new level with improved marketing, sales, and personalized customer support.
Blogs you will want to share. Delivered to your inbox.
Business Email
×
Read: How CPG & FMCG Brands Can Benefit With Conversational AI