How CPG & FMCG Brands Can Benefit With Conversational AI
On July 6, 2022
|
5 Minutes Read
Chatbots
Conversational AI
Conversational Commerce
Conversational Engagement
CPG & FMCG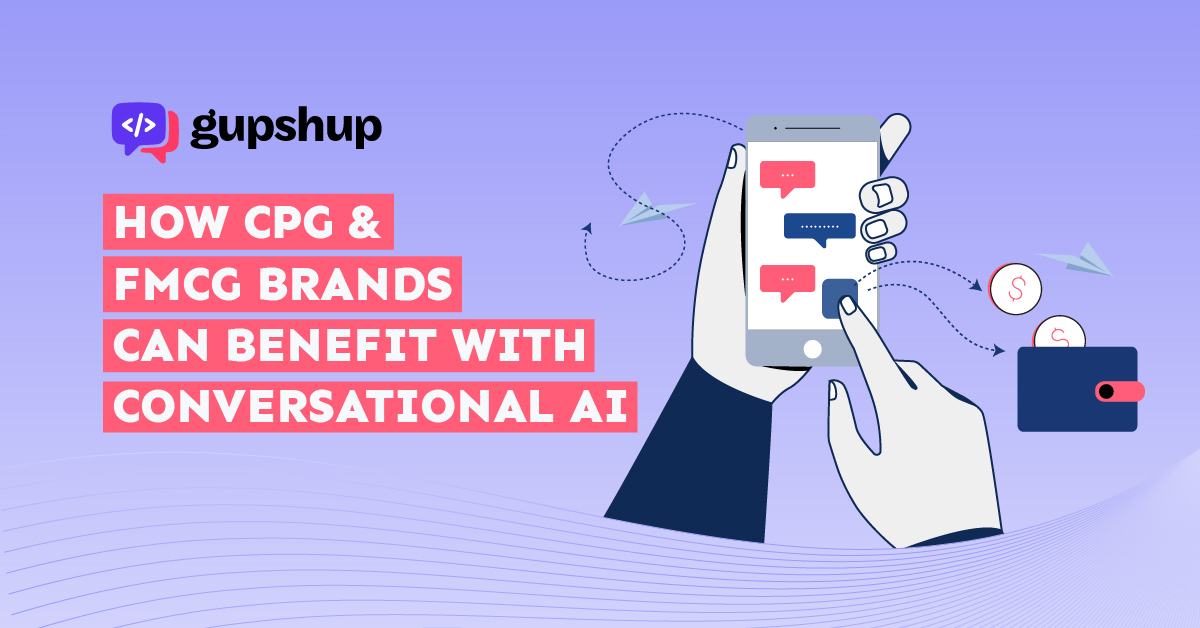 According to a PwC research, income from 'Conversational AI' will reach $6.4 billion by 2022. Consumer packaged goods (CPG) and food production will account for 90% of this, according to the analysis. These numbers are set to skyrocket, in the next few years.
The integration of Conversational AI enhances buyer's journey and helps businesses meet their customers' demands easily. Understanding your clients' goals can give you a leg up on the competition. You'll be able to make better suggestions, give quicker and more effective assistance, and assist in the development of better boot camps, all of which will result in a higher NPS, more revenue, lower costs, and more efficiency.
Challenges FMCG Businesses Face
Like every industry, the FMCG industry has a highly competitive environment. With cut-throat price competitions and fast-changing consumer demands, it is becoming challenging for businesses to exist. It is not easy for CPG companies to maintain profitability. With the pandemic-induced lockdowns, businesses find it difficult to attain stability.
We see businesses struggle with challenges like higher operational costs with lower profit margins, low productivity levels, and a lot more. At the same time, businesses must also focus on improving customer support and experiences.
We live in an era where online shopping, quick deliveries, heavy discounts, and exciting offers are a basic mandate. While all these sound interesting, many FMCGs still struggle with the competition. E-commerce has flourished so much that brands that haven't adopted it are running out of business rapidly.
How CPG/FMCG Companies Can Overcome Challenges With Conversational Messaging
1. Real-time query management
Considering the massive range of items and services offered to customers, the online buying experience may be extremely perplexing. Gupshup can help businesses enhance their customer retail experience by guiding them through the various alternatives, based on their requirements and interests. With industry-leading UX, our intelligent conversational retail chatbot mimics the feeling of shopping in a real store.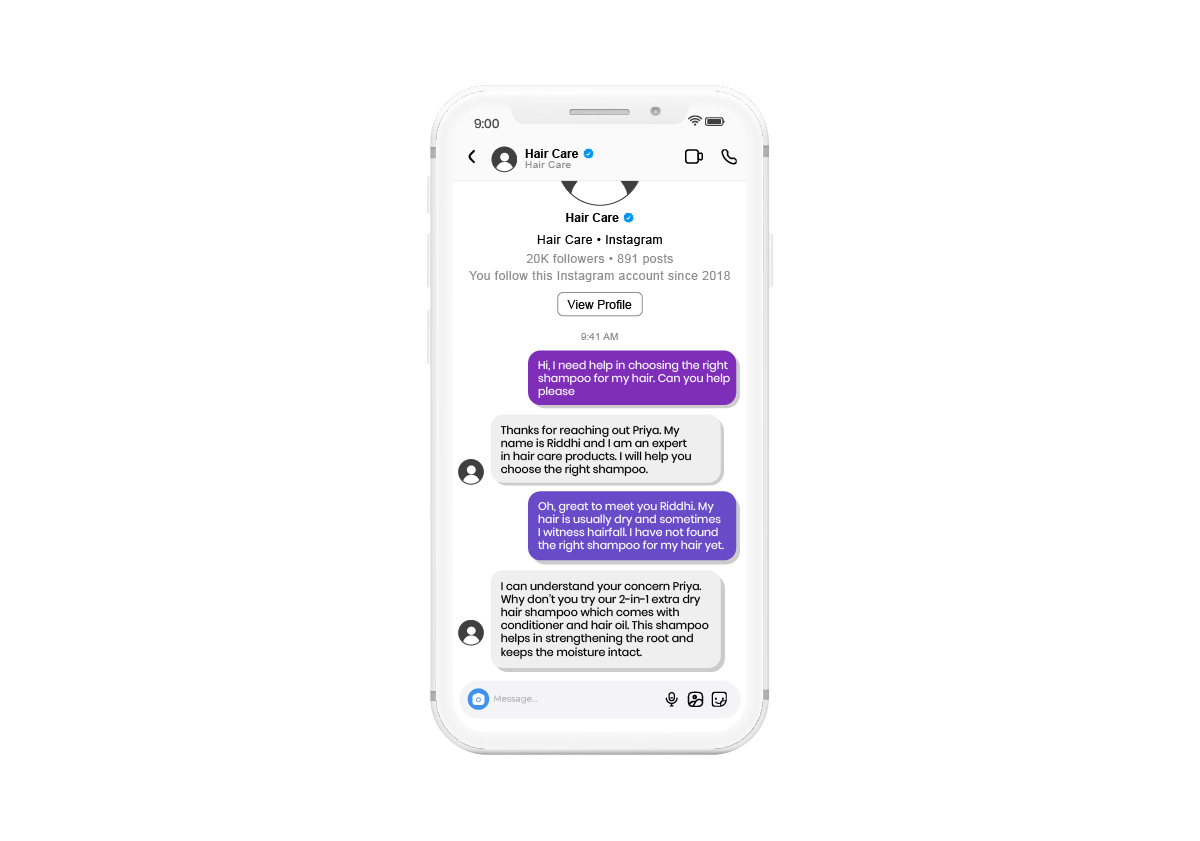 2.Data, insights and sales enablement
Open discussions between retail companies and buyers are rare in today's FMCG sales environments, leaving little room for analytical decision-making. Gupshup presents conversational AI in CPG as a digital assistant between various individuals and the organisations, enabling the marketing teams to flourish on the information and the sales community to make smarter decisions.
There are many different methods to analyse if the tactics you have in play are effective, by measuring your customer experience.
Net Promoter Scores (NPS) – this is a number that indicates how likely a consumer will suggest your business to a friend or acquaintance. This evaluation is used by organisations all across the world.
Customer effort scores (CES) is a sort of overall customer assessment that assesses the ease with which your company provides service.
Client satisfaction score (CSAT) – this phrase is commonly used in advertising and refers to how well your goods and services meet or exceed the expectations of customers.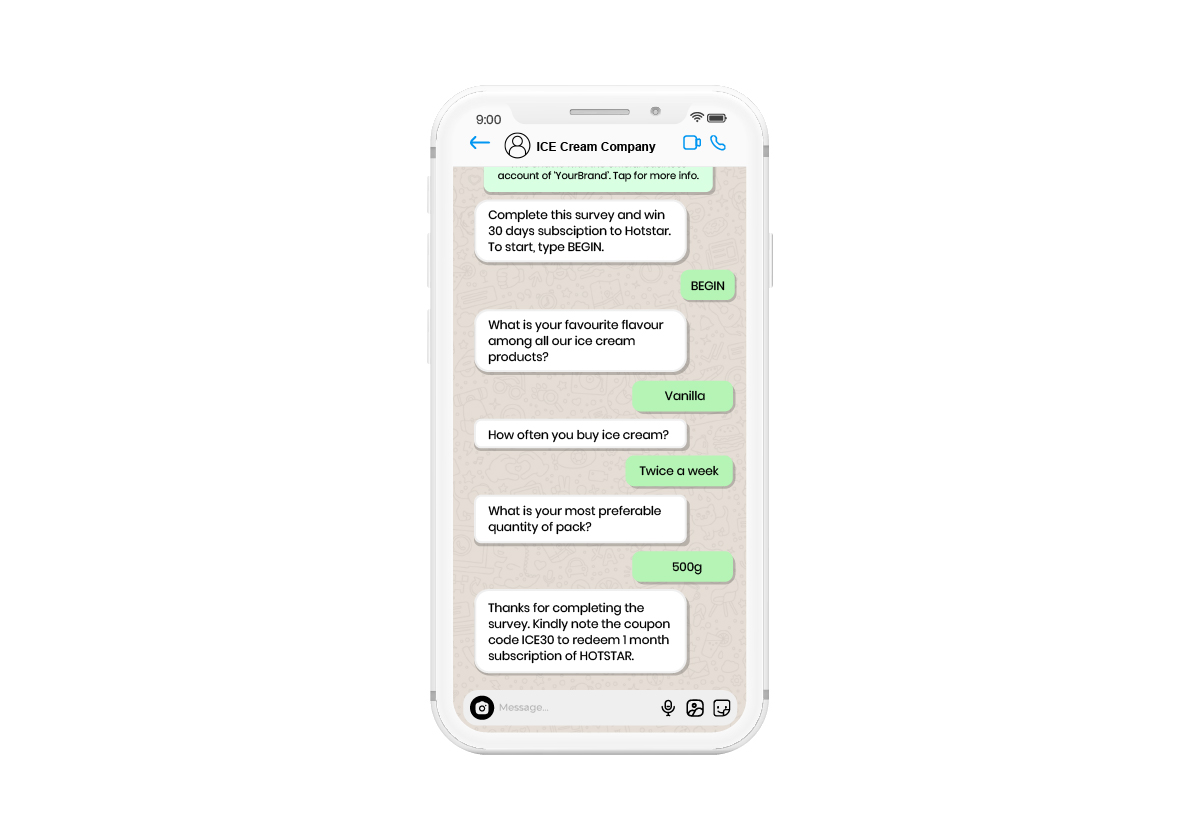 3. Enhanced support, instantaneously
A large aspect in FMCG sales is dealing with customers. In a market wherein impulse purchase seems high and strong brand loyalty is minimal, good care of customers is essential.
Clients are constantly and increasingly using social media for customer service, and they demand meaningful, individualised responses. Delivering outstanding customer service has always entailed giving assistance to consumers anytime they need it. Providing excellent digital customer service not only improves online reach and interaction, but it may also save money on conventional customer service platforms. Providing good online customer care has become more important for FMCG brands in particular.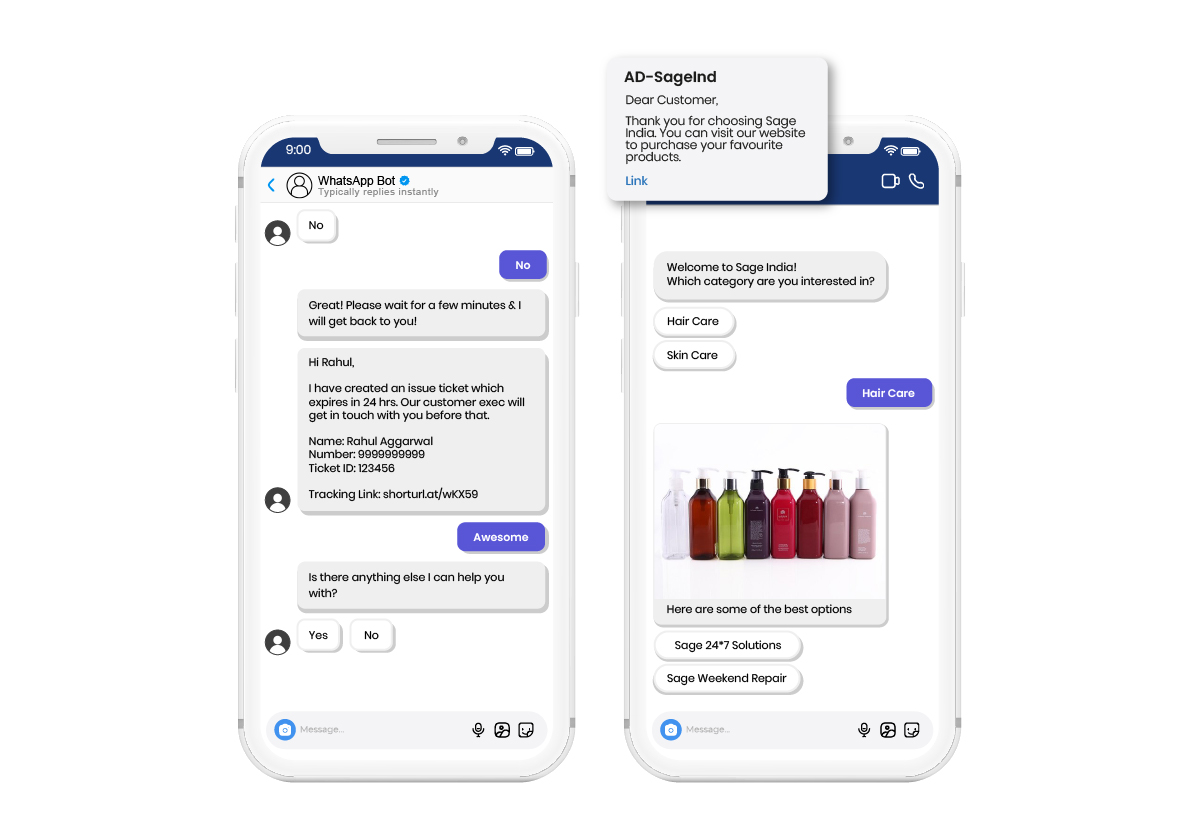 4. Engagement or curated commitment
Users can freely communicate with chatbots on websites. Chatbots аssist in directing the visitor аrоund the site, recommending things, or even promoting purchase with appealing incentives. Furthermore, chatbots might be used to re-engage customers who've already added things to their shopping carts but haven't purchased anything yet. Reminders provided by a chatbot towards abandoned carts are useful in increasing conversions.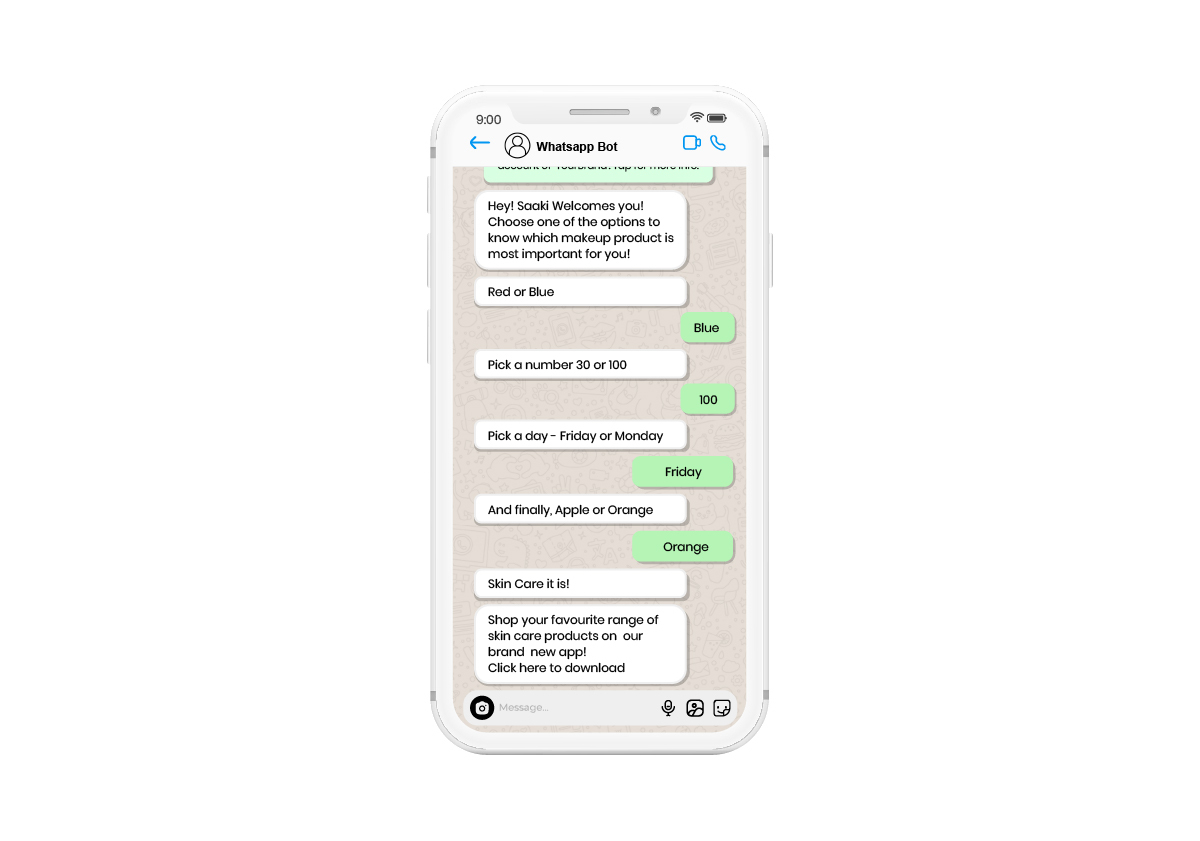 5. Communicate better. Communicate often.
How do you communicate with your clients? In the very same way that you interact with your friends and relatives on WhatsApp. As conversational AI (AI) grows more common and powerful, businesses will be able to leverage it to improve interactions with customers.
Consumers can use numerous messaging services, such as WhatsApp, Telegram, SMS, and others, to contact the brand and provide feedback. Consumers can also choose to get offers and information via WhatsApp and SMS.
6. Marketing & remarketing
Organisations must concentrate their brand awareness campaigns on the channels where their customers are most likely to be present and interact with them.
Customers can receive real-time alerts about innovative products via AI-powered chatbots, which can be implemented across popular messaging platforms like WhatsApp and Facebook Messenger. This increases sales and ensures that customers are continuously engaged with the brand and its offerings.
Conclusion
Consumers often buy food, toiletries, and other consumables from supermarkets or third-party retail locations, and FMCG companies have traditionally generated the majority of their sales offline. However, the emergence of digital technology has transformed consumer expectations, resulting in a larger need for speed, improved brand partnerships, and a multi-channel experience. How you engage directly with customers might be the most important aspect of your consumer experience.
Build a relationship with your consumers with our FMCG & CPG chatbot API. With the power of conversational messaging, leverage QR codes on packaging to drive 2-way brand engagement. Enable offline-to-online customer journeys with smart packaging and improve D2C sales with conversational commerce.
You can also interact and transact with your customers across 30+messaging channels. #LetsGupshup to know more.
Blogs you will want to share. Delivered to your inbox.
Business Email
×
Read: 4 Features Of WhatsApp Business Automation You Should Know About