Conversational AI vs Email Support : Which is Better Customer Service?
On July 5, 2021
|
6 Minutes Read
Conversational AI
Conversational Support
Generic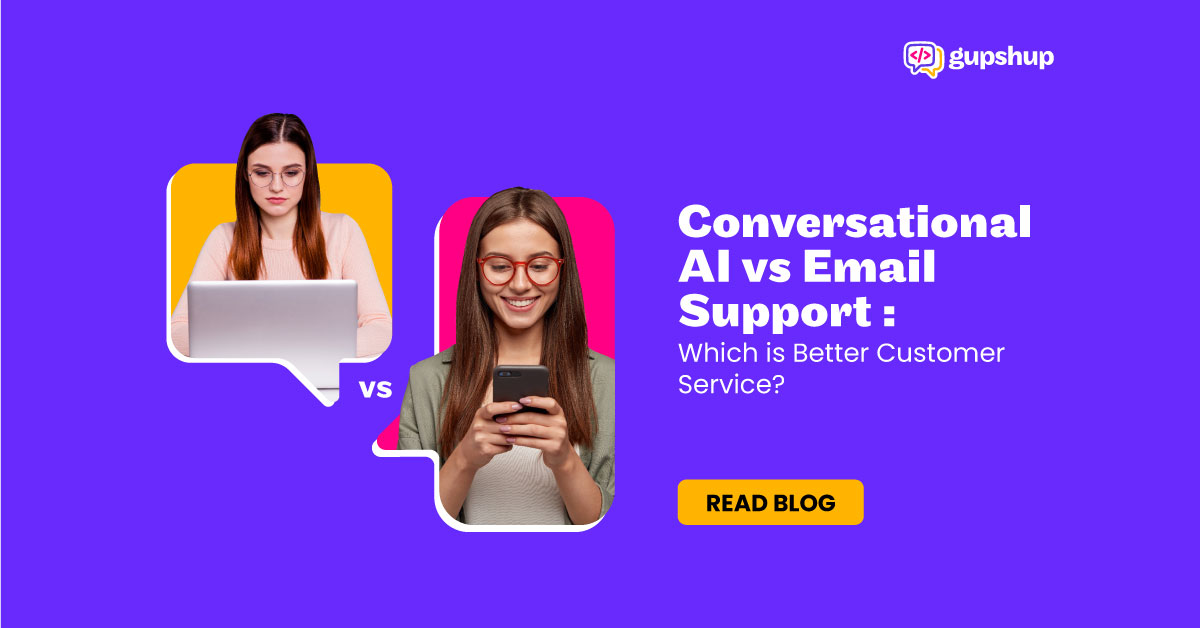 Businesses always look for innovative ways to connect with their customers for both selling products and services and assisting them with grievances. Phone support was one of the most popular customer support methods and with time and changing lifestyles, SMS and emails started gaining traction. Further, as the messaging apps became prevalent, SMS became less popular and email support was considered good for issue resolutions.
With the introduction of conversational AI chatbots, the use of emails has reduced and taken over the market due to its ease of service. Let's start with the pain points that users face in communication. Moreover, we will learn about the ways to overcome them. Conversational AI and email support are two such ways, and the comparison between them is the highlight of this article.
Customer Pain Points in Communication
Customer support pain points are the specific problem that business customers experience in the marketplace in their journey with small and midsize businesses and large enterprises alike. The following is the list:
Longer wait times
Inefficient communication
Barriers in collaborations
Customer complaints
The biggest hurdle here is that the customers do not get help in the buying process and can go elsewhere if their queries are not resolved due to untimely responses.
Conversational AI and emails can help in overcoming the above challenges, which will be discussed further.
Overcoming Customer Pain Points: Conversational AI Support vs Email Support
With the devices getting smaller and systems and apps growing complex, people may not know how to find and use some features but know how to chat and text. Organizations can make customer experiences intuitive by replacing traditional UIs with human dialogs and making employee workflows faster with better chat interfaces and natural language processing (NLP). Your customers always expect a better experience, and the enterprises not keeping up with the technology will be left behind in fulfilling them.
Let's discuss two of the most popular customer service support methods.
What is Conversational AI Customer Support?
Conversational AI is a set of technologies such as chatbots deployed on business websites enabling computers to understand and process, voice or text inputs in conjunction with bots or virtual agents using a combination of technologies such as NLP, natural language understanding (NLU), machine learning (ML), and speech recognition.
It makes interacting with complex systems faster and helps businesses deliver engaging experiences and support with minimum human intervention.
Recent language technology advancements have made complex linguistic decision-making methods, and the IVAs and bots have matured into solutions.
Use Cases
Presently, industries such as banking, eCommerce, edtech, food, healthcare, insurance, logistics, travel, real estate, and retail are using bots to offer better customer service.
Advantages
Conversational AI support is a cost-effective, quick support method and provides the following advantages to the customers:
Advancing: It is self-learning and keeps updating with evolving customer behavior. It helps in offering a personalized customer experience.
Analytics: You can check the bots' KPIs, understand user behavior and your customer support performance.
Asynchronous: 24/7 availability; no need for tickets and callbacks
Cross-channel: Offers service across various popular channels and IVRs
Data-driven: Provides new data sources on customer behavior and engagement
Integrable:Integrates seamlessly with applications and tools
Tailored: Provides timely and tailored customer experiences
Quick: Responds in seconds and reduces wait times
What is Email Customer Support?
Email support makes effective use of emails to resolve customer concerns as regards a product or a service by exchanging messages and documents via an email service provider.
The thing that makes email different from conversational AI is that it is asynchronous and both parties do not need to be online concomitantly.
Despite social media, email is an important customer service channel for customers. Users may visit the emails quickly; however, it has an advantage for keeping the answer and to be referred later.
Use Cases
Email is an important support method used in many sectors and businesses. Currently, organizations such as Google, Apple, IKEA, HubSpot, Buffer, Shopify, Amazon, and JetBlue are offering customer support via email.
Advantages
Email as a customer service support channel offers many advantages for businesses. It gives you the time to respond unlike instant messaging apps and offers the following advantages:
Coordinated: An email-based ticket system allows support agents to work on multiple incidents and rapidly solve them.
Flexible: Customers can respond to some additional info at their convenience instead of scheduling a time for a follow-up call.
Precise: A clear communication can be established between the customer and the provider.
Prompt: You can have an automated messaging for acknowledging the email receipt and determine the expected customer wait time for a reply (usually 24 hours).
Scalable: With a ticket-based support service, you can handle multiple requests at the same time.
Key Differences between Conversational AI vs Email Support
For a deeper analysis of both the support methods, let us explore their key differences.
Customer Interaction
Conversational AI offers omnichannel customer support on websites, mobile apps, and social media, whereas email support is provided via an email service provider.
Framework
As regards setting up, emails are easier than a conversational AI platform, which requires the users to log in to an email account, whereas conversational AI requires software to be downloaded.
Flexibility
Emails let you send online mails to thousands of users but do face issues when addressing different user queries. Conversely, a chatbot is more scalable here.
End Customer Satisfaction
Conversational AI beats email as regards customer satisfaction. With bots, companies can quickly answer with accuracy round the clock on multiple channels with natural language where email support lacks.
Through the above-mentioned differentiation points, we find that conversational AI offers more advantages than email support and is clearly a winner.
Customer Support with Gupshup
Gupshup is one of the leading conversational messaging platforms empowering over 6 billion messages every month. Thousands of emerging small- and large-scale use Gupshup for building conversational experiences across marketing, sales, and support, and the customers can make conversations an integral part of their engagement success.
To know more about our support offerings, visit gupshup.io and schedule a demo. You can also watch these videos to get more insights into the brand.
Blogs you will want to share. Delivered to your inbox.
Business Email
×
Read: Direct and secure AI-enabled payments via Smart Messaging