Difference between Conversational AI Support and IVR
On September 15, 2021
|
5 Minutes Read
Conversational AI
Conversational Support
Generic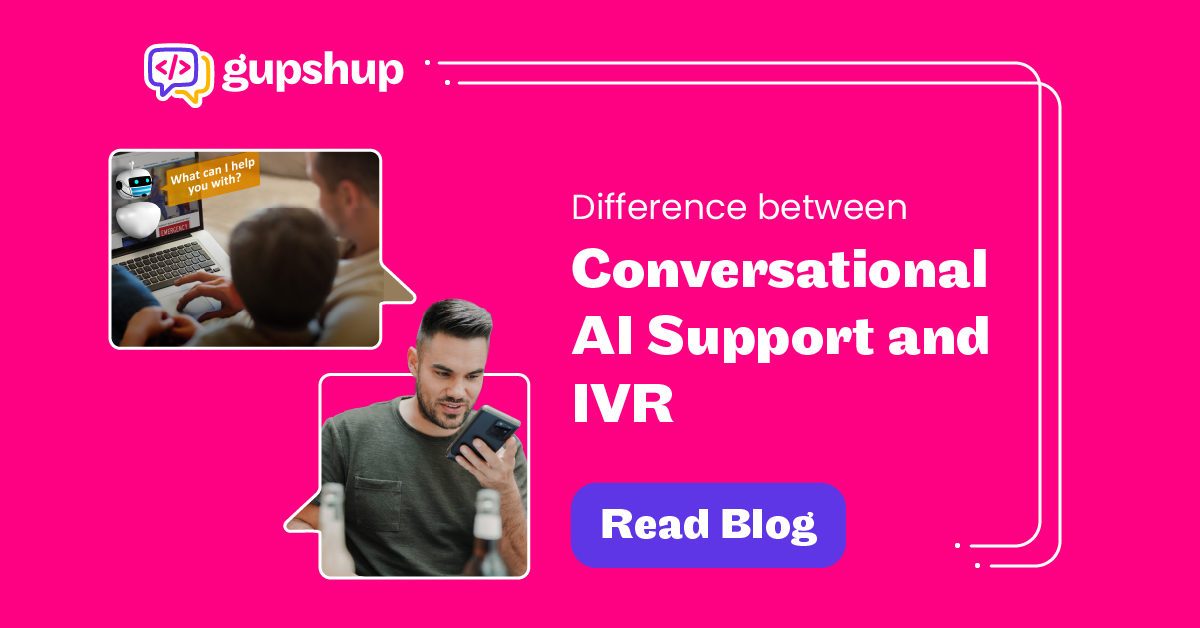 Customers' primary way of communication with businesses has long been and continues to be a voice. However, the shift to chatbots is a prominent trend. Without robust conversational AI capabilities, no chatbot is complete. Chatbots that can closely simulate the experience of engaging with a human agent.
Most notably, Interactive Voice Response (IVR) technology has improved the efficiency of companies though, IVRs have irritated customers. Because it forced customers to choose from inflexible menus and non-access to a live agent, over 60% of consumers believe "IVR technology makes for a bad customer experience."
Companies now have a method to give customers the versatile and responsive voice interaction they desire at half the cost of an offshore call center, thanks to advances in AI and automation in recent years. Companies may reinvent voice experiences thanks to conversational AI.
But first, let us understand these two terms.
What Is Conversational AI Support?
Conversational AI is a machine intelligence technology businesses use to answer client questions on their websites; or communication reps.
It aids self-service, enables agents to address challenges quickly, and collects data to improve customer experience even further.
You may have seen it on firms' websites and social media like WhatsApp and Facebook Messenger.
They're ideal for customers who prefer self-service and only have a few questions that don't require a live agent to address. It redirects the interaction to an online representative for more complicated questions.
Even though conversational AI support has gained a lot of popularity, it has several pain points.
Conversational AI Support Pain points
High Customer Expectations
The public expects artificial intelligence to progress to where it resembles the worlds depicted in science fiction films. The AI technology shown in the news is frighteningly comparable to humans (or even more sophisticated in some circumstances), but such demands appear impractical. It frustrates customers when their high expectations remain unsatisfied, lowering the overall quality of customer service.
How can you overcome this problem? 
One of the use cases of conversational AI is customer support. Conversational AI bots can provide dynamic customer service by responding to common inquiries. It will give over control to a person if it exceeds the confidence level. However, it constantly learns from its failures to enhance the response quality and avert such a situation.
Security issues
This is another issue looming in this industry. AI chatbots need to pass all the levels of security before humans share sensitive information with them.
Other pain points include customer sentiments, accessibility, and engagement.
Using AI makes detection more visible. With this, you can address the customer pain points, gain their trust and make the service accessible. Customers can share sensitive information without the fear of data piracy. IT professionals can make conditional regulations and create a seamless interface. It helps ease access management.
What is IVR Support?
Customers can use DTMF (Dual-Tone Multi-Frequency) and voice tones established via the keypad to interact with a computer employing IVR support. It employs speech recognition or a telephone keypad to help clients direct their questions to the department and, in some situations, to allow them to self-serve.
Because IVRs are undeveloped with natural language understanding, customers must talk in the IVR's language (NLU). As a result, they cannot comprehend how humans communicate spontaneously. They also don't distinguish between several intents, such as "I'd like to change my payment details and return an item."
When confronted with an IVR, 64% of study respondents experienced unpleasant emotions such as annoyance, stress, and rage. So, do interactive voice response systems (IVRs) benefit or hurt customer experience?
What is the difference between conversational AI support and IVR?
Accessibility: Offline access to IVR is available. This is a good customer service option if your company operates in areas where the network isn't strong, or the Internet isn't readily available. Conversely, conversational AI requires the Internet. You can, however, use it across many messaging channels.
Engagement: IVR is a one-sided conversation where you chat or type while communicating with an automated system. Conversational AI allows for two-way communication with customers. It employs sentiment analysis and connects a disappointed or furious user to a human agent as quickly as possible.
Community sentiment: Many people despise IVR. It's sluggish and infuriating. It usually connects the user to a call center, and the phone goes unanswered. Compared to IVR, conversational AI is an innovative technology. It has a better track record of actively engaging customers.
Use cases: IVR is often used to direct customers to the department. Conversational AI technology gives a one-stop experience for customers. When a customer provides feedback or answers surveys, IVR allows for a natural flow of responses. It also enhances lead qualification, providing a seamless customer experience.
It helps us understand the difference between Conversational AI support vs. IVR.
Conclusion
To decide which type of conversational support is better for your organization is a fierce debate to win. It is because both have room for creativity. Organizations need to meet their customers' expectations and satisfy their wants. The path to a better customer experience is to understand customers' preferences and improve customer service on those channels.
Gupshup.io is a leading conversational messaging platform that can help enrich customer experiences across marketing and sales. Do you want to know the secret to maximum customer engagement and business efficiency? Request a demo and learn the secret.
Blogs you will want to share. Delivered to your inbox.
Business Email
×
Read: How to Tackle the Risks of Conversational AI Security?