Conversational commerce journeys to take Instagram beyond engagement
On October 28, 2022
|
7 Minutes Read
Conversational Commerce
Conversational Engagement
Generic
Instagram API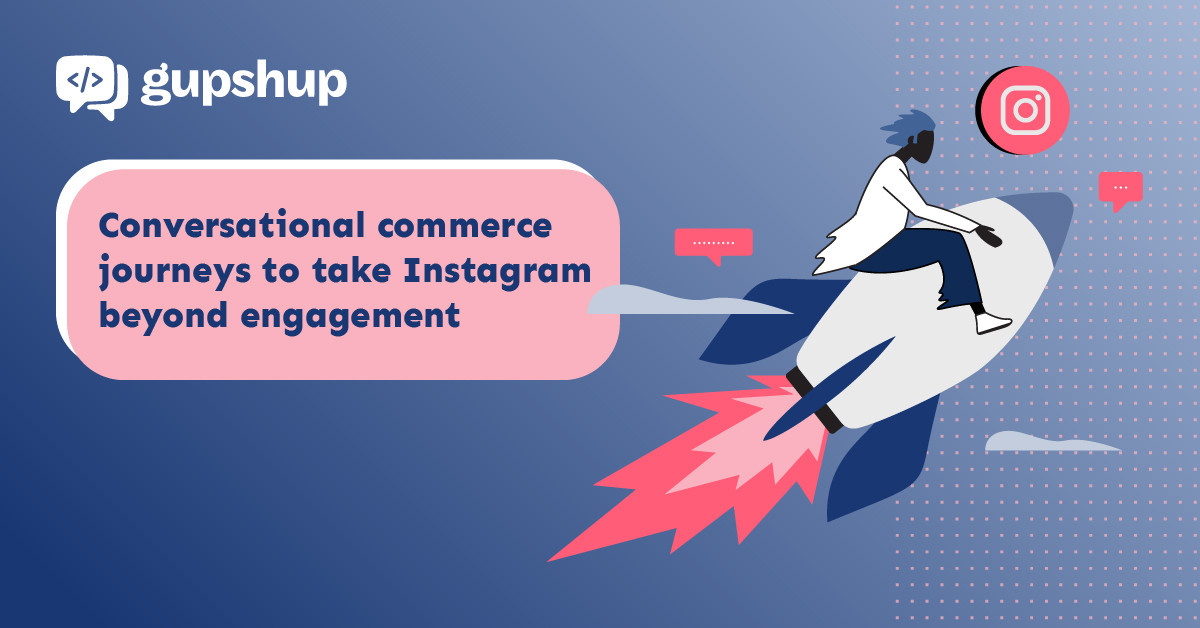 Nothing beats Instagram, when it comes to visual marketing. For consumer brands, looking to target the frequently online, gen Z audience, it's a haven of sorts. With 1.3+ billion monthly active users, Instagram is the must-have marketing tool for the new age marketers. And thanks to a highly engaged audience, Instagram is now a powerful sales tool too. What is commonly referred to as social commerce, is in a large part Instagram commerce, made easier by its Direct Messenger Automation.
In case you're wondering, how Instagram has been able to play well in both marketing and sales, the answer lies in engagement. Visual and user generated content is known to forge deeper connections between brands and their audience, many a times leading to purchase intent and finally converting to sale. This profound engagement is what makes Instagram a magnet for brands, particularly those targeting a younger audience. In fact, Instagram's engagement statistics are quite interesting- As per Brand Watch, brand engagement on Instagram is 10x better than Facebook, 54x better than Pinterest and 84x better than Twitter. 90% of Instagram users follow at least one brand, and about 50% of users discover products, services, and brands on the channel. 
Harnessing capabilities that enable one-on-one conversations with customers on Instagram, therefore, becomes critical, especially when:
72% of customers say that they are more likely to purchase online if they can ask questions in real-time.
As a customer-centric brand that wishes to grow sales by building a solid relationship with every potential customer, you ought to give customers what they want, i.e., personal, human-like experiences at every stage of their buying journey.
Conversational Commerce on Instagram
The release of Instagram API in 2021 made it possible for business accounts to automate Instagram Direct Messenger (DM), making scalable one-on-one conversations on the channel a reality. With autoresponders for every message type, like post comments, story mentions, story replies, and direct messages, the automation made responding to millions of customer queries easy and quick. Supported by rich media types like images, stickers, product templates, and product carousels, the API also made the conversational experiences engaging. Furthermore, with structured journeys and conversational AI capabilities, brands could make the conversations human-like. 
Commerce has thus become conversational on Instagram. Businesses  can now  answer product queries, recommend solutions, collect payments and understand user needs to create upsell & cross-sell opportunities – all while driving personalized conversations in real-time. Let's understand more with the use cases below:
Aid buyer decision-making by answering product queries

Buying in its truest sense is a consultative process where customers typically want to clear doubts and apprehensions before firming up their decision. While your sales team fulfils this purpose in the real world, the job is left to static landing pages in the digital space. And we all know how cold a buyer's journey can get through non-interactive web pages, especially in comparison to the traditional in-store experience, where customers can ask questions before making a final decision.

Through conversational commerce automation on Instagram, brands can finally replicate a sales experience akin to in-person, answer customer queries and provide real-time consultation based on their context, removing barriers to purchase decisions. So the next time your customers explore your products via an ad or a post on Instagram, you can be assured they are not left ignored.

Below is a classic use case from ed-tech industry where prospective learners can ask questions regarding the tenure and cost of the course as they discover the course via a sponsored post. Thus, prepping up the prospect towards conversion.

Influence buying decisions by sharing recommendations

Conversations have the power to convince. You might have that one salesperson in the team who knows what to say to win a customer's confidence. With chatbot automation, your Instagram DMs can replicate your best sales agent. The DM can not only suggest products that are best suited for the customer's needs but also highlight reviews, ratings, and facts that can help customers make up their minds.

The image below explains a use case where an Instagram DM understands a user's requirements, showcases the top-selling android phones, and highlights the one with the highest rating from existing customers. This instils confidence and convinces the user to go ahead.
Increase cart size and average order value by upselling and cross-selling conversationally

One of the best use cases of conversational commerce is the opportunity of cross-selling and upselling it offers. Gone are the days when chatbots could only answer a limited number of questions. With innovative conversation journeys, your Instagram DMs can be configured to go one step ahead and cross-sell/upsell to customers, so you always deliver that wow moment to your customers and keep your cart value high.

The use case demonstrated below showcases how an automated Instagram DM up-sells a Gold Credit Card to a user when the user shows interest in applying for a business loan. This can also be a great way to win customer loyalty by marketing your new products to existing customers whenever they interact with you on the channel.
Enable purchase and collect payments during conversations

While Instagram currently doesn't have its default payment application within Instagram DM, Gupshup offers integrations with every leading payment gateway. This enables you to not only answer queries and recommend products and services to your customers but also close sales by collecting payments within DMs. Be it UPI, credit card, or Debit Card, you name it and we have it.
Drive action with rich product templates and carousels

The product templates and carousels introduced by Instagram are some of the other cool features that allow brands to drive commerce over conversations on Instagram. With components to add your product image, product description, product price, CTA, and more, the product templates allow you to introduce your products to your customers during a conversation and give them all the necessary details they might need during a conversation purchase journey.

Built with the capability to pull product details from your Instagram Shop account(if you have one since the Instagram shop is currently available in limited geographies), the product templates help you transform your Instagram account from just a social media account to a digital storefront.The below example demonstrates the use of a carousel to showcase available jeans in stock when a user shows interest in buying some to avail of the 20% discount offer.
Integrate commerce platforms with your Instagram DM
Instagram commerce wouldn't be seamless if it did not integrate with commerce platforms. Therefore while selecting your conversational commerce technical partners, ensure that they offer ready integrations with your commerce platforms such as Shopify, Woocommerce, Bigcommerce, etc. The objective should be to make it easy for your customers to buy products without leaving your Instagram Account. Leading brands like Livon and Vicco are examples of successful commerce interactions from Gupshup on Instagram. The Instagram chatbot developed by Gupshup enables and simplifies the brand-consumer interaction process in a  seamless manner.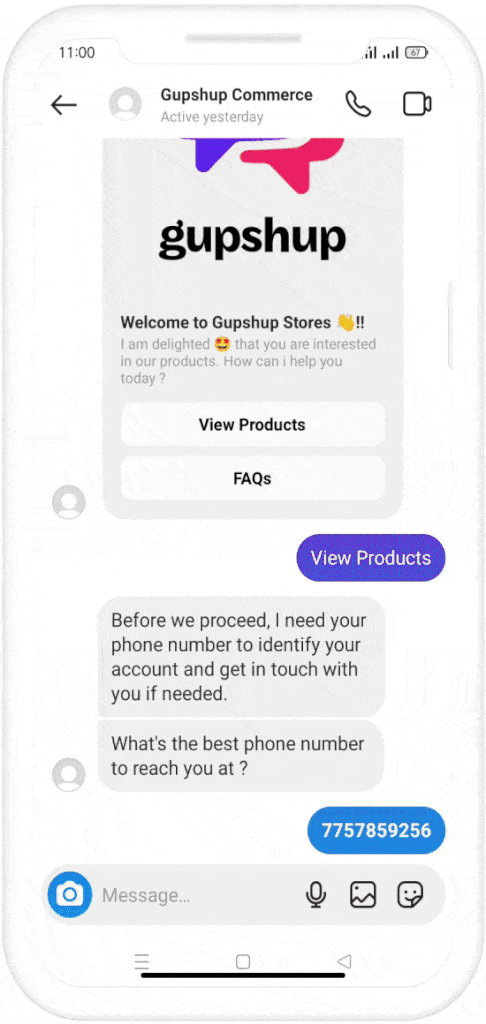 Messaging has become a part of your customer's life. And the pandemic has escalated this behaviour further. With the download barrier for mobile apps, engaging and re-engaging with customers is a real challenge. Conversational commerce is, therefore, the clear route for growth for businesses if they want to get closer to their customers. Harness this capability on Instagram and build an omnichannel conversation commerce experience for your customers today.
Blogs you will want to share. Delivered to your inbox.
Business Email
×
Read: Boost your business growth with WhatsApp Quality Based Messaging