Boost your business growth with WhatsApp Quality Based Messaging
On November 25, 2022
|
8 Minutes Read
Conversational Marketing
Generic
WhatsApp Business API
WhatsApp Commerce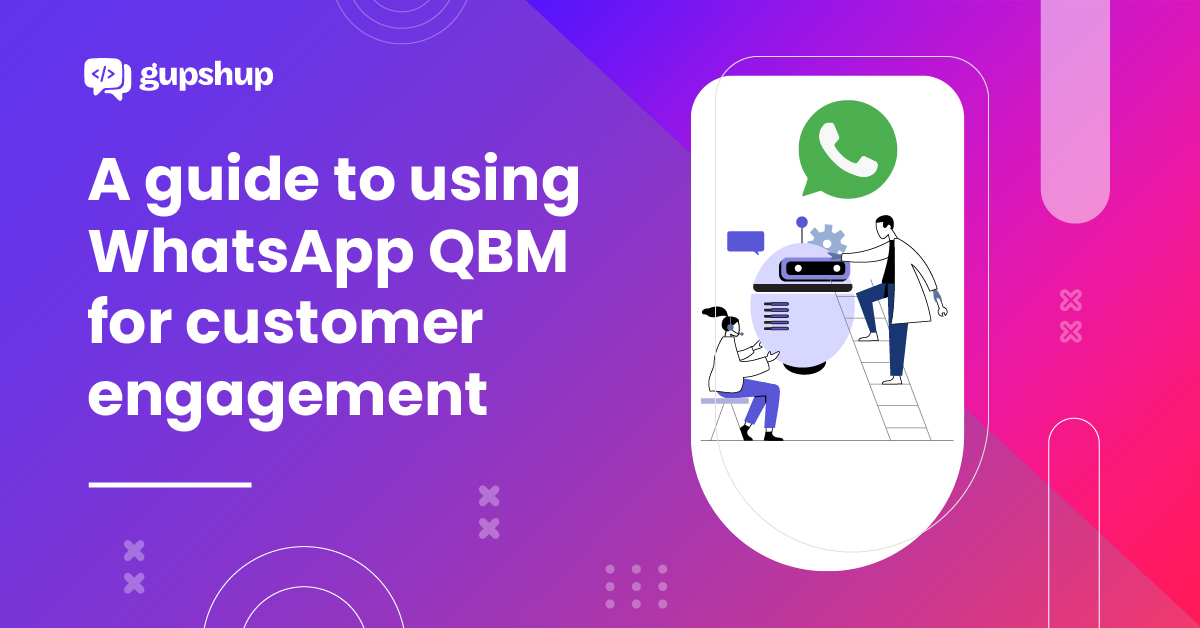 Leverage WhatsApp Quality based  messaging to elevate your marketing and drive revenues
In a world that's increasingly getting commoditized, thanks to technology, it's an open secret that customer focus is the real differentiator. This Gospel truth is germane to every business function, but in marketing it's indispensable. Reason being the constantly changing needs, wants and desires of customers. New age marketing therefore, is all about unique individual experiences through tools that bring brands closer to their customer.
Today there's literally an ocean when it comes to the number of available tools for marketers but none comes close to the effectiveness of QBM. Quality Based Messaging or QBM is a feature under WhatsApp business API which helps businesses engage customers through contextual messaging. These messages need to meet the quality criteria defined by WhatsApp and hence the name- Quality Based Messaging.
If you have been a WhatsApp Business API user, you would know that it has largely been used for support and transactional purposes, and for user initiated messages. But QBM vastly expands the use case, opening a bundle of opportunities for businesses. In terms of the superpowers it bestows on marketers, think of it somewhat as Thanos' Infinity Gauntlet. 
The exaggeration notwithstanding, there is a lot that businesses can do with WhatsApp Quality Based Messaging- remind customers of their payment dates, subscription renewals, deals and discounts on their special days, new product launches, abandoned cart alerts and more. Launched in September 2021, QBM is set to revolutionize  how businesses communicate with customers. Because of its in-built interactivity and responsiveness, it's almost like sitting one-on-one with a customer, getting a peek into their choices, thought process and buying patterns.
The 'Q' factor
All of these without losing sight of quality. To maintain a balance between business interests and user interests(To protect users from getting spammed), WhatsApp allows only a certain number of messages per phone number initially. The limit is increased based on the phone number's quality rating, which is further determined by looking at the user feedback, that is, number of blocks, opt-outs etc. Unlimited messages fall in the top tiers of WhatsApp's Quality Based Messaging limit. To reach there, a business must have proven results in sending QBM messages consistently, with less number of unsubscribes and opt-outs.
 The quality aspect doesn't end there. WhatsApp expects businesses to earnestly follow the 'ERT' code, that is messages should be expected, relevant and timely. Customers should have opted-in, the messages should be personalized with clear next steps and they should land within a time window of specific customer interactions. In addition, businesses should work with approved message templates, as per WhatsApp's guidelines.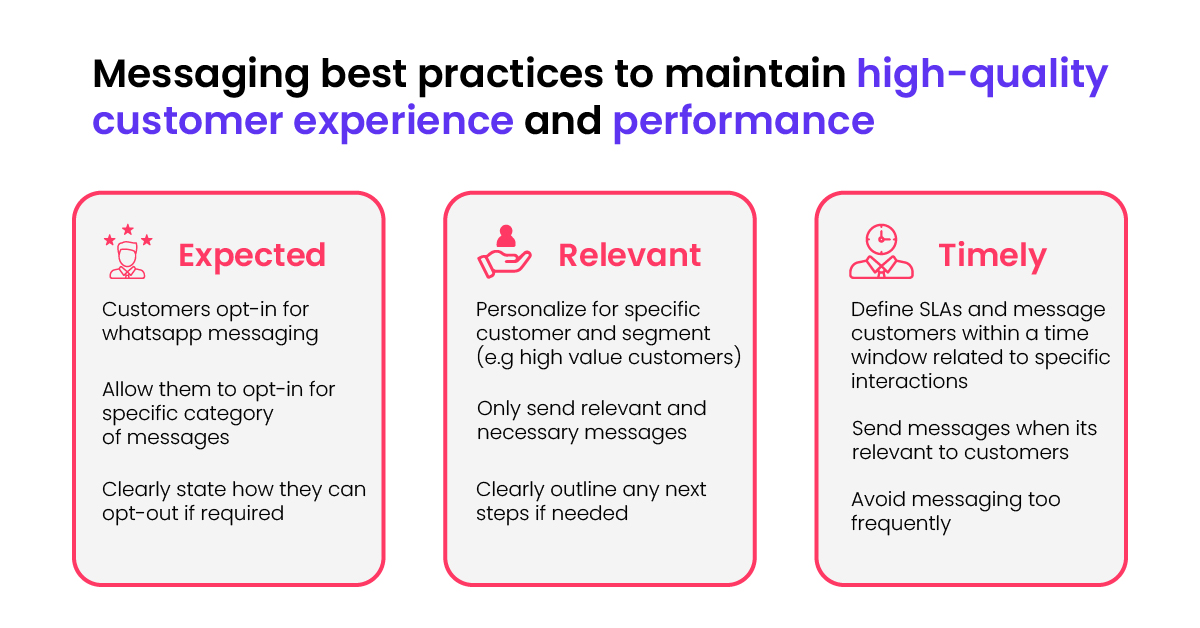 Why should you choose QBM
But if you're a marketer, reading this piece, you may already be wondering what's unique about WhatsApp's Quality Based Messaging since email and SMS notifications can be used to deliver similar objectives. Sure enough, but you'd also be painfully aware that emails suffer from low delivery rates, and have open rates as low as 10%. 
50% of customers do not even receive the intended communication in email marketing. And SMS is highly restrictive when it comes to two-way conversational marketing or rich media sharing. With more than 80% read rates and a click through rate of 50%, QBM messages score well above other channels.
Given WhatsApp's popularity, it's not hard to guess why QBM clicks with both users and marketers. More than 2 billion users worldwide, 70% engagement rate- in fact, the most used app on smartphone screens, makes it a compelling proposition for reaching out to customers new and old.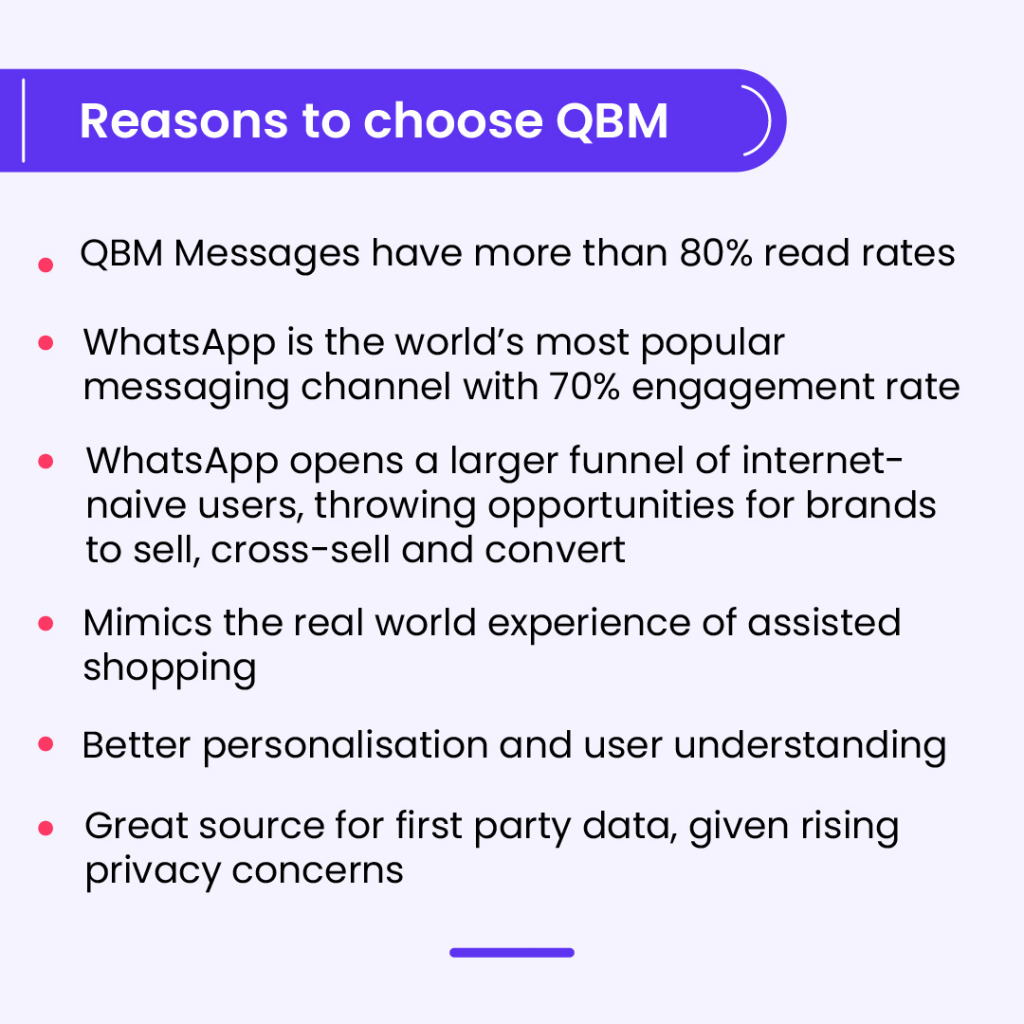 WhatsApp's reach is one among multiple factors that make it every marketer's best friend. 
It's also the vastly expanded universe of new -to- internet users who are much more comfortable messaging, than navigating through website landing pages. Especially in emerging markets such as India, where a large portion of the population has leapfrogged to smartphones, skipping websites, WhatsApp is the first digital interface they access. 
Traditionally, brands have been busy marketing and selling to the top 10% of the regular digitally transacting customers, leaving many more internet- naive users, even though with purchasing power, devoid of options. WhatsApp's larger funnel will mean more opportunities for brands to sell, cross-sell and then convert.
The messaging app's voice recording feature is another big draw as it even attracts users with access issues or those who are not comfortable typing.
But more than anything else, it's the conversational nature of WhatsApp that makes it a favorite among marketers. Along with offers and promotions, there's also personalisation, user understanding and hand holding through the buying journey. As a result, customers are able to connect deeply with a business, leading to better business outcomes.
The shopping experience through WhatsApp's Quality Based Messaging, in fact, mimics the real world buying journey of users, and that's what makes it credible. Think of the last time you shopped at an offline store. Didn't you ask questions about the product- the warranty, the service centers etc. Conversations, recommendations grant an added layer of comfort to the buyer, also the reason why a lot of people prefer offline shopping over online. 
All of these are now available through QBM wherein brands can not just clarify user doubts about a product but also offer personalized recommendations. Brands can build full funnel conversational journeys, engaging  customers at every stage right from creating awareness to post purchase and delighting users.
Apart from these, there's another reason why QBM must be a part of your marketing plan. With the rise of increased privacy awareness, iOS and Android are starting to limit the ability of cookies to track user behavior. Cookies used to give businesses the benefit of 3rd party data to personalize experiences. As 3rd party data signals become less available or valuable, businesses will have to start capturing 1st party data signals, through direct interactions with users. QBM can be a great tool to record 1st party data.  Every user interaction reveals something about the user's interest that can be used to personalize future interactions.
QBM's enormous potential
Let's now look at ways in which WhatsApp Quality Based Messaging and thus WhatsApp marketing can give an edge to your marketing plans. QBM can be used to build a holistic customer experience from pre-purchase to post-purchase. Here's how it can be done across these stages:
Pre- purchase–   Many a times, there are users who sign up on a website, explore products or services but move out without making a purchase, probably because the product is too complex or they have other doubts which they couldn't clarify. QBM is a great tool to reach out to those users. Brands can resolve product queries, guide new users and build an impeccable first impression. For existing users who haven't purchased in a while, brands can nudge them through festive season deals, new product launches,  offers on their favorite categories and promo codes.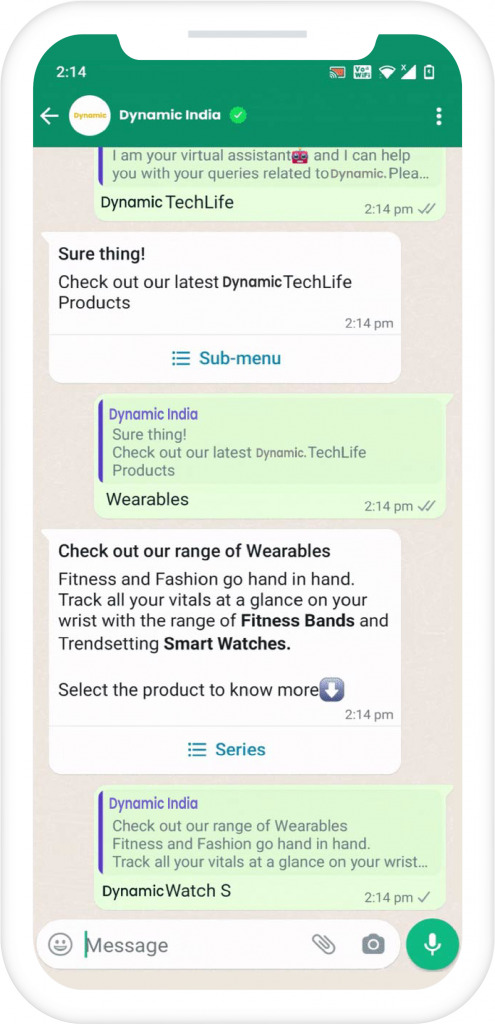 Purchase–  Brands can facilitate purchase decisions through relevant and timely updates. QBM  offers the opportunity for brands to up-sell and cross-sell, send back in stock alerts, subscription renewals, appointment bookings and easy payments.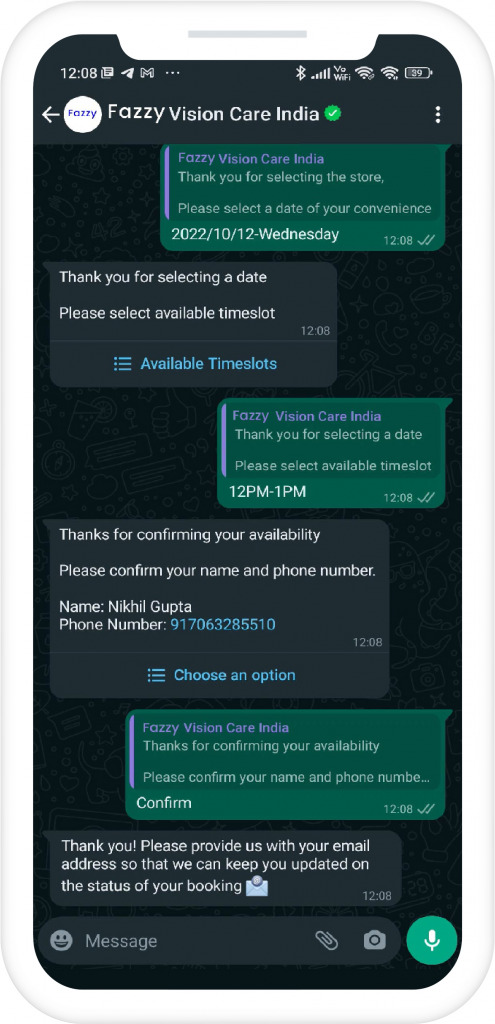 Post-purchase– Brands can make the post purchase journey of their customers smoother by assisting them with refund/returns, delivery updates, and seek their feedback on WhatsApp.
Quite obviously, this is only a teaser of QBM's potential. There are multiple ways and means in which QBM can be used to elevate customer experience. Gupshup, with its experience, industry expertise and best- in- class tech stack can help you get onboard QBM and create a superior experience for your customers.
With Gupshup's advanced analytics tools, it's easy to manage your quality score and understand user engagement at a campaign as well as template level.
What you must not do with QBM
Businesses need to be careful to not abuse WhatsApp Quality Based Messaging. Sending frequent, irrelevant messages can annoy users and drive them away, in turn affecting the quality rating of the brand. Let the users choose the frequency and type of messages they want to receive. Or even the choice to not receive any re-engagement messages at all. Respecting user-choice is the way to build a trusted, loyal relationship with the user. 
If used wisely, QBM could be a powerful tool that can transform the relationship between a business and their customer into a high-trust, loyal relationship. Marketers who are able to leverage QBM well will see both their revenues and brand recall grow by leaps and bounds.
Blogs you will want to share. Delivered to your inbox.
Business Email
×
Read: Click to Chat ads on WhatsApp- A vital tool for your marketing arsenal