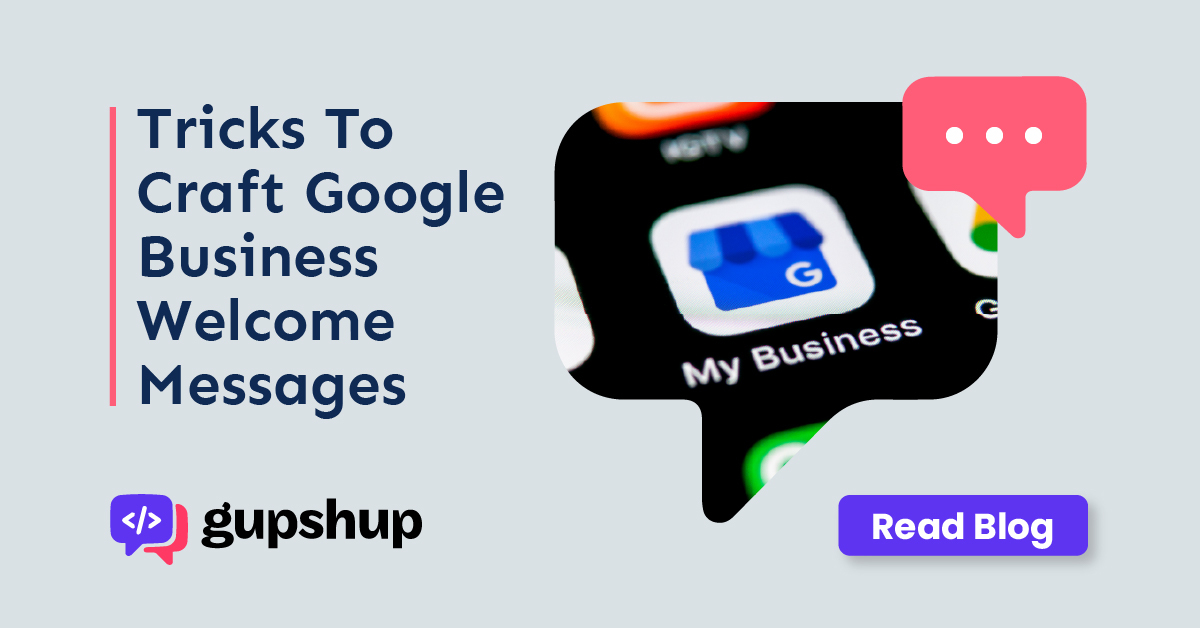 Tricks To Craft Google Business Welcome Messages
Conversational Engagement, Generic, Google Business Messaging
On April 18, 2022
75% of consumers today prefer to engage with a brand over private messaging channels. Gone are the days when messaging was simply a one-way channel for companies to reach out to their customers. The new-age customers now look forward to instant messaging with brands.  Google's Business Messaging  is one of the most popular messaging channels that can help you turn simple Google searches into long-term customer loyalty. But, ever wondered what will set you apart from your competitors while engaging with customers via Google's Business Messages? A compelling welcome message.
It's rightly said that "First impression is the last impression." We can apply the saying to products and services as well. It is vital to offer customers a powerful reason to choose to interact with you further over Google's Business Messages. Here comes the role of welcome messages. They help you make that first impression like a pro. This article shall discuss the essential aspects revolving around Google's Business Welcome Messages and some of the best tips to craft them the right way. Read on to learn more.
What is Google Business Welcome Message?
Google's Business Welcome Message can be described as the first message exchanged between your business and your existing or potential customer. It tends to encourage the audience to ask open-ended questions.
Well, the role of a welcome message is not just limited to saying hello to your audience. It lays down the foundation for a long-term relationship with your prospective leads. A proper greeting message to customers sets the right tone for the interaction between you and your potential prospect.
Google's Business Messages API solution can help frame effective welcome texts for your brand. Let's look at a few key benefits:
Faster response time
Quick responses make customers feel that you care for them and prioritize their needs. Google's Business Messaging API allows you to leverage chatbots to facilitate quick replies to commonly asked business queries. A chatbot

is literally always there to cater to your customers' basic information requirements. It automatically greets your customers with a welcome message and sets a clear picture of what the conversation will offer moving forward. 

Improved customer engagement
Enhancing customer experience is indispensable for gaining better brand trust. Google's Business Messaging API allows you to use the power of conversational AI

to create an impactful greeting message for customers. With detailed data analysis capacities, chatbots can design personalized text messages for customers to make them feel more valued and improve overall engagement. 

Better lead generation
Google's business welcome message enables brands to guide their customers through the sales funnel. With chatbots, enterprises can direct their audience to valuable resources. Businesses can display rich cards and carousels to offer information about their product or service to generate audience excitement. Including an offer can help one attract better user attention, and they'll be more likely to explore your products and services.
Tips to create the best welcome message for customers
With a warm welcome message, you can always improve your users' experience over the Google chat platform. Want to understand how you can create your own Google business welcome message the right way? Let us look closely at some popular tips:
1. Showcase your brand
Your welcome message for customers must reflect your brand personality. If you use a chatbot for Google Business Messaging, make sure you name the chatbot and design its avatar. Avoid using real people's pictures for your chatbot, as they can be misleading. However, you may use your logo or some graphic cartoon that differentiates your brand from competitors.
2. Personalize the text
Modern-day customers are fond of customized service. Did you know 80% of consumers are more likely to make a purchase from a brand that offers personalized experiences? Designing your welcome message by utilizing detailed contextual data is one way to go. Some of the essential elements you need to take care of are – customer's name, locale, entry points, and others. Suppose you are a business operating at various locations. You can consider framing welcome messages in different local languages as per the business region. This makes it easier for your audience to interact with you.
3. Keep the message crisp & clear
Greeting messages for customers should be as short and simple as possible. You should avoid burdening your customers with excess information. Moreover, you must provide your audience with a transparent response or solution via your welcome message. As a brand, it is crucial to set the right expectation for your customers. Let us dig into this point with the help of an example.
Imagine a customer coming up with a query you don't have an answer to. In such a situation, you need to make sure that you offer clarity as to when your customer can expect a response. Let us examine two statements:
Hi, John! Thanks for reaching us. We'll get back with a solution soon.
Hi, John! Thanks for contacting us. We'll get back with a resolution within 24 hours.
Now, the first welcome message is quite vague. There are chances that the customers will get confused. However, the second greeting message is straightforward and clear. It conveys the time frame when customers can expect a response. Such messages for customers tend to boost customer satisfaction and improve your chances of attracting engagement.
4. Follow a friendly approach
Last but not the least, give a human touch to the welcome text message for customers. They should not feel that they are interacting with a robot! Developing an emotional connection with your audience should be one of your priorities. Try to use some emojis in your greeting message to add the fun and warmth element to your conversations.
Enable advanced GBM experiences with Gupshup
Are you looking for a top-notch Google's Business Messages API for your brand? Gupshup has got your back. We can help you enable engaging conversations seamlessly across 30+ messaging channels, leveraging a single API. Our conversational AI engine lets you build intelligent chatbots and enhance your on-device messaging experiences via more context-driven and personalized texting.
#LetsGupshup without delay to create advanced conversational experiences for your customers over Google Business Messaging.
Blogs you will want to share. Delivered to your inbox.
Recommended Resources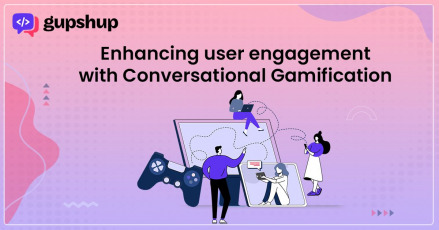 How gamification using Conversational AI builds engagement for customers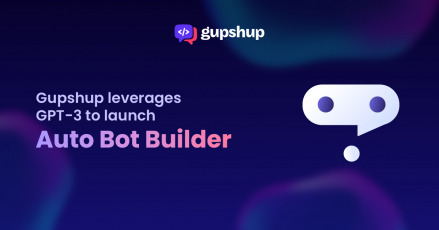 Discover the power of GPT-3 with Auto Bot Builder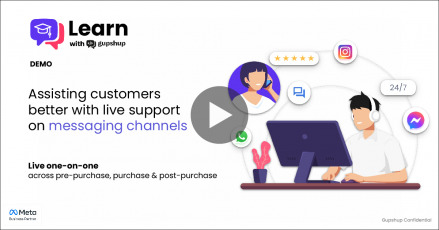 Customers today expect businesses to be there for them on messaging apps. Learn why and how...
×
Read: 7 Voice API Use Cases For A Gen Y Customer Experience