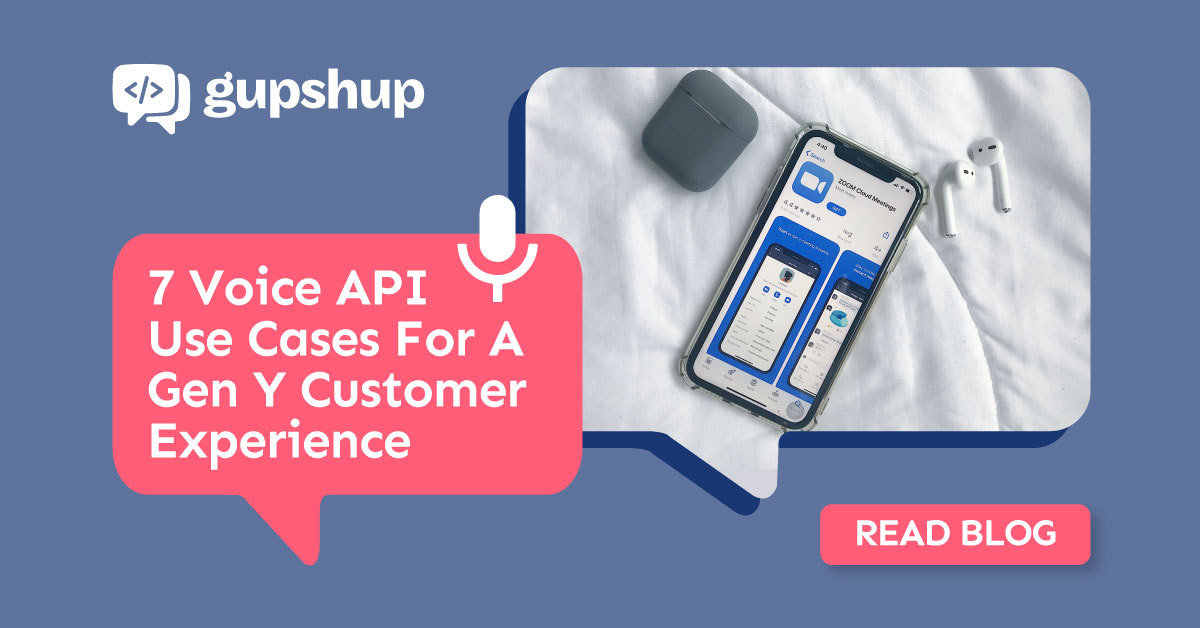 7 Voice API Use Cases For A Gen Y Customer Experience
Conversational AI, Conversational Messaging, Conversational Support, Generic, Voice API
On April 20, 2022
Customers love to reach brands through chatbots simply for the experience and convenience associated with it. Do you want to be one among the many or a trendsetter of sorts, as far as delighting your customers with a newer and pleasant experience is concerned? If you opt for the latter, then do hear our "voice".
Yes, voice!
Being the more convenient alternative to texting, voice emerges as the most intuitive form of communication that can elevate the user experience. All it takes is an API to enable real-time and instantaneous responses to implement tasks based on customers' voice inputs. The experience is bound to be truly incredible such as the interactive voice response system (IVRS) or a voicebot such as Alexa or Siri. However, there's more to voice APIs than that.
Modern day business communication encompasses a synergistic operation of multiple channels involving voice and texting. In the era of API-based software development, a "single point repository" of all the APIs relevant for business communication is a very reasonable expectation. It is here that the communications-platform-as-a-service (CPaaS) assumes relevance in modern-day enterprises owing to its ability to blend communications and APIs. Developers can integrate their applications with a communication platform using a wide range of APIs to perform a variety of functions.
What Is A Voice API?
Voice API is that which allows users to dial and receive phone calls by connecting to the public switched telephone network (PSTN) through Internet-based applications. Using voice API, developers can build or integrate voice-based input and output functionality into their applications. The API performs all the telephonic functions pertaining to voice, thereby allowing developers to focus on providing the best experience for the end users of applications. Easily configurable and highly scalable, voice APIs turn out to be extremely cost effective for application development.
Today, several platforms offering APIs that simplify the integration of voice and other communication channels are available in the market. They possess features that enable a wide range of use cases. But prior to that, let us understand the features of a voice API that could potentially aid in building exciting things.
Features Of Voice API
Some of the features of voice APIs are:
Text-to-Speech (TTS):
Voice APIs are capable of synthesizing speech using text as an input – a feature that is useful for people with speaking disabilities.
Smart Interactive Voice Response System (IVRS):
Programmable voice APIs allow developers to create a variety of interactive workflows through menu options. Intelligent call routing to handle simple tasks such as customer support operations sans human intervention becomes possible with voice APIs.
Answering Machine Detection (AMD):
An answering machine detects whether a call is answered by a human being or a robot, based on which the developers can craft the user experience. Detecting responses from a machine helps brands avoid engagements that the corporate policies may deem unnecessary.
Greeting Callers:
Automatic responses to greet callers at times when the callee is unable to respond, can be set up using voice APIs.
Call Forking:
Voice APIs enable developers to achieve call forking—a process in which a call, once established, is replicated across multiple recipients. Integrating artificial intelligence (AI) and other advanced features enable fraud detection, biometric analysis of voice, analysis of customer intents and sentiments, and more.
Large Scale Audio Conferencing:
Voice APIs can be programmed to develop applications that allow different people and teams spread across the world to connect with each other over audio conferencing. Furthermore, host settings apart from features to mute and unmute the audio in calls, is enabled by voice APIs.
Use Cases Of Voice API
Voice API can be used to enable a variety of use cases based on the intended functionality of the app. Some of them are:
Voice-based Reminders:
Voice APIs can be used to set reminders of all sorts for customers. For example, an automobile dealer can provide voice alerts to customers informing them about the vehicle being due for a service. Likewise, a bank may alert customers on the due dates for EMIs or credit card payments.
Voice Guides:
Customers being able to add oral instructions about landmarks and directions to their destinations would be a great value addition to apps used by packaging companies or food delivery agents. Voice APIs help in adding this functionality to the apps.
User Authentication:
Companies are increasingly banking on two-factor authentication (2FA) to prevent misuse of app data. However, sharing of sensitive information such as one-time passwords (OTPs) through channels like SMS is no longer feasible, thanks to the threats from cyber criminals. Hence, sharing an OTP over outbound voice calls and a callback function for the user to share the OTP, is viewed as a solution. And voice APIs help developers achieve that.
Customer Support:
As self-help becomes the new norm in customer support, IVRS has become popular. Voice APIs enable IVRS – apart from features such as call recording (for quality audit purposes) and call logging. IVRS is extensively used even for call forwarding and collection of customer feedback.
Lead Generation:
Integrate your IVR and CRM to advertise a number on which customers could give a missed call; every (missed) call received on that number can be captured as a lead that can be nurtured further.
User Consent:
User opt-in process for services can be simplified by advertising a missed call number. Every missed call on that number could be treated as an opt-in (or otherwise as the case may be) for the service.
Personalized Promotional Campaigns:
Voice APIs enable Outbound Dialing (OBD) for running promotional campaigns, personalized to suit the niche requirements of each customer. OBD is highly scalable for personalized outbound campaigns involving lead generation and brand promotions.
What Makes A Good Voice API?
In general, a good API is one that is easy to work with; it comes with high quality documentation and software development kits (SDKs). Further, an API must be scalable and programmable to build the control and flexibility required to customize the applications to suit a variety of user requirements. It is here that Gupshup presents the best opportunity for brands to extract the best value out of the voice API.
Why Gupshup?
Gupshup offers more than just voice. In fact, it is a pioneer in conversational messaging that provides a smart messaging platform. Brands can implement their omni channel communication strategy for customers using a single API with programmable messaging features for all their messaging needs to build seamless conversational experiences across 30+ channels.
Conversational AI is Gupshup's forte. You can personalize customer engagement at scale with tools for building conversational AI-enabled chatbots. Three of the tools that Gupshup offers are:
No-code AI:
Brands can choose from a list of pre-built chatbot templates, customize its content and instantly publish it.
Low-code AI:
Brands can create detailed and advanced conversational chatbots using point-and-click tools.
Build a chatbot:
Brands get to leverage the development lifecycle tools, from scripting to analytics, for building advanced chatbots.
The other advantages that Gupshup offers to brands are:
Seamless Custom Integrations:
Gupshup handholds brands in performing custom integrations of any tool to support business logic, user management, and more
Enhanced Customer Engagement:
Gupshup helps brands deliver all the relevant notifications to customers to help them make appropriate decisions during purchase, such as recommendations, marketing promos, and upselling.
Instant & Frictionless Payments:
By integrating third-party payment gateways with WhatsApp, Instagram, and other channels, Gupshup allows consumers to make payments without navigating between multiple apps.
1-click Bill Pay:
Customers can pay from any one of the payment options available or with UPI-driven smart messaging with 1-click bill pay enabling customers to make payments instantly. The 1-click Bill Payments' AI algorithm fetches the payment information from the message content automatically and embeds the payment link in messages. And, there is no need for any additional development on the enterprise side.
Conclusion
As omnichannel communication becomes the buzzword in business communication, voice presents a more desirable alternative to text-based messaging. Naturally, applications supporting voice-based interactions in multiple languages would indeed be game changers. Given its expertise in working with WhatsApp Business API, Instagram Messaging API, SMS API, Telegram API, and more, Gupshup helps brands implement their omnichannel customer engagement strategy involving a multitude of channels. The company has demonstrated its caliber in the field of Rich Communication Services (RCS) by producing some of amazing success stories for brands across the world.
Gupshup is clearly your go-to partner for extracting the benefits of omnichannel customer engagement. If there is anything that we could assist you with, please feel free to contact us. #LetsGupshup to know more.
Blogs you will want to share. Delivered to your inbox.
Recommended Resources
D2C businesses can personalise user journeys for customers using conversational AI from Gupshup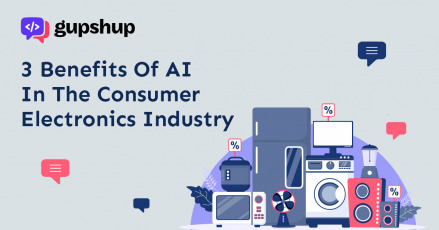 Learn how conversational AI is helping consumer electronics business owners boost user satisfaction and engagement. See...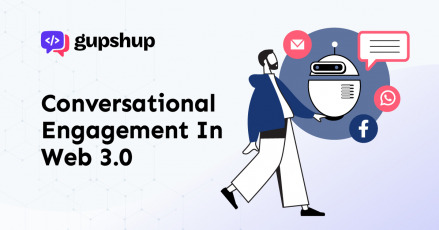 Read on to understand the need for creating conversational engagement in web 3.0
×
Read: 5 Personalized Features Of Viber Business Messaging