Exploring The Power Of Voice APIs
On January 19, 2022
|
4 Minutes Read
Conversational AI
Generic
Voice API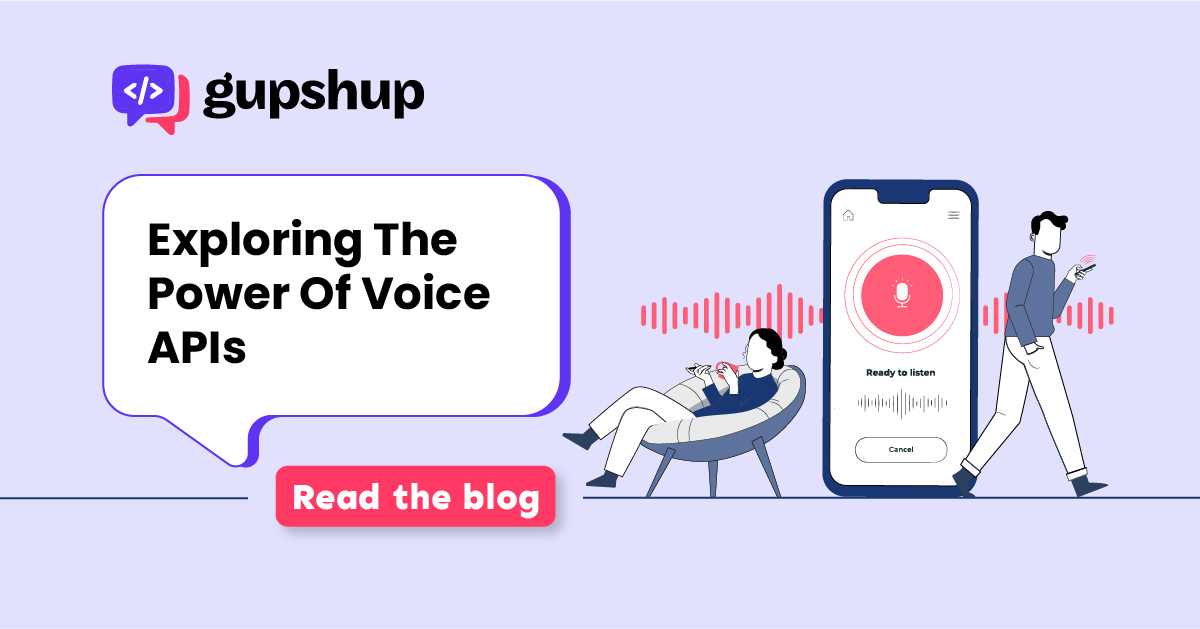 In a fast-paced world, communication plays an important role to get a hold of big opportunities.
Voice communications is one major domain of the telecommunications sector. It has played a supporting role in increasing sales for enterprises by facilitating corporate communications in marketing, collecting feedback, and managing employees. So technically, voice communications is a business solution which improves the performance of the enterprise by a huge margin. Enterprises can raise the bar by incorporating voice communications for internal and external communication.
In telecommunications, voice technology is used to a great extent for many purposes such as marketing and teleconferencing through indispensable telephone use, and most likely will continue to do so. Imagine an uptight scenario without telephones. It is enough that smartphones are taking over. The usage of telephone communication is very limited due to the rise of the mobile phone era. Mobiles and telephones serve different purposes. The growing popularity of mobile phone users has 2 outcomes: Nowadays, CPaas platforms are the main pillar for enterprise communication, overthrowing telecommunication. Secondly, voice and data messaging remains the same but the communication pipeline has changed.
Technically, this means that as far as voice communication is concerned, a cPaas platform is a smart solution for making the customer experience better. This would imply that a third-party platform is the answer in the place of backend infrastructure. Let's go a little further into this.
While call centres are a go-to as marketing campaigns would entail promotion and feedback collection, there is another alternative. Add real-time communication tools instead of telephones and remove the hassle of call centres.
This is possible with the help of APIs which enable you to do so. But the key word here is CPaas — CPaas (communications platform as a service) blends telecommunication and APIs.
Gupshup offers APIs for developers to integrate their applications with the CPaas platform. Messaging APIs and voice message APIs are available for many purposes, especially enterprise messaging.

Voice based engagements with customers with Voice API
Enable businesses to deliver customized and interactive customer engagement with our Voice solution. The Gupshup solution comes with a lot of varied features:
Voice-based 2FA
Use voice as a fallback mechanism for SMS 2FA. Share a time-based OTP with the customer in real-time over an outbound voice call. Multilingual options reduce transaction drop-offs
Consent Collection
Use Missed Call and IVR to collect opt-ins from customers to start conversations with them on channels that require consent collection for better engagement
Lead Generation
Use Missed Call and IVR to advertise a missed call number across platforms for customers to call, to capture their number as a lead. IVR can be integrated with CRM systems
Maintaining client privacy – with Call Patching/Call Masking
Enables businesses to provide customers complete privacy while talking to support, delivery and other agents with call masking and call patching
Order updates and service feedback
Let your customers make order modifications and help businesses collect feedback from customers in real-time using IVR.
Personalized voice rendition with Text to speech (TTS)
Businesses deliver a more tailored human-like voice rendition with TTS for more personalized conversations with customers ensuring higher interaction, call success rates and helps reduce support costs
Higher volume and personalized promotional campaigns with Outbound Dialling (OBD)
OBD is highly scalable for personalized outbound campaign for lead generation and brand promotions
A solution that fits all
Explore how a Conversational AI platform can enable organizations to build user-friendly applications like chatbots and voice assistants that allow customers to interact with the brand in a simple, real-time manner. You can engage your customers through seamless automation and start building solutions with our Messaging APIs. Easily drive user engagement and transactions with Gupshup's Voice API.
#LetsGupshup to know more.
Blogs you will want to share. Delivered to your inbox.
Business Email
×
Read: WhatsApp Chatbots For The Foodtech Industry