WhatsApp Chatbots For The Foodtech Industry
On January 21, 2022
|
4 Minutes Read
Chatbots
Food & Beverage
WhatsApp Business API
WhatsApp Commerce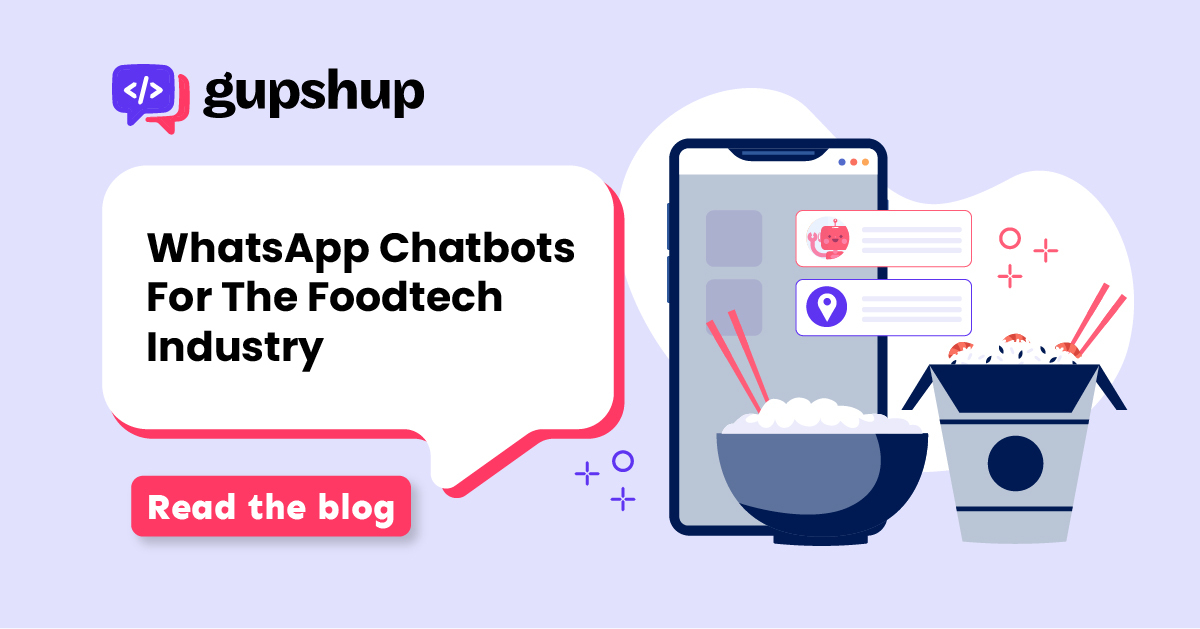 COVID and the lockdown across the country that followed in its wake has left an indelible mark on the foodtech companies. For starters, not only did businesses struggle to get their usual restocking, but their employees had no time off either as they attempted to keep themselves afloat as much as possible. Around the world, most businesses have turned to conversational messaging, for more customer engagement and retention. However, restaurant businesses have been a step ahead in adopting text-based conversations with customers with companies such as Swiggy and Zomato leading the way in terms of customer engagement experience.
The food industry is a very competitive one. There have been many small companies that have gone out of business due to larger, more powerful businesses stealing their customers. As a mobile/food app marketer, you need to have a user retention strategy in place to keep your users engaged and keep them using your app again and again. 
WhatsApp as a messaging channel has been gaining a lot of traction because of its wide range popularity and easy-to-use interface. WhatsApp chatbots are also garnering attention for offering a frictionless customer experience. When setting WhatsApp chatbots as your new business communication channel, the first important step is to clearly communicate how both existing and potential customers can contact your business when required with a well-organized awareness campaign. 
Ways WhatsApp Chatbots Help Foodtech
Reach
WhatsApp has an active user base of over 2 billion people — every day, people use it to communicate, and increasingly to order and pay for items — including food orders — all from within the app. Currently, the private messaging platform already plays a significant role in many consumers' everyday lives, making it the ideal channel for food chains to leverage.
Implementation
A simple WhatsApp chatbot can be easily integrated into your app. This will free the staff from the ordering process entirely, allowing them to focus on other areas of the business. A chatbot can help customers order food via messaging apps by covering the entire customer journey. It will present menus, take orders, confirm delivery, take and verify payments, and update customers via real-time notifications.
Information
WhatsApp Chatbots for Foodtech can provide customers with accurate information about your products' shelf lives and reduce errors caused by misinterpretation of labels on physical shipments.
Features
WhatsApp Business can empower food-tech owners to include rich media such as images, videos, maps, etc. By using a WhatsApp chatbot, customers can receive information regarding their orders. For example, they can see their order history and check the status of an order via WhatsApp. Also, if there is a problem with an order — for instance, an item is missing — the customer can connect to customer service via WhatsApp in real time to resolve the issue.
Security
WhatsApp's end-to-end encryption only lets the customer and the business to view messages. Two-Factor Authentication (2FA) can be enabled if necessary, to further increase confidence that the user is talking to a legitimate company. Verification badges are displayed to reassure customers that they are talking to a verified account and not speaking with a scammer.
Interested in getting a foodtech chatbot?
In conclusion, by adopting customer experience technologies like WhatsApp chatbots, the winning solution to retaining customers is by keeping them engaged, the food-tech business sector can begin on its journey to add value and potential for scale.
For example, with a WhatsApp chatbot for restaurants, a restaurant can get more customers, increase repeat business, advertise special or limited-time promotions, and generate leads for one-off events. Moreover, they can manage all these revenue-generating activities on autopilot. A restaurant WhatsApp chatbot is also a great way to improve guest interactions and engage with them over a platform they find convenient and easy to use.
The easiest way to build a WhatsApp chatbot for your food tech business with zero manual work is to leverage a platform like Gupshup. With this no-code, plug-and-play platform, restaurants can build a customised, automated chat assistant in a few minutes. The chatbot can take online orders, answer questions automatically, send coupons, share business information, improve customer service, and do much more. #LetsGupshup to get started.
Blogs you will want to share. Delivered to your inbox.
Business Email
×
Read: 4 Social Media Strategies with Instagram Chatbot Automation