RCS Messaging: How Brands can Amplify Outreach During the Holiday Season
On October 30, 2023
|
6 Minutes Read
Chatbots
Conversational AI
Conversational Commerce
Conversational Engagement
Conversational Marketing
Conversational Support
CX
Generic
Omni-channel Messaging
RCS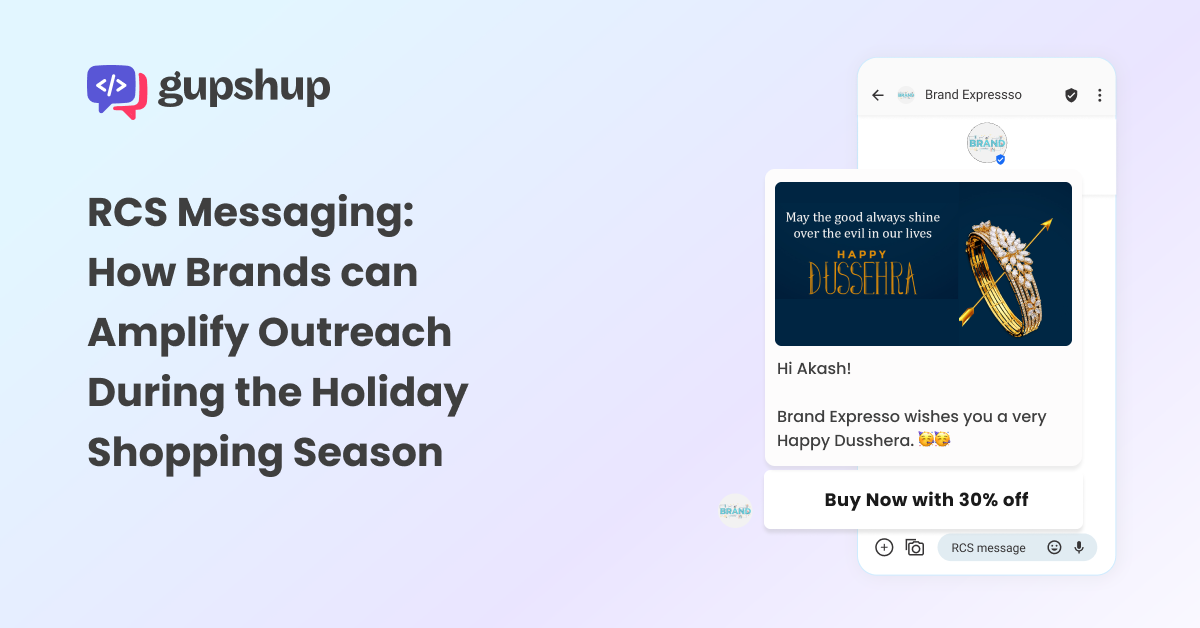 As the festive season unfolds, the air is charged with anticipation. Both customers and brands look forward to the manifold opportunities that major shopping holidays like Black Friday, Cyber Monday, Christmas, and New Years bring. Amid the bustling market scenario, staying connected with customers is pivotal for brands. This is where RCS Business Messaging (RBM) steps in, rewriting the narrative of business messaging.
The journey from SMS to Rich Communication Services (RCS) messaging is akin to growing from a monologue to a dialogue. Where SMS allows one-way communication mostly, RCS opens the door to a two-way interactive communication channel. Moreover, unlike the plain text messages of SMS, RCS brings along the allure of rich media, enabling businesses to send images, videos, and even files. All in the users' native messaging app. 
The significance of RCS amplifies as we step into the major shopping holidays. A period marked by heightened customer activity, where every brand is vying for attention, RCS messaging can be the revelation that not only attracts but also engages customers in a meaningful dialogue.
In this blog, we'll delve deeper into how RCS can be the magic wand for brands during specific festive sale seasons, starting with Black Friday and Cyber Monday and ending with Christmas and New Years. In a realm where customer interaction is a currency, RCS holds the promise of not just connecting, but engaging.
Amplifying Black Friday and Cyber Monday Campaigns with RCS messaging
The spectacle of Black Friday and Cyber Monday captures a sense of urgency and excitement that is unrivaled. For brands, the challenge is to channel this fervor into meaningful engagements. RCS messaging, with its suite of features, stands as a vanguard in this endeavor.
Use Case 1: Flash Sale Alerts
Flash sales are an effective way to drive urgency and boost sales. With RCS, brands can send visually appealing and timely flash sale alerts to entice customers with limited-time offers along with a CTA button, enabling customers to instantly access the sale.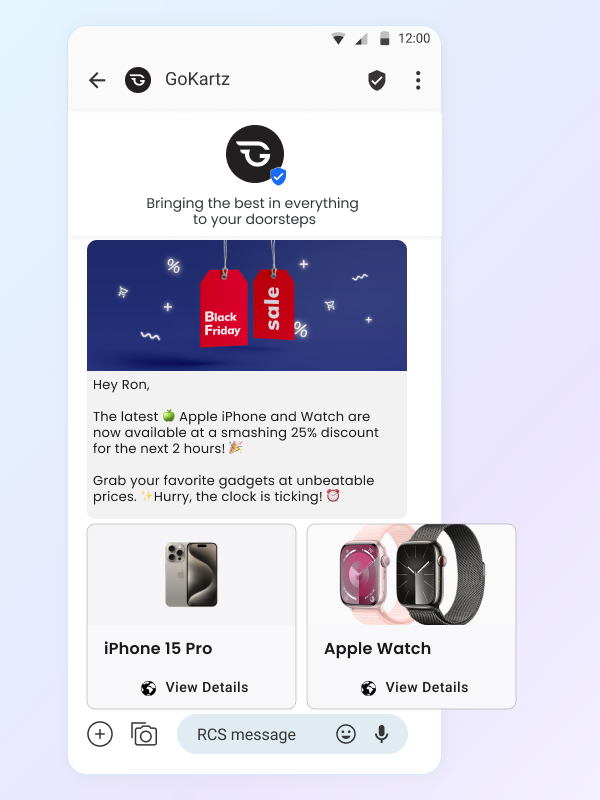 Use Case 2: Product Availability Notifications
Customers can opt to receive notifications when an out-of-stock product becomes available again, enhancing customer satisfaction and potential sales. Out-of-stock products can be a bummer, but with RCS, brands can notify customers as soon as their desired items are back in stock.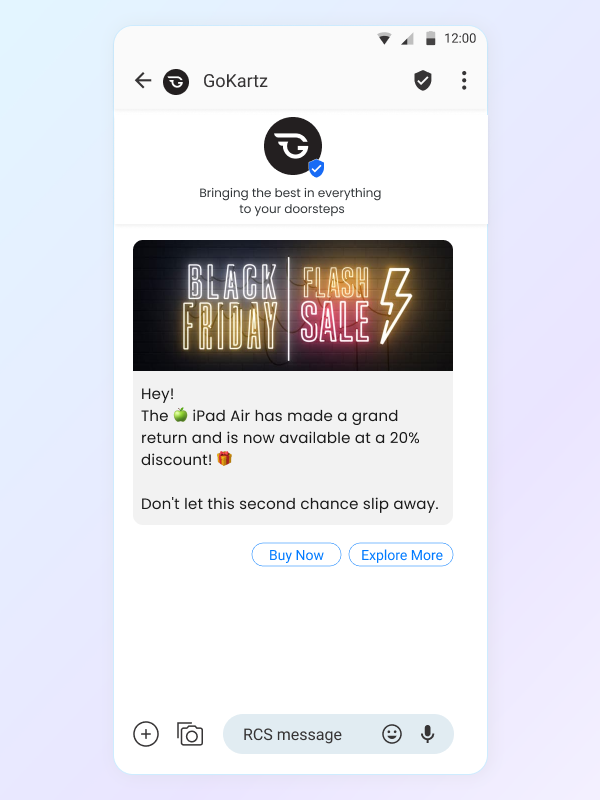 Use Case 3: Price Drop Alerts
Price is a major factor in purchase decisions. With RCS, brands can send price drop alerts on items customers have shown interest in, encouraging them to make a purchase.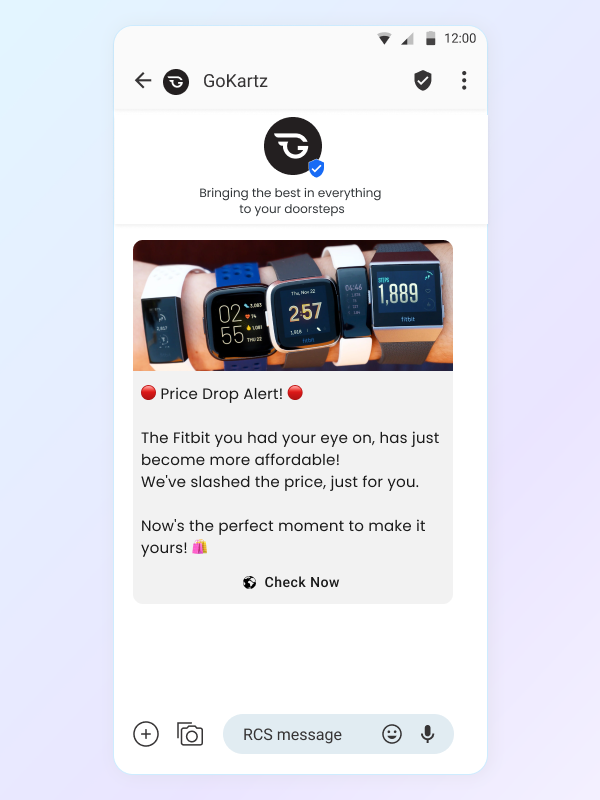 Use Case 4: Interactive Deal Discovery 
Assist customers in discovering the best deals by interacting with them based on their preferences and shopping history. With RCS, brands can create an interactive deal discovery journey right within the messaging platform.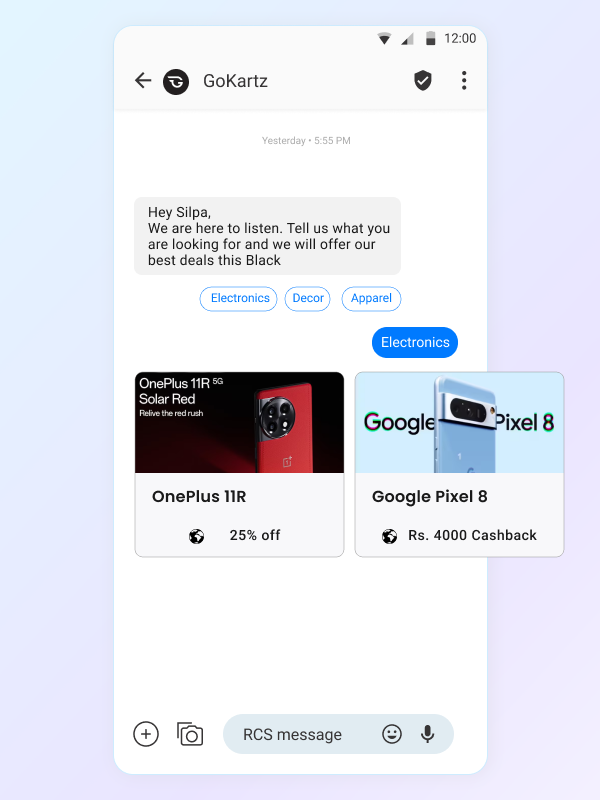 Use Case 5: Virtual Queuing System 
During high-traffic sale days, manage in-store foot traffic by implementing a virtual queuing system through RCS messaging, notifying customers when it's their turn to enter the store.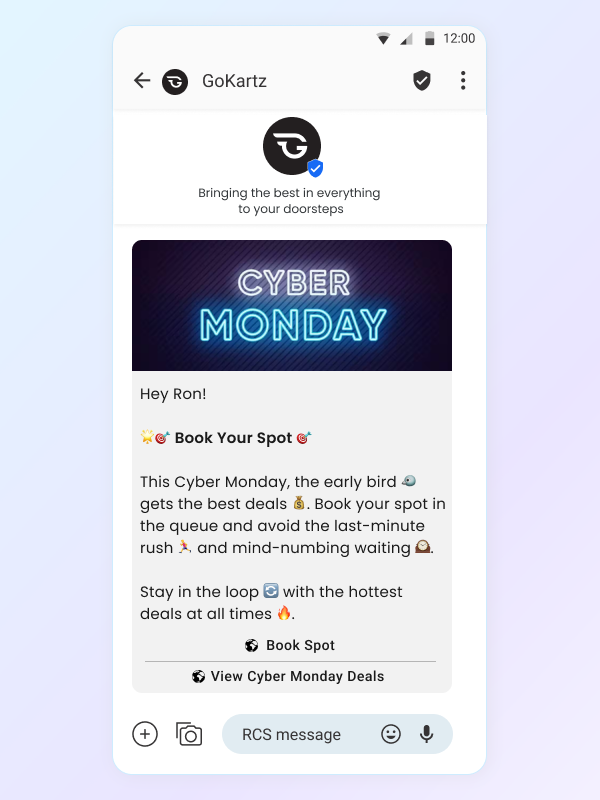 Spreading Christmas Cheer Through RCS messaging
Christmas, a season of joy and gifting, is a period ripe for brands to foster a deeper connection with customers. RCS can be the conduit of this connection, enabling brands to send interactive holiday greetings, offers, and product catalogs.
Use Case 1: Personalized Gift Suggestions Offer 
Christmas is a time of giving, and finding the perfect gift can be a challenge. With RCS, brands can provide personalized gift suggestions to help customers find the perfect present for their loved ones.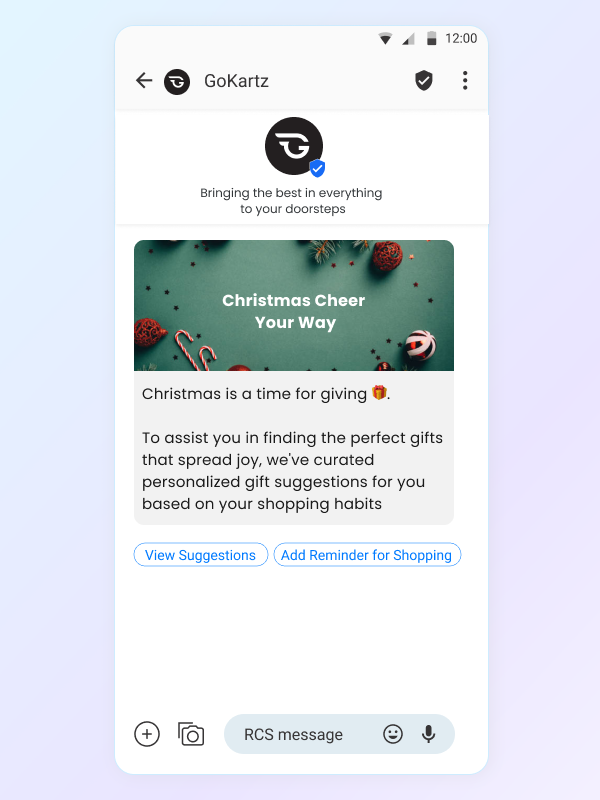 Use Case 2: Interactive Christmas Wishlists 
Wishlists are a fun way for customers to engage with the brand and sort their desired products. RCS messaging can facilitate an interactive wishlist creation and sharing experience.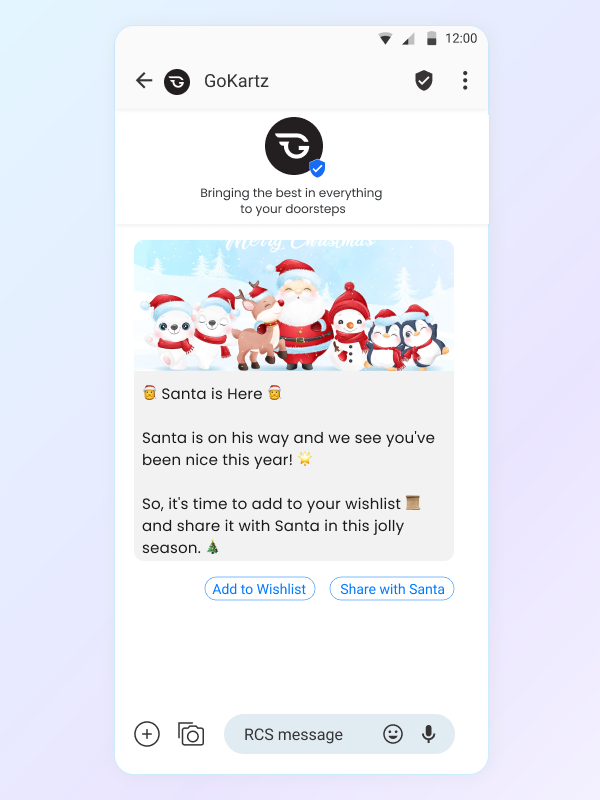 Use Case 3: Festive Loyalty Rewards 
Reward loyal customers with exclusive Christmas deals or loyalty points through RCS, fostering a sense of appreciation and encouraging repeat purchases. A festive-themed loyalty reward can add to the Christmas cheer and bring customers closer to the brand.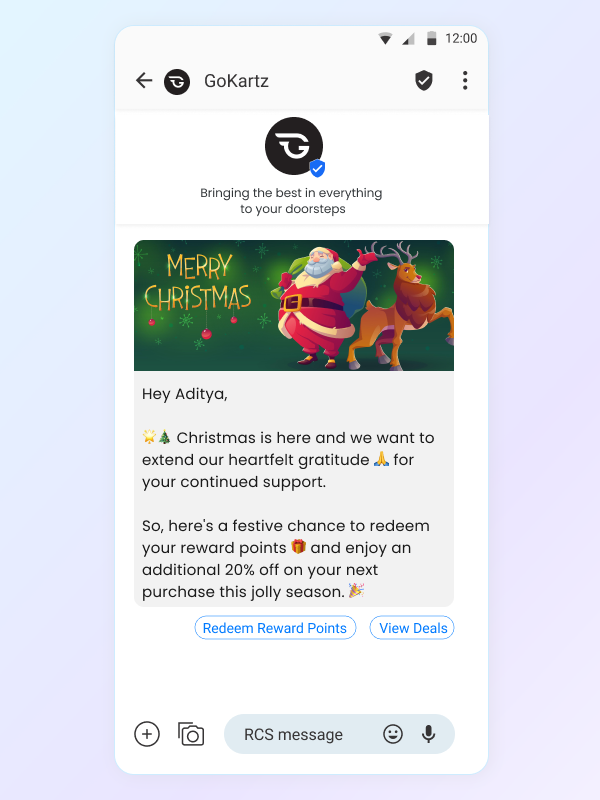 Use Case 4: Christmas Event Invitations 
Invite customers to in-store or online Christmas events, offering a personalized and immersive brand experience. Send interactive and visually appealing invites over RCS.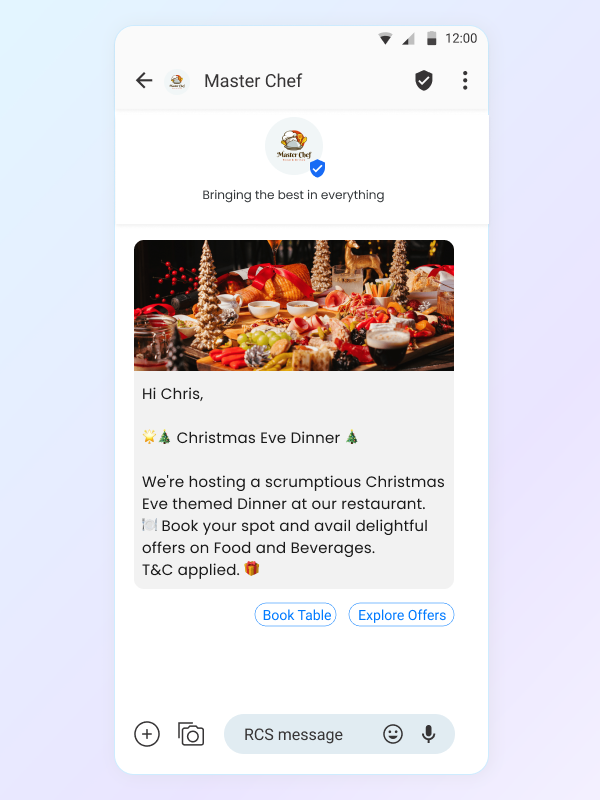 Use Case 5: Real-Time Holiday Delivery Updates 
Keep customers informed about the status of their orders as Christmas approaches, managing expectations and building trust. Use RCS to provide real-time tracking and delivery updates, enhancing customer satisfaction.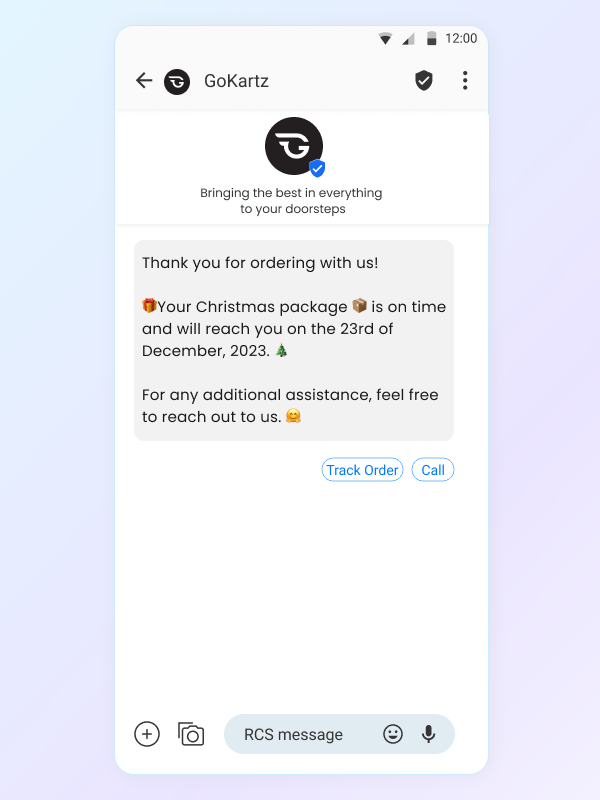 Ringing in the New Year with Engaging RCS Campaigns
The New Year is synonymous with fresh starts and renewed connections. For brands, this transitional period is ripe for re-engaging customers and setting a positive tone for the year ahead. With RCS brands can initiate vibrant, interactive campaigns that resonate with the New Year spirit. 
Use Case 1: New Year Resolution Challenges 
Engage customers with fun and interactive New Year resolution challenges, reinforcing brand values and fostering community engagement.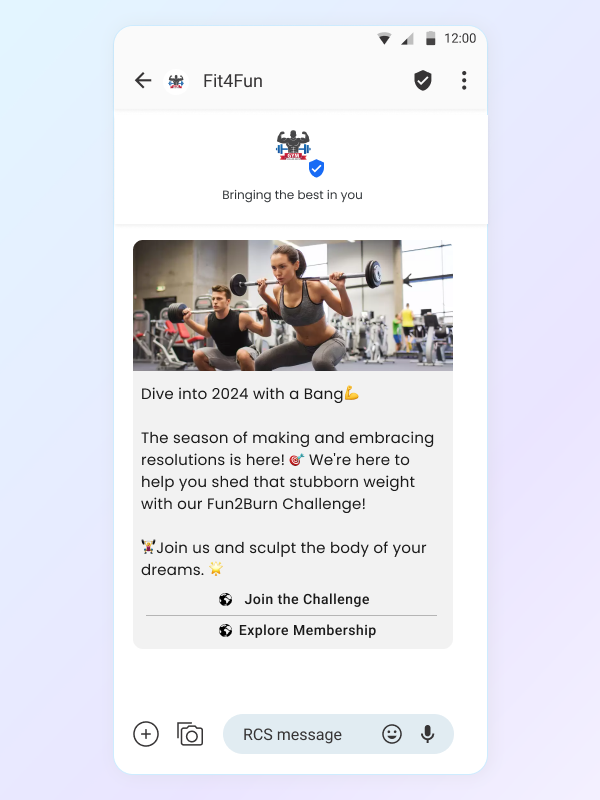 Use Case 2: New Year Sale Announcements 
Announce New Year sales with enticing visuals and exclusive previews, driving traffic and leveraging RCS's interactive features.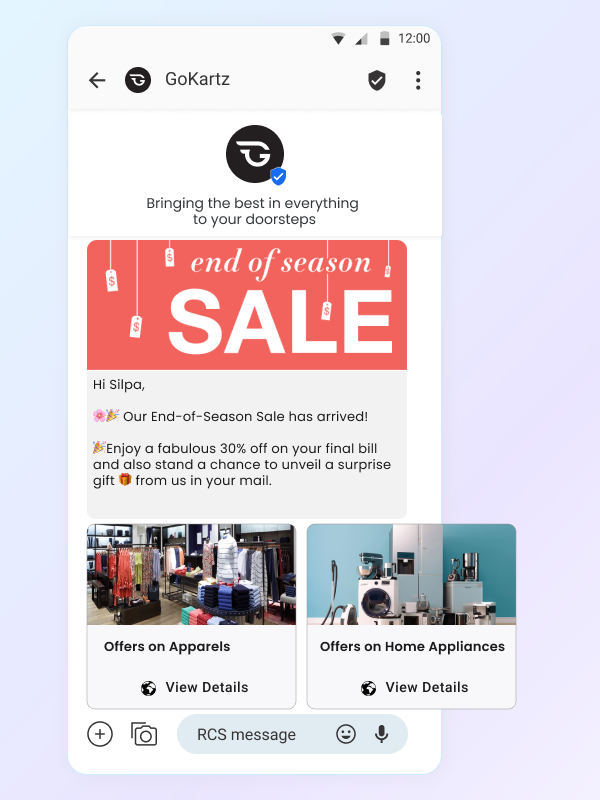 Use Case 3: Membership Renewal Reminders 
Send personalized membership renewal reminders over RCS, offering special discounts or benefits for renewing.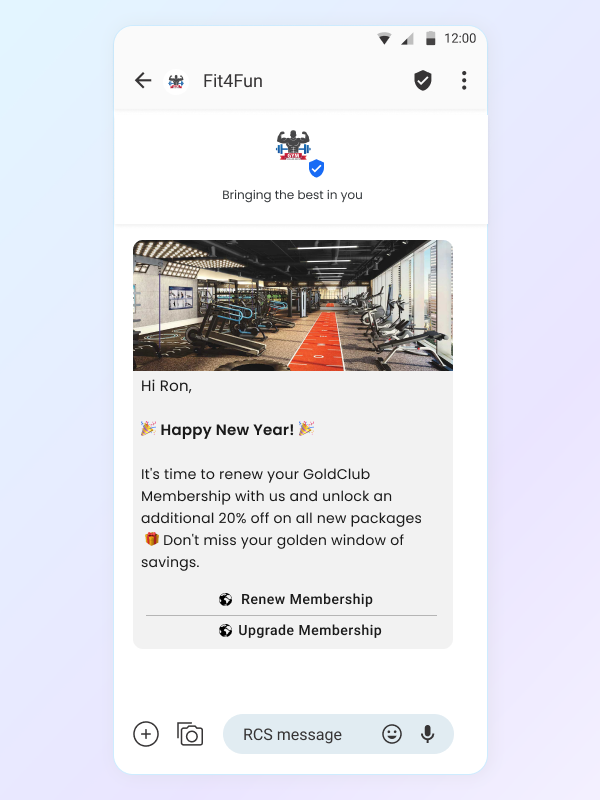 Use Case 4: Sharing Year-In-Review Highlights 
Share a personalized year-in-review summary with customers, showcasing their engagement with your brand over the past year.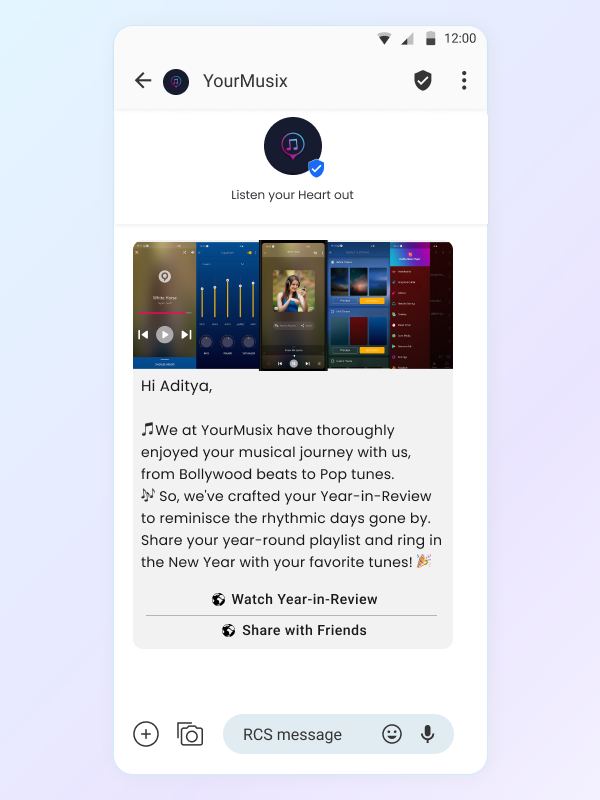 Use Case 5: Soliciting New Year Feedback 
Solicit feedback on what customers would like to see from the brand in the New Year, demonstrating a commitment to continuous improvement.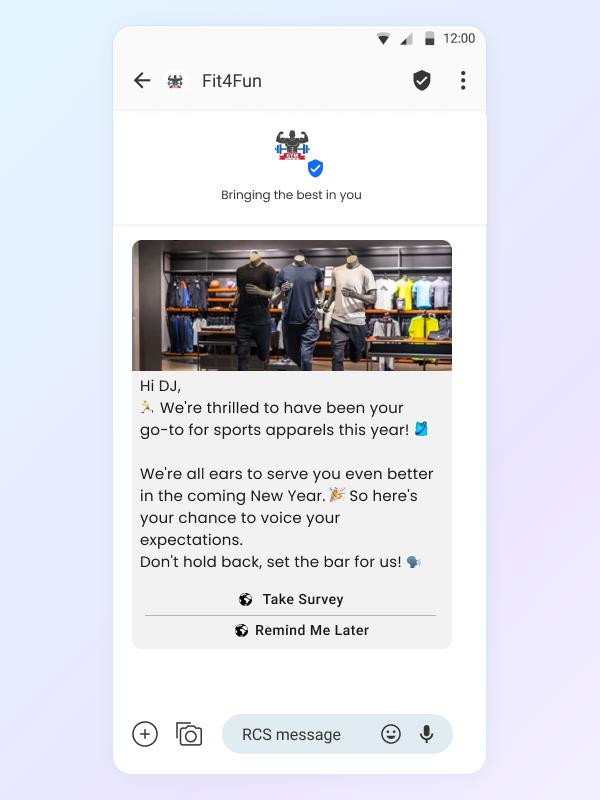 Conclusion
As we ventured through the significant shopping holidays, we explored a plethora of use cases where RCS acts as a catalyst in driving engagement and sales. The flash sale alerts, real-time transaction updates, personalized gift suggestions, and engaging New Year campaigns are just the tip of the iceberg. RCS unfolds a world of possibilities where every interaction is an opportunity to provide value, garner loyalty, and enhance the customer experience.
Gupshup stands at the forefront of this RCS revolution, offering a robust platform for businesses to leverage the myriad benefits of RCS Business Messaging. With Gupshup's RCS API, brands across different industries can deliver memorable customer experiences enriched with a rich UI, contextual messaging, and interactive mobile experiences. 
Our Conversational Engagement Platform facilitates an interactive and fresh outlook on communication, transforming the way businesses and customers interact with each other. From sending promotional messages, notifications, and even surveys, to crafting engaging festival promotional messages using rich cards and suggested actions, Gupshup's RCS platform is an upgrade from the traditional SMS-based messaging
With a staggering 800 million RCS users globally, RCS Business Messaging is a crucial asset for brands aiming to elevate their market outreach and customer satisfaction, especially during the festive season. As the adoption of RCS continues to grow, now is the opportune moment for brands to hop on the RCS bandwagon.
If you're intrigued and want to sail on the RCS wave this festive season, embark on a journey with Gupshup to unlock a treasure trove of engaging and interactive communication opportunities. Your voyage towards creating momentous marketing milestones begins here.
Blogs you will want to share. Delivered to your inbox.
Business Email
×
Read: Unleashing Conversations: Elevating Sales in the BFCM Shopping Spectacle