Google Business Messaging & Conversational AI: The Perfect Match
On May 2, 2022
|
4 Minutes Read
Chatbots
Conversational AI
Conversational Engagement
Generic
Google Business Messaging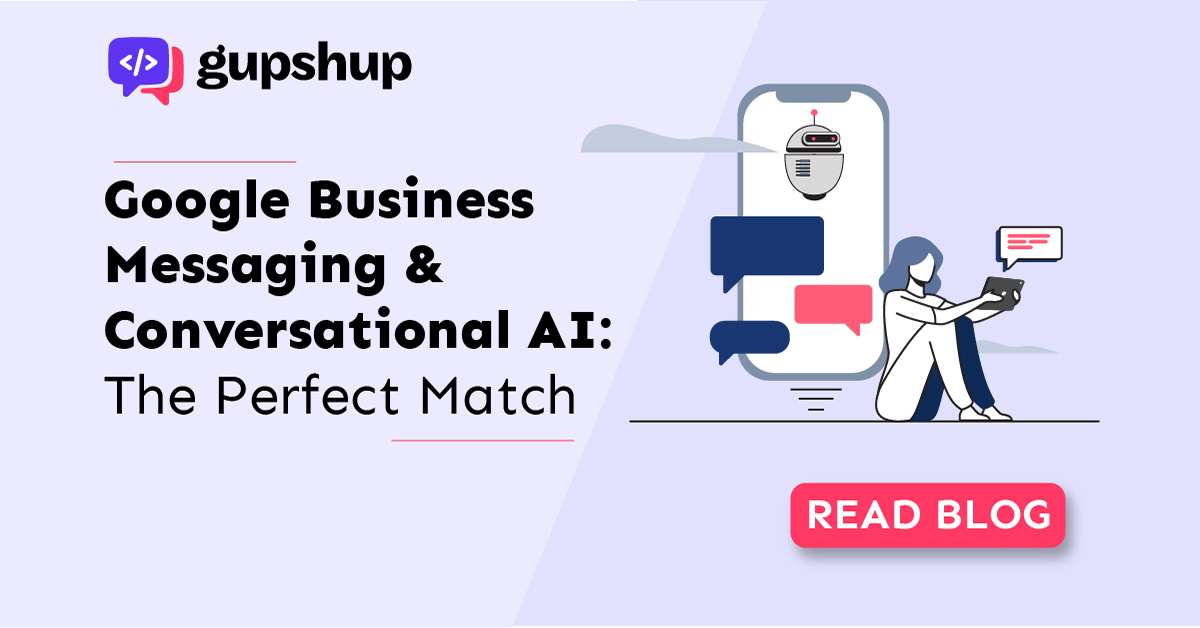 In today's fast-paced milieu, customers are fond of quick responses. Did you know that 85% of consumers look forward to interacting with brands via direct messages? Given the statistics, more and more brands are revamping the ways they communicate with customers. Google Business Messaging is undoubtedly one of the best mediums for brands to unlock meaningful connections with their audiences. It allows businesses to meet consumers exactly in their moment of need. With Google Business Messaging, consumers can message businesses directly from Google Search, Google Maps, or the brand's mobile website.
There's one popular way to enhance the efficiency of Google Business Messaging, and that is –  Conversational AI. Yes, you heard it right! If you're a business looking to maximize customer satisfaction, you must consider leveraging the power of conversational AI. Conversational Artificial Intelligence refers to the technologies such as chatbots and virtual assistants that can conduct human-like dialogues.
In this article, we will talk about some of the best advantages of conversational AI in Google Business Messaging.
Reshaping Google Business Messaging With Conversational AI
According to a study, the global conversational AI market will grow to USD 18.4 billion by 2026 at a CAGR of 21.8%. No wonder there great potential to optimizing your Google Business Messaging practices. Conversational artificial intelligence empowers Google Business Messages and allows you to convert your prospects faster.  It enables you to provide your audiences with a flawless customer experience. Businesses can effectively level up the speed and quality of their Google conversations with customers via the diligent use of conversational AI and automation.
Let's closely look at some of the benefits of conversational AI in Google Business Messaging one by one.
1. Enhance customer satisfaction
Research suggests that as of December 2021, Google had a global market share of around 85.55%. Considering the colossal figure, creating a chatbot for Google Business makes sense as most of your customers are already there.  Google business chatbots help you improve three brand aspects – speed, accessibility, and ultimately customer satisfaction. With conversational AI, businesses can attend to their audiences 24/7, at any time or day. Moreover, it helps them save additional costs like hiring human resources for simple customer support.
2. Ace local searches
Did you know that 46% of all Google searches are directed towards gaining local information? Let's say, you are an educational institution that operates in different locations and a customer based in New York wants to inquire about you. You can provide your audience with location-specific answers with intelligent conversational AI solutions. It enables your customers to initiate Google Business Messaging with your institution located in New York – thanks to the excellent data analytics power of conversational AI tools.
3. Facilitate faster FAQ responses
Automating Google Business Messaging is not rocket science! All you need to do is quickly research and identify the most common queries that your customers might have after interacting with your brand online.
Imagine you're a travel company and customers find your business through Google Maps. Before they decide on visiting your office and leveraging your service, they might have a few queries. They might want to learn about your business hours or the ticket booking process, including essential details like availability of seats, cancellation policies, or payment options.
Answering repetitive questions like these can be highly time-consuming. This is where chatbots come into action. A chatbot can quickly guide customers through all the relevant pieces of information. It can also efficiently resolve simple queries without human intervention. With reduced customer support wait time, businesses can effectively enhance customer experience.
4. Drive better lead generation
With smart automation and conversational AI solutions, companies can easily garner fundamental and relevant customer insights. Some of them include customer information like birth date, address, contact details, product choice, and much more. It helps the sales team to analyze their potential customers better and step up the lead generation process.
Stay on top of GBM with Gupshup
Are you a business looking to deliver top-notch customer experiences through Google Business Messages? All you need is a Google Business Messages API from Gupshup! It allows you to facilitate quick responses via an intelligent chatbot and reduce support wait time. Offer innovative assistance to customers to view products using attractive features such as carousels, suggested replies, and photos.
#LetsGupshup without further delay and unleash multiple opportunities to boost customer engagement with Google Business Messaging!
Blogs you will want to share. Delivered to your inbox.
Business Email
×
Read: Why Businesses Must Opt For CCaaS Today