Why Businesses Must Opt For CCaaS Today
On May 4, 2022
|
7 Minutes Read
Conversational Commerce
Conversational Engagement
Conversational Marketing
Conversational Support
Generic
Integrations
Omni-channel Messaging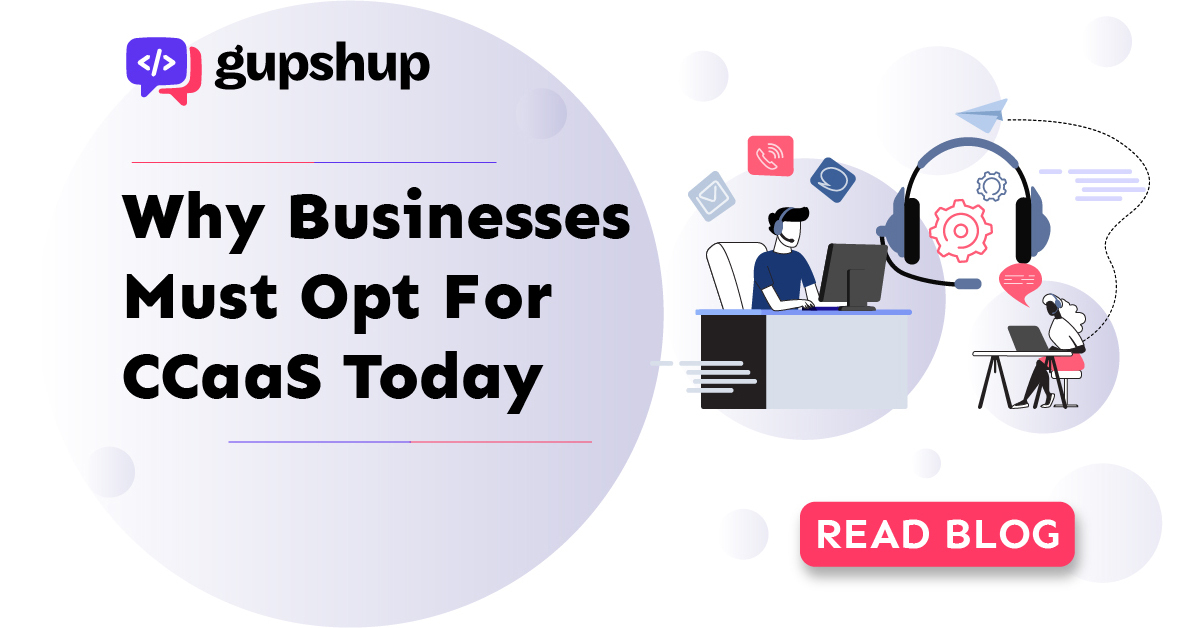 Edwin took over as the VP of IT operations at a difficult time when the company's client base was dwindling due to dropping CSAT scores. After sitting through a series of meetings with various teams, Edwin traced the problem to the legacy call center infrastructure that handled voice calls from customers. Inadequate control over the call queues and lack of support for routing them to agents was a major blocker. Further, the lack of transparency over agents' conversations with customers, complicated performance audits. Having seen the gaps, Edwin sensed the need for a holistic solution that covered all of them. It was a contact center application.
What is a Contact Center?
Contact centers integrate the various communication channels on a common platform. As for voice, they incorporate features to optimally manage call queues by routing them to available staff members and recording their conversations with customers to analyze the performance. Handling concurrent calls to reduce waiting times for customers is easy with contact centers that even support the integration of advanced systems such as interactive voice response systems (IVRS) for better user experience. Accessible even over smartphones, contact center applications allow companies to efficiently handle their operations on a global scale. But organizations are required to choose the mode of deployment for contact centers, which is usually of two types–On Premises and Cloud.
While some organizations intend to have the contact center (CC) infrastructure deployed within their premises, a more popular mode of subscription that is fast becoming the norm is the Contact Center as-a-Service (CCaaS). Clearly, CCaaS is a business model wherein CC platforms are available as cloud-based services that businesses can subscribe to. They are also viewed as the modern-day contact centers for their ability to support communication through most of the customer-favored channels.
CCaaS Vs Contact Center On-Premises: Which One is Better?
Comparing the two options requires one to dive deep into their features. Here we go:
1. Cost Incurred
As CCaaS is cloud-based, businesses only pay a monthly subscription based on the number of users and the features opted for. Cloud models involve no investment in hardware equipment such as phones, cables, computers, headsets, and more.
On-Premises CC, on the other hand, involves capital expenditure on hardware whose values are bound to depreciate over time. License fees for hardware and software components would be borne by the companies, irrespective of whether all the users require them or not.
2. Ownership & Control
Under CCaaS, companies do not own the product but can control their data through an admin panel. Platform maintenance and system upgrades are solely the responsibility of the service providers that guarantee the latest updates.
Companies having CC on their premises, practically own it and have complete control over the configuration. However, they are responsible for their upgrades and maintenance, which requires them to have trained engineers for the purpose, which translates into additional costs.
3. Accessibility
With remote working being the new normal for employees across the world, communication platforms are expected to be device-agnostic allowing users to access from anywhere, anytime; this is possible with CCaaS as users can access them on desktops as well as smartphones.
On the flip side, on-site contact centers are immobile although they allow the routing and forwarding of calls. However, as they are not adequately device-agnostic for an increasingly mobile world, users are required to be physically present in the location.
4. Scalability
The agile nature of CCaaS simplifies the process of adding new users to the platform. In the on-premises setup, this is complicated as the hardware and software infrastructure need to be scaled accordingly to support the addition of new users.
5. Security
CCaaS providers typically offer enterprise-grade security and firewalls that comply with the most sophisticated cybersecurity parameters such as data encryption, distributed denial-of-service (DDoS) protection, and so forth. Further, their cloud infrastructure is placed in data centers that have robust security built around them.
Companies with on-premises CC, despite having the best IT security engineers, cannot match the standards of CCaaS in terms of security infrastructure.
Market Growth Projections for CCaaS
The CCaaS market across the globe, which was estimated to be $3.48 billion in 2020, is expected to grow with a compound annual growth rate (CAGR) of 15.7 percent in the period between 2021 to 2028, as per the findings of Grand View Research.
In a comprehensive report prepared by Market Research Future, the CCaaS market is expected to grow with a CAGR of 17.9 percent by 2030.
Analysts attribute the optimism about the CCaaS market to the emergence of technologies such as artificial intelligence, machine learning, and so on. The remote working culture triggered by the Covid pandemic is also said to be one of the key contributors to the growth.
Components of a CCaaS Platform
A CCaaS platform generally features the following components:
Call queueing to boost customer satisfaction.
Automated routing of calls to appropriate agents
Recording of calls between agents and customers to analyze agent productivity
Call analytics for better insights for process and workforce optimization
Support for domestic and international calling
Easy integration with systems such as CRM, helpdesks, and more
Advanced reporting and analytics features
The Knowlarity Cloud Contact Center Solution
Knowlarity provides a sophisticated Cloud Contact Center solution to enhance efficiency, boost productivity, and gain real-time insights. Some of the features of Knowlarity's contact center platform include:
Call Routing & Recording:
Route calls to the available agents to avoid keeping customers waiting and simultaneously record inbound and outbound calls in real-time
Call Control:
Queue the calls with mute, hold, and warm transfer, queue call back, and voicemail features during customers' wait time.
International Numbers:
Get virtual numbers for multiple countries to optimize your business operations globally.
Concurrent Calls:
Respond to an unlimited number of concurrent inbound and outbound calls maximizing the agent's efficiency.
Sticky Agent Concept:
Redirect frequent callers to agents they last spoke for a more personalized customer experience.
Mobile App Access:
Exercise greater control and visibility over business calls to optimize customer support by integrating the contact center on your smartphone with ease of access.
Advantages of Knowlarity Cloud-based Contact Center
Agent's Performance Insights:
Track and record conversations between the agent and customer to gain deeper insights and analyze agents' performance.
Easy To Set-up & Activate:
With a smart plug-and-play solution, integrate your existing CRM software for easy access.
Simplified Call Management:
Forward all customer calls to agents' mobile numbers and landlines to manage business calls from anywhere.
Minimal Investment With No Capex:
Benefit from a cost-effective solution that provides comprehensive call management capabilities without a heavy capital expenditure on infrastructure.
Enhance Caller Experience:
Optimize caller experience via personalized greetings in regional languages, customized hold music, and skill-based agent routing.
Enhance Workforce Productivity:
Save bandwidth, resources, and cost to drive quality customer engagement experiences with an advanced contact center solution.
Knowlarity also helps businesses with a host of integrations with its CCaaS solution such as the IVRS, lead management, number masking, true caller, auto dialler and a lot more.
Conclusion
CCaaS platforms have emerged as the preferred option for enterprise communication owing to the advantages they provide in terms of cost, scalability, accessibility, and more. As the work culture in organizations across the world adapts to a new normal called remote working, the demand for CCaaS platforms is only bound to increase. Knowlarity provides a cloud-based contact center solution to address a gamut of enterprise requirements and deliver the best value to corporate customers.
Contact Us to discuss your requirements with the team so that we can assist you with the best-in-class solutions.
Blogs you will want to share. Delivered to your inbox.
Business Email
×
Read: Interesting Logistic Problems Solved With Conversational Messaging