How a Conversational Interface can improve customer engagement
On April 16, 2021
|
6 Minutes Read
Conversational Engagement
Generic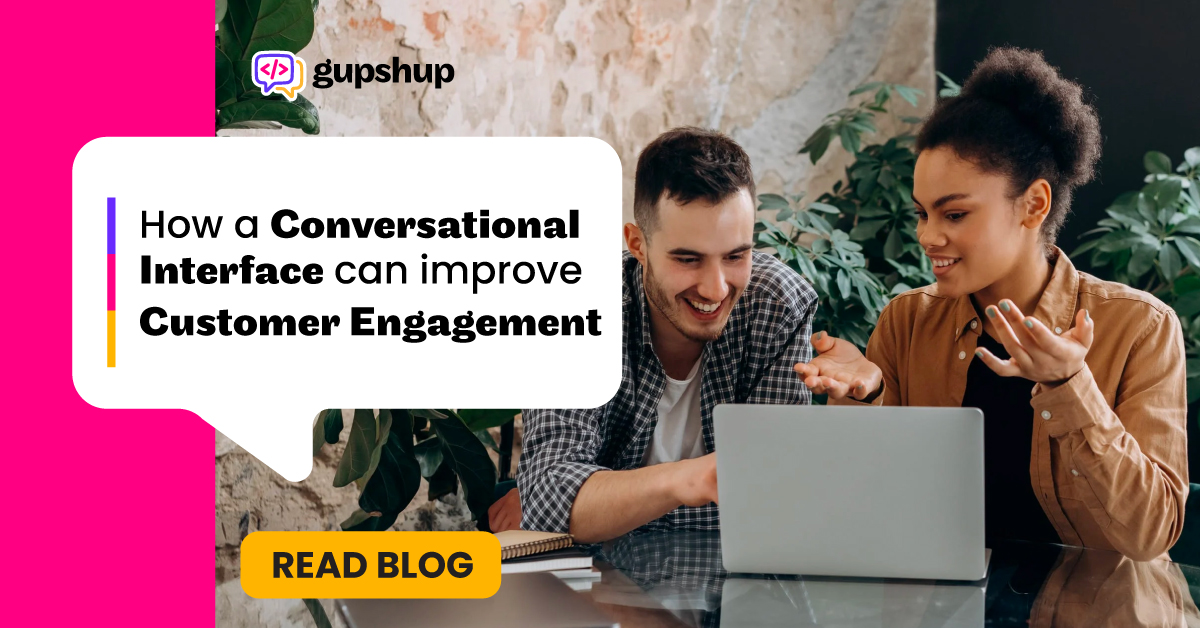 The ubiquity of the Internet means that users' demands regarding Internet-enabled services are also on the rise. In response to these demands, companies are coming up with newer technologies, not to deliver these services, but also to enhance user experiences. In every industry and sector, there is an increasing push towards providing better customer experiences (CX), combined with the realisation that this can be made possible by engaging users in a personalised manner. In fact, the personalisation of user experiences for an "audience of one" has become a major theme in the development and growth of Internet-based services.
Earlier engagement formats such as web and app were structured formats consisting of screens, tabs and buttons – they require humans to behave like computers; conversational interfaces are natural and intuitive – forcing computers to behave like humans. In that sense, conversational interfaces enable the most advanced form of customer engagement.
Natural Language Processing
Natural Language Processing (NLP) is a branch of Machine Learning that deals with understanding and processing human languages by machines. In essence, this means that a machine can understand languages such as spoken and written English (and other languages), and carry out relevant and appropriate actions based on this literal and contextual understanding.
Types of conversational interfaces
There are two main types of conversational interfaces.
Rules-based conversational Interfaces: A rules-based interface is a user interface in which the user and the software follow a predetermined set of rules. There are specified inputs, to which there are specified outputs. There is no processing of languages, or interpretation of the user input involved. This can also be thought of as a "multiple-choice interface" where the user is given a choice among multiple inputs that can be entered, and based on these choices, and further choices are provided until the user resolves. The amount of user-specific personalisation involved in this type of conversational interface is low.
AI-based conversational Interfaces: In this type of interface, a large amount of user-specific personalisation is involved. AI is used to make the program understand the language of the user. Theoretically, the user can provide any input, and the machine will provide an output based on this understanding, so there are no pre-set rules or a limited set of choices. In other words, such an interface is highly dynamic, and vastly capable of mimicking human language and understanding capability.
The Applications of a conversational interface
Conversational interfaces are considered the future of Internet-based services, capable of supporting unlimited applications that can span across virtually every field and domain of the human experience.
Currently, conversational interfaces are most commonly used in virtual customer care. Conversational chatbots using WhatsApp for customer support can help users gain more knowledge about a product, and clarify their doubts quickly without waiting for a human agent. Such chatbots were initially rules-based, but have lately begun to have AI capabilities to support greater customisation and better CX.
Another application of conversational interfaces is in virtual assistants. As the Internet of Things (IoT) network expands, and more and more devices are added to it to create a hyper-connected global network, so has the number of companies making apps and tools compatible with these devices. IoT devices give companies yet another avenue to engage with customers and prospective customers, and establish a memorable and meaningful position in their lives.
The Advantages of a conversational interface
Implementing a conversational interface has many advantages. Let's take a look!
Provide personalised CX
Every consumer interacts with multiple brands every single day – whether they realise it or not. Each brand has a different identity, and a different position in that consumer's life. However, most of these brands go unnoticed in the noisy and crowded "buyer's market". Only brands that personalise their offerings according to the customer's  needs, demands and habits are noticed and then supported.
This is because personalisation is a form of convenience. A personalised product does not need to be configured again and again – which most customers appreciate. So, if a website or WhatsApp chatbot is able to quickly and correctly answer your customers' questions, you can not only give them the convenience they demand, but also significantly boost the trust quotient between them and your brand.
Stay connected with the customer across channels
Perhaps the greatest advantage of a conversational interface is that it allows you to stay in touch with a current or prospective customer in more ways than one. This is a great way to stay top-of-the-mind, which is what every brand aspires to achieve. A rules-based chatbot on your website is likely to find few takers, with customers preferring to call a helpline and speak to a real human instead. Additionally, it's also difficult for customers to chat for extended time periods with a chatbot, since they might not have their browser open all the time, or their browser notifications enabled. WhatsApp and other messaging chatbots solve this issue with contextual and meaningful conversations, powered by conversational messaging platforms. People are much more likely to be available on WhatsApp and messaging channels throughout the day, which ensures that they can converse with your company's virtual representative at pretty much any time. This is a great way to both resolve their queries, and wins their hearts and minds.
Easy usage
A disadvantage of traditional consumer interaction methods such as IVR and customer care helplines is that they're often tedious to use. You had to be on the phone for a long time, and listen to a long menu of options before providing an input. Often, the menu options would simply not match what you wanted to ask, and you had to resort to email instead, which took even longer time to glean a response. While rules-based chatbots did solve the problem of long wait times and inconvenient methods of conversation, the problem of limited options didn't go away. AI-based chatbots using WhatsApp for customer support solve this problem. These chatbots can understand most of what you ask, and provide a reasonable reply that usually matches the question. These chatbots are also continuously "learning" and improving thanks to Machine Learning. As Machine Learning capabilities grow, so will these chatbots' abilities
Conclusion
Conversational interfaces are opening a number of new avenues for customer interactions that improve service delivery and enhance their brand experiences. As customer demands for personalised services increases, so will the capabilities of these interfaces. Brands that can successfully implement these interfaces in their customer support ecosystem will benefit and establish a stronger competitive position over brands that don't.
Blogs you will want to share. Delivered to your inbox.
Business Email
×
Read: Create a WhatsApp Bot – A 100% No-code Guide