Create a WhatsApp Bot – A 100% No-code Guide
On April 23, 2021
|
5 Minutes Read
Chatbots
Generic
WhatsApp Business API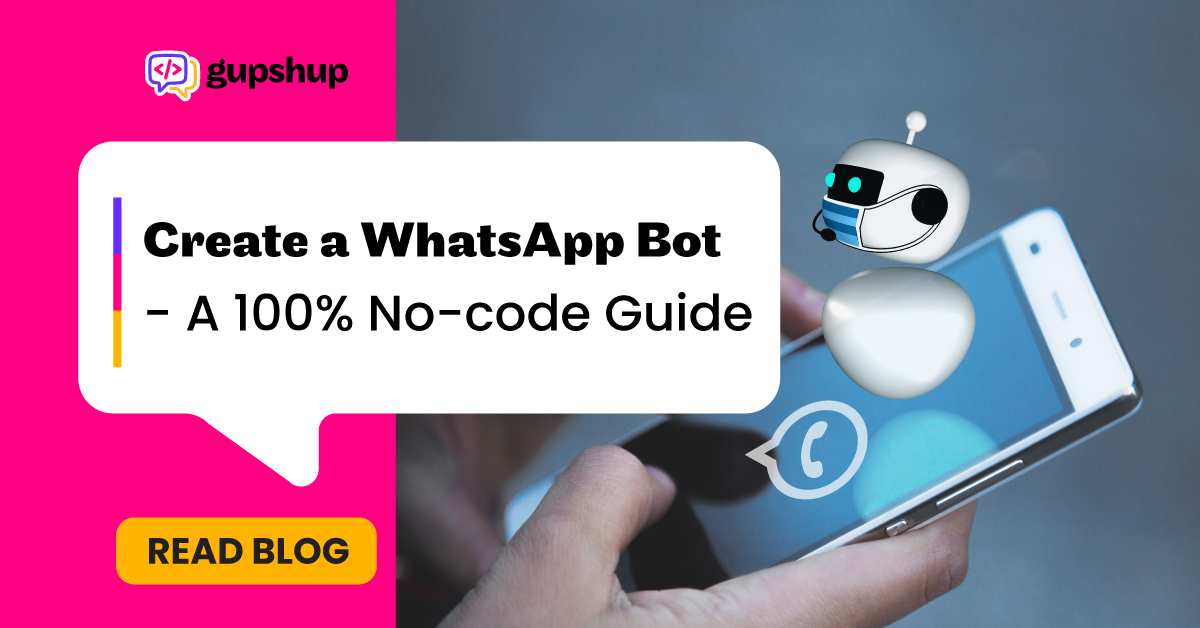 The launch of the WhatsApp Business API was a major turning point in the way the businesses interacted with their consumers. It opened up various avenues through which customers and businesses could converse, and enabled businesses to respond to their customers' queries in real time. With this API, several businesses have seen a significant uptick in their sales and revenues.
One of the many different ways businesses can interact with prospective customers is via a WhatsApp chatbot.
A WhatsApp chatbot is an automated conversational software. It enables customers to get answers to common essential questions about a business through WhatsApp, by chatting with a virtual assistant. All they need to do is pose their question to the chatbot, as they would to any other real person via WhatsApp's chat interface. The answers given by the WhatsApp chatbot are typically automated, and usually instantaneous. There are various types and levels of WhatsApp chatbots, and the extent to which they can answer customers' questions varies with the level to which they have been "trained".
Almost anybody can now create a WhatsApp chatbot. Here's a simple guide to create your own WhatsApp chatbot – even  without any coding experience!
Chatbot Platform Selection and Setup
If you do not intend to use any kind of code to create your WhatsApp chatbot, you will need to choose a bot builder platform that creates the chatbot for you. A bot platform should help you
Build bots within a few minutes without programming
Give you a Tree view to manage your complete bot flow.
Seamlessly integrated with an NLP framework for unstructured queries
Allow you to test your bot instantly, without any wait time or deployment.
Provide a 1-click easy deployment on production servers.
Allow bot publishing to WhatsApp and other messaging channels
If you can code, provide a powerful IDE for developers to build custom JS modules and functions
WhatsApp Configuration
WhatsApp configuration for your business can be one of the most challenging aspects of setting up your WhatsApp chatbot mechanism. In fact, the first step in which coding is required when you are looking to create a WhatsApp chatbot is the configuration of the WhatsApp Business API. Over the years, this setup has become even more complicated with the purchase of WhatsApp by Facebook.
The first prerequisite for setting up a WhatsApp business API is to have a Facebook Messenger account. Once you set up Facebook Messenger with your WhatsApp number, you need to download the WhatsApp Business App on Android or iOS. Then you need to register your business on WhatsApp. Here, be careful regarding the number that you provide to WhatsApp. If possible, try not to provide your personal Whatsapp contact number but a business number.
Now, you need to set up the WhatsApp Business API. The API is the primary platform on which your WhatsApp chatbot is going to run. Since setting up the API can be a complex process, you can go to a third party like Gupshup for help. In most cases, the platform that you selected earlier will double up as your WhatsApp API registration tool. However, several other businesses are officially licensed by WhatsApp to register users for their API. You may choose any of these.
Set up Your Chatbot
As far as registering your chatbot is concerned, this is all that you need to do! No-code chatbot platforms have made it incredibly easy for any user to create a WhatsApp chatbot, and deploy it to thousands of their customers. After you complete the above two steps, all you now need to do is determine the questions you would like your chatbot to answer, and the types of queries that your chatbot should address.
If you're just setting up your first chatbot, it's best to set up an options-based system. Here, as soon as a customer starts interacting with the chatbot, they are presented with a welcome message with a number of different options that they can choose from. Think of it as a kind of IVR, but one that operates on WhatsApp. Your WhatsApp chatbot platform will enable you to set up automated responses to each text input that the user gives. On the basis of these inputs, you can further configure your chatbot to provide the specific information that they're looking for.
It's possible to visualise this process in the form of a flowchart, and many chatbot creation platforms allow you to create conversation flowcharts for your WhatsApp chatbot. These flowcharts help control and implement conversation changes, on the basis of user inputs. Many WhatsApp chatbot platforms are also available to support synonyms and machine learning-based tools. Using these tools, the chatbot can understand and interpret various user inputs, and provide answers accordingly.
Conclusion
WhatsApp chatbots have brought about a revolution in the way modern customers interact with businesses and brands. With these chatbots, businesses can be available to customers around the clock, and also reduce wait times to practically zero. Both these benefits enable them to serve their customers better, which in turn earns their loyalty and ensures their long-term support.
Furthermore, chatbots can be configured to defer to a human operator, if an answer to a particular question has not been coded into them already. In general, chatbots provide easier access to operators compared to other contact options. This seamless transition from bot to human is again a great way to enhance customer experiences.
Get started with your No-code WhatsApp chatbot today.
Blogs you will want to share. Delivered to your inbox.
Business Email
×
Read: 13 benefits of WhatsApp CRM Integration